Fashionistas, I used last weekend for some much needed "me" time and my oh my, was it productive! I suggest that everyone take a mini-break, even if it just for a day of self-care.
During my break, I went to the beach, hit a few concerts, experimented with DIY jewelry, and booked a mini photo shoot with one of my favorite photographers,
Stefany
. Her work is always colorful and vibrant. I can tell we are artistically inspired by similar themes!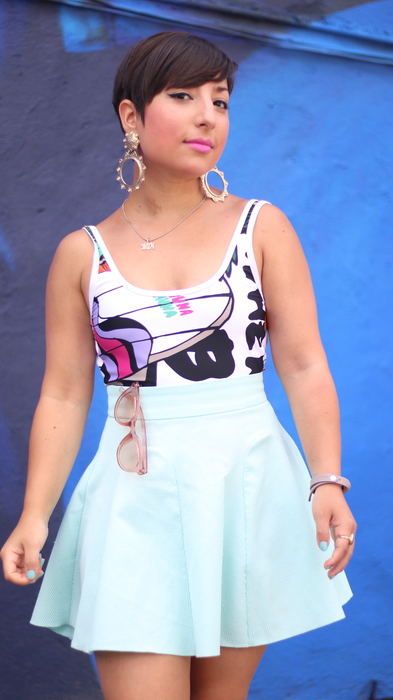 I modeled several outfits consisting of poppy Goodwill finds during the photo shoot. For this look, I rocked an" uncharacteristically-Carolyn" outfit that combined cool tones and my retro-remixed aesthetic. My top is actually a fun, patterned bodysuit by Adidas, a brand that I've always loved since Run DMC made it cool. To keep it low key on the bottom, I couldn't help but wear a mint-colored skater skirt. Although I usually pattern mix, I felt that this skirt matched the blues in the bodysuit, while still being playful and eye-catching.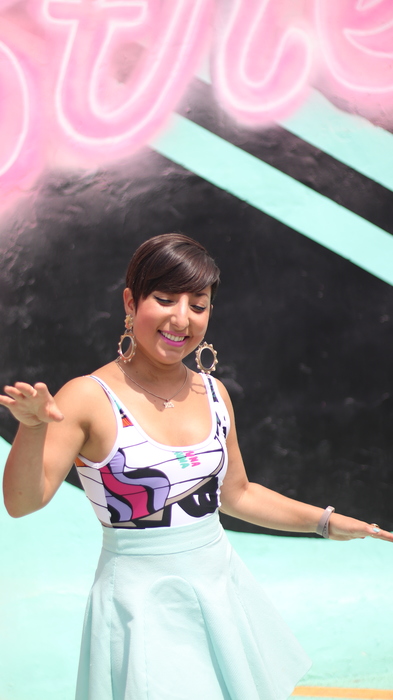 Naturally, my beloved vintage gold earrings were the perfect accessories to bring this look together. They harken back to 80's style – so easy, yet so stylin'!
Curious to know more about the components in my summer look? My outfit consisted of the following:
Bodysuit: Adidas
Skirt: H&M, Manassas Goodwill, $4
Shoes: American Apparel, secondhand
Earrings: Vintage
Outfit total (Goodwill items): $4
What do you think of my retro-remixed look, readers?