One of the biggest reasons why I love the summer is because it's beach season! When I get ready for the beach, I love to be creative and wear whimsical styles.
This past weekend, I celebrated my mom's birthday by visiting Rehoboth Beach, one of my favorite beaches on the East Coast. It's relaxing, it's fun, and it's close enough to home that the commute is easy.
During my trip, I rocked a plethora of looks that I'm especially excited to insert into my 2018 summer collection. Each of them highlighted florals in different ways; some with golden hues or even punky black shades. In both looks, I was still able to achieve my signature "Carolyn style" by mixing patterns, vintage pieces, and contemporary finds all in one ensemble.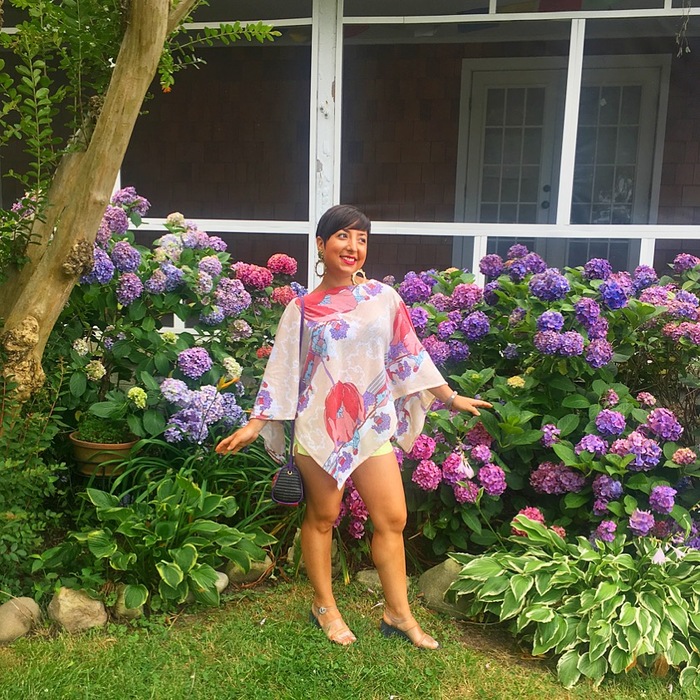 For my first look, I kept it light with a retro printed batwing floral top, paired with lime leopard H&M shorts (these were under $5 from the Goodwill in Gaithersburg). To add a bit of glitz, I added in one of my favorite pairs of vintage earrings from Goodwill. Although it was a bit windy on this day, this look kept my spirits sailing high!
The following day was warmer out, so I bared my shoulders and wore a punky look while still wearing vintage florals. My favorite item in this whole look is my 90's floral skirt bought for $4 at Goodwill. The pattern is rich, the cut is flattering, and to top it all off….it has shorts underneath! Talk about a versatile and easy-to-rock piece for the hot summer season.
I could do cartwheels in this cute little number, I love it so much!
How do you rock your summer beach style, readers? Floral, other prints?