Basement Laundry Room Redo Raises the Roof with its Down-Country Charm
With Labor Day past us and summer vacations are fond memories, we now get back to our "regular" routines. 
We replace heading out of town and lounging by the pool with doing chores and getting ready for classes.  However, the daily rhythm and tasks of life doesn't mean we have to be down and out—even if you are the one heading downstairs to tackle the laundry.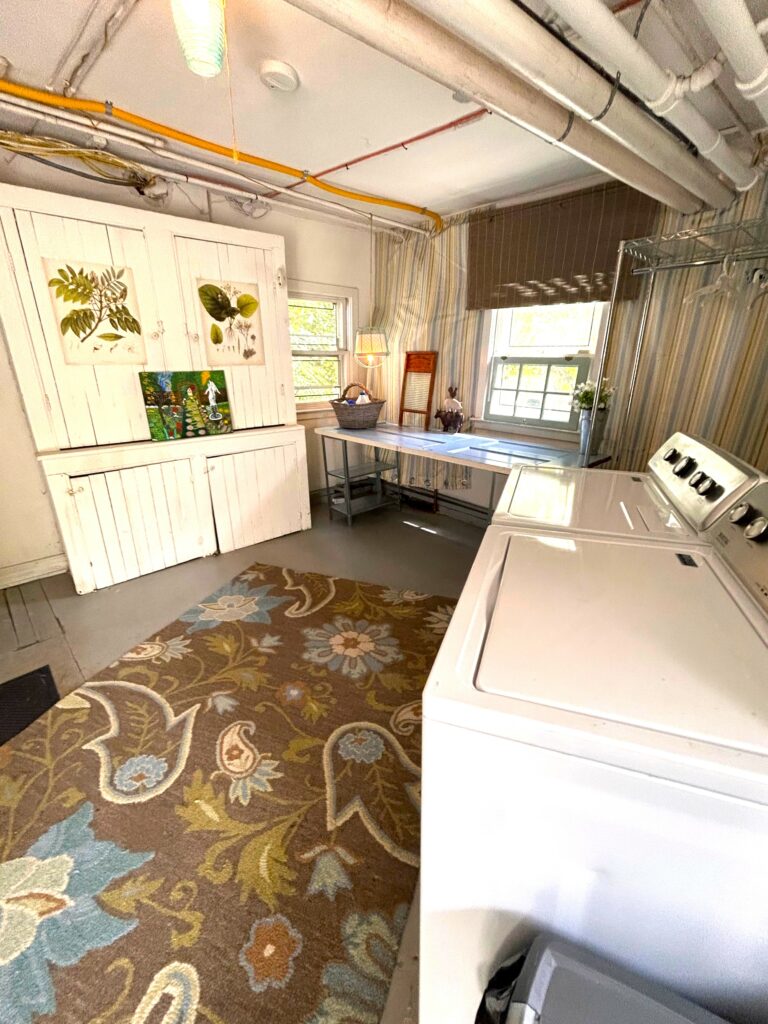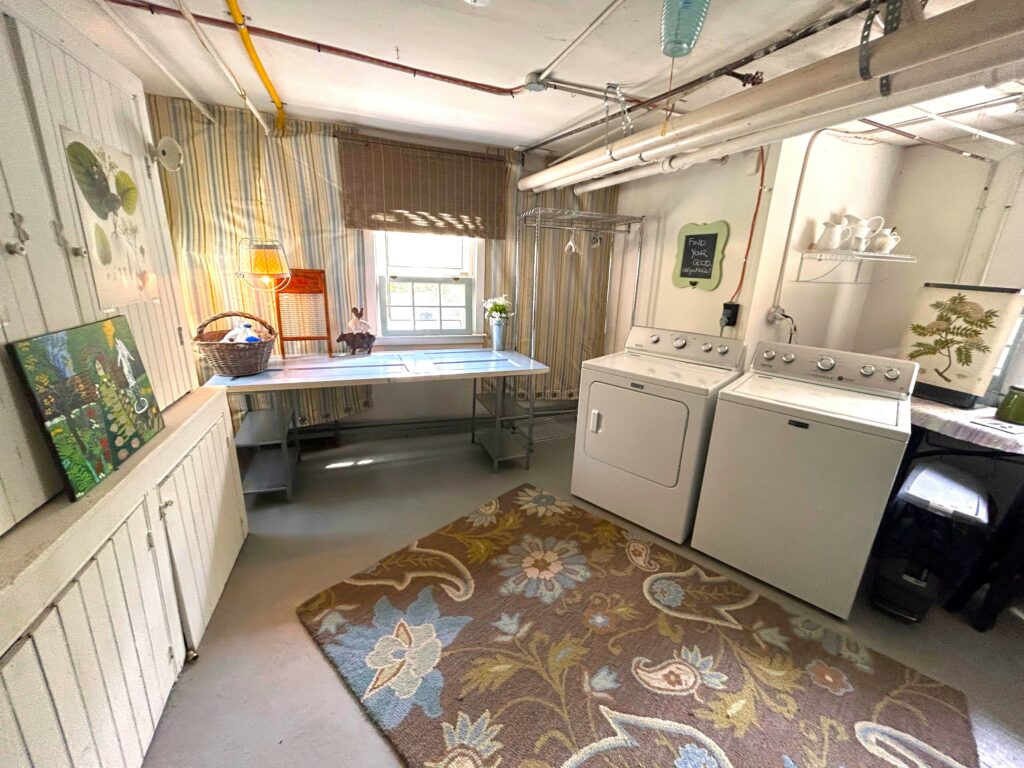 Wash away any doubts that your laundry space can be a place you want to be often when you see this week's DIY blog project. A once dreary and dark space, seen as only functional—doing the wash—now has cute country charm.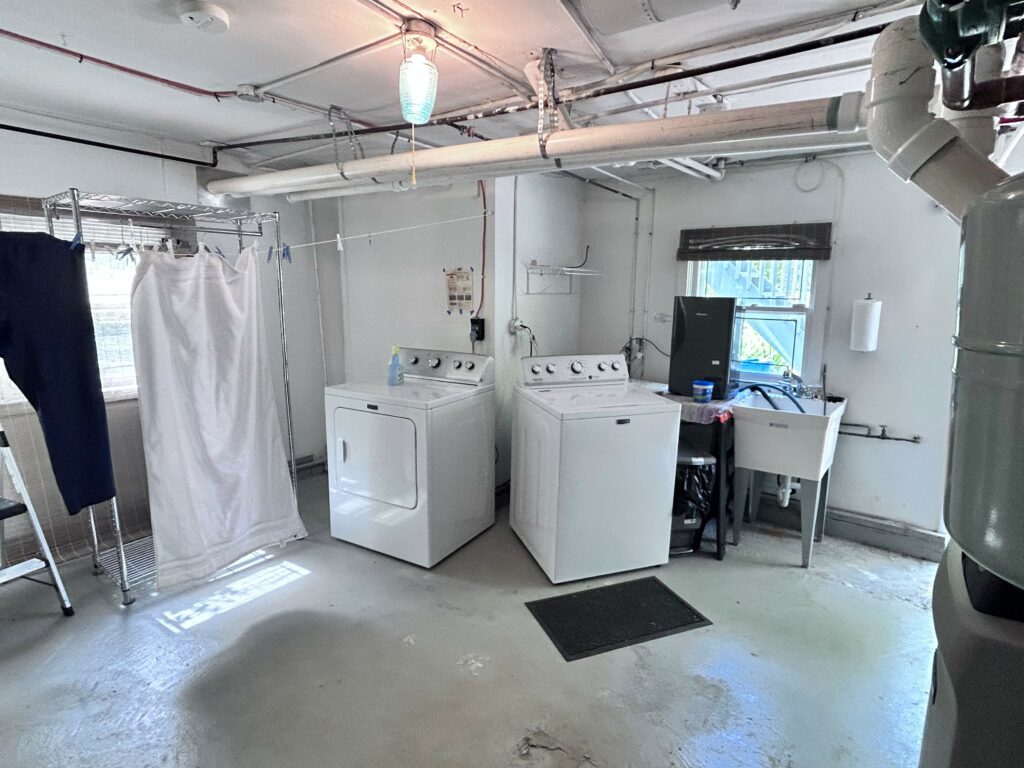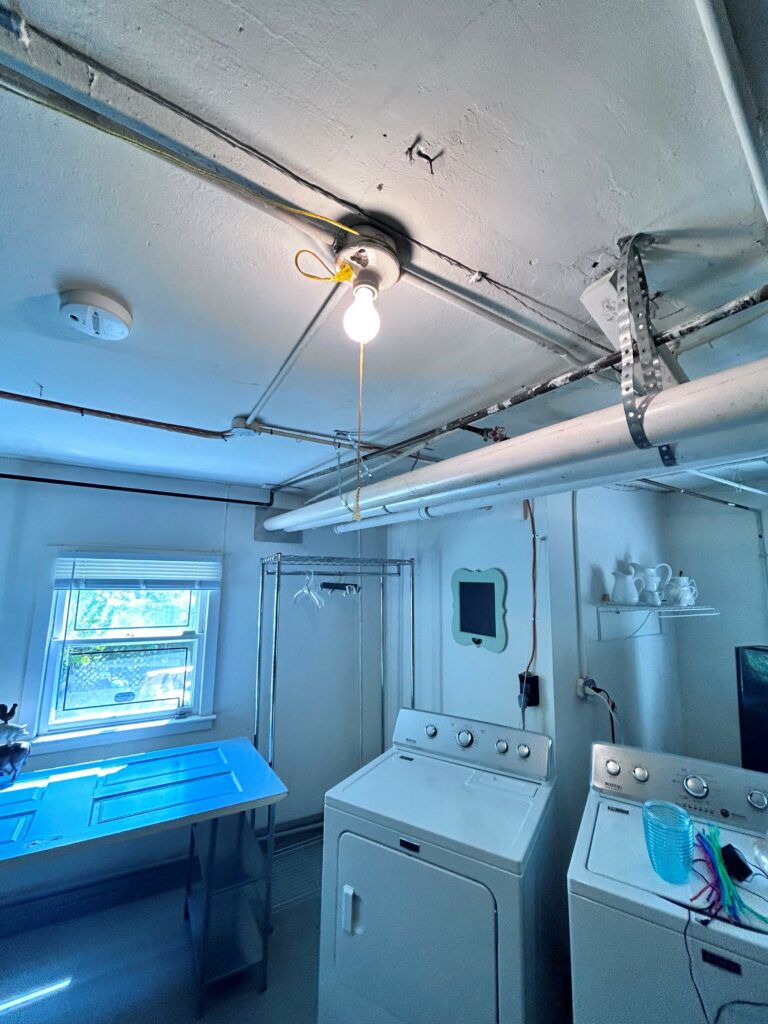 Here's how in 7 easy steps, you can rinse and repeat, for happy results, in your home, too.
1. Arrange it to serve YOU wrinkle-free
While many of us spend lots of time on ensuring our living spaces are friendly, inviting and reflect our unique design taste and aesthetic, a space we often overlook is our laundry room—especially if it is in the basement in our home. 
A couple of steps down physically seems to turn into a couple of steps down with its look and feel.  This washing area had some pluses like decent sized windows, a door out to the backyard and bead-board storage cabinets.   
However, its set up was not user-friendly at all!  It was as much for storage than sorting socks.  The clothes' line cut the space in half and the washer and dryer were positioned awkwardly given the walls and needed water/electrical hook ups.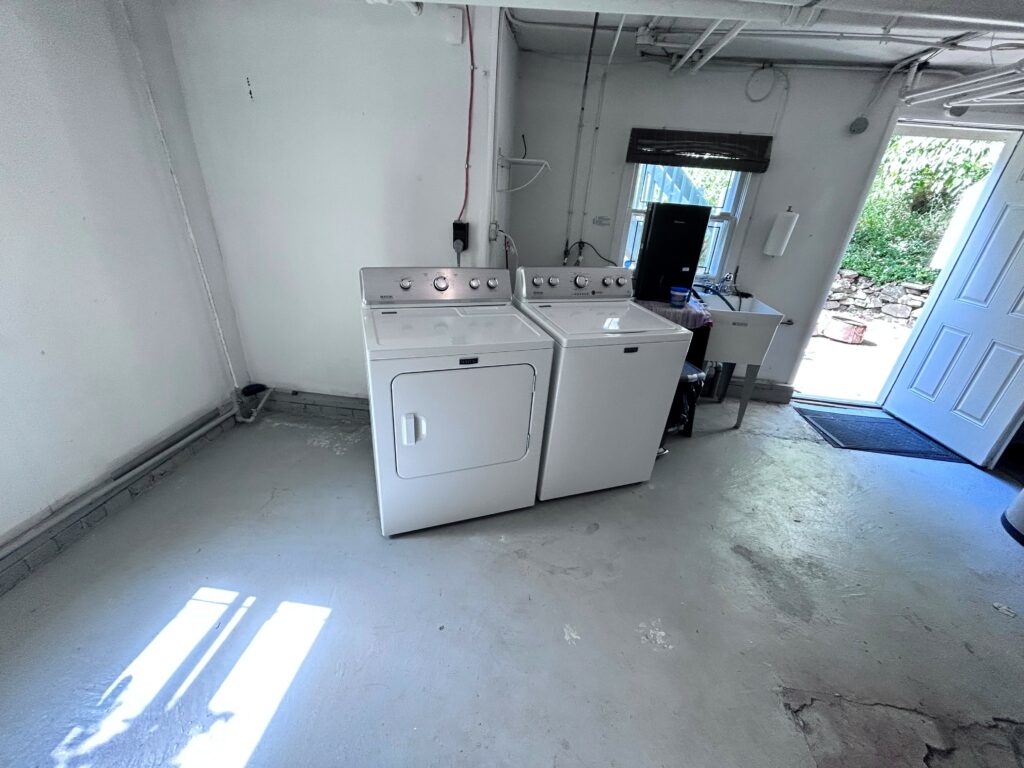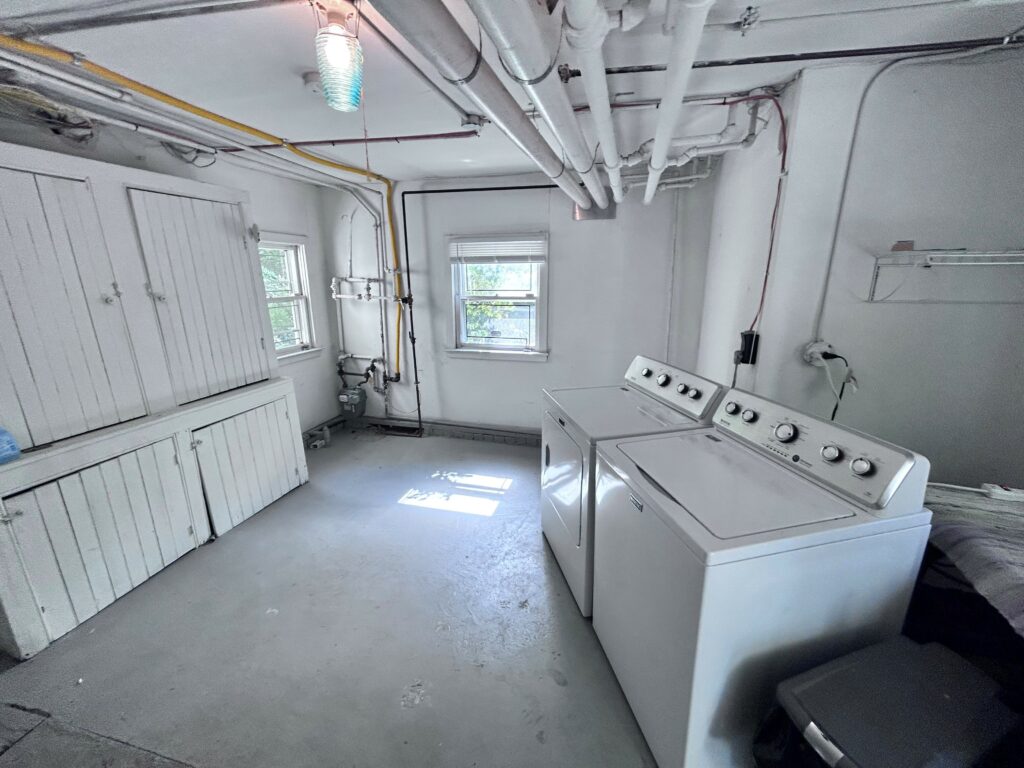 The clothes' line was removed to open things up dramatically.  The washer and dryer were placed side-by-side and angled, due to the walls.  Now they greet you when you come into the space.  What shifts might you make in your space to make it more accessible and function better? 
By the way, shifting things doesn't cause a dime!
2. Create a folding station
To make it easy to fold clothes, you will want a good-sized work area on which to do so.  With the clothes' line removed, suddenly there was a great space for the folding station—right in front of the windows. 
A blue painted door and two metal shelves were repurposed as a team to create the flat surface needed for folding.  Both came from other parts of the basement, so no cost at all!  Cha-ching!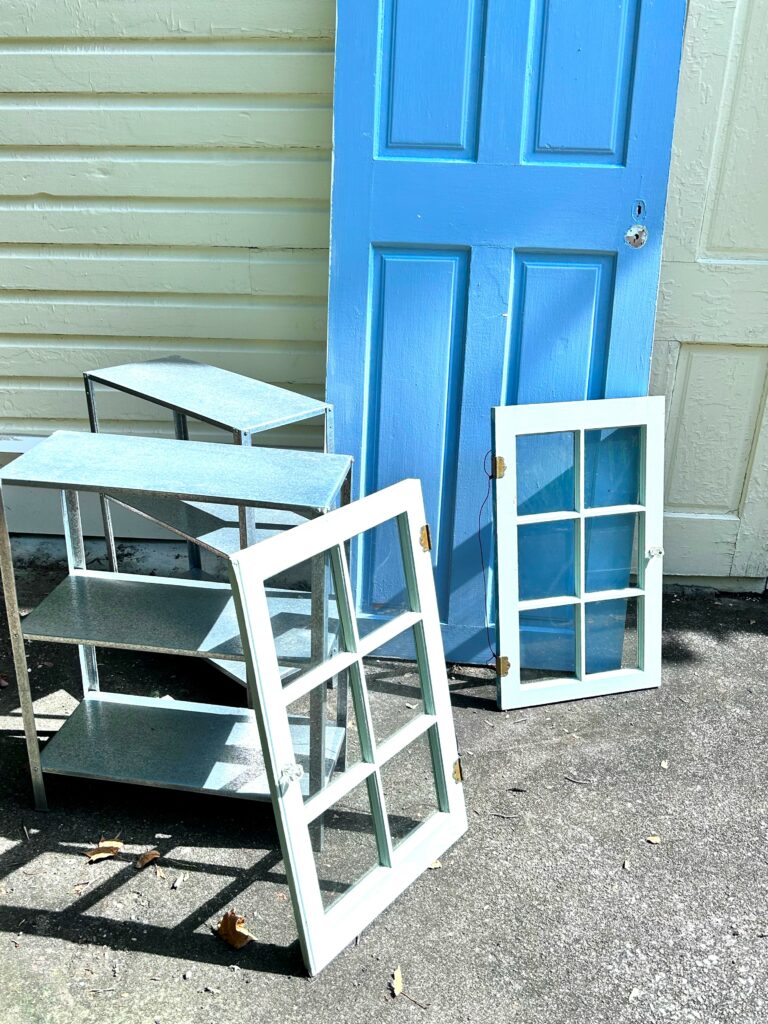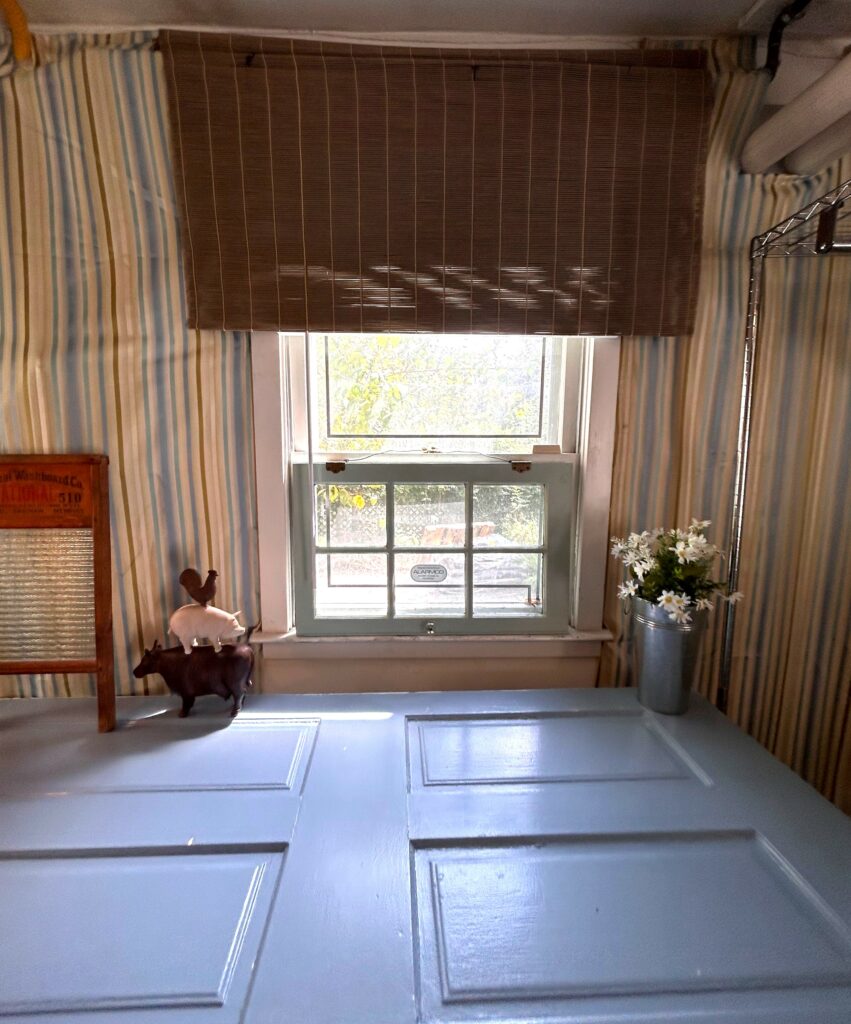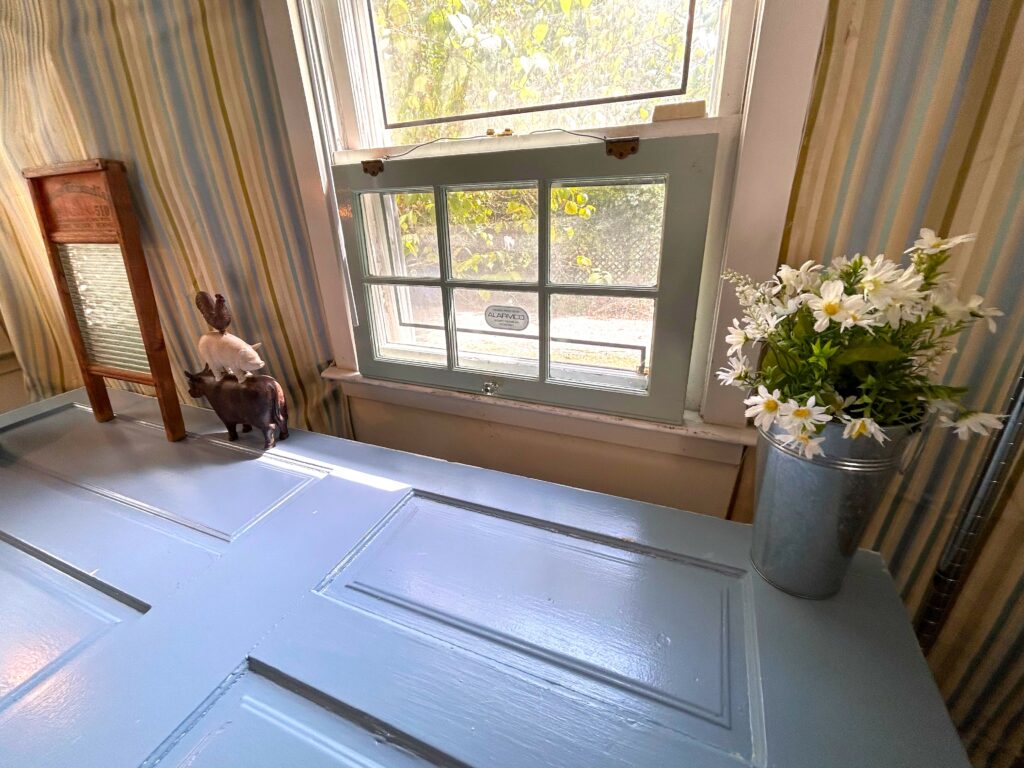 Also, two salvaged, painted cabinet doors were also given a new role as decorative window sashes to underscore and add to the desired vintage feel.
3. Dress up the walls
The walls behind the folding station had pipes and other things that stuck out and caused visual clutter. 
Rather than painting them, they were disguised and dressed up with a pair of thrift store found, striped curtains.  They were perfect color-wise with their various stripes which complimented the old door—now new folding station top.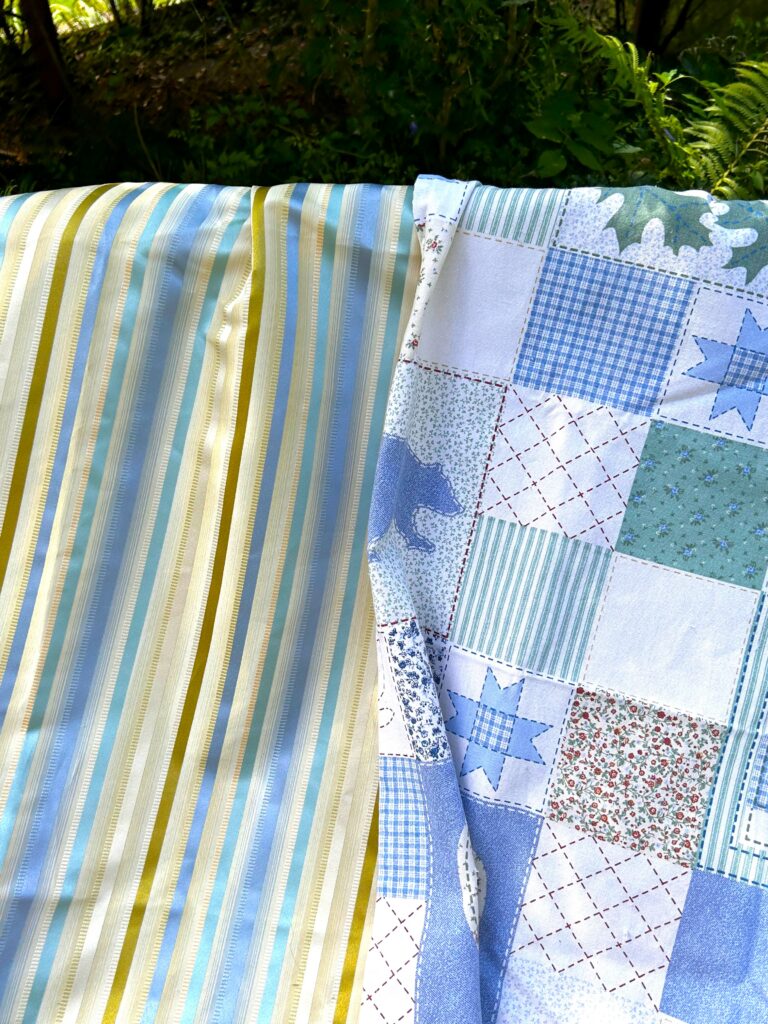 A staple gun helped to hold them in place and scissors clipped parts to let pipes protrude as needed.  They were the perfect width and height for the wall.   The rolling, wooden window blind was rehung near the ceiling to give the illusion that the window is much taller than it is.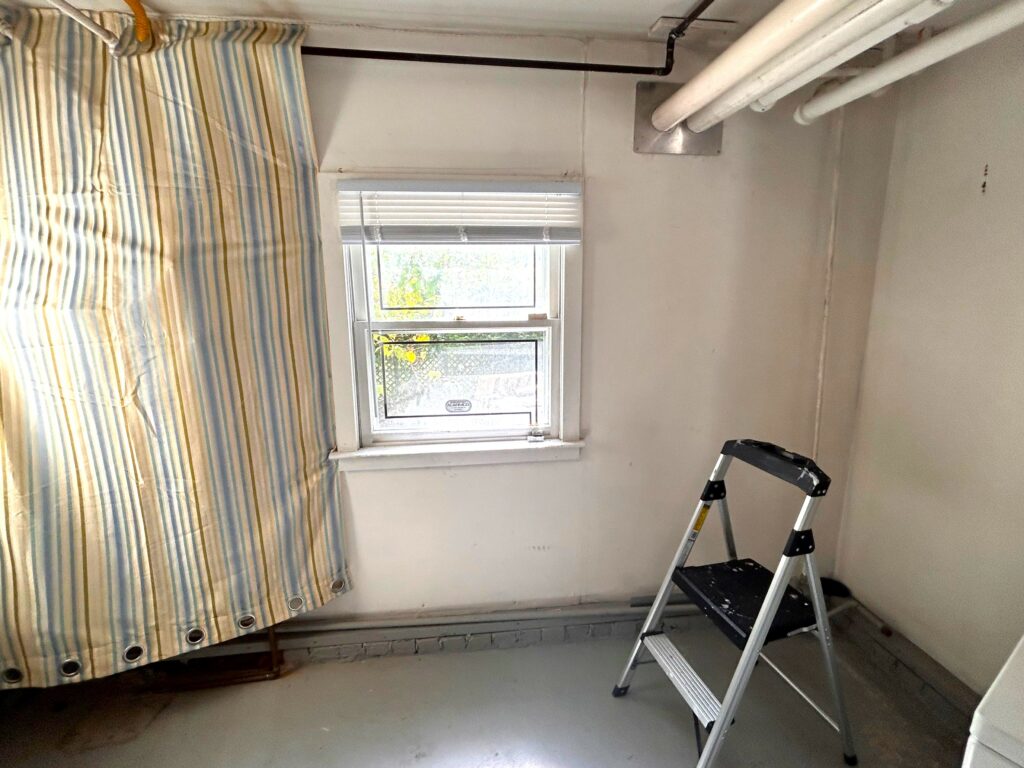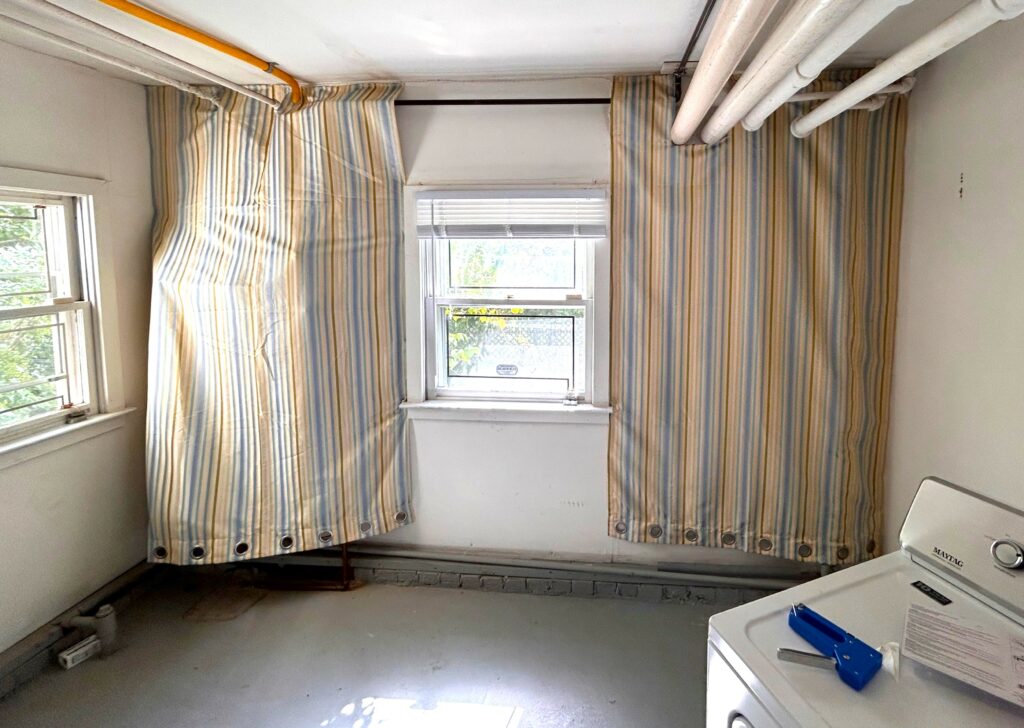 Design Tip:  Many of us hang our curtains incorrectly.  We hang them on the window frame, so even when opened, they block parts of the window.  A no, no!  If possible, always hang your curtains on the walls and closer to the ceiling if possible.  This little trick will make your windows look bigger and much more impressive.  Hmmm, another design change without a price tag!
4. Don't forget the floors
Your floors are another place to express yourself and add visual interest to a space. 
This rug started it all—color and tone-wise.  Its floral images and various hues are picked up in the collection of items now in the room.  We spend lots of time on our feet in our laundry space and often just put some rugs where we stand, rather than across the whole space.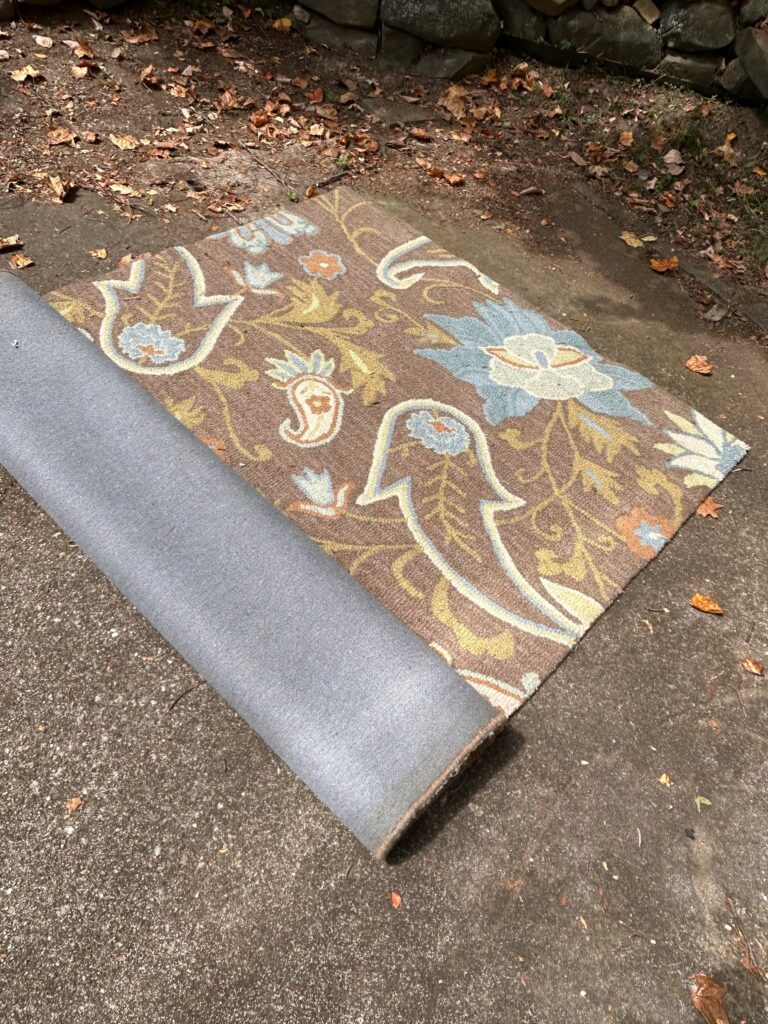 The rug featured here was likely originally designed to serve in a living room or bedroom given its weave and plush feel.  And purchased for a few bucks at Goodwill, it seemed like a low-cost, small investment to help make a big statement.  We hope you agree—and will borrow this idea, too!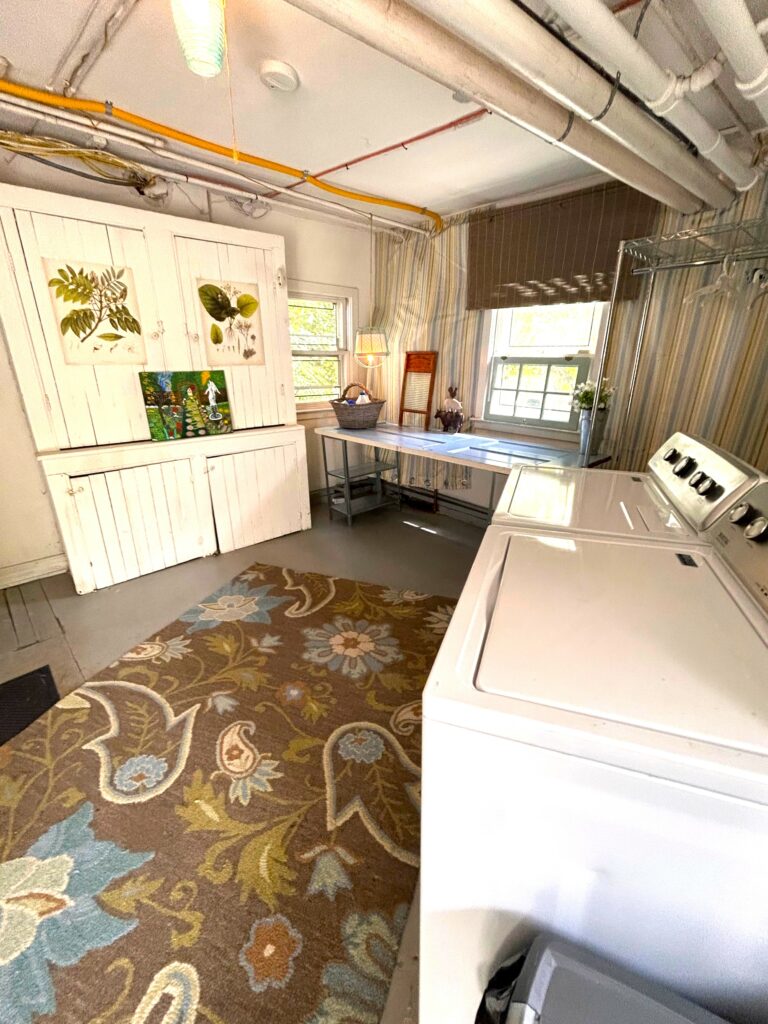 5. Add art, of course!
Instantaneously, you can transform your laundry space with colorful art pieces, prints and decorative items picked up for pennies on the dollar at Goodwill.  I was going for a nature-loving, country-feel for the space so selected pieces that supported and reflect that direction.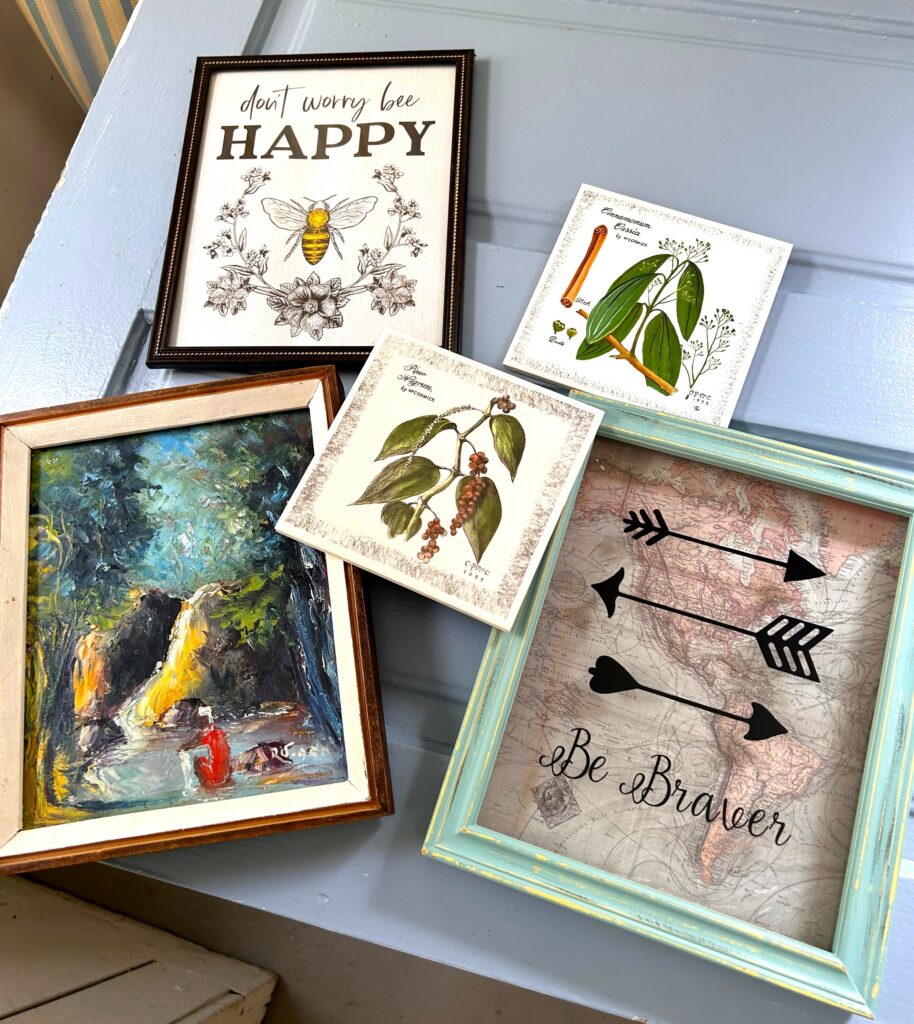 A pair of vintage plant images were secured on the bead board storage cabinet along with a charming hand-painted piece by an unknown artist.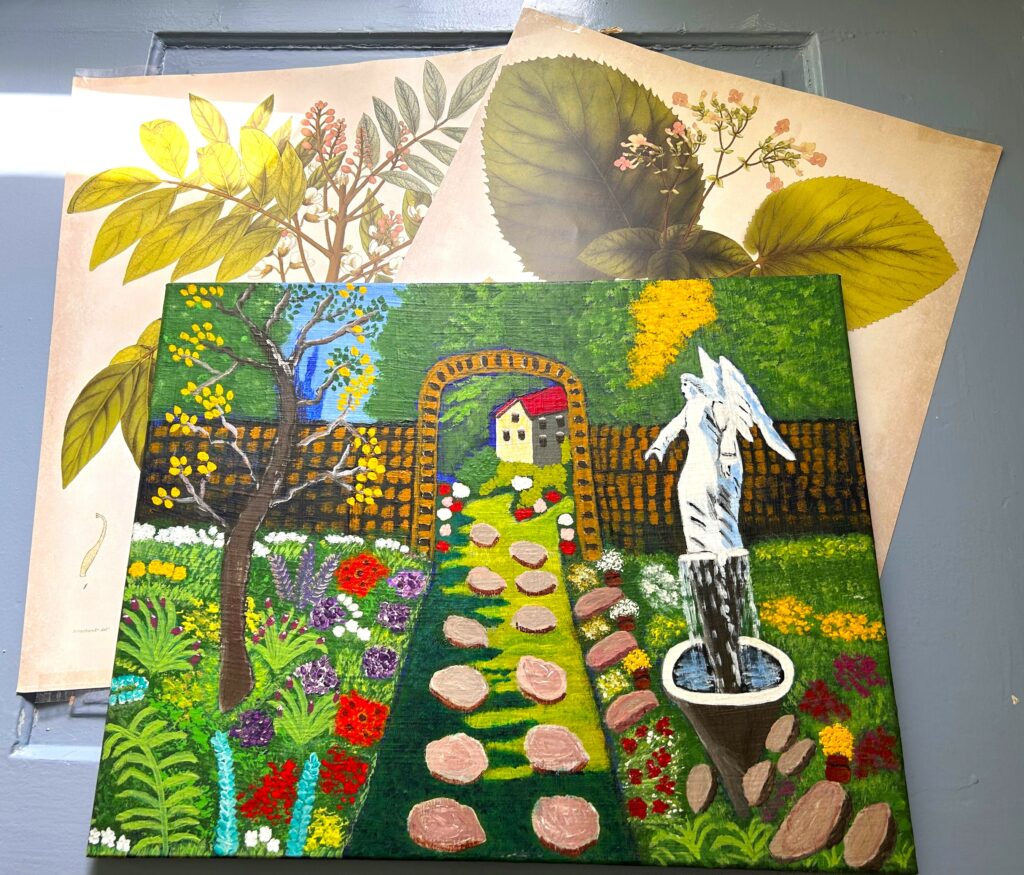 A chalk board with a friendly frame in a matching mint green was a must have as there is something very country about a chalk board.  Makes me think of farmer's markets or cooking in Grandma's kitchen, what about you?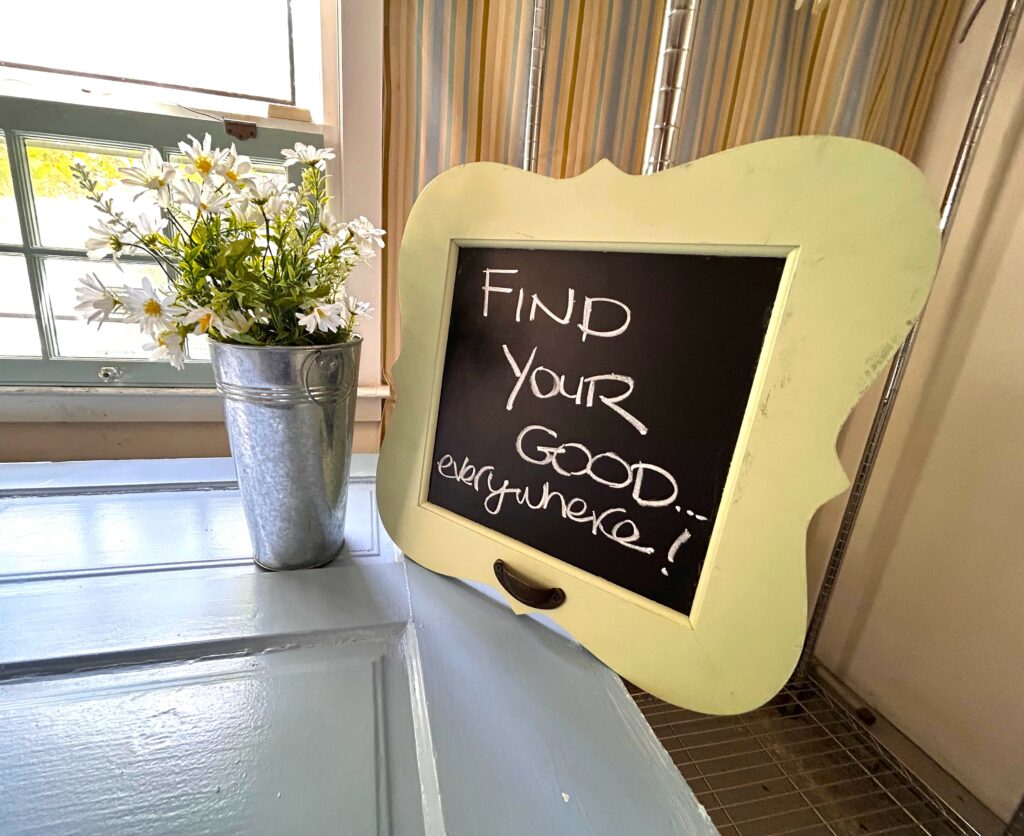 The dehumidifier has an important role in keeping the basement fresh and mold free but was a big black box—and was blocking part of one of the windows. It was moved to the side, still with access to the sink/drain, and another vintage plant print was added to it to make it more welcoming without impacting its function.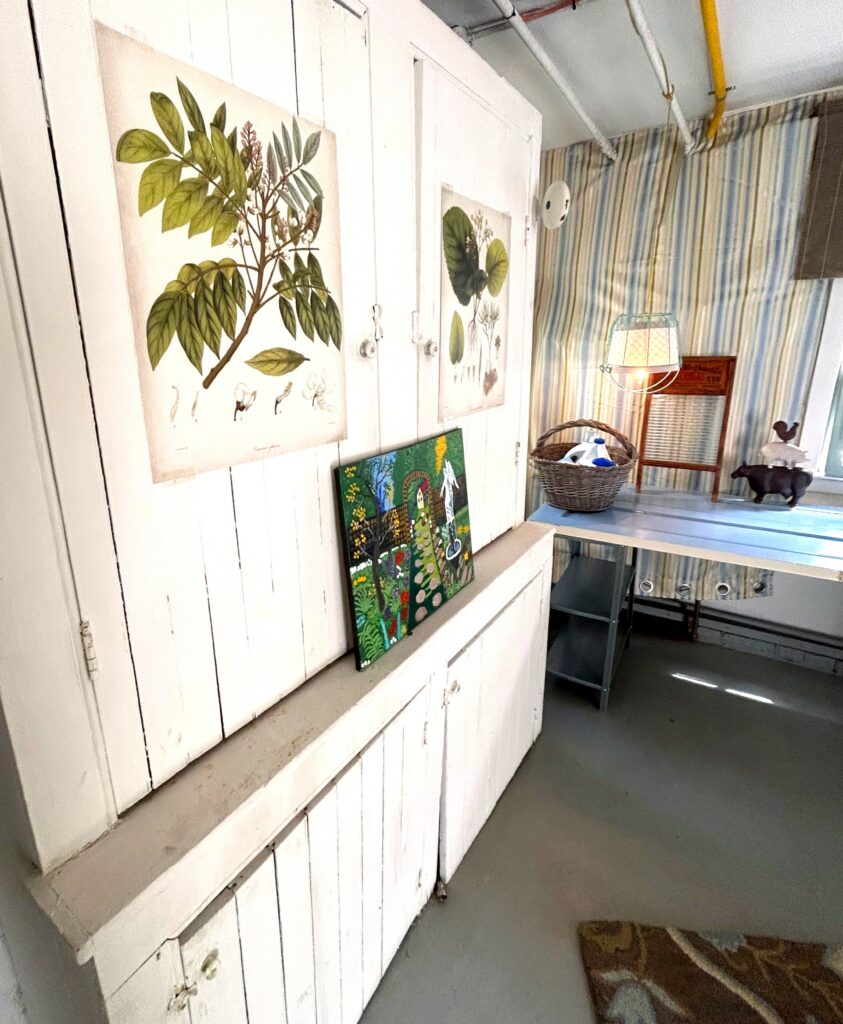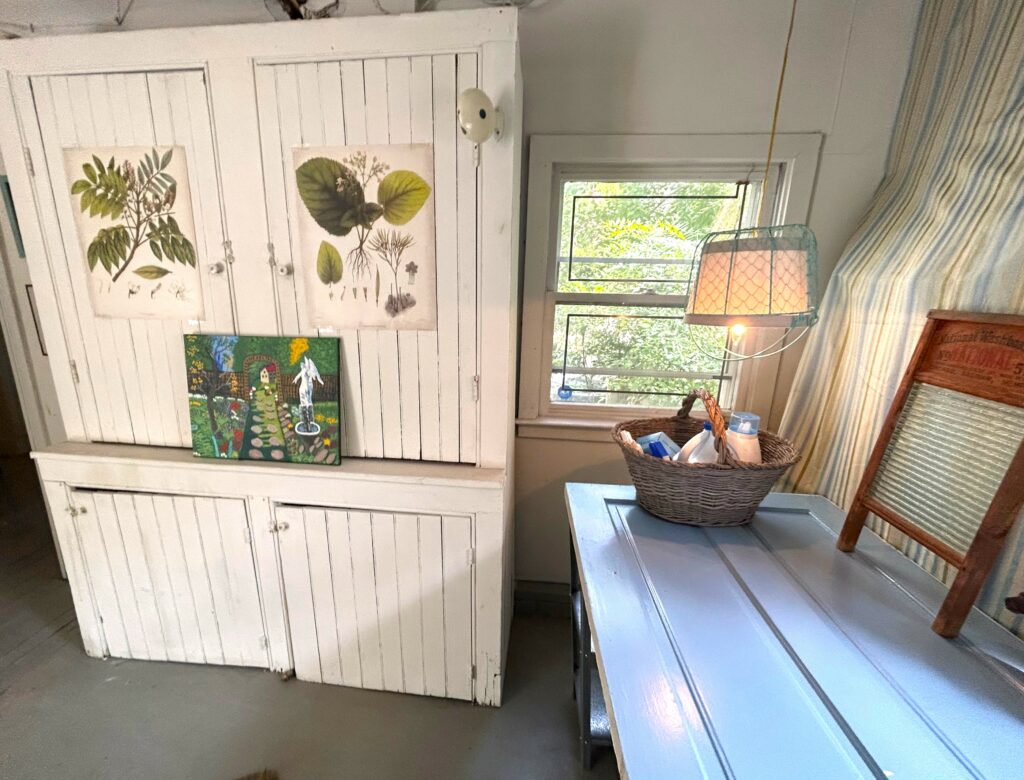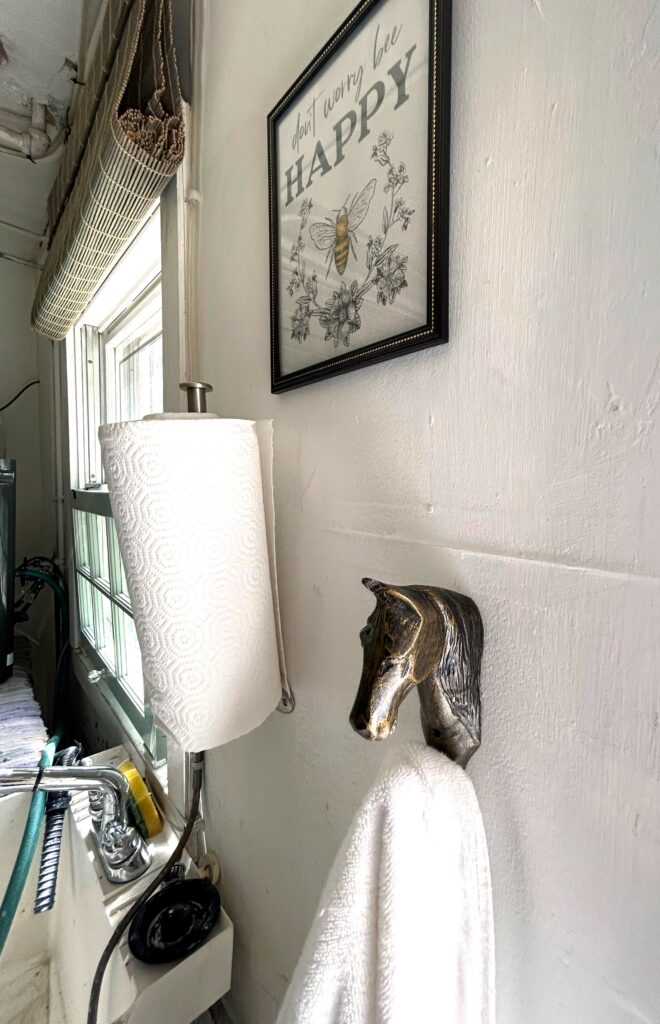 6. Always accessorize any space
To support the look and feel of a farmhouse and the countryside, accessories and decorative items picked up at Goodwill including an antique washboard, silk daisies, white pitchers and even a cow-pig-rooster statue!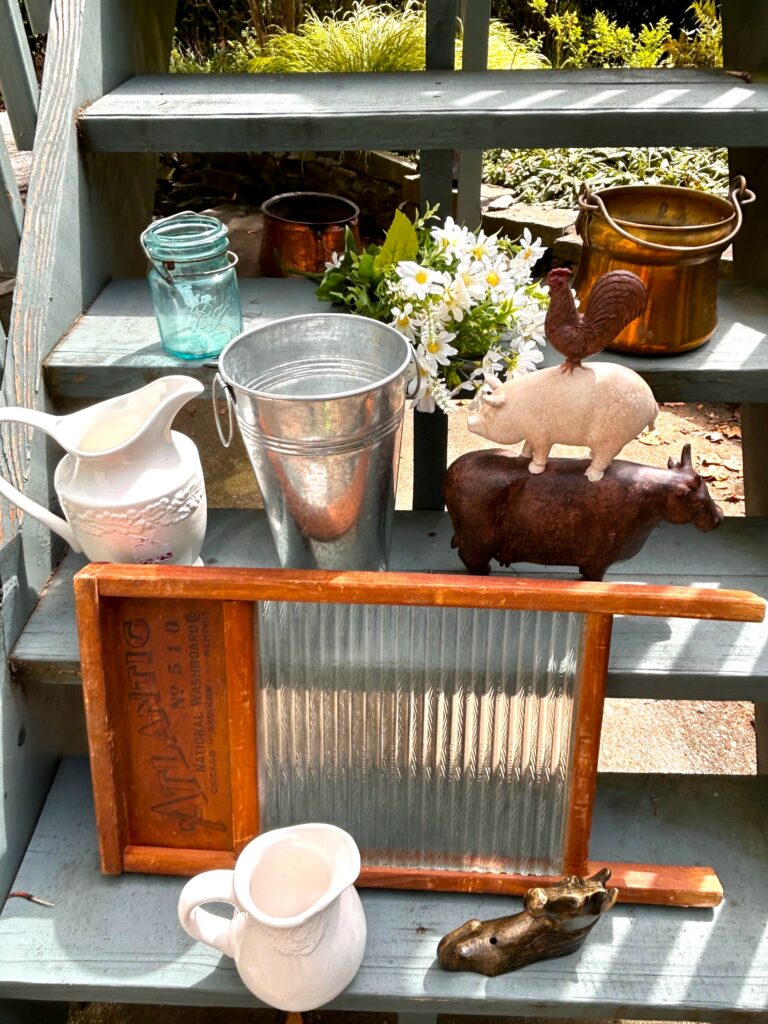 These were thoughtfully placed around the space to add whimsy and charm.  Given all the exposed pipes and wiring, these happy pieces now focus your attention on them and away from the functional parts of the basement and laundry room.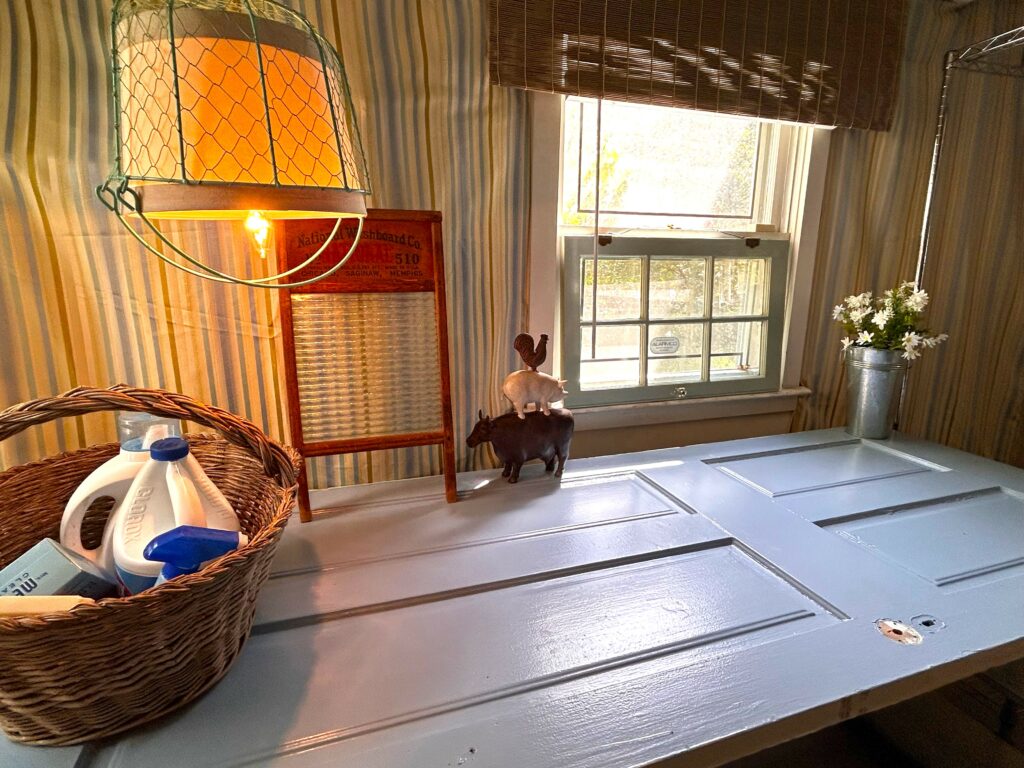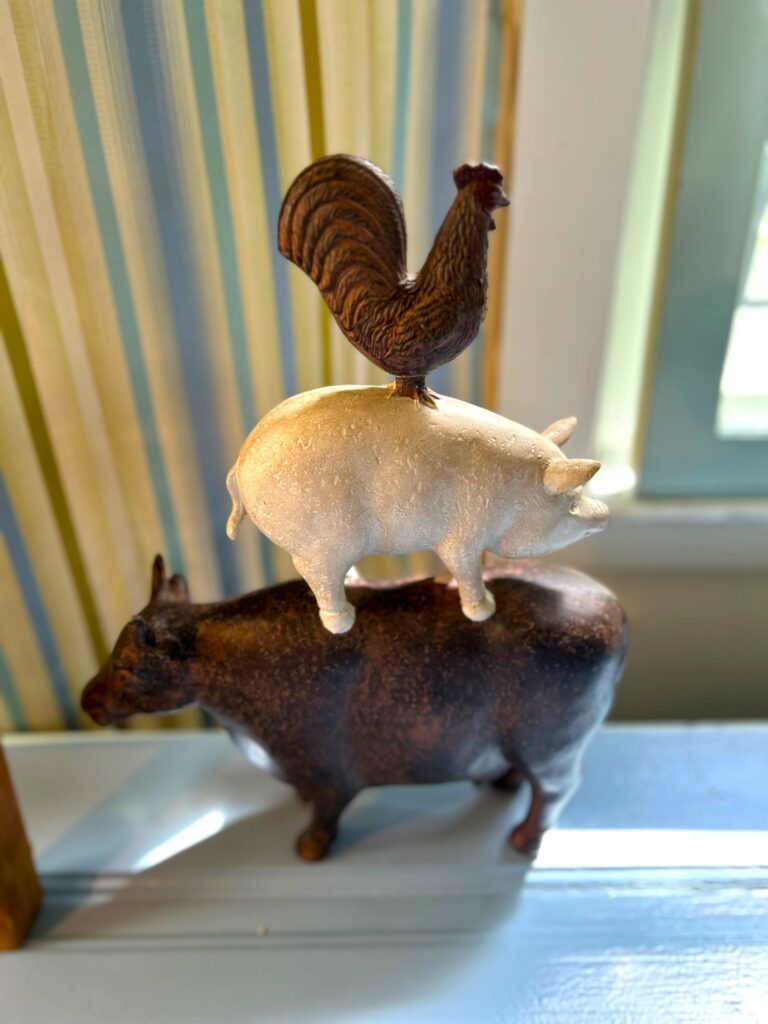 Don't you think country charm when you see a mason jar repurposed as a drinking glass, vase or storage container? Therefore, several were added, too.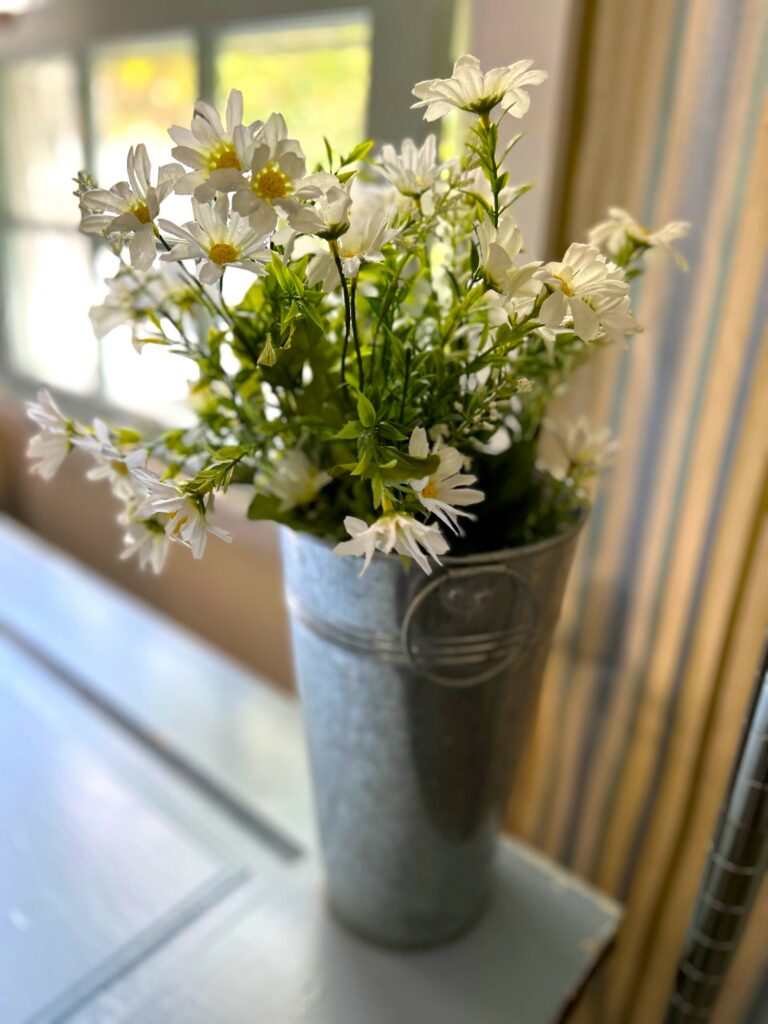 A white wire shelf was another oddly/awkwardly placed item in the room.  And with the different washer & dryer arrangement, it was no longer accessible.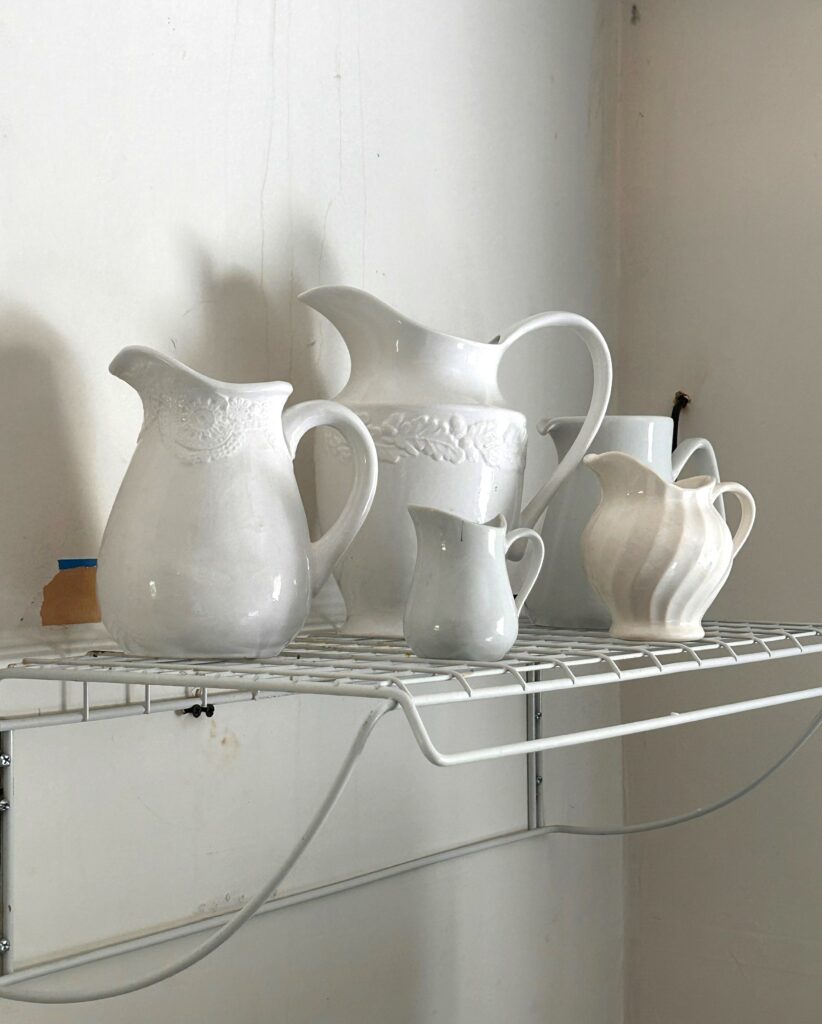 It became a great place to showcase a collection of white pitchers—again something that feels very country. 
Several hammered copper kettles now strut their stuff as a trio on shelfing which was functional before but not at all cute.  A horse-headed hook was placed by the sink to hold hand towels in a totally regal way.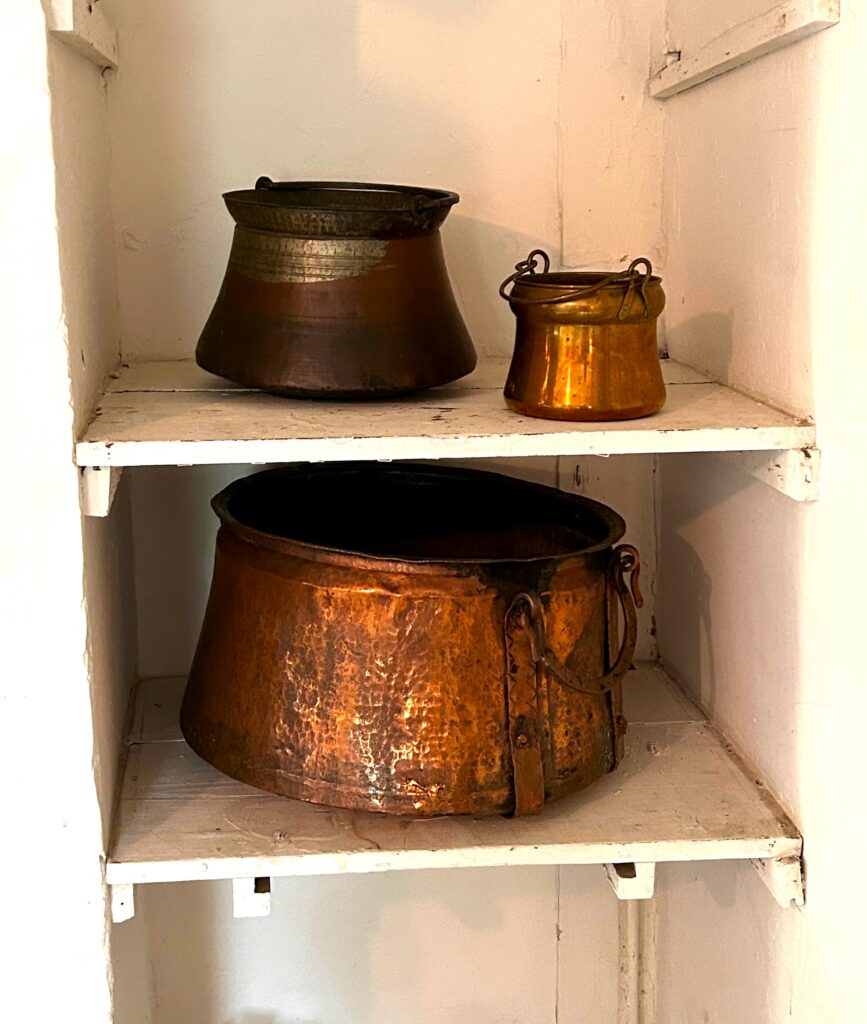 Rather than just sitting on top of the washer and dryer, detergent, dryer sheets and other needed supplies are placed together in a basket adding more charm to the space while serving a thoughtful purpose.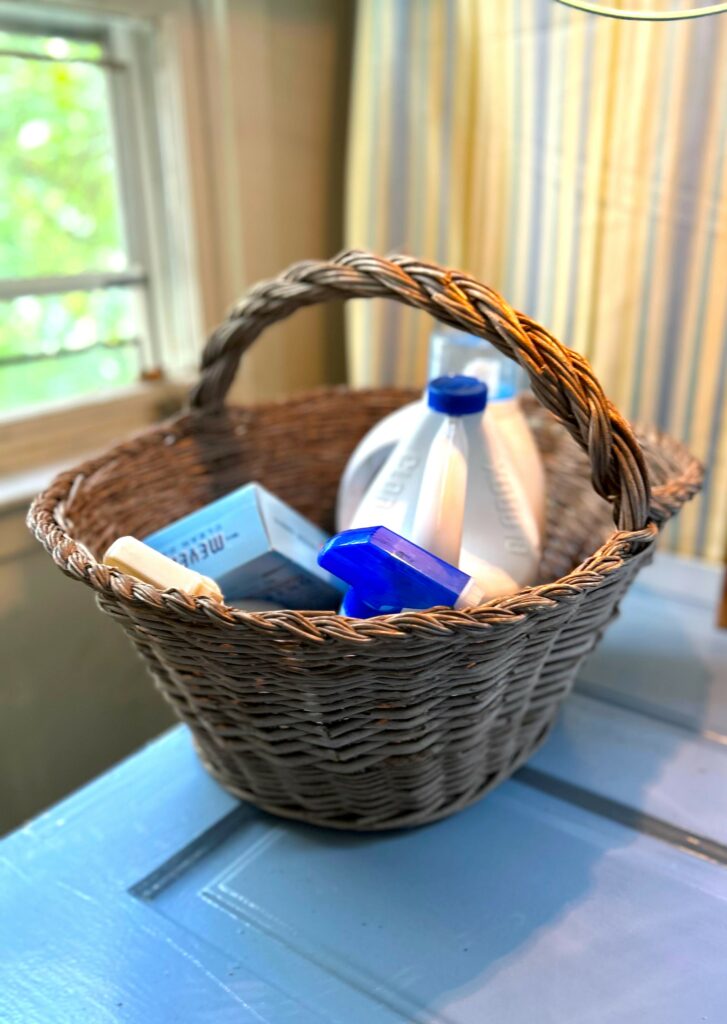 7. Let there be light—and charm, too!
How many basements have you seen where the lighting is a naked light bulb sprouting from a socket?  In older homes, like the one featured here, it seems that basement lighting was a total afterthought—if remembered at all.  The existing ceiling light got a makeover by repurposing a blue, ribbed vase as its cover.  It was wired into place and now hides the bulb in style.  
The folding station had natural light thanks to the two windows but what about doing laundry after the sun sets?  In the corner, a teal-blue chicken wire basket (again linked to the design theme) was matched with a lamp shade and lighting kit with a plug and on-off switch. 
 Now this happy little chandelier is not only friendly but totally one-of-a-kind!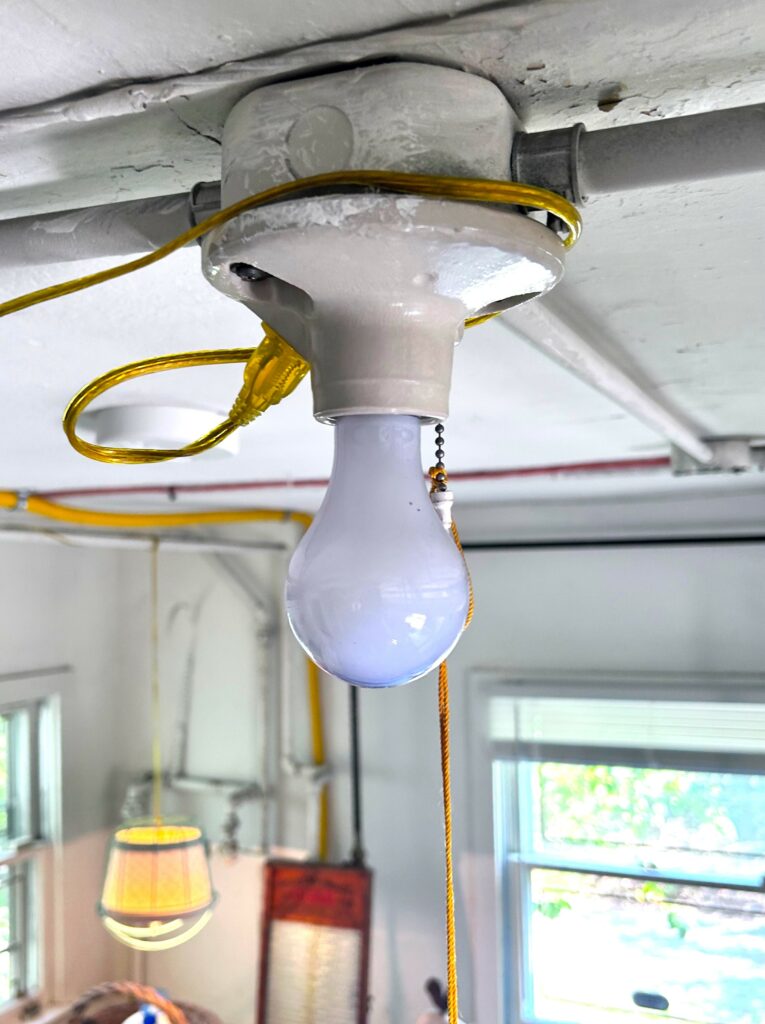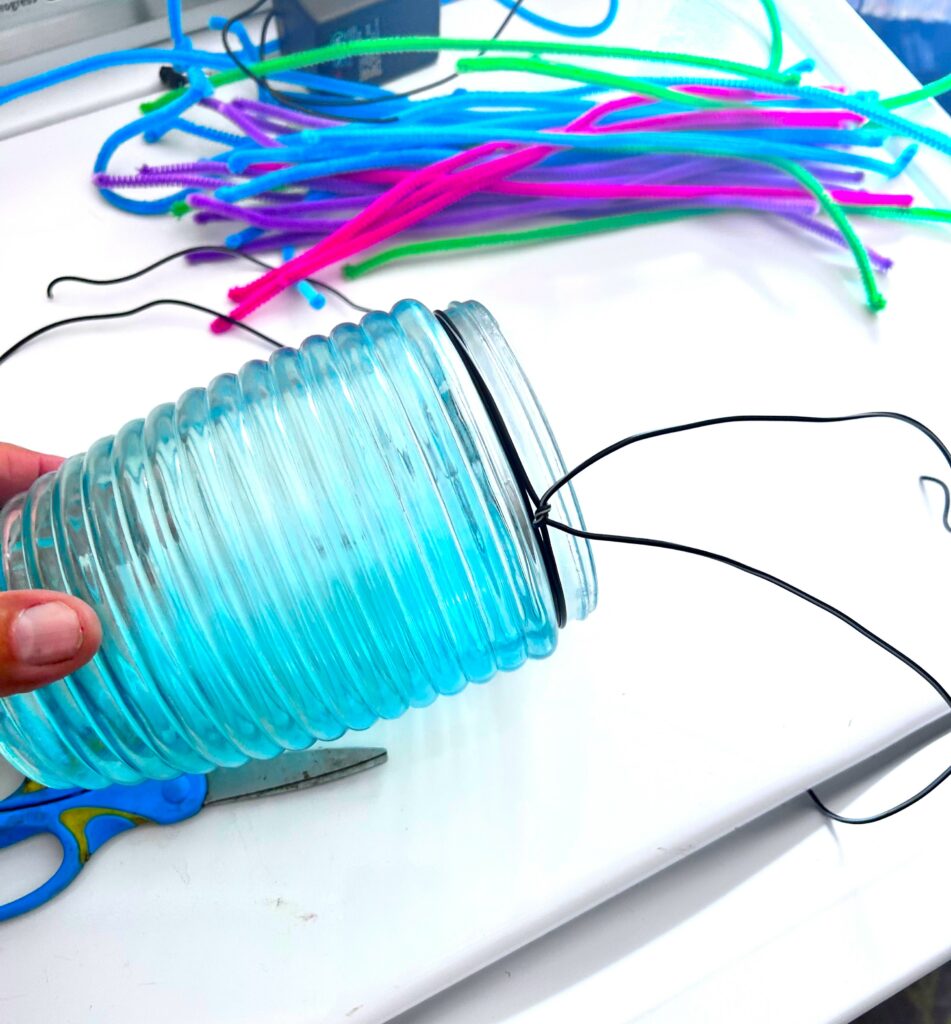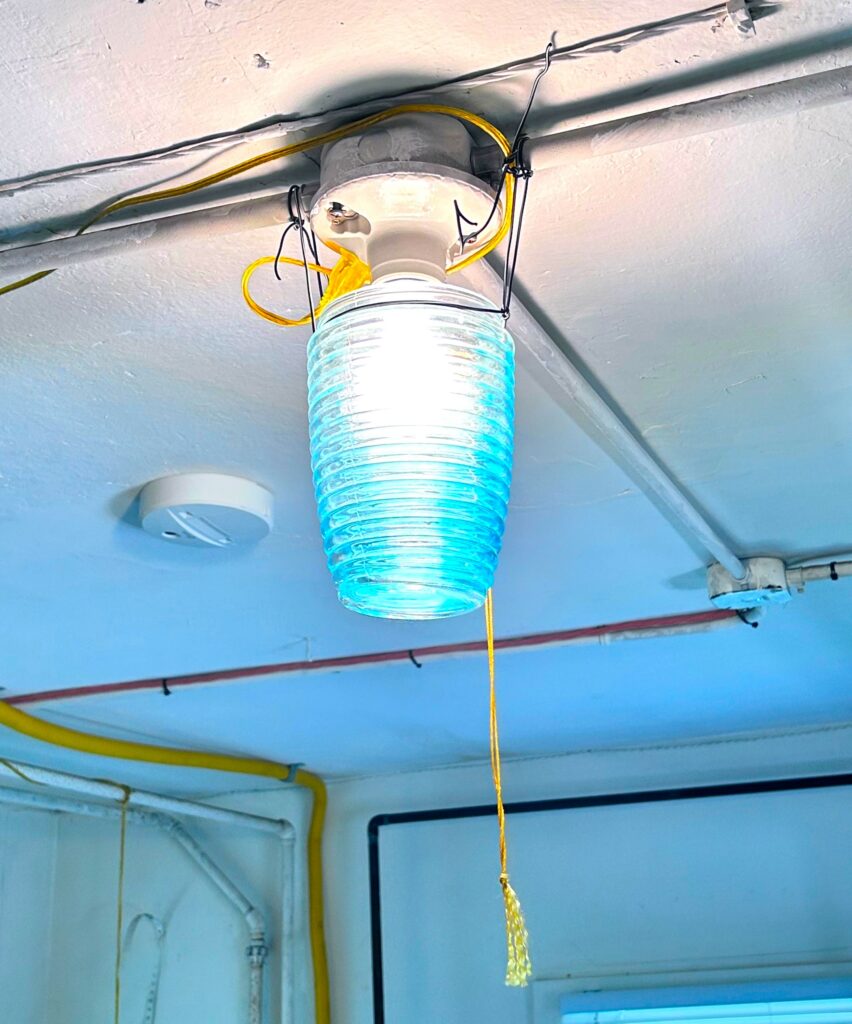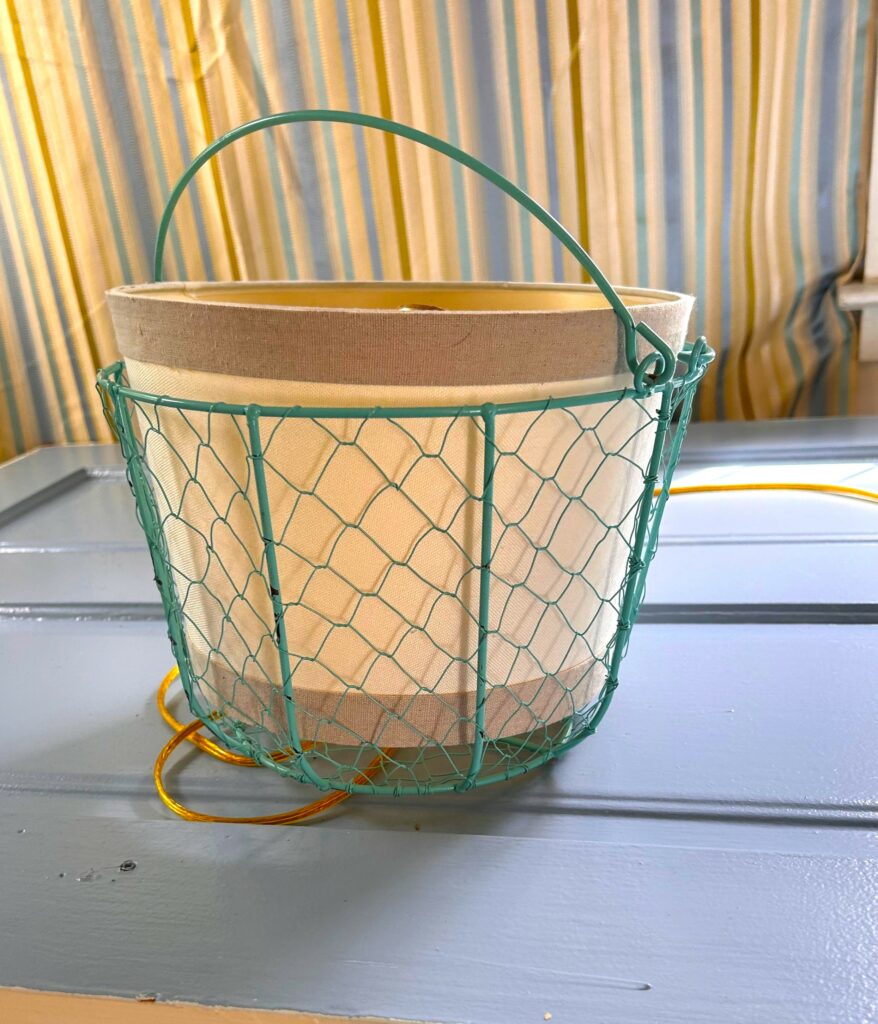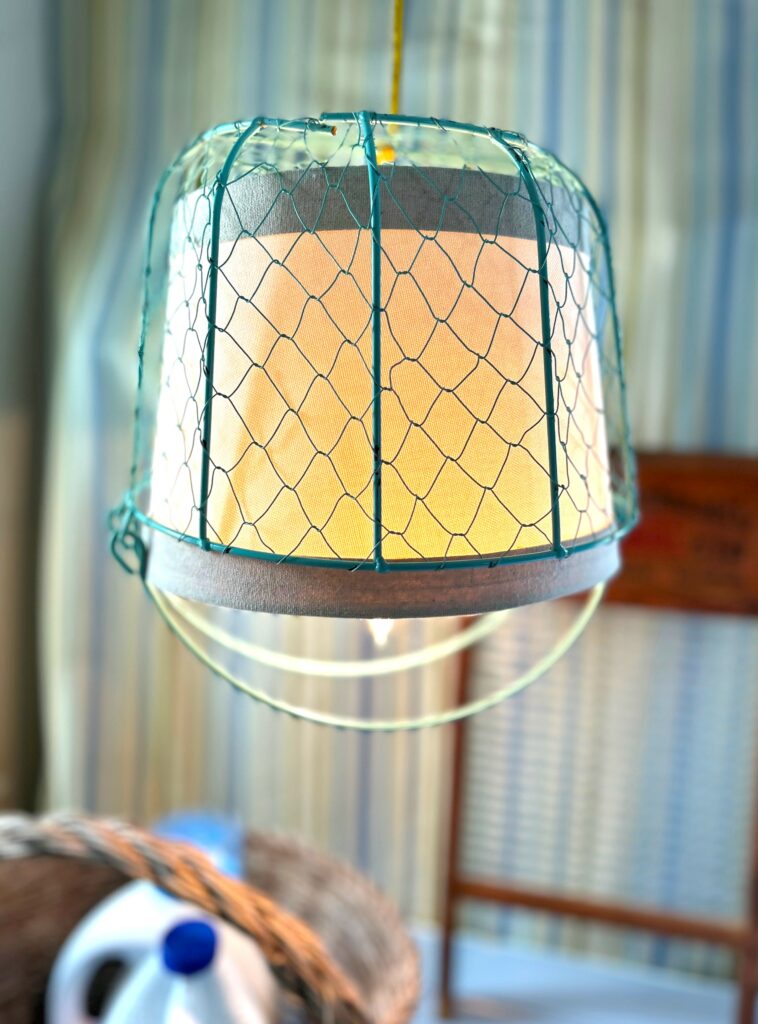 Thanks to my dear sister Tammy for the inspiration behind this week's blog. Now I am ready for the next laundry room redo—who is ready for theirs> Maybe I may I help you, too?
Similar Reads: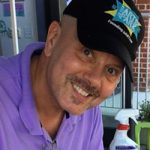 Tim Kime
Artist, Motivational Speaker, Life Coach
Tim Kime is an artist, life coach, and connector. He is the President of Kime Leadership Associates, offering executive coaching, meeting facilitating, and motivational speaking. He is also the Chief Creative Force of Transformation Junkies which upcycles furniture and other household items into functional works of art. He combined his two passions—unleashing the potential in people and transforming items with the launch of the Art of Possibilities Workshops. These workshops are part upcycling, part dreaming, and part goal setting.