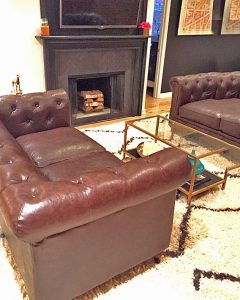 Welcome to my thrifted home! I've been decorating my home with thrifted pieces for years. I appreciate that pre-loved pieces have a history (and recycling someone else's past treasures keeps items out of our landfills). It's also much softer on the wallet than buying everything new! EVERY item in my living room (shown below) was thrifted or purchased second-hand.
Walking into a Goodwill store can sometimes be daunting since not every item is shiny and new (or exactly your taste!!!). Style is a very personal choice so my preferences may not be exactly what you're looking for. However, I have a few tips to help you see beyond a thrifted object's "past life" and find a way to turn it into something YOU love.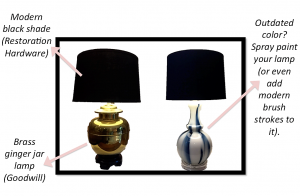 1.) LAMPS
I find the BEST lamps at Goodwill! I am a sucker for a classic ginger jar lamp because they are timeless and easy to update. You know what dates a lamp though?  An outdated, dingy, or stained shade. I often find modern shades at local outlets or big box stores to update my vintage lamps. What if the lamp is ALMOST perfect, but the color is off? SPRAY PAINT THE BASE! Be careful not to paint the electrical components and always use a primer to keep the paint looking fresh longer.
PRO TIP: Goodwill often keeps light bulbs at the front of the store, so you can try out a lamp before purchasing it to ensure it works.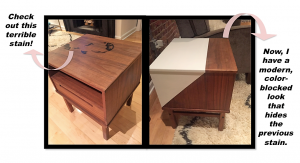 2.) SMALL TABLES
Almost every Goodwill store I've been to has a plethora of small tables that can be used as a catch-all for your entry, a side table in your living room or bedroom, a mini-bar (because we all need a little help on a rough Wednesday), or any other purpose your little heart dreams up. The thing is… many of these small tables have been loved dearly before they make it to the store. They might need your tender, loving care before they make their way into your heart and home. Paint is an easy update. Don't be afraid to think "outside of the solid-colored box" by painting stripes or stenciling over a portion of the table.
DIY TIP: I always have a can of Zinsser Bulls Eye 1-2-3 primer on hand to properly prep my work surface. It doesn't require sanding beforehand and adheres to most surfaces.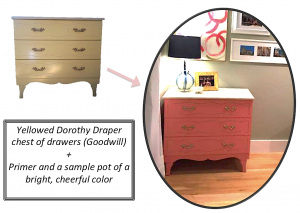 3.) DRESSERS, DRAWERS, AND CABINETS
Goodwill is my go-to spot for well-made, solid wood pieces at a minimal price. As I mentioned above, I often use paint and/or new knobs to update and personalize these pieces and give them new life. Many Goodwills have a section with bagged accessories, including knobs! I've found some fabulous vintage knobs in this section that rival Anthropologie's selection.
DIY TIP: Solid wood pieces are often found scratched and dented.  I use Elmer's Carpenter's Wood Filler to breathe new life into unsightly dents and holes.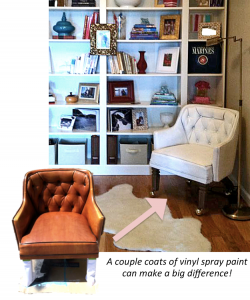 4.) CHAIRS
Paint them? Definitely a great way to update outdated wooden chairs. But what about other types of chairs? I have actually had success using vinyl spray paint on vinyl chairs (see image above).  How about outdated upholstery?  Hiring an upholsterer can be an expensive undertaking (although worth it for pieces you adore with solid frames).  However, some pieces are easy enough to update on your own. Is the upholstery fine but the chair has a dated skirt around the bottom? NO PROBLEM!  Skirts on chairs and sofas are simple to remove and can update a piece instantly! Is a dining room chair in great shape except for its upholstered cushion? Dining room chair cushions are a simple DIY upholstery job any novice could do with a staple gun or even a hot glue gun!
PRO TIP: I save money on expensive Home Decor fabric for upholstery by buying thick curtains or similar material at Goodwill and using the fabric for my chair cushions!    

I hope you enjoyed a few of my tips on updating thrifted items and turning them into something YOU love. There is something to be said about looking around your home and realizing no one else owns pieces exactly like yours because YOU found and personalized the pieces. Join me next time for some inspiring gallery walls and DIY art using frames and canvases from Goodwill.