As you launch into the New Year, here's a resolution you'll be sure to keep. Enjoy more DIY projects in 2022—and beyond.  Inspired by the recent New Year's celebrations, transform a thrift store mirror into one that mimics all the confetti during the holiday. The fabric from a child's colorful sequined jacket was reused and helped to create a sparkling look you will want to toast to as well!
For all of us who love "thrifting," we thank Goodwill for giving us another reason to celebrate the New Year with hope and optimism.
Items needed:
· Mirror with a flat or smooth frame
· Sequined fabric, ideally from a piece of clothing
· Glue gun & lots of glue sticks
· Scissors
1. Start your New Year out right: Shop for your good at Goodwill
What better way to ensure your 2022 is meaningful and full of fun than stopping by your favorite Goodwill store? With the recent year concluding, many of us collected items from our homes and donated them to Goodwill to get the tax benefit. This means that stores are overflowing with new items that you will want to take home for this project and others.
In the section that has artwork and framed décor for your walls, you are certain to find a great collection of mirrors that reflect your style. The one featured in this blog was beautiful with its elegant, French-country shape and lovely beveled glass.
Look in the Women's and Girls' clothing sections to see if you might find an article of clothing with sequins on it; I saw this shimmering jacket when I was looking for something else and its colors caught my eye. A sequined dress or skirt will work well too.
2. Deconstruct your clothing item
With your scissors, cut away any hems, zippers, collars and other parts of the clothing so you are left with just the sequined covered fabric. 
Cut along seams so you have the most material with which to work. 
3. Position your fabric pieces first
With your mirror face up on your work surface, position your fabric pieces to see how they might look. Be mindful to ensure the sequins are all facing the same way so when your transformed mirror is hung up, they lay flatly and neatly. 
Given the various shades of teal, lavender and silver in my fabric, I positioned the fabric so that the teal was on the sides with the lavender along the bottom. 
If your sequin material is all the same color, this will be an easy step; just make sure you have the "right" side facing the top so it hangs nicely when done.
For my mirror project, I cut my fabric pieces in half, lengthwise, since the mirror frame was relatively thin. This gave me twice as many options and pieces with which to work, as well as leftover ones for future DIY projects!
4. Grab your glue gun
Start with one piece of fabric and add glue along the inside frame's edge and put your material's end along it; stretch and position your fabric piece so it fits tightly.  You want to cover up the frame but not have excess material along the mirror's glass.  
Carefully lift of your fabric so that the glue edge is in place, add more glue to the mirror frame and fold back the fabric, leaving any access material along the outer edge for now.
Turn your mirror over and cut away any extra fabric; add more glue to secure it well along the outside edge. This make take a little time and you may need to add more glue as you go but will ensure a solid fit.
For the bottom and top of your mirror, you will want to make sure the sequins line up, so they are horizontal like along the sides. 
You may need to recut and reposition the fabric to ensure the nicest final look. 
Again, glue as you go and cut away the excess fabric.
5. Hang, add accessories and make a toast
When done, remove any excess glue and brush away sequin pieces. Your workspace may look like you had a party with all the confetti-looking scraps left behind!  Use glass cleaner to make your mirror shine then hang in a place to reflect light or to reflect your smiling face. 
Add accessories like color-coordinated candle holders, silk flowers, and more.  In the photos of the mirror's final transformation, all the accessories were picked up from Goodwill, too, as well as the lovely metal table with its tree motif and the round-based side lamp.  
For just a few dollars and in a few hours, you can transform your ho-hum entry (or whatever space is lucky enough to get this shimmering beauty) into one that dazzles all who come by!
And thanks to my fun dog Tiptoe for her help with the project. Didn't she do a great job managing me?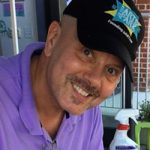 Tim Kime
Artist, Motivational Speaker, Life Coach
Tim Kime is an artist, life coach, connector. He is President of Kime Leadership Associates offering executive coaching, meeting facilitating and motivational speaking. He is also Chief Creative Force of Transformation Junkies which upcycles furniture and other household items into functional works of art. He combined his two passions—unleashing the potential in people and transforming items with the launch of the Art of Possibilities Workshops. These workshops are part upcycling, part dreaming, part goal setting.