Who doesn't love an edgy fall jacket?! I must add a new one to my fall ensemble similar to today's #MyGoodwillFind.
For today's look, we're showcasing this charcoal black moto jacket by LOFT in a size medium. It has faux leather paneling that adorns the shoulders of the jacket as well as the outwear pockets. Constructed with gun metal-toned hardware, this long-sleeved gem will be sure to keep you warm and snazzy this fall season.
At full retail, this jacket would have originally sold at Ann Taylor LOFT stores for at least $70.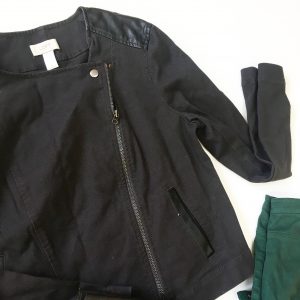 One great aspect of this jacket is it can be worn in a plethora of ways. If considering an all-black rocker look, you're all set. Daring to compose an outfit that's more boho?  Add brown and cranberry red. This jacket will still work!
For today, I decided to assemble a look that  takes cues from rock n' roll trends, but with a softer side by adding color while staying on the darker side with the pants and boots.
The forest green skinny pants and brown and black boots keep your eyes moving up and down rather than being lost in a sea of black. The sheen of the boots also ties back to the shine of the leather jacket panels, creating a cohesive collection of outfit textures.
I especially am in love with the construction of the brown and black Steve Madden boots from Goodwill. The brown straps have a unique Harley-Davidson style.
How would you style this LOFT moto jacket fashionistas? An edgy look or a softer boho outfit?