How did it happen?  Summer vacations are over now, and kids are back in school.  Continue with the fun outside of the classroom—by creating a space for them to get away from the books and blackboards.  Two school chairs are paired with a small industrial stool for a vibrant set just the right size for the littler ones!  This project is easy as A-B-C or 1-2-3 when you follow the simple steps offered here.
Supplies needed:
· Two small school chairs
· Small industrial spool
· Colorful spray paints (yellow, red, green), glossy finish
· Epoxy glue
· Craft spray adhesive
· Scissors
· Painter's tape
· Spray paint can lids
· Drop cloth
1. Find big and small treasures at Goodwill
When you browse the many aisles full of cool, funky, and inexpensive items at Goodwill, keep your eyes out for unique items you're not likely to find at a big box department store or online.  With this in mind, I found a pair of school chairs—a rare find for sure—that were super sturdy and reminded me of my very early days in the classroom.  They had to go home to be upcycled.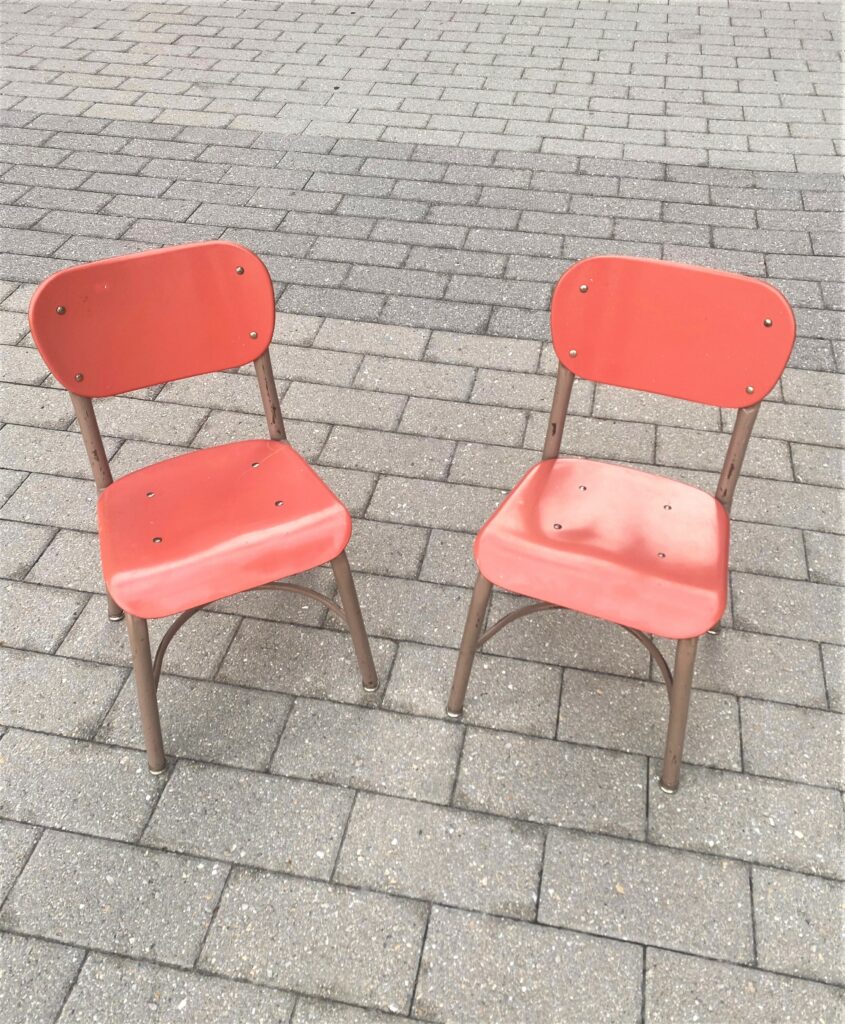 What items have you seen at Goodwill that are very unusual or surprising?
2. A spool makes a set
An industrial spool, which was previously wrapped in cable, certainly is the perfect size to join the two classroom chairs as a truly one of a kind, upcycled set. Flipped on its side, it was meant to be a little table for sure!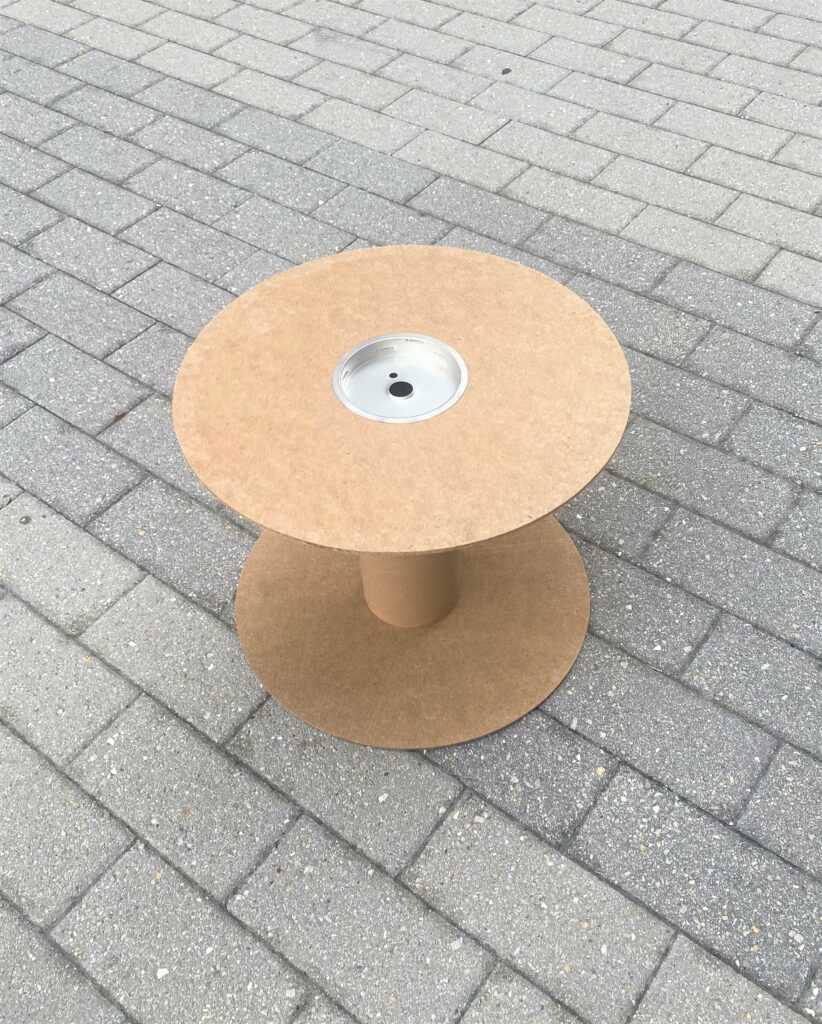 3. Choose bright colors
Spray paint is a great option for metal chairs, so select happy colors kids love. The chairs' original tones were beige and gray…kind of downers given they would have been in a school at some point in their past. Well, those dreary days are gone, so primary colors were chosen for their vibrancy and youthful feel.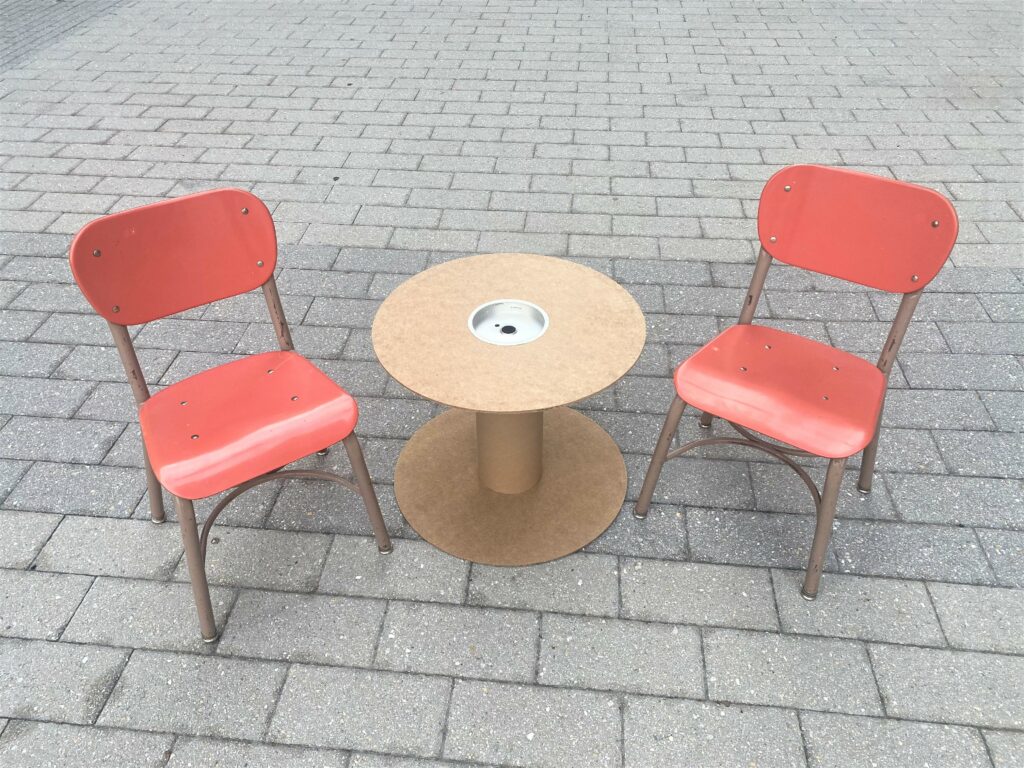 4. Paint your pieces
The first step was giving the chairs' legs and spool table's center a bright transformation with yellow spray paint. The pieces were placed on a drop cloth outside and received several light layers.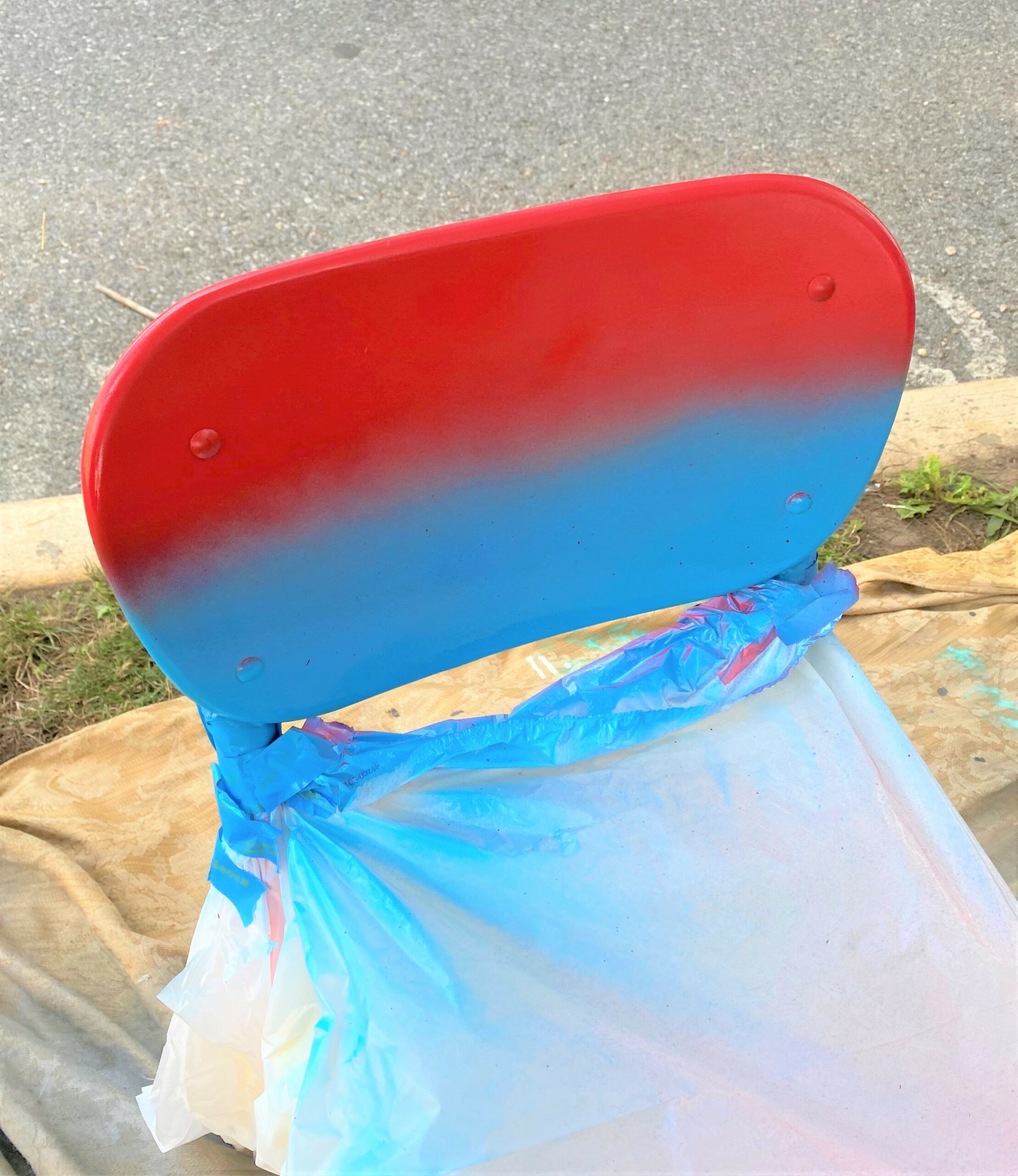 After the yellow paint had dried very, very well, those parts (the chair legs and spool center) were protected using plastic bags and bubble wrap held in place with painter's tape. For added visual interest, the chair backs were painted half red and half blue. The spool table's top was painted the blue with the bottom section a matching red. Again, several light layers ensured solid and good paint coverage.
When the red and blue paints were dry, too, the bags, bubble wrap and painter's tape was carefully removed.
The cheerful happy colors made the pieces look like the set they were destined to be!
5. Repurpose eye-catching fabric
A pair of drawstring shorts had the Looney Tunes cartoons all over them in the same bright colors. 
The shorts were cut open; the drawstring section was trimmed away, as were pockets and hems.   
The remaining material was cut into two pieces after measuring to ensure the chairs' seats would be covered completely by them.
Adhesive craft spray was used to secure the material to the chair seats.  After the top was done, the chair was flipped over and extra fabric was cut away.  More adhesive was sprayed along the seat's bottom edge (now facing upright) to secure the fabric tightly.
Expert Tip
The spray adhesive can be a little tricky to work with on such a project. Before I sprayed in on the chair's seat, I used some cardboard to project the yellow painted parts holding up the back to the adhesive wouldn't get on it. Also, be careful to not fold your fabric as you go so that the backside of the fabric is the only part that gets the adhesive on it.
Design Idea
Based on the material you find to cover your seats, you might have an opportunity to connect the fabric on the chairs with the table. Given all the happy and fun cartoon faces, four were cut out and glue on the table's top using more of the adhesive. I thought it was the icing on the cake for making this set look friendly and welcoming to younger ones.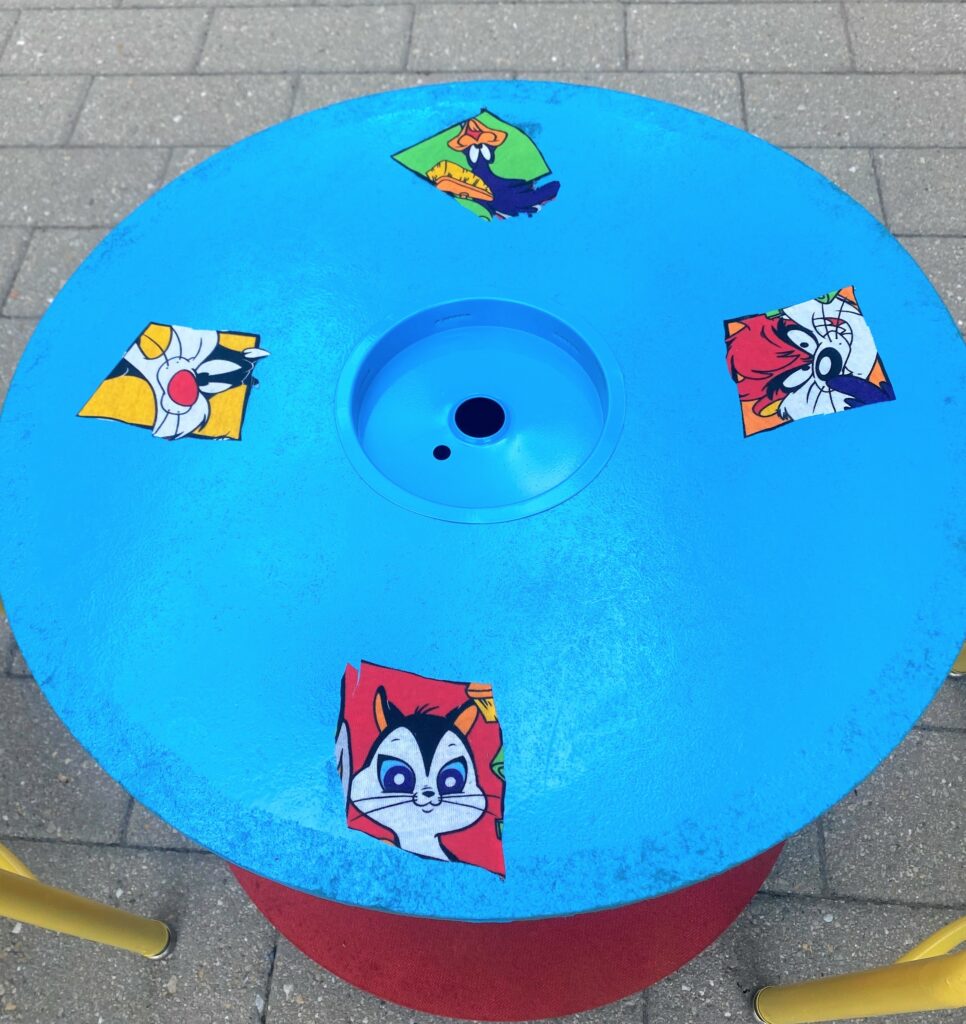 6. Raise up your table a little if you like
The table needed to be raised up a little bit to make it a more comfortable height. Light weight yet strong spray paint can lids were used; they received blue paint and were glued in place with epoxy glue for a strong bond.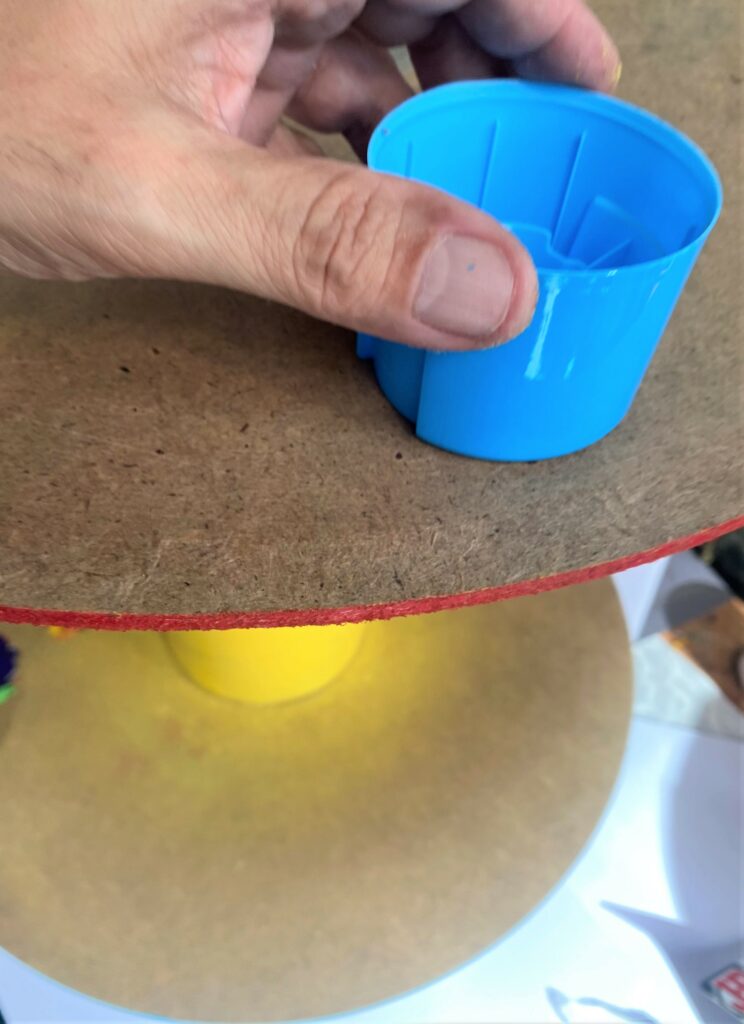 7.      Sit and celebrate!
Place this happy set in your kids' room for a place for them to have fun. Position it in the corner of the family room so they, too, have their own special place to sit and hang after the homework is done. The chairs are strong enough that even fully-grown students may sit, too!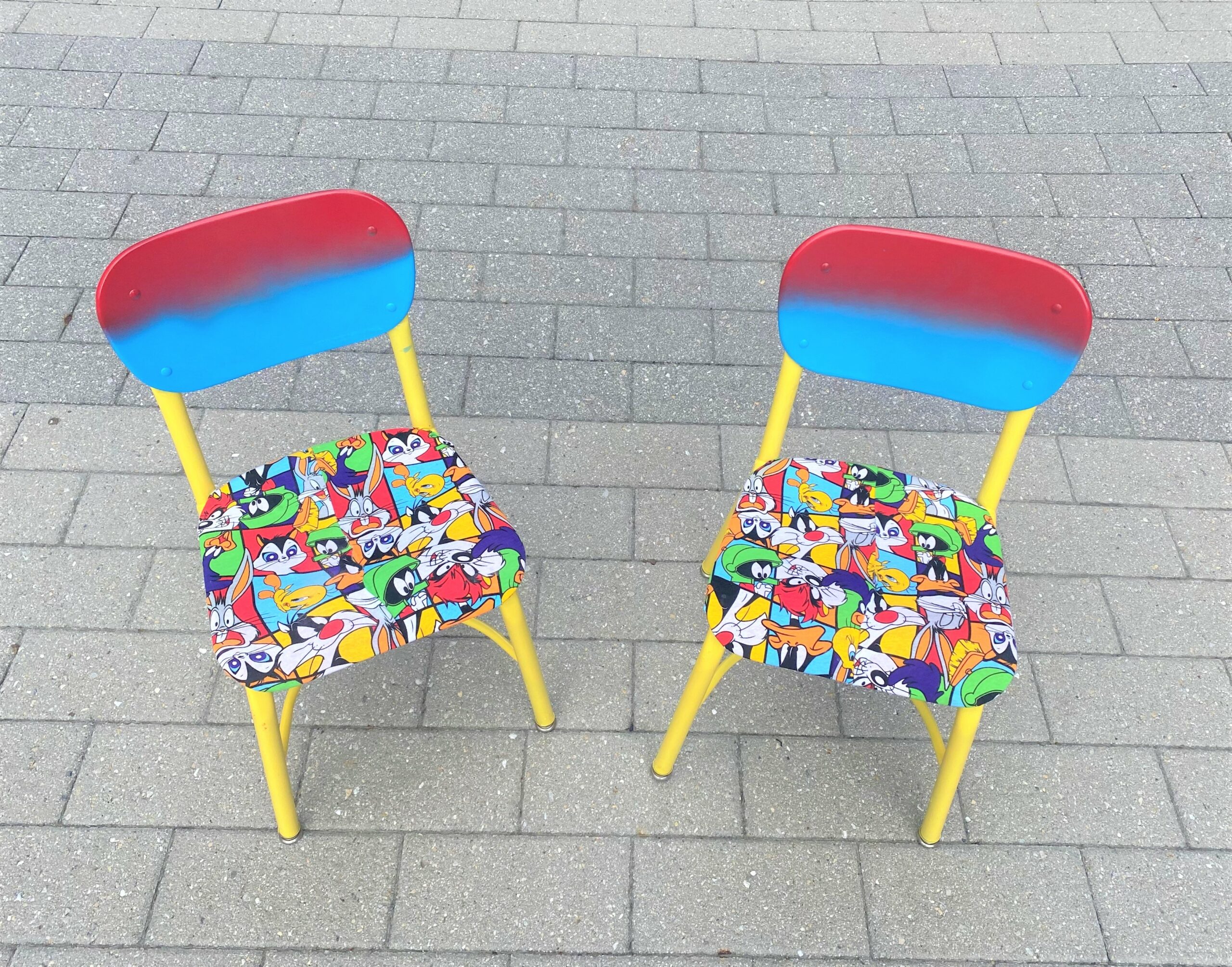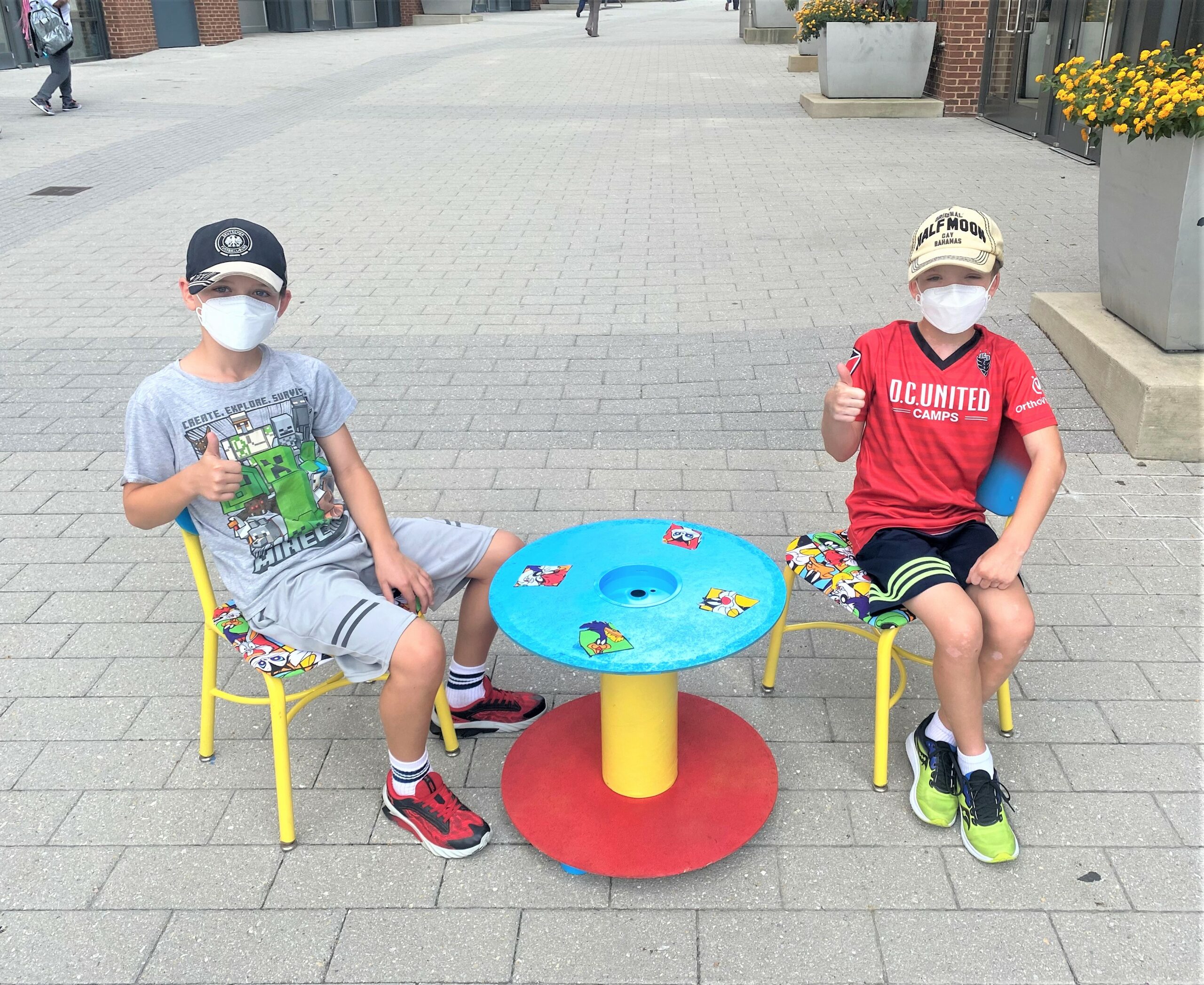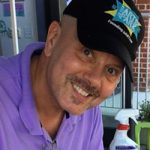 Tim Kime
Artist, Motivational Speaker, Life Coach
Tim Kime is an artist, life coach, connector. He is President of Kime Leadership Associates offering executive coaching, meeting facilitating and motivational speaking. He is also Chief Creative Force of Transformation Junkies which upcycles furniture and other household items into functional works of art. He combined his two passions—unleashing the potential in people and transforming items with the launch of the Art of Possibilities Workshops. These workshops are part upcycling, part dreaming, part goal setting.