Just because typewriters are a thing of the past, doesn't mean those tables that held them have to be put out to pasture, too. With some paint and some vision, you can easily give a typewriter table a new purpose as a mini-bar, bistro table or even a place your laptop.
Ability level: Easy
Age Level: Teens and adults
Items needed:
Typewriter table
Spray paint
Painter's tape
Accessories
Time requirement: One hour (not including paint drying time)
Cost: Approximately $20
$10 for typewriter table
$5 for spray paint
$4 for painter's tape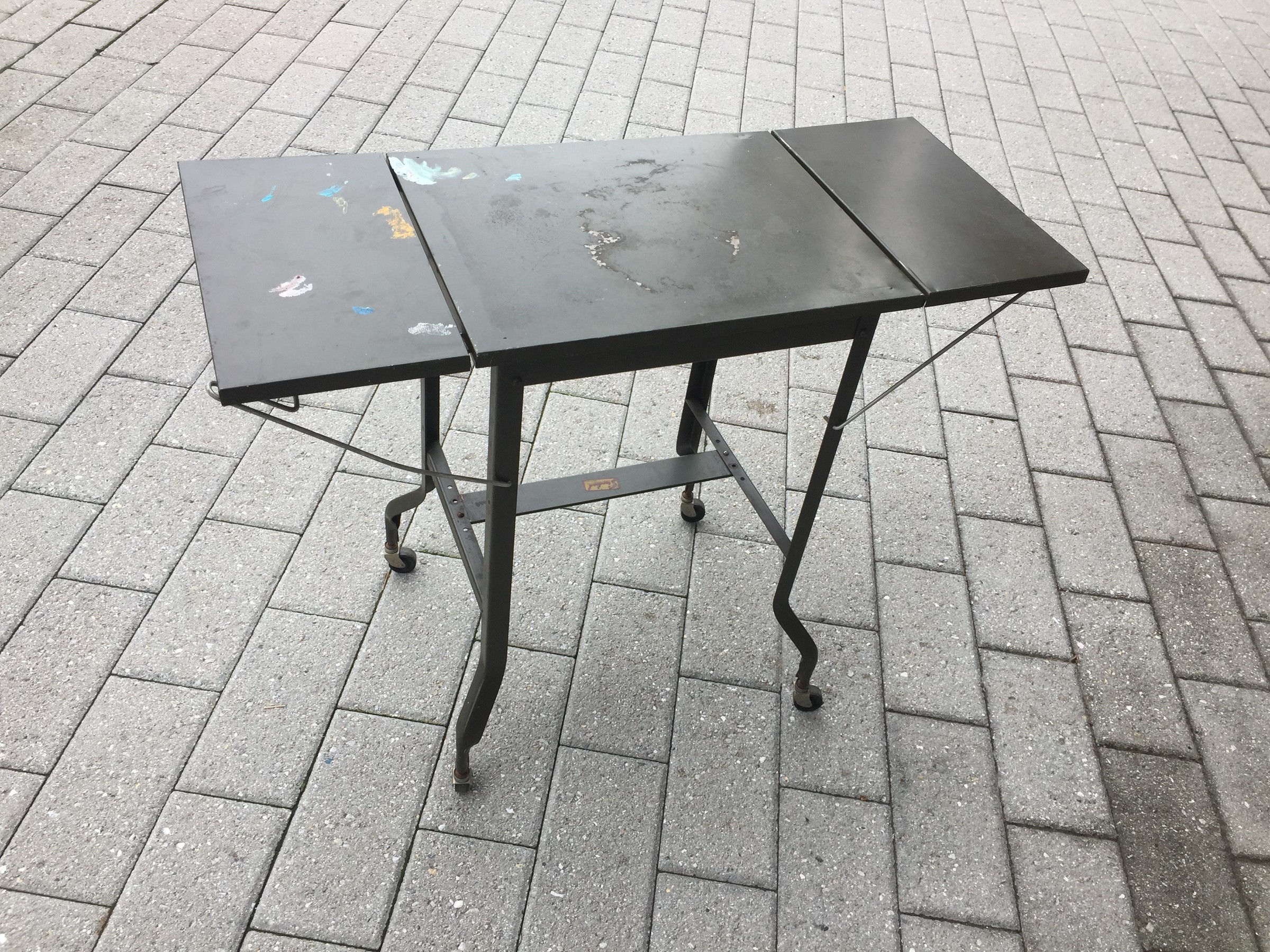 Step 1: Pick Your Piece
Look for a typewriter table or other out of date piece at your friendly neighborhood Goodwill Retail Store. I certainly scored when I saw this old table because it has wheels, two sides that expand and solid construction. Just because the purpose of the item might have changed (does anyone even have a typewriter anymore?), consider ways to give it a new life.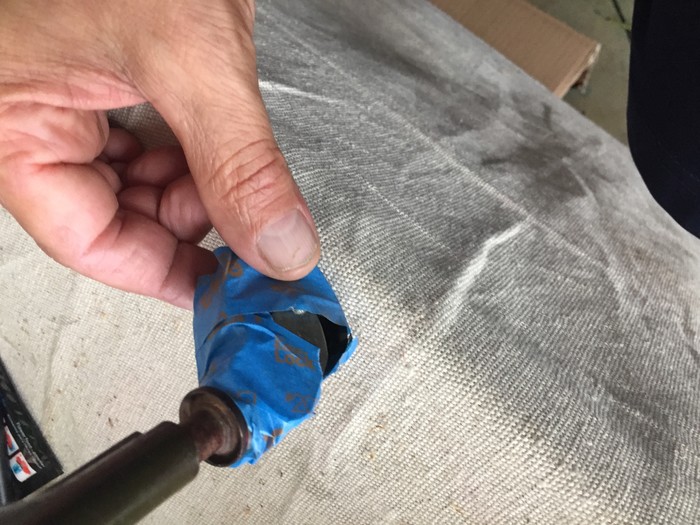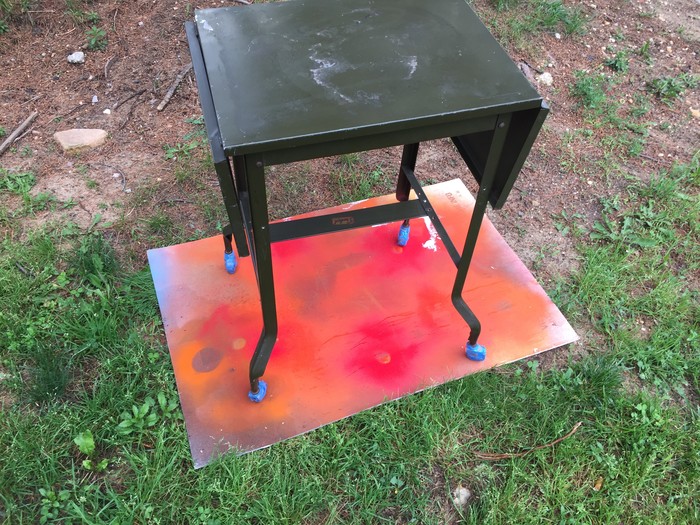 Step 2: Paint Transforms Immediately
After you have wiped down your piece to remove any dirt or dust then use your painter's tape to protect the wheels or other parts that you want to keep intact. With this piece, only the wheels needed covering to keep the paint off; the metal pieces that hold up the shelves were easily removed otherwise they would have been covered with the tape, too. Once you decide on your color scheme, you will see the immediate transformation with just a couple of sprays of the paint. In full disclosure, I started to paint the whole piece purple but changed my mind and went with a light blue table top and black legs. Spray the table lightly with the paint, knowing that you will come back over it with several additional, light coats. Let it dry overnight—that's it. Your cool typewriter table will no longer be delegated to the secretarial pool but will serve a new role with style.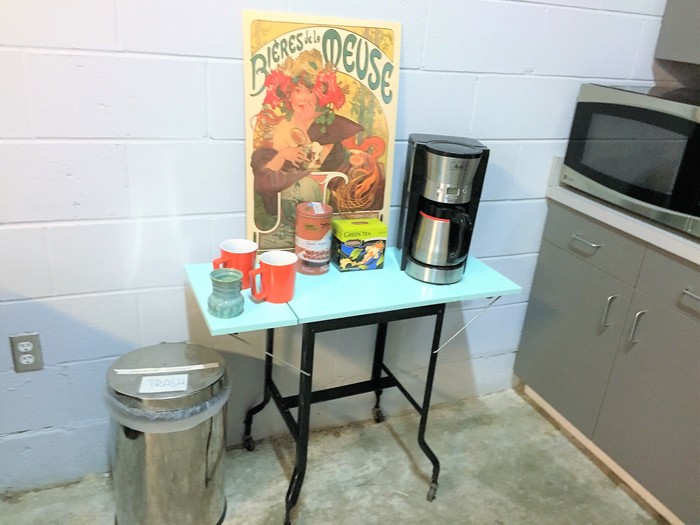 OPTION 1: Kitchen Caddie
Roll this table into your kitchen, find the right space and add a coffee maker, mugs, sugar and other decorative items. An empty space now has a great use with lots of personality.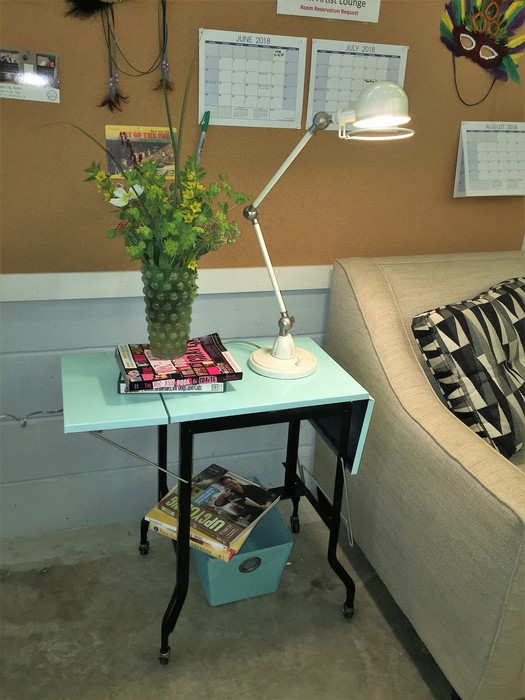 OPTION 2: End Table
Drop one of its flaps, move by your couch and you have a great new end table. Add a lamp, magazines, a small storage bin and you are ready to go.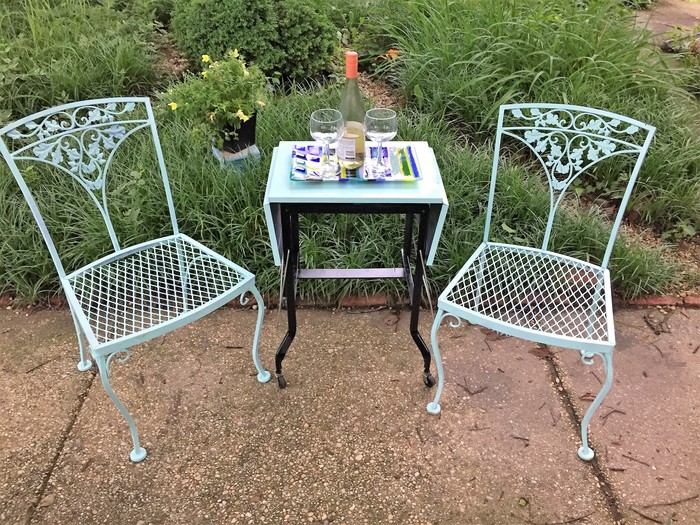 OPTION 3: Garden Bistro Set
Paired with chairs in matching colors, you now have a charming and easily moveable bistro set to enjoy breakfast, lunch or wine in your garden.
How would you use this table at home?
Tim Kime is an artist, life coach, connector. He is President of Kime Leadership Associates offering executive coaching, meeting facilitating and motivational speaking. He is also Chief Creative Force of Transformation Junkies which upcycles furniture and other household items into functional works of art. He combined his two passions—unleashing the potential in people and transforming items with the launch of the Art of Possibilities Workshops. These workshops are part upcycling, part dreaming, part goal setting.