Fall, fashionistas, is undoubtedly the season of the scarf. This is the time in the year after a long stint of hot weather where you can whip out scarves, without feeling overheated.
There are millions of styles of scarves and they all have a place in one's closet. However, there's one type that every woman absolutely needs. A black infinity scarf.
An infinity scarf is a regular scarf that's just fashioned into one singular loop. This genius invention allows one to rock a scarf, like they normally would, without it falling off our onto the ground. The style is also similar to a necklace, for it doesn't have any ends to wrap around a neck.
There's no known date for when this type of accessory was invented, but it's gained mass popularity in recent years.
I strongly believe that everyone needs a scarf in this style, specifically black, because it is versatile, comfortable, easy to find, AND easy to carry around.
Black, as we fashionistas know, is an easy color to rock with anything. It's a base color, so every other color and style can match flawlessly, no matter if it's pink, green, fancy, or casual.
I also dig the infinity because of the shape and quality of it. The circle allows it to effortlessly sit on your neck and shoulders, and be looped around (like you would a necklace) as many times as you'd like without it falling off and looking uneven. I find the weight and large shape of the scarf also to be very sculptural. It draws attention to ones head, and adds a circular loop on the neckline.
Many celebrities agree with me on this trend and are rocking the black infinity on the day-to-day.

Lea Michele, the famous singer, actress, and author was seen rocking her infinity out running errands.
As you can see it's easy to wear as a fall staple. I love how she's wearing her scarf in a casual look with no cares in the world. She looks so relaxed and comfortable — her scarf looks like a necklace blanket!
What's also great about the black infinity scarf is it's basic and simple. Like Lea, you can dress it up, or on the other hand, dress it up with sequins and gems.
Jessica Alba has also been seeing wearing this scarf in a casual and carefree ensemble. I LOVE how she's embracing the all black look, and using her scarf to contribute to the look and add texture. I especially love the scarf paired with the fall hat. It's so chic!  <3
Unlike Lea's, Jessica's scarf is thinner and more of an accessory. I'm not sure this version could keep her snuggly on a super cold day, but it's definitely successfully working as a cute and simple accessory.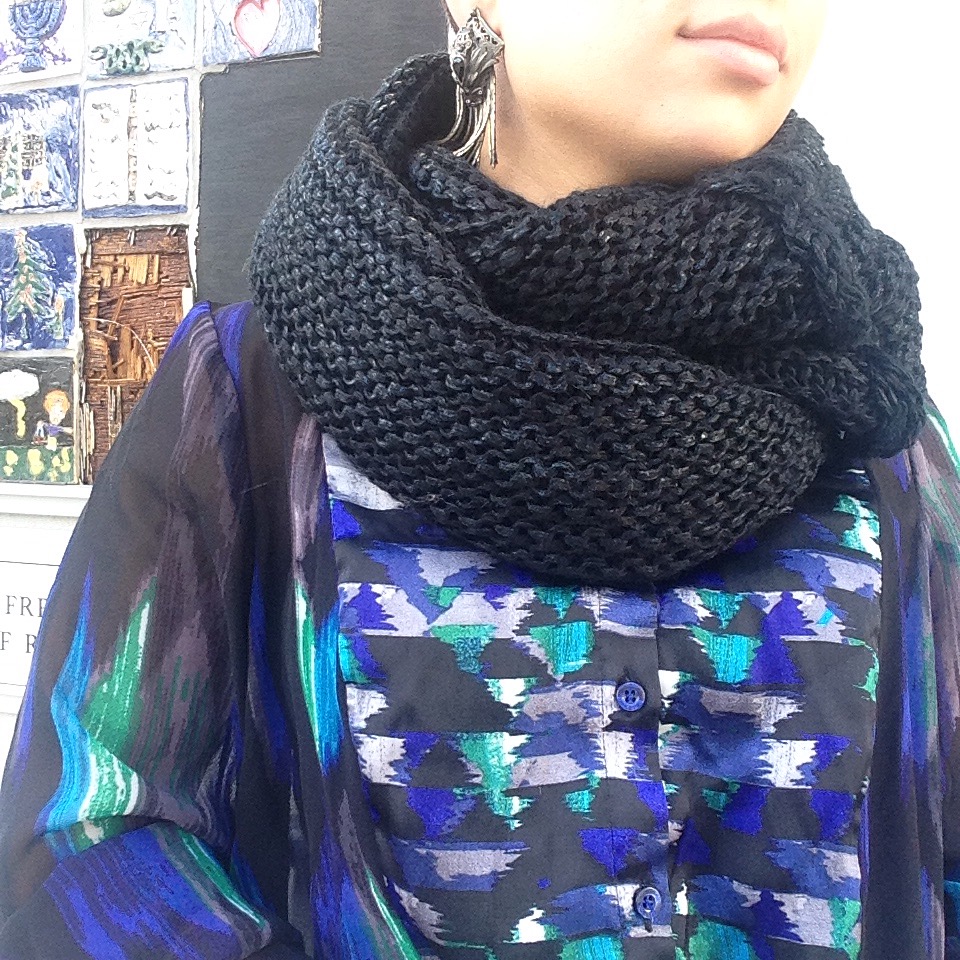 Most importantly of all, infinity scarves are not expensive at all and easy to find. On one of the last 50% off days, I snagged myself this brand new Bebe big and comfy black infinity for $2. I wore it yesterday on one of the first chilly fall days, and it didn't fail at keeping me warm.
I wore mine with a mostly all black outfit, but used some pops of dark blue to give the look some color and added visual complexities.
Have you seen this style of scarf at Goodwill, dear readers? Would you consider adding one of these to your collection?