Dear readers, belly shirts and crop tops are making a serious comeback and I'm not sure how I feel about this. I'm really on the fence. Part of me says "Oh no," but part of me says, "Oh. heck yes!"
The reason why I say no, is based on some recent experiences. Lately, while walking through the streets of DC, I've been seeing more and more girls wearing belly shirts, and it's left a bad taste in my mouth. Here's why.
I've seen numerous people wear them with leggings that hit the hips. I'm not sure why but I feel like crop tops should be worn with high-waisted clothing. Wearing two super tight pieces of clothing together of the same kind, doesn't look like an outfit to me. It looks like something that should be worn to the gym…definitely not out on the streets.
Personally I feel very self conscious wearing leggings AND a tight crop top together. On my body, it feels a little too revealing and that I'm exposing myself. Also, I would feel awkward running into a coworker or boss wearing an outfit so tight. Maybe I'm too old for this (ha!)? It seems to me there are a lot more stipulations and general unexpected outcomes that go with wearing leggings and a shirt that reveals a belly when you hit the 9-5 working world.
Not only have I seen your average day person rocking this trend, but celebrities as well. And no matter who sports this trend, I still wouldn't go with it. It's just not for me.
Now, let's talk about the other side of the coin.
I absolutely LOVE crop tops when worn with high-waisted clothing. To me, this works better with where I am in my life. To me, as a 9-5er, it's more appropriate for me to wear a crop top with a high waisted skirt or shorts. The little sliver of skin that is revealed with these type of combos is a tad sexy and leaves some mystery. I also generally love the shape it gives my body. Especially, being petite, it provides my body more of an hour glass shape and makes my torso appear longer. When I wear a crop top with a low-waisted garment, it draws attention to my belly and how short it is — which isn't really good or bad thing, it's just what it is.
For your viewing pleasure, I put together a few looks, just to show that I do like crop tops, just worn in the way that I really enjoy and feel comfortable with.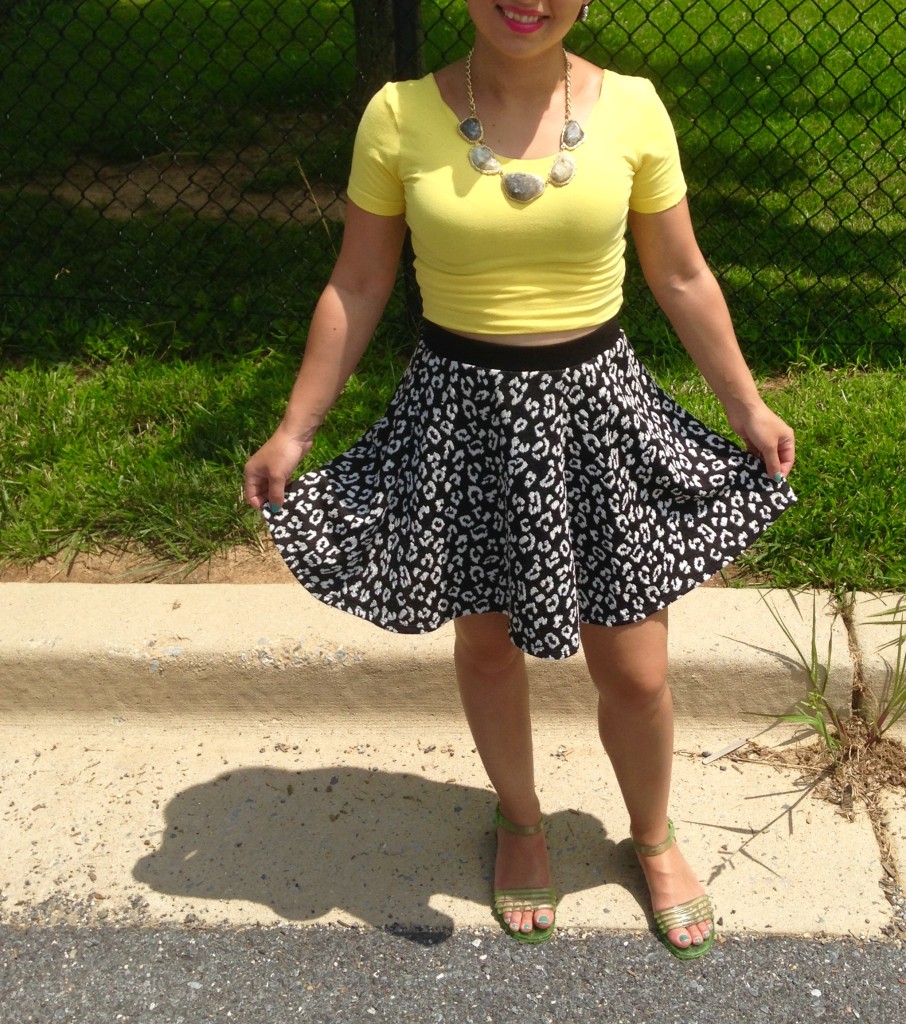 This first look is definitely a day or weekend look. One of my favorite things to do is wear my crop tops with skirts. I'm pretty petite, so the length of a high-waisted item elongates my torso, making me look a bit taller. On top of that, an added crop top adds a bit on femininity, without drawing attention to my super petite frame.
I especially love crop tops in the summer; they add a nice little breeze to my mid-section.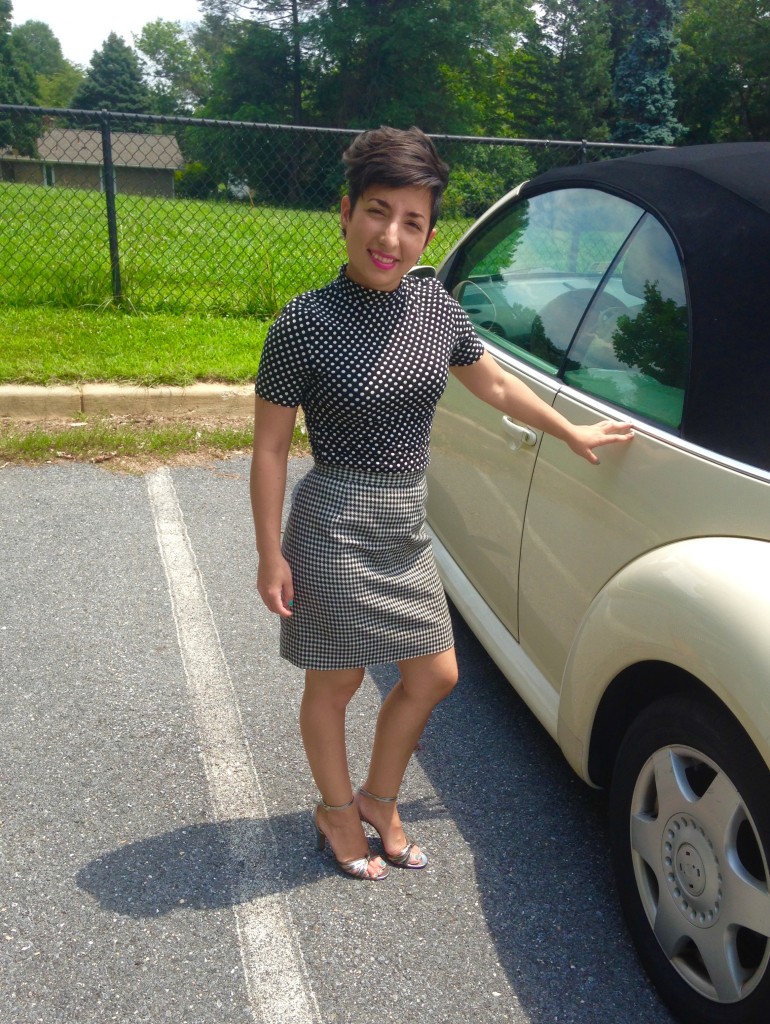 This crop top (although it doesn't look like one because I'm pretty small!) was scored from the Goodwill on Columbia Pike, NWT, for under $5. I picked up this top because of the polka dotted fabric, and the nice touch of the small turtle neck. Surprisingly, on this hot summer day, I was not sweating while wearing it — the fabric is pretty light.
I love wearing this top to work with a printed skirt. As you'll learn about me, I love pattern mixing. Especially with black and white prints. This outfit looks work appropriate while pulling off a crop top! When this top is paired with a different bottom and shoes, I can make it into a summer day outfit as well.
So there you have it folks. To sum it up, I think crop tops should be worn with high-waisted items, not leggings (or other garments that hit  right at your hips). It's just not something I can really wear at this stage in my life.
How do you feel about this belly baring trend? Am I being too critical? How do you like to rock a crop top? Let's start a conversation!