The first time I heard of Calypso St. Barth was a long time ago when I worked at a vintage designer boutique in Georgetown. A few blocks away, when walking to grab lunch, I noticed that a Calypso store had recently opened. I had never heard of this brand before, so being the inquisitive person that I am, I made my way to the store front to peek inside. The interior was a classic, clean atmosphere  filled with clothing of luscious fabrics. Unfortunately, I couldn't go inside, for I had to head back to work.
Thanks to a handy Google Search, I learned more about the brand. It was after that search, that I noticed the brand appearing everywhere. At resale boutiques, online…this brand was one that I now knew. Since then, I've noticed this brand growing in popularity — one location just opened up right near where I live!
Calypso has been a brand for over 20 years and is a luxury lifestyle brand inspired by travel, and culture. It's pieces are very classic, and can be worn by women of all ages. As you can feel by the name, the brand is about vacation, the great escape, and relaxation.
My first Calypso piece was scored at Goodwill in Rockville for $5. It was brand new with tags, silk, and retailed for $95 — something I would never ever pay for a skirt. So when I spotted today's piece also at the Goodwill in Rockville, I was ecstatic. I knew it was luxurious, and sells for around $100 or more, brand new.
Today's item is of great quality, and is made of a soft silk. It's gray color is versatile and can be worn with anything. I'd wear it with some skinny or straight legged pants. White bottoms, anyone?
This piece has a lot character and is embellished with thoughtful details. Its gray color is rich, and it's soft to the touch. The peter pan color, ruffles, and pleats allow this piece to transform into something you can wear to work or a fancier but still casual occasion. The peter pan collar is oversized, but it doesn't really overwhelm the neckline.
I would wear this item with a pair of white pants. For jewelry I'd rock a pair of dangly earrings and a few bracelets n' bangles. Because the collar is so wild, I wouldn't wear anything else on the neck to detract from the top's great qualities. I could also see this piece being worn with a nice pair of denim as well. In any situation during the summer, I'd opt in for any kind of wedge. But if you wear a wedge with ankle straps, cuff up the pant leg so you can show off your whole shoe. I can also see a nice pair of sandals being worn with my desired clothing combo. It can be very hard to walk in wedges for too long, so a sandal look will provide some comfort and ease while on foot.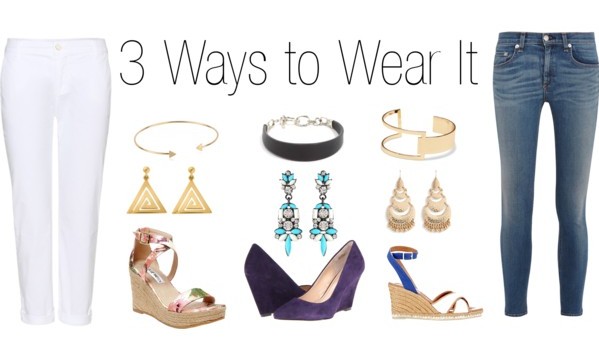 I know my pairings can be a little out there sometimes, and a bit extravagant.  So tell me fashionistas, how would you style this piece?