Unlike previous years, this year, I actually took the time to read up on some of the latest and most important fashion, particularly, New York Fashion Week. I never really cared (and still don't), to keep up to speed on this kind of stuff because I'm not a big trend follower. Rather, I like to craft my own trends based off of what pops out at me on the Goodwill racks.
I took the time to research some lines this year because fashion designers truly are artists. Although, I might not ever want to or think of wearing the pieces of the runways, I have to appreciate the art and craft of a beautiful garment. After all, I am an artist myself (I studied painting in college, and NEED to get back into it!)!
New York Fashion Week
After flipping through countless photos, I've realized this: most NYFW fashion outfits should never be worn all together in the streets. On the catwalk, it's fine, but each ensemble is a bit too crazy for my style.
In particular, brands like Jeremy Scoot, Marc Jacobs, and Delpozo designed pieces that were absolutely dynamite. I just don't think I could ever wear them on the street, to work, or on a date. I could maybe wear them to a fashion event, but that's only a one or two time thing!
I especially love the wacky Jeremy Scott look. It's colorful, mod, and quite chic. However, one, I don't think I could ever fit into that coat, and two, I would wear each piece separate from one another. I'd totally rock that skirt any day! Even with the yellow tights 🙂
In contrast to the above looks, these ones are much more wearable on the street. I'm loving the beautiful lines, cuts, and the sheer simplicity of each look. Disappointingly though, these were some of the only looks I saw that I could wear directly off the runway. I'm disappointed by this because it's a stark contrast against the wild looks – there's no in between.
The colors are to die for though! So soft, bright, light, and summery. I especially love the floral pant/skirt. I'm not sure it's fall or winter material, but it's something I'd whip out during warmer temperatures!
DC Fashion Week 
I was lucky enough to attend a DC Fashion Week event last Sunday evening and it had a much different vibe than the NYFW looks. These were much more wearable, and resort wear — meaning items that could be taken right off the catwalk and onto the cement pavements of DC. Each outfit also had a tad more casual, and less high fashion.
One thing I did love about DC Fashion Week is that it featured real models. They weren't stick thin and were of all different cultures. Each woman had a beautiful body, no matter the height or ethnicity. I didn't see all body types represented, but at least the types of models picked were going in the right direction!
These were from a line that I could appreciate but didn't 100% love. While I appreciated the concept, some of the looks were a bit too dark and gothic for my taste. Also, some of the hoop skirts and head pieces reminded me of a high school fashion show because some pieces weren't crafted perfectly.
This line was my favorite one of all! Unfortunately, I didn't catch the name of the designer, but each outfit reminded me of France. They were sleek, well crafted, and bright in color. If I could've, I would have taken home each outfit to wear to work or play! The boat neck tops, bright colors, and tea length skirts also gave me a classic vintage pin-up like vibe.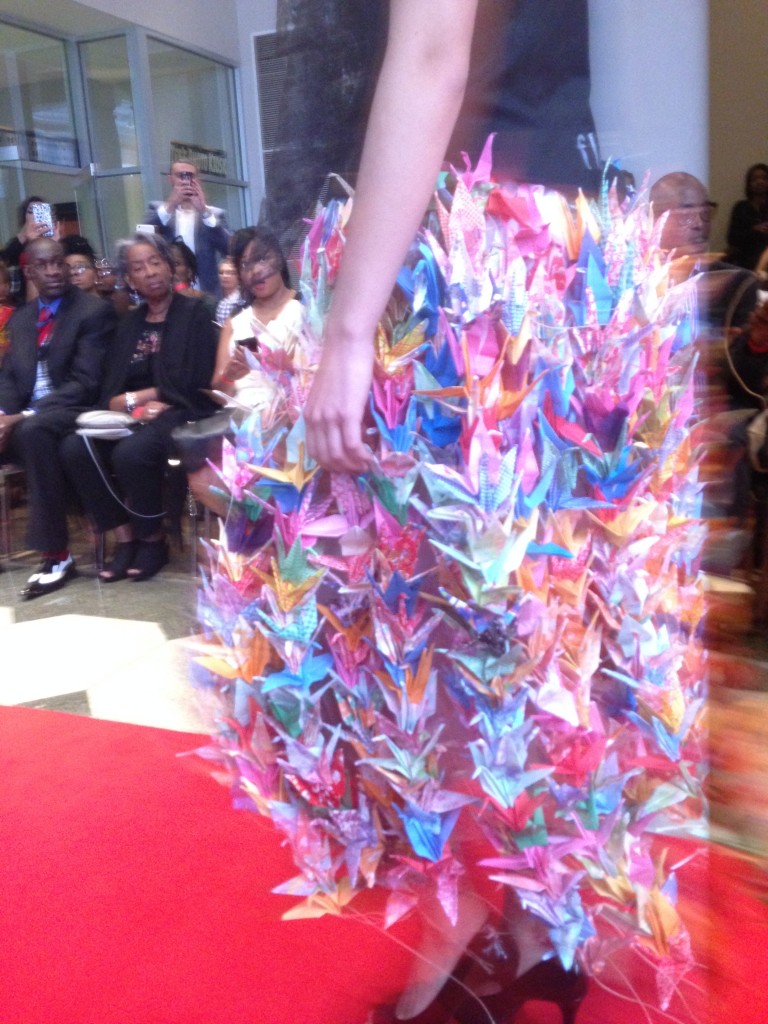 While I wasn't a fan of the entire line, this origami skirt above was the most NYFW-like piece and I loved the craftsmanship in it. It was so gorgeous, it was literally glowing! 🙂
What I love about it is that the designer took the time to produce hundreds of paper cranes to ornament this colorful skirt. It's very sculptural and different. I'm not sure I'd wear this out, but it would be on display for everyone to see in my living quarters!
Overall, I wasn't 100% impressed with DCFW. While I enjoyed some of the lines, it still showed it had signs of needed growth. The program was a bit wonky, some lines and visible hanging threads, and there were very little refreshments.
When comparing the two shows, there is much more to say. Both leave me wanting more, whether it's innovation, or wearability.
What are your thoughts on either Fashion Week, dear readers?