Today, fashionistas, you're in for a special treat! I found two extremely comfy and versatile Eileen Fisher tops for you to enjoy and oogle over. Unfortunately, they were too baggy on me, but that's okay. At least, these will be sure to go into great hands and amazing outfits. 🙂
Have you ever heard of Eileen Fisher? If you haven't, this brand is known for simplicity, creativity, sustainability and great design. They've been around for many decades, filling the closets of celebrities and making an environmental impact. Her clothing is on the higher end side, with stores scattered around the DC area in upscale neighborhoods like Friendship Heights and Bethesda.
Her garments usually retail for upwards of $1,000, meaning this brand is valuable.
Today's tops are on the simpler side, but still fashionable. They are both a size small, and originally retailed for over $100! How cool!
Both tops are made of linen and have barely been worn. Top top it off, they both have zero stains and the fabric is vibrant and flawless. The orange on the short sleeve really POPS, and the white on the long sleeve glows. Although they are both brighter colors, they are certainly and undoubtedly appropriate for the fall. With the right accessories and bottoms, you will be ready for most any occasion!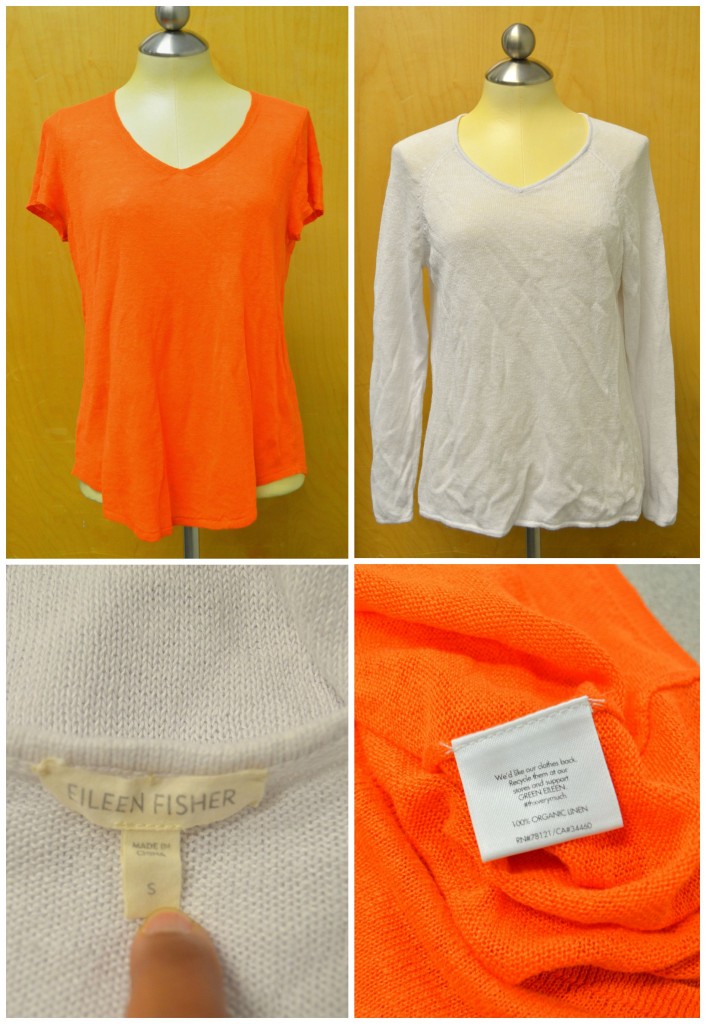 Eileen Fisher -Orange: Buy It Now (already sold!)
Eileen Fisher -White: Buy It Now
I'm going on a different route, than what I usually take on my typical My Goodwill Find posts. For this one, I'm going to focus on how accessories can transform one of these basic tops.
Since they are simple, they can function as a canvas for any type of bling you'd like to wear.
For both tops, a necklace or neckwear is mandatory. The tops are just too simple to not have a party going on around the neck. And this doesn't have to be exclusive to necklaces. For the fall, I picture these tops working fabulously with a nice comfy and cozy neutral colored scarf. It's practical and fashionable all at the same time. Although a scarf has no glitz, you can make up for that with some cute earrings, bangles, or handbag with metal hardware. For both tops, a nice gray scarf, fringe or infinity, will flow well. Black and navy will both look cute as well; the two colors aren't very flashy.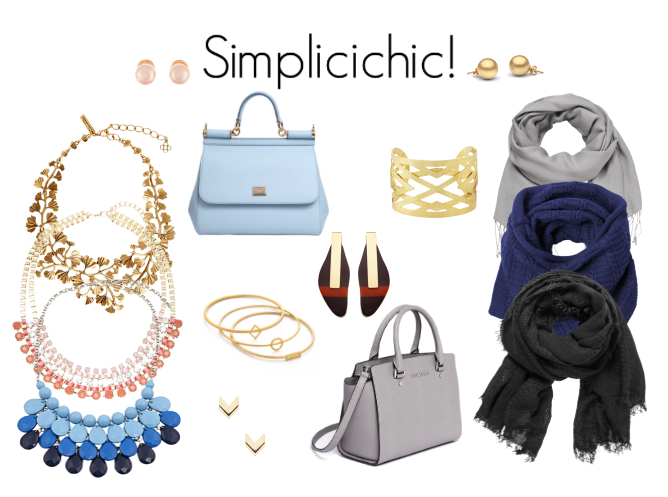 Image by Polyvore.
Now, let's talk gems. A cute but simple statement necklace will stand out against both Eileen Fisher tops. Blues, pinks, golds, and silvers are colors that will look appropriate, without being festive or weird. For example, with black or dark green, you risk hearing Halloween and Pumpkin comments. Just be careful with the colors that you pair with orange especially. With the white top, be careful not to wear a cheap necklace, because odd discoloration might occur on the neckline from fading metals. Universal to both tops, a party on the neck is hands down, a must-try.
Earrings could be classic studs or dangling pieces of art. It doesn't matter what side of the fence you're on because both will work! I personally might wear studs if I'm already wearing a scarf or big chunky necklace. You don't want too much to be going on, for balance is key.
Handbags, handbags, handbags. Any kind will work! Because the tops are simple, the opportunities are endless. For work, I'd rock a neutral structured tote to fit my laptop and other necessities. When a big bag is not required, why not use an envelope style purse! I hear they're pretty cool. 😉  They fit a lot of items like a phone and wallet without looking clunky or ponderous.
And finally, bracelets. Like with your necklace, play around a bit! A big gold cuff seems to be quite popular this season, and these tops are the perfect pieces to start playing around. In contrast, if you get annoyed with big bracelets, small little bangles will look chic and elegant. You really can't go wrong!
What type of accessories would you rock with these tops, dear readers? Any color scheme recommendations?