I have intense conversations with my brain whenever I go shopping. They go something like this.
Ooh! Look! Halloween decorations! Isn't this cute?
$20 bucks? Are you kidding me? You can make that yourself for way cheaper!
Hmmm… I bet I could. And it would be really cute too!
* * *
The inspiration decoration I spotted at a big box store was a ceramic figure shaped like three books stacked on top of each other. The books were labeled Spells, Potions, and something else I don't remember because I was too busy figuring out how I was going to DIY it.
I could use real books. And paint them.
Yes! Let's go to Goodwill! You can get books there.
Woo hoo! Great idea!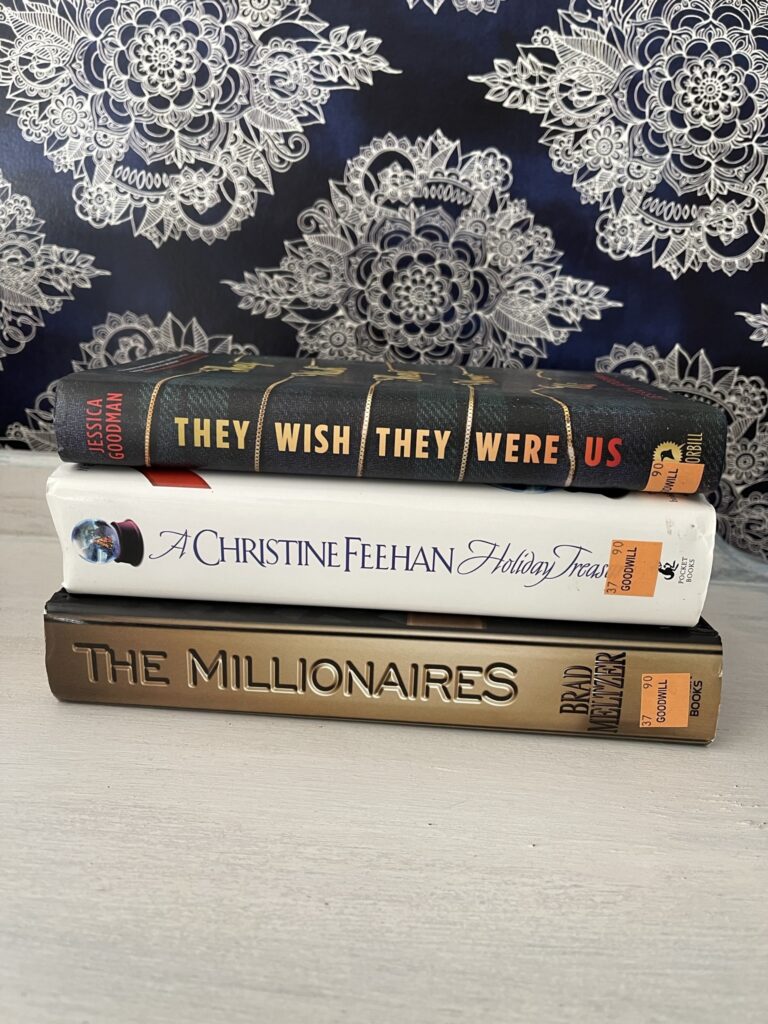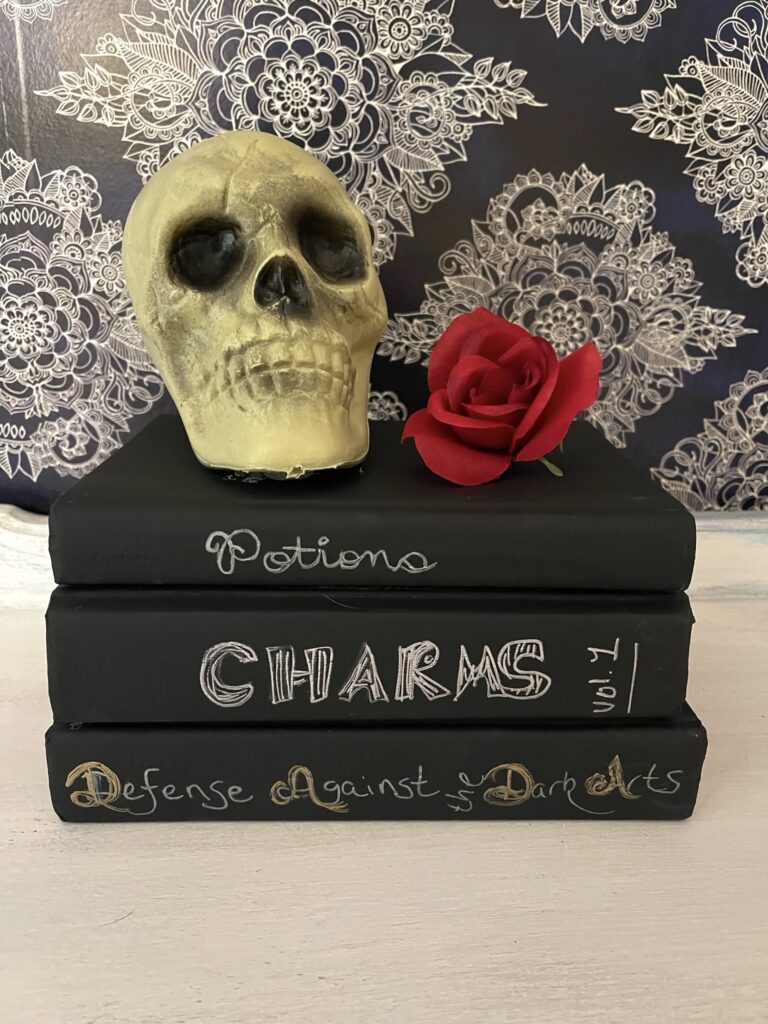 * * *
I love perusing Goodwill's book section. You never know what you are going to find. I picked up a fascinating book about the true-life stories of ten amazing women who served as secret agents in Europe during World War II.
Ooh! This looks interesting!
Focus, Courtney. Focus.
Right. Stop reading the books. … But everything looks so interesting!
(I did purchase the secret agent book. It was only $1.99. I can't wait to read it.)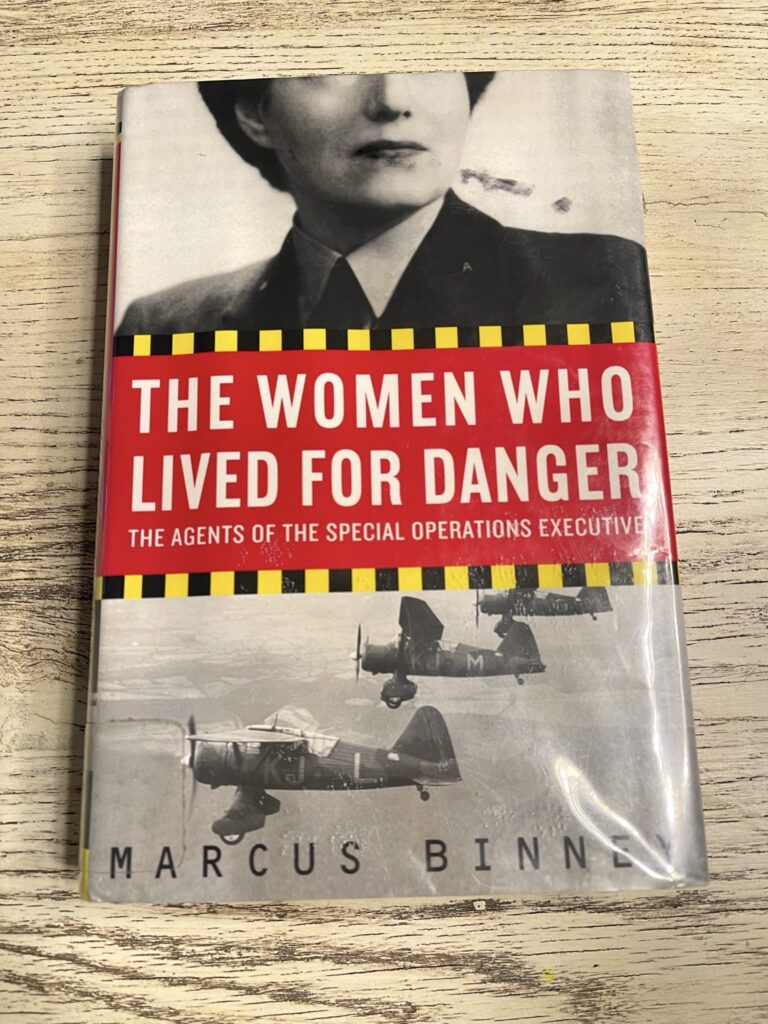 Then my brain had a brilliant thought.
What's the Color of the Week?
It's orange. Why?
Because you aren't going to READ the books. You are going to PAINT them.
Right!! I should find three books that are 75% off!
I purchased three slightly different-sized hardcover books that fit nicely stacked on top of each other. They all had orange price tags so they only cost 49 cents each.
* * *
I started the DIY project by throwing away the book jackets and painting the covers black.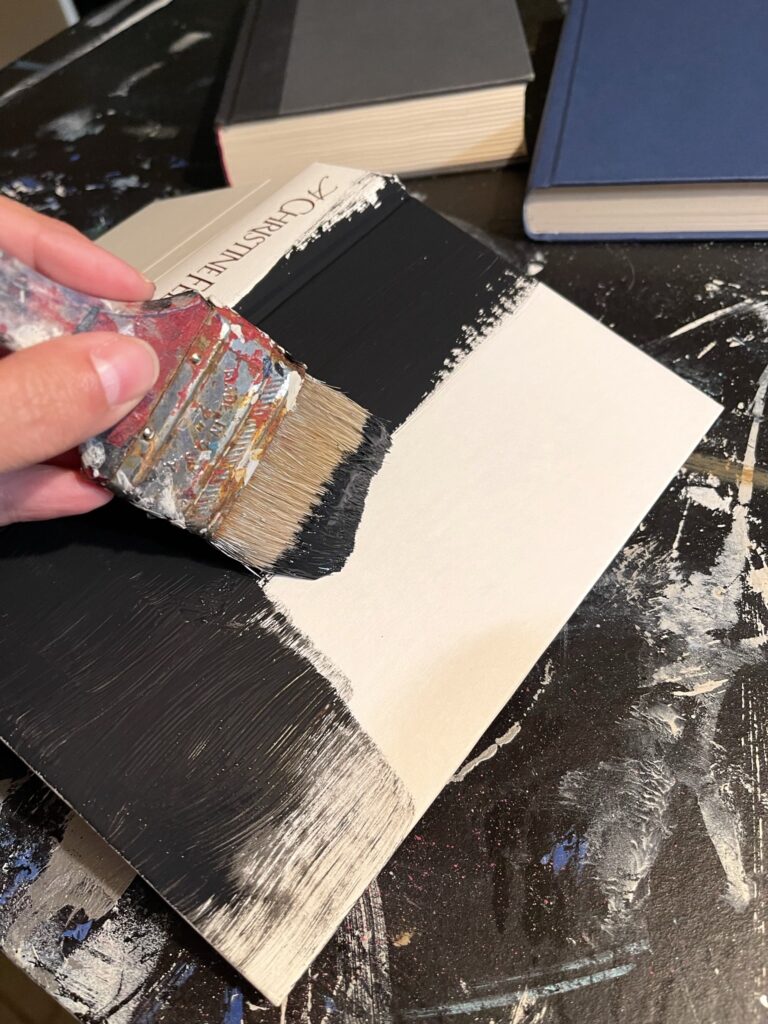 Wow! That was even easier than I thought it was going to be!
Then I used a paint pen to write the new "titles" on the spines. My 11-year-old son is really into Harry Potter right now. He had a great idea to make the third book "Defense Against the Dark Arts."
Hmmm. That's a great idea. Why didn't I think of that?
The books looked a little plain at this point so I decided to embellish them with spooky Halloween items. I glued on a small plastic skull I bought at the dollar store for $1.25, bringing the total spent on this project to a whopping $2.72!
See! I told you! It's super-cute and WAY cheaper than $20!
(My brain always loves being right about stuff.)
And I love DIY'ing Halloween décor using items upcycled from Goodwill. I made a wall of spooky eyeballs using dinner plates. Last year, I transformed an old muffin tin into a little pumpkin patch. But the spell books project is by far the easiest Halloween DIY ever.
I think the books would look also cute with plastic spiders glued on and some of that fuzzy spiderweb stuff. You could also get fancy and decorate the cover with the paint pen, adding swirls and doodles like an ornate old book. There are so many ways you can take this idea and make it perfect for your home.
Just listen to what your brain tells you to do!