Every fashionista needs these two summer staples in her closet: a peplum-style top and jazzy peep toe heels!
A classic peplum top always accentuates all the right curves. And peep toes… need I say more?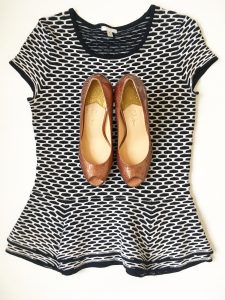 Luckily, today I have you covered. Today's #MyGoodwillFinds consist of two fabulous, name brand, designer items. The top is a stretchy, black and white, short sleeved, peplum blouse by Intermix in a size medium.  I think this piece would be excellent for work.  At full retail, this would have sold for around $75.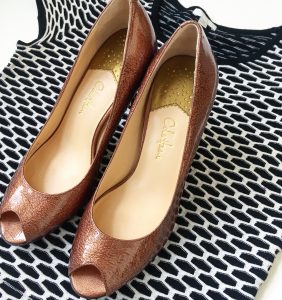 To compliment this monochromatic top, I'm obsessed with these basically new, luscious, reddish, warm gold, metallic, short, open-toed, modern, Cole Haan heels in a size 7. They're made of a leather-like material and have brown heels. At full retail, these would have easily sold for more than $100.
To round out a look consisting of these two showstoppers, I'd rock a pair of denim pants in any color. Since the top and shoes consist of all neutral, base colors, a hot pink, berry red, or emerald green pant will do just the trick. A sunshine yellow could even work as well! Add a pink, crossbody bag and you're good to go :).
But if you'd like to add in pops of color with jewelry, try a bib necklace or earrings. Or, if want to be bold, put on a luscious, bright red lipstick.
I know it's getting hot outside, so if you'd prefer to stay away from pants then a black pencil skirt will be your best friend. For under $10, one of these can easily be found at any DC Goodwill store.
How would you style these two summer staples, readers? Are you feeling the pops of color like I am? Let me know in the comments!