Fashionistas, oftentimes, when I go to Goodwill, I spot tons of cool logo, vintage, and sports tees that are ginormous on me. Sometimes, they simply aren't in my size. But most of the time I find them in the men's section.
I never want to leave these unique finds behind. So I usually purchase them hoping to embark on a quick DIY project one day. For about $1 a shirt, I'm more than willing to put in the effort.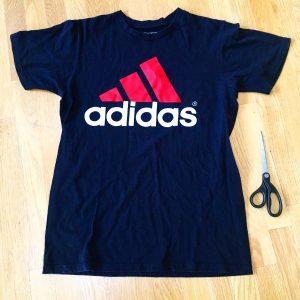 This modern Adidas logo tee has been sitting in my closet for weeks now and I was finally ready to cut it up and wear it this summer. I wanted a style that was flattering, unique, and wasn't a tank. I'm a big fan of the boatneck crop and I knew this tee would be the perfect canvas for this type of style.
So one weekend morning, I decided to give this tee some love and take on a literally 15-minute, no-sew, DIY upcycle.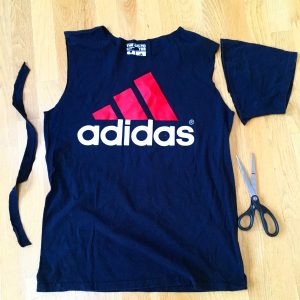 First, I sliced off the sleeves and collar. Super simple stuff!
Next, I cut two slits up the sides of the tee, eyeballing where I think a crop top would land on my stomach. Two minutes…done!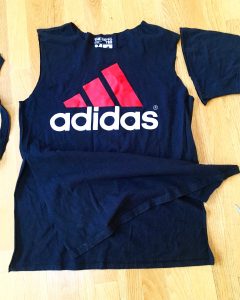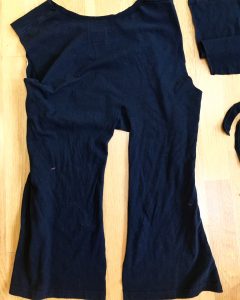 Then, I did the most complicated cutting (which was honestly a breeze). For the front, I cut off a big slice of the shirt to what I thought would be a crop on me. For the back half, I didn't cut off the bottom. Instead, I cut it vertically up to the top area that matched my crop. Hopefully that makes sense!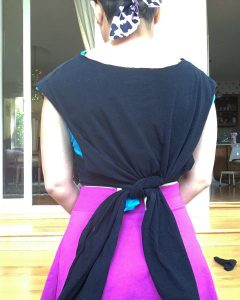 Finally, I put on the shirt and tied the two tails in the back together to form a tie/bow. And I was done! I made an over-sized tee into a flirty, vintage-style, logo tee with a fun bow in the back.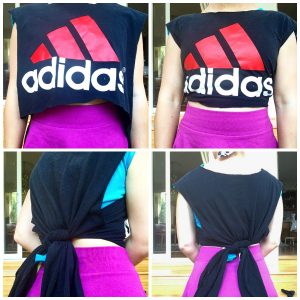 This will look so cute with a circle skirt, high-waisted short, or pants. I can't wait to style it this summer! And for about $1? I am super stoked on this new addition to my closet.
What do you think of this DIY, fashionistas? Do you have any simple projects you'll do this summer?