With school coming back in session, it's easy to spend, spend, spend. Buying books, clothes, furniture….it all can get quite expensive. Despite all of these costs, there's no reason why we can't amp up our wardrobe and refresh it with new clothes without feeling stressed about the next credit card bill.
And that's what yesterday's Swap & Shop was all about! From 12-2 PM at Goodwill of Greater Washington HQ I held my first clothing swap as the DCGF to provide women a venue to swap clothing with one another and build a new wardrobe without spending money. If one wanted to build a new collection of clothes and accessories even further, all were encouraged to shop at Goodwill right downstairs. Yesterday was truly a full afternoon of indulging in clothing while being economical and savvy.
One of my favorite things about the swap was seeing everyone's clothing contributions of all different shapes, sizes, and styles come through the door. It was exhilarating to see so many fashionistas with different tastes come together to share each other's closets.
I also enjoyed meeting everyone who I've seen on Facebook and Instagram. It was great to put names to faces of people I interact with on the web. It made bonds even that much stronger!
The swap started off incredibly strong and bountiful. When 12 PM hit after the clothing drop-off, all fashionistas hit the ground running. I had never seen so many colorful clothes being snagged and swapped so quickly and swiftly. Sequins and patterns crossed my sight while I searched through piles of clothing to find my gems. When the event came to a close, I had a sense that all swappers left feeling satisfied whether it was because they scored some new digs, made new friends, or contributed to the community.
In case you missed the swap below are some pictures of some swappers during the heart of the event in action and loving fashion! These will make you jealous and wishing you had made it out! 🙂
Now, here are my finds from the event.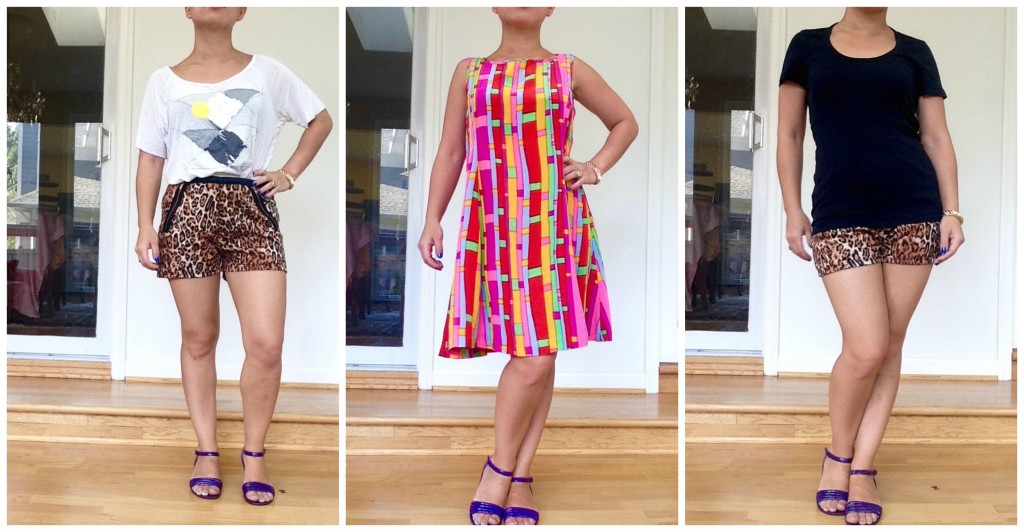 I didn't pick up too many items because I'm really trying to downsize my closet. I did happen to snag this pair of really cute leopard print shorts, a printed BCBG super soft tee, a Splendid black tee, and this colorful silk vintage Betsey Johnson dress. Despite the fact I only scored about 4 pieces, I am more than content. These will be great fall pieces, aside from the shorts. Maybe I could wear them with tights underneath on a date night. Thoughts on that idea?
Yesterday was a BLAST! I had such a wonderful time meeting all of my local fashionistas and bonding over a shared passion and lifestyle: shopping smart. The afternoon was filled with mountains of clothes, yummy snacks, and smiling faces. All leftover clothing (there was a lot!) was donated to Goodwill. I couldn't have asked for a better inaugural swap.
Thank you everyone for coming out! Your clothing contributions made the event a smashing success. Big shout out to Niche for volunteering to help organize and sort all items throughout the duration of the event! 
See you all at the next swap! It will be even BETTER than this one. 🙂
P.S. Take pictures of your swap finds and I'll share them on the page!