I can't think of a better way to spend a Saturday morning than with my fellow DC Goodwill Fashionistas bonding over fashion and a love of Goodwill.
This past weekend my Saturday was spent in this very manner. I hosted yet another one of my fun and exciting monthly Meetups, this time at the Dale City, Virginia location near Woodbridge.
From 8-9 AM, fashionistas had the exclusive opportunity to peruse the racks in the closed Goodwill store before it opened to the general public. Shoppers enjoyed great discounts, tasty snacks, and excellent company. Honestly, what could be a better way to kick off a Saturday?!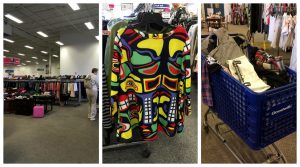 The event, as usual, was a smashing success with almost 30 attendees comprised of brand new faces and familiar friends.
Sam, a Goodwill lover who has become a great friend from other Goodwill events, came out. She found a plethora of gems including baby clothes, funny collectible mugs, and more! She also spotted some humorous sweaters as well.
I also met an Instagram friend in person for the first time who brought a few friends of her own as well! Sarah has a great sense of style with a love of colorful patterns of all kinds. At this event, she shopped for both her and her daughter's spring wardrobe. As you can see, she found excellent pieces!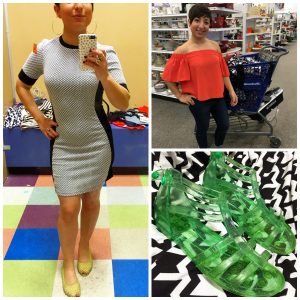 I, myself, took home gems like this fabulous Topshop dress, these jellies, and a collection of heavy-hitting brand names.
These gold earrings were pretty cute too! The tooth ones I instantly KNEW I had to take home.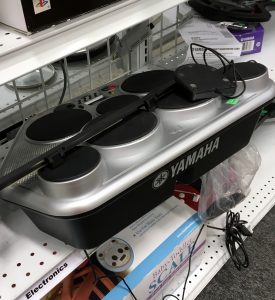 I went out of the box on this shopping trip and picked up an electric drum machine kit for $15. Once I put in batteries, I'll be on my way to relearning the drums!
In total, I spent under $70 on about $500+ worth of treasures at this Meetup. In all honesty, I left some great gems behind because I need to desperately do some spring cleaning!
It's always such a pleasure to meet like-minded individuals who love fashion and shop with smarts. There's nothing better than shopping and meeting new people while contributing to a great cause and providing job opportunities in the community.
Come to our next Meetup if you couldn't do to this one! I promise you won't be disappointed. Stay tuned for more details or just sign-up for our Meetup group! <3