I always keep one sweater out during the spring time; just in case there's one of those brisk, cold evenings you thought would stay in January. Today's #MyGoodwillFind would definitely be perfect for just such an evening.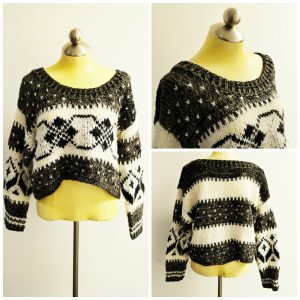 This is an oversized, cropped, Free People sweater with a neutral color palette and has a boat neck with a slight high-low cut. It can comfortably be stacked over a flowy spring dress or cami.
And did I mention this is Free People?! I always feel like I've won the jackpot when I stumble upon this brand. It's an expensive brand, but not today!
I'm all about wearing this sweater as a casual, day-out look with fun sneakers or flats.
I know I mentioned the ability to layer this over a Spring sling dress, but putting it over a simple black cami is more my style.
With a cami, I'd throw on a pair of my favorite denim skinnies of any shade, whether it be a dark or a lighter, acid-washed blue. The beauty of this sweater is it's neutral color scheme allows it to be worn with almost any other color.
For footwear, a slick pair of slip-ons or lace-ups will be comfortable. Nikes are always my favorite. But neutral gray or no-brand, Aldo-style lace-ups will look effortlessly chic as well. In fact, you can find all three of these types of shoes at DC Goodwill stores for under $10 a pair; I swear!
Finally, to add needed but low key bling to this fashionable errands ensemble, I'd rock a costume gold watch and simple statement necklace – nothing too over-the-top. You want to be able to run your daily errands in comfort! I hate when I have lots of jewelry swinging around while being active.
For earrings, try a small pair of studs. Gold balls or natural looking stones are easy to find styles that will look lovely against this boho chic, hippie sweater. Plus, small gems likes these won't get caught in the yarn of the sweater's stitching! A win-win.
How would you style this boho Free People sweater, fashionistas?