Today's #MyGoodwillFind is a versatile staple that can be in your closet as you transition from winter temps to spring sunshine.
With just a few small decisions, this Banana Republic motorcycle jacket can be styled in a way that will scream the season of spring.
When worn, this BR gem fits pretty snug with the sleeves hitting the wrist. As you see, it's constructed with silver hardware zippers and is woven in black, gray, and white fabric. This beauty is in a size 2 and at full retail price, I can imagine, this jacket originally sold for almost $100.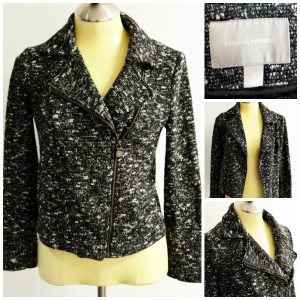 This jacket might be considered a tad thick for the spring, but I still believe it can be worn across seasons. With the right denim and tee, it will look like you purchased it within the month of March!
With today's MGF, I'd rock a casual look by wearing a pair of simple jeans and a tee. Both can be easily found at DC Goodwill stores for under $5 a pop.The jeans can be of any shade or color; as long as they're not full of holes or rhinestones.
If denim isn't your thing, try throwing on a classically cut black pencil skirt – those NEVER cease to disappoint in any look.
Tucked into this denim or skirt would be a cute, oversized, flowy tee or a classic black and white short sleeved top. These two pieces are super easy to throw on and will fit comfortably under the snug motorcycle jacket.
In terms of footwear, you can add an ounce of sass with a classic, small heeled, point shoe or d'orsay pump. But it you don't like to wear heels on the regular, like myself, a fancier, pointy-toed flat will be a solid choice.
To tie the whole look together, a small-sized, crossbody, handbag will be a guiding force. By opting for a one-color piece, you can keep up with embracing the black specs in the jacket. In contrast, a bright colored bag (or lip) will add a pop of color to a neutral look.
How would you style this spring/winter motorcycle style jacket, fashionistas? Can you see it being worn across seasons?