Tunics are one of the most comfortable types of clothing you can wear during the soon-to-come humid DC weather. They're breezy, flowy, and take no time to style with leggings and sandals.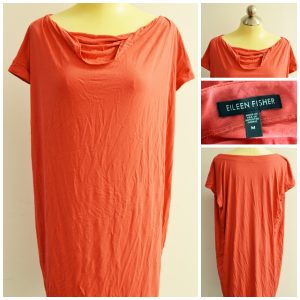 Today's coral #MyGoodwillFind is a designer, summery, stretchy, sleeveless, Eileen Fisher tunic that hits below the waist in a size medium.
The piece originally sells for $200+ and is made with rayon and lyrca. This  Goodwill gem will have heads turning because it's so fashionable and funky.
Thinking about how I'd style this coral tunic, I know I would undoubtedly pair it with a comfortable, yet edgy, pair of black leggings. However, I wouldn't wear just any plain ol' black leggings. I'd opt for a mesh, panel style or shiny, liquid leather material. These two styles are unique but still maintain their sense of ease. Leggings are also very slimming to the leg in general, so you can never go wrong there.
In terms of footwear, I'd want something to further elongate the leg, such as a slick, bootie heel or d'Orsay flats. By wearing a heel you can add an ounce of formality and glamour to this look, allowing it to be worn on a date night with the gals. But if you're feeling like this tunic is more of a casual staple, I'm all about Vans slip-on style shoes. Especially the ones with a leather-like upper! Those are my favorite shoes as of recent.
For jewelry, a ton of options are available. A long pendant necklace is definitely a go-to option. The length will effectively echo the flowy shape of the tunic. However, as you know me, I love a good, chunky, statement, bib necklace. So, I'd rock a big gold chunky one on top of this warm colored tunic along with smaller glitzy earrings or studs.
How would you style this designer Eileen Fisher garment, fashionistas?