Fashionistas, as the weather gets colder and colder, one cannot stock up enough on outerwear. I'm a such a sucker for jackets of all shapes, colors and sizes. They can match anything and everything; plus, they can be worn pretty much for all seasons besides the summer.
Today's My Goodwill Find is an outerwear gem that I wish I could add to my own closet. It's warm, funky and has a major component of edge.
This size large deep red Oliver & Oak, a boutique brand, faux leather motorcycle jacket is in almost new condition with no wear or tear whatsoever. It's comprised of a luscious faux leather material that almost feels like butter to touch. It's exterior is also made of a softer material which adds some complexity to the cut of the coat.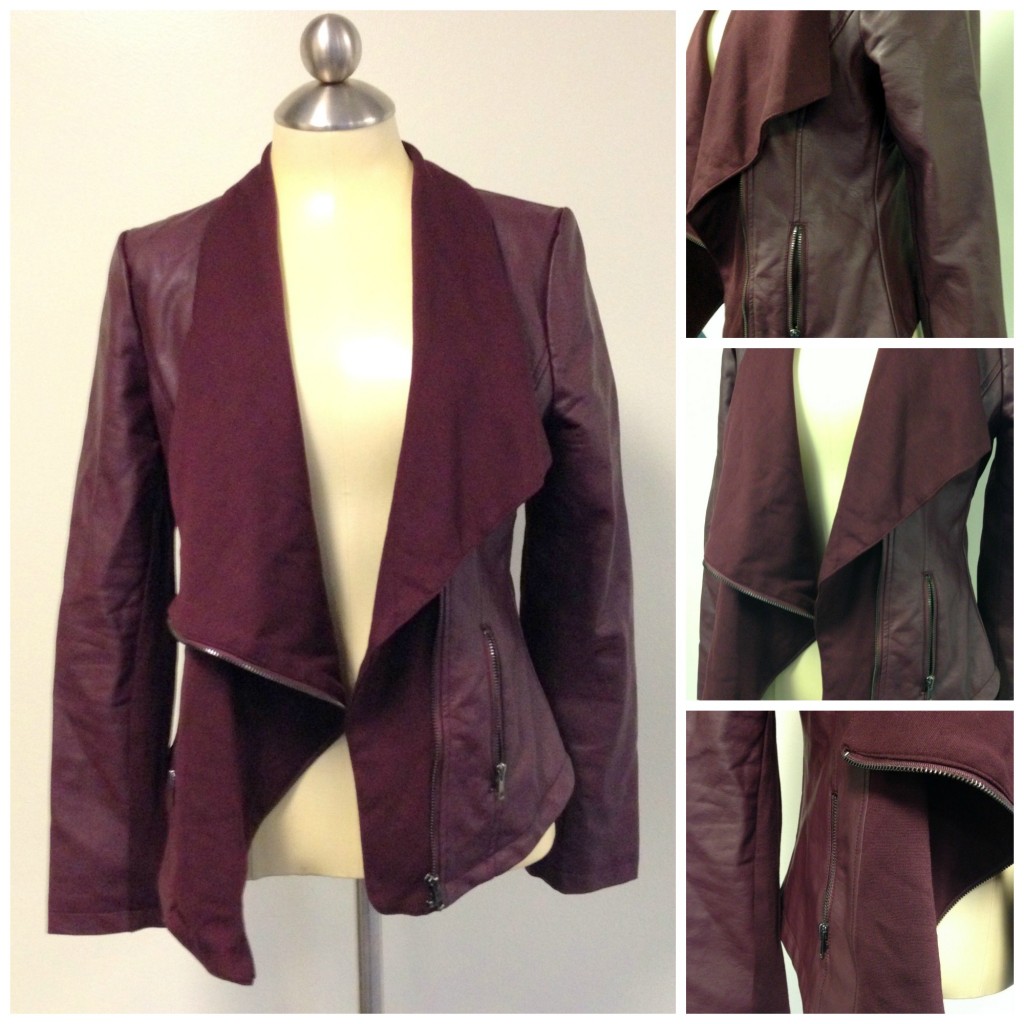 What I love most about this coat is the gorgeous and unique draping in the front. It's incredibly feminine and very rocker chick….which is something you don't see on most moto jackets. The zippers are a nice touch, too! They're both functional and decorative. The perfect combo!
Speaking of combos, I'd embrace the rocker side of this jacket at full force.
With any motorcycle jacket, a rocker tee is a safe and stylish bet. They're so comfortable and can easily be found at Goodwill for under $4.
With a tee, I'd add a touch of fancy with a glamorous gold bib necklace. This will add sparkle, shine and luxe for a fancier evening. If you decide to opt out of wearing this type of necklace, some statement gold or black earrings will function the same way as the necklace. But as I always say, don't wear a statement necklace and earrings all at once.
You know I'm a sucker for all things black, so I'm thinking some sleek black patent or softer leather booties will do just the trick. You can wear these during the day AND in the evening to stay warm and stylish.
Although I might opt for a black bag, too, with this look, a gold clutch will add another layer of  texture and color.
What would you rock with this moto jacket, dear readers? Let me know in the comments!