Fashionistas, have you heard of the label Marni? I've seen it at DC Goodwill stores from time to time but it was only recently I found out more about this designer fashion house.
For this week's #MyGoodwillFind, I wanted to share with y'all an art-like gem from this label. An Italian designer fashion brand that's been around for quite some time, it's known for having clean lines, interesting fabrics, and flattering cuts.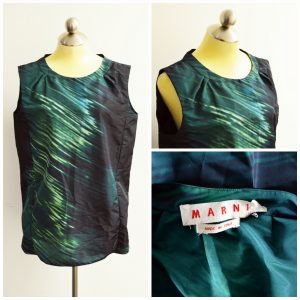 In a size 44, this blouse is made of polyester and is an exemplary piece from this designer. It truly showcases the brand's iconic clean lines and fabric patterns.
The feel of this top is satin silk and is printed with a dark blue, green, and black watercolor design. The sleeveless top is not stretchy and fits a bit snug when worn. Fun fact: this top also has pockets!
At full retail price at stores like Neiman's and Saks, today's MGF would have easily originally sold for up to $300, if not more.
If I were to style this blouse, I'd keep it really simple with clean lines and minimal accessories.
For bottoms, I envision the most comfortable, easy, and sleek black slacks or pants. Whether they're palazzo or skinny, a flat black will be absolutely chic and stunning.
To further play up the minimalist mod look, my gems would take the form of a classic, avant-garde, gold necklace or sculptural, angular, dangly or stud earrings. That would be it! The top alone is a  piece of art.
Finally, for shoes, I would keep it pretty low-key and practical. I'd rock some fab lace-up flats or dapper feminine oxfords. Both of these types of footwear are easy to put on, simple to style, and can be found at Goodwill for around $10 a pair.
How would you style this painterly Italian designer top, fashionistas? Would you keep it minimal?