Fashionistas, lately I've been getting a lot of inspiration from fellow DC fashion bloggers about what to wear this spring. Monling Lee, the queen of color blocking, is definitely on my list of bloggers to follow this season.
Monling is the owner of COLORINDEX, a fashion page covering the best of the best color blocking outfits of all seasons. If you peruse through each look of hers you'll notice she has the highest talent for pairing the right bright colors together with effortless flow.
So when I saw today's #MyGoodwillFind on the racks at Goodwill I instantly thought of her because she's been a J Crew ambassador in the past.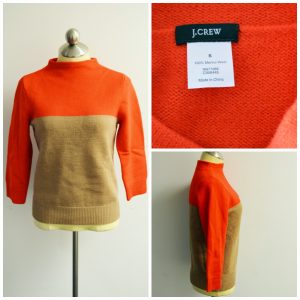 This gem is a J Crew wool, color block, sweater in a size small. It's long sleeved and loose enough for layering opportunities. The camel and rich, reddish, orange color-block would undoubtedly make an appearance in Moning's page since the color combo is clean, chic, and mod. At original J Crew retail, this find would have easily sold for at least $100.
Speaking of layering, I'd style this sweater by itself or with a collared, light, plaid, shirt underneath. I'm such a sucker for layering collars with sweaters and this one seems to be the perfect cut for completing this preppy style.
For a casual look, I'd wear easy-to-pull-on denim along with some neutral sandals or lace-up sneakers.
Since this sweater is very much on the warmer side, all of my jewelry would be gold tone to further embrace the spring hues. Gold watches, earrings, bracelets… you name the type of gold accessory, it will look perfect.
Finally, a small neutral or light colored crossbody-style handbag will complete this whole casual look. The light matte color won't be too bright against the sweater and will create a visual space for the eye to rest.
How would you style today's bright, color block, J Crew My Goodwill Find, fashionistas?