Dear readers, have you ever heard of the Chelsea boot? It wasn't until I really got into music in middle school that I heard of this style of footwear. I was instantly intrigued. They weren't like any other boot I'd seen before because they took on an odd shape and maybe even took cues from previous times. And sure enough I was right!
Chelsea boots originate from the Victorian era, but made a big comeback in the 60's and was a shoe icon of the "mod" style. Everyone from the Beatles to random mod-inspired punk rock bands sported these shoes on a frequent basis.
The style is very basic, but has an unusual and fashionable shape. Typically, they are made of leather, flat footed, and hit right at the ankle. They mostly come in black and are decorated with metal ornaments or elastic bands.
The other day I spotted a pair of these mod shoes at the Rockville Goodwill and had me debating whether or not I should add them to my shoe collection. Were they a back-to-school staple? These were very sleek and modern. Plus they were from Topshop, a brand that is known for making trendy and well-made clothing.
If you're a petite like me, this style of shoe hitting right at the ankle and not being heeled is not very flattering. I'm very self conscious about wearing shoes that make my feet look ginormous or an elf.
While I don't think I could wear these, I think they are a wardrobe-must for the fall. Below are looks that help convince me that they can be worn well and are versatile.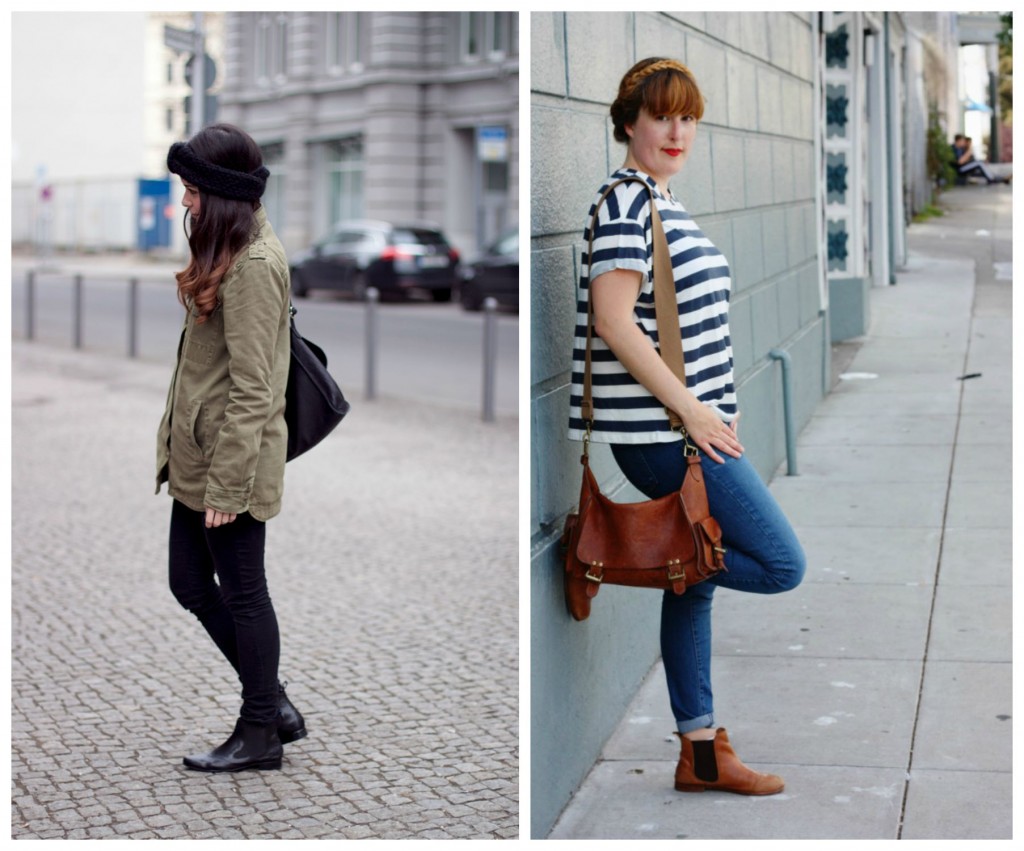 Both of these looks from Teeth are Jade and Ship Shape and Bristol Fashion, two blogs with refreshing looks for all seasons.
This first look on the left shows the Chelsea boots to be great winter shoes. I think it was super smart to pair these shoes with an all black pant. They elongate the legs and make the bottom half of the ensemble look very simple, chic and comfortable. This black pair of boots is also very versatile and is able to match most outfits. Don't you just love this military jacket, too?! It looks so warm and comfy!
The look on the right is also a win because I'm loving the casual Chelsea boot style. The pair in combination with the ankle length jeans is appropriate for a warm fall day. I've never seen a pair in chestnut and burnt lumber brown color but I'm really digging it because it's jiving so well with the brown messenger bag. The two accessories bring the look together well. The navy blue stripes here look excellent against the blue jean and brown boot. It's not very harsh and yet adds a striking element to the simple and basic outfit combination.
While I'm not sporting this fall fashion trend, I'll be admiring those who do!
Have you ever heard of this style of boot? How would you wear them during the fall?