A Cozy idea: Upcycle a footstool with a sweater!
It's very easy to warm up to this easy and funky DIY project. Very stylish and trendy right now are small foot stools to provide extra seating in any space. If not being sat upon or without feet propped on them, they can easily be stashed away under a table or out of the way. And today's options look really cool with their sleek and simple lines.
Create a custom one to fit your taste and décor design by covering it with a colorful sweater.  This unique piece is great to look at and soft to touch!
Ability Level: Moderate
Age: Great for older teens and adults
Items Needed:
1. Small fabric covered footstool
2. Sweater (or in this case, a sweater dress)
3. Scissors
4. Glue gun & sticks
5. Craft spray adhesive
6. Tape measurer
7. Staple gun
8. Painter's tape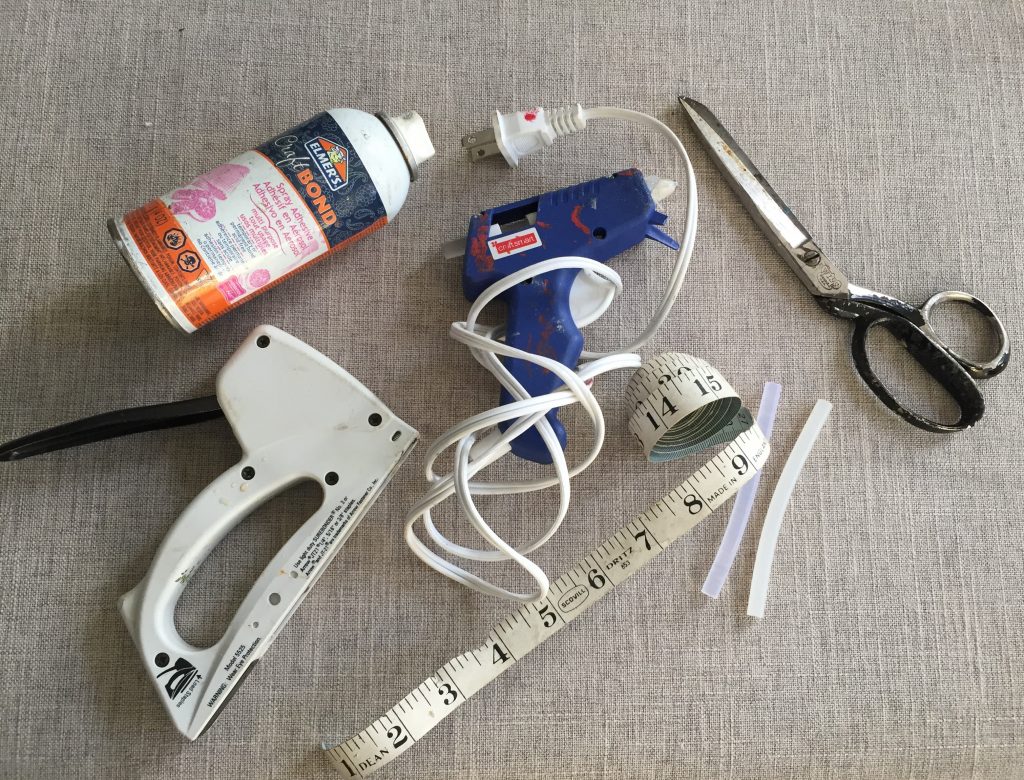 Time: 60 minutes
Cost: $25
$17 for footstool
$8 for sweater
1. Step on over to Goodwill, then put your feet up
In any home, whether a house, condo or apartment, there is always the need for an easy solution about extra seating. And often Goodwill has the answer in the form of small, funky and fun footstools. These small furniture items can serve not just double duty but triple as a place to rest your feet, as another seating option and as a small coffee table when paired with a serving tray (also available at Goodwill).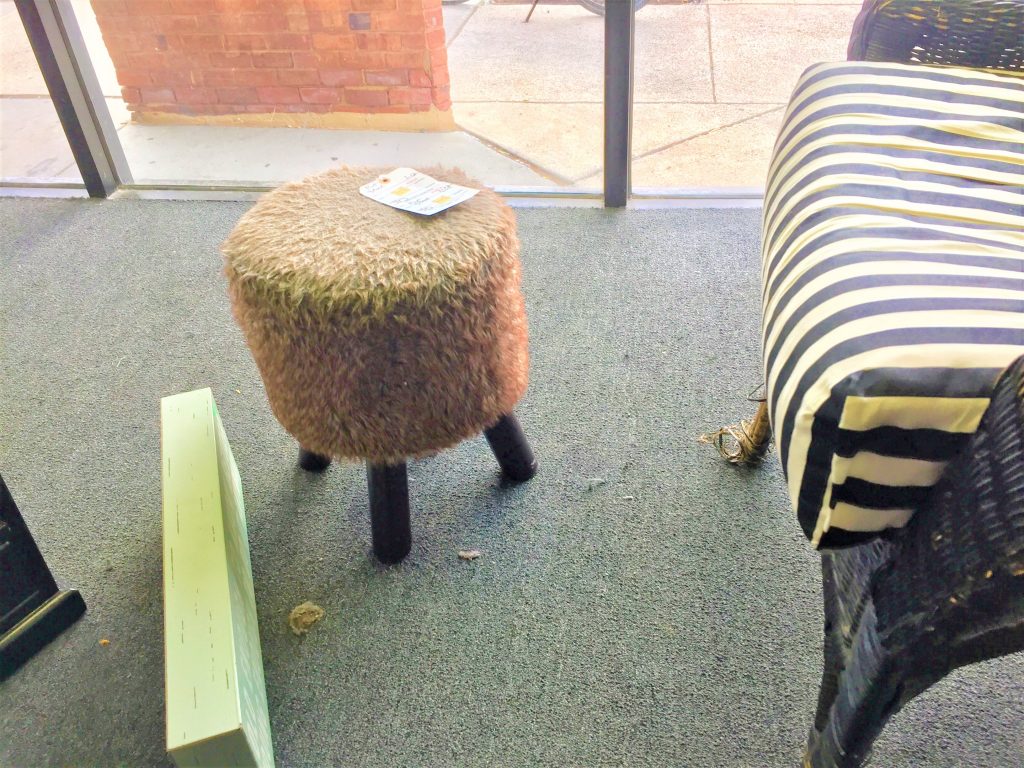 The one featured in this blog was positioned for sale in the store's front window and attracted my attention when I came and went, so I turned my car around and returned to pick it up to take it home! I am so happy that I did!
Expert tip: One of the treasures about shopping at Goodwill is every store has different items so you never know what awaits you there. With that said, this means that if you see an item that you like, it might not be there the next day so take it with you. I have bought items that I wasn't sure how I would use them, but they were special and caught my attention for some reason. Given the remarkable deals, you can't go wrong with your purchases. And to top it off, your dollars are going for a great cause and a life-changing organization. A win-win-win for everyone!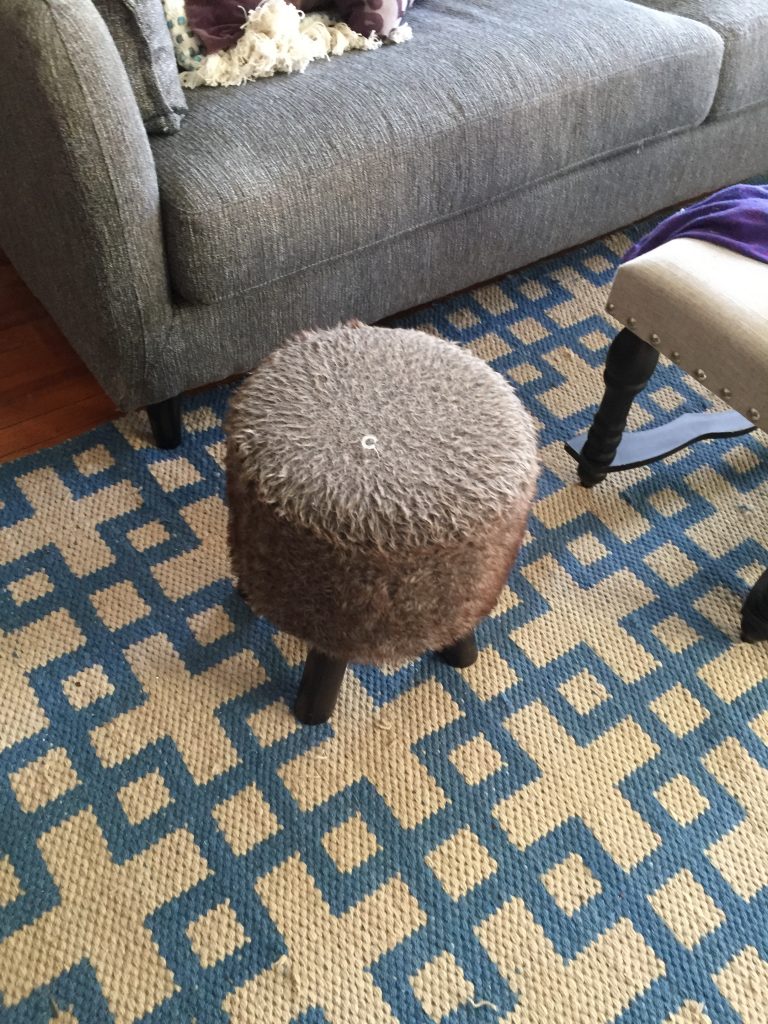 2. Look for clothing fabric to cover it
This stubby foot stool was covered with brown fake fur which I didn't like but that didn't stop me from seeing beyond its current appearance. While I had originally planned to use the fabric from an old suit coat for its transformation, while walking through the clothing racks at Goodwill, I saw two long sweater dresses that I thought would be ideal. Given its small size, any bright color or bold pattern would not overpower the space but add a layer of whimsy and funkiness.
Consider where your footstool will live and select colors to compliment the décor to make it fit in with the other pieces. I am currently redoing my living room in blues, purples, grays and black (with many items picked up at Goodwill so a future blog is brewing here).
I found two sweater options, one in teal and one in a plum purple, that I was confident would work. Given the great prices, I took both home with me and am so glad I did. When I got the footstool in my living room, I draped each sweater over it and immediately went with the plum purple given the blues in my rug (also purchased at Goodwill for a steal!). The other sweater will be used for other projects in the space, so it certainly won't go to waste! In addition, the plum sweater had two matching buttons which I knew I could reuse on the piece.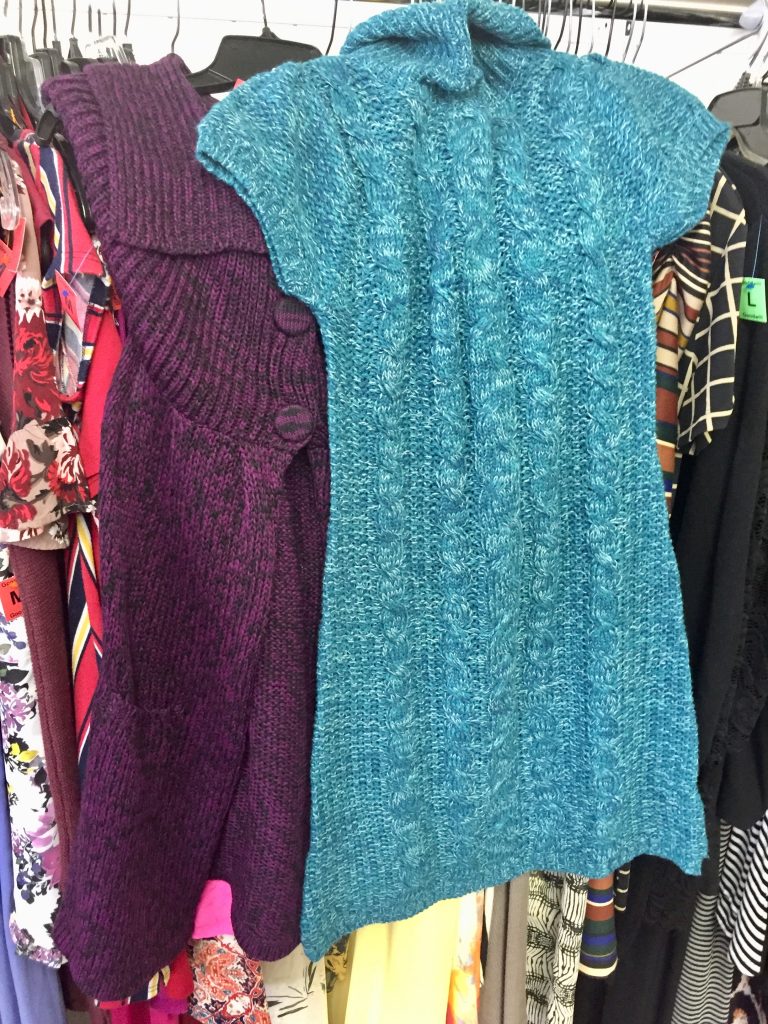 3. Measure twice, cut once as they say
Layout your sweater on your workspace or area.
Since you will cover the top and the sides, be sure to position your footstool on it so you have plenty of material and cut it properly. The sides of your footstool will be covered last so you will want to see if your sweater has a finished edge that will wrap around the top part of your footstool. Thankfully, the sweater selected had a long edge that was finished and would go around the entire footstool as well as have material left over for the top section.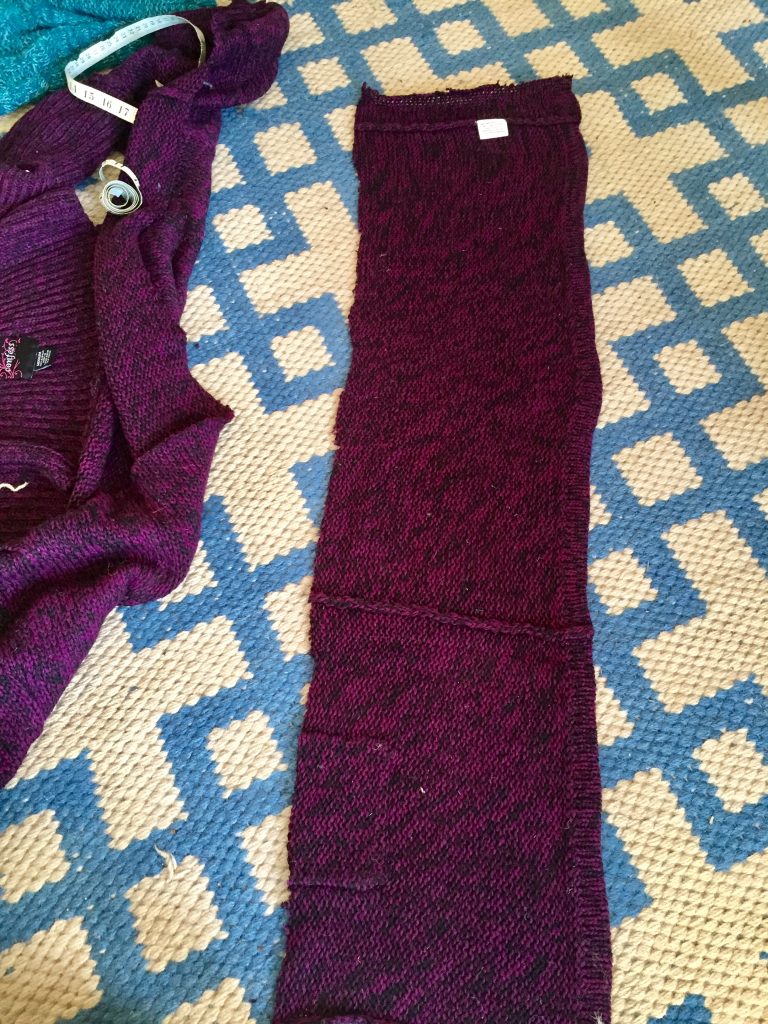 Measure the side of your footstool from the top edge to the bottom, allowing extra material on the bottom which will be stapled and secured underneath.
Use your tape measurer then cut a section, then continue to measure and cut segments as you go, so you have a long, straight piece of material to wrap around the footstool's sides.
Place this cut piece aside.
Turn your footstool right side up and place a piece of your sweater on top so that it drapes slightly all the way around.
Trim and cut so that the remaining piece covers the entire top with a little left over.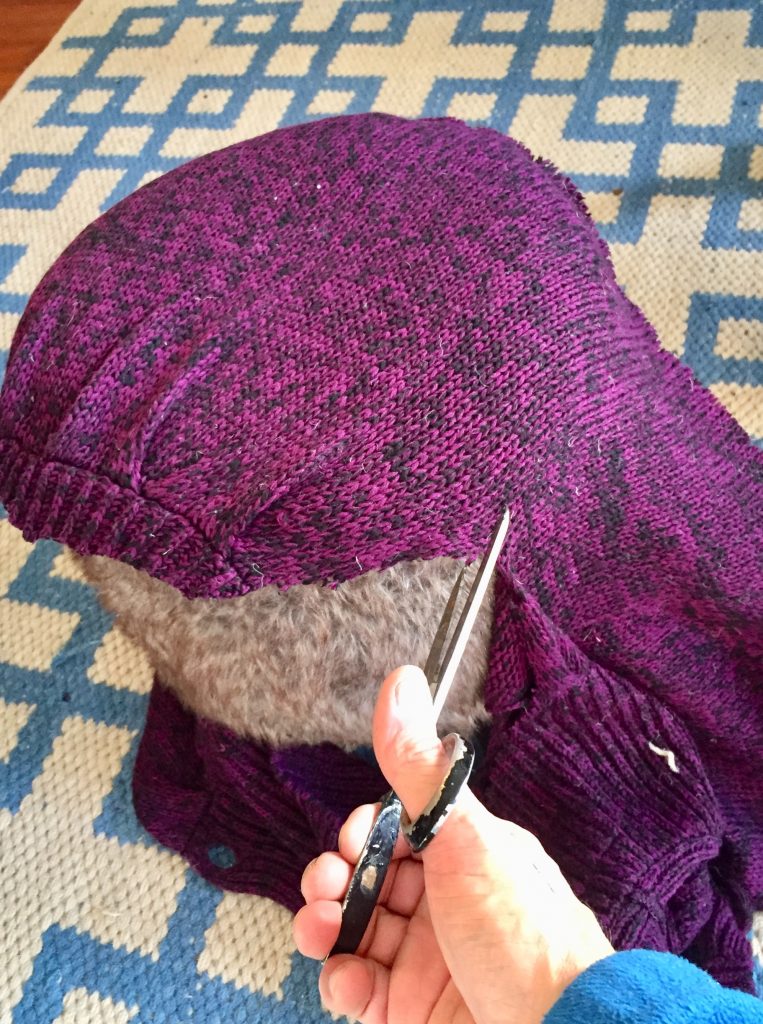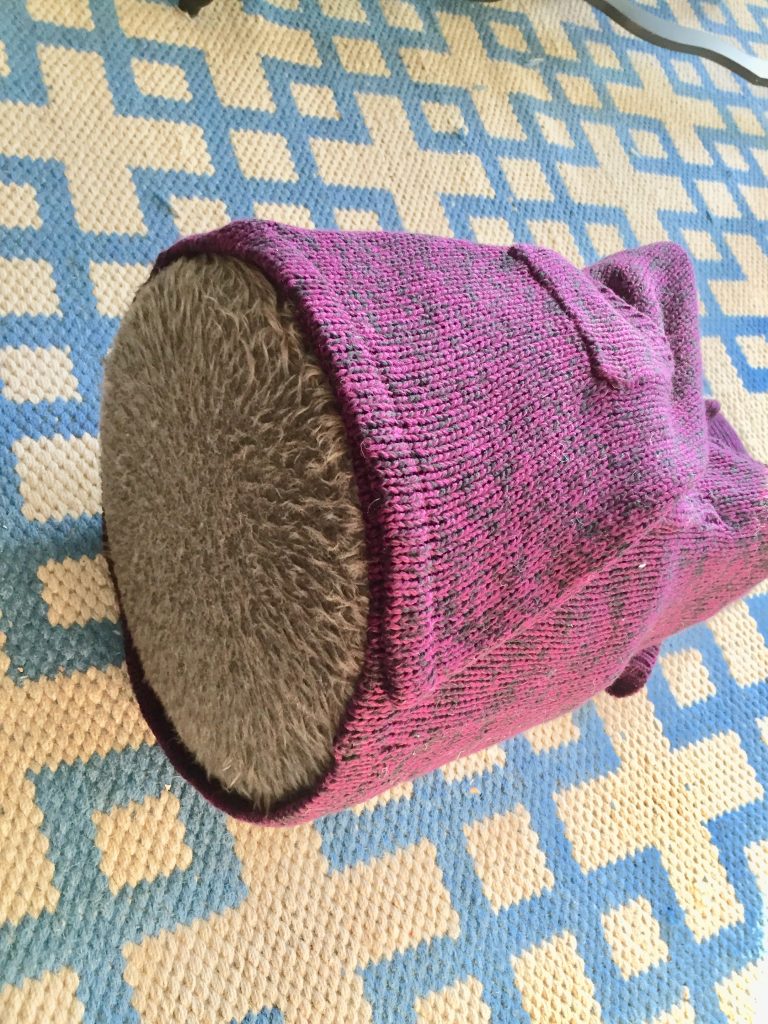 4. Top first: Adhere in place
After your top piece is in position, gently fold it over in half then spray the top of the "exposed" half of the footstool with the craft adhesive.
Fold back the top flap then switch sides and repeat so the other half receives some adhesive spray too.
Fold open and smooth as you go.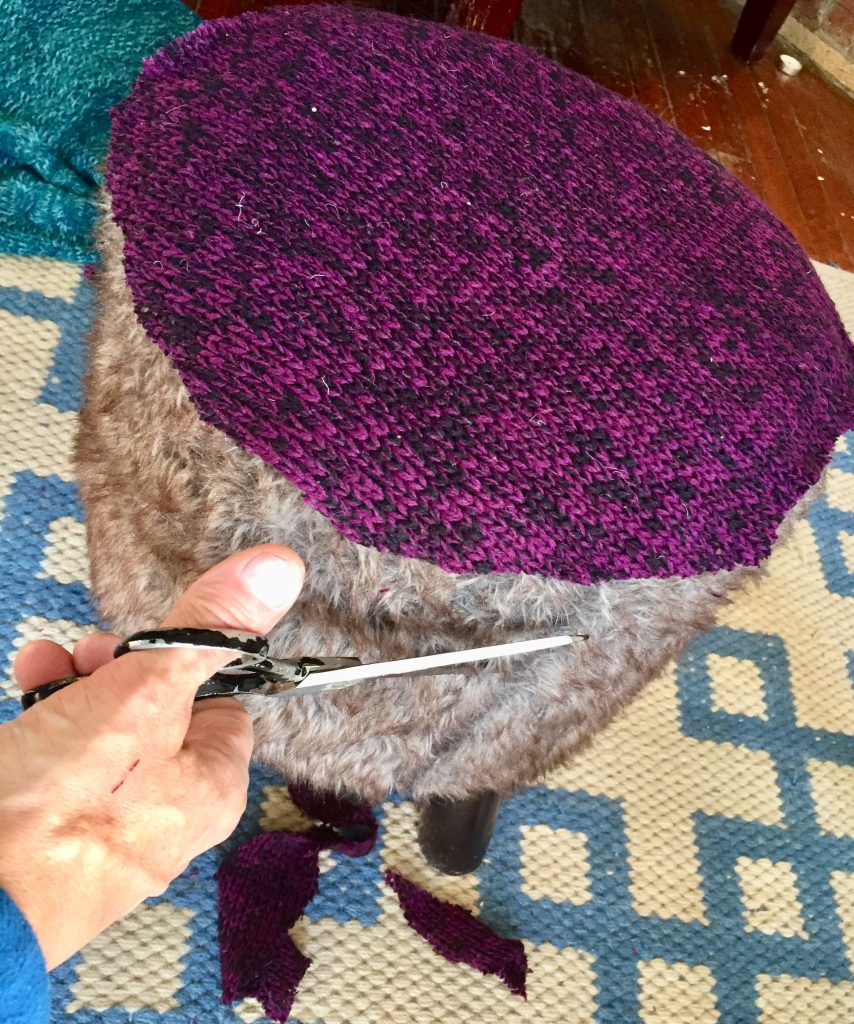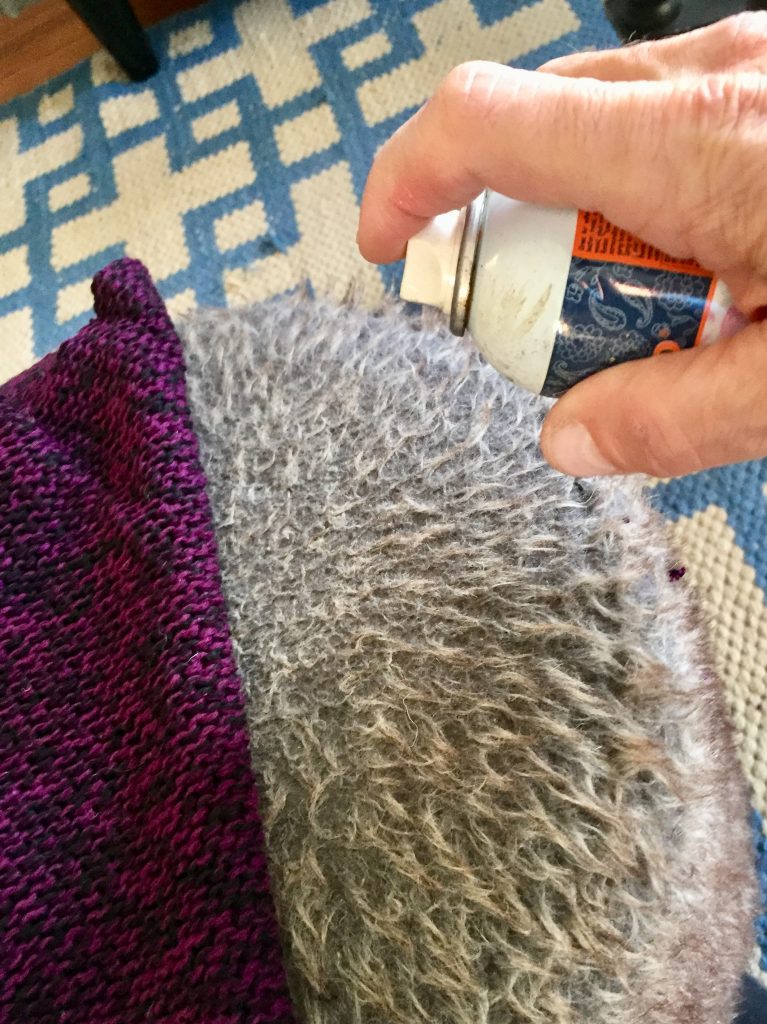 5. Attention now: to the sides
With your long piece of sweater fabric, wrap it around the sides of your footstool so that the clean edge is along the top. You will want the clean side edge to cover the top piece slightly and hide its cut, "raw" edge.
Use your painter's tape to hold this in place as you go and adjust it as you need to, for a flat, close finish.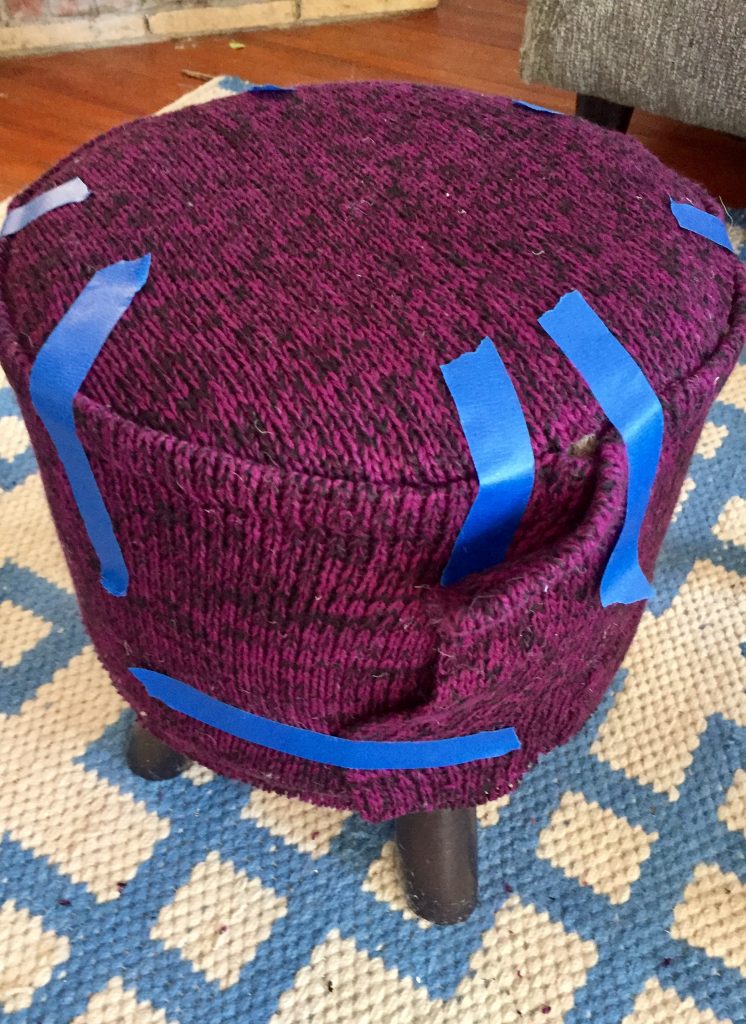 With your glue gun, very, very carefully secure the top side edge in place.
Go around the entire top, avoiding the painter's tape but ensuring the top edge adheres well. Take your time with this step so that no extra glue gets on top or on the outer edge.
After you have added glue along the top edge, remove the painter's tape, one piece at a time and open the small gap and add more glue.
Once the top piece and top edge are safely secured, then turn the footstool on its side. You may need to pull at the fabric so that the knitting goes vertical from top to bottom. This will make the final piece look finished and well thought out.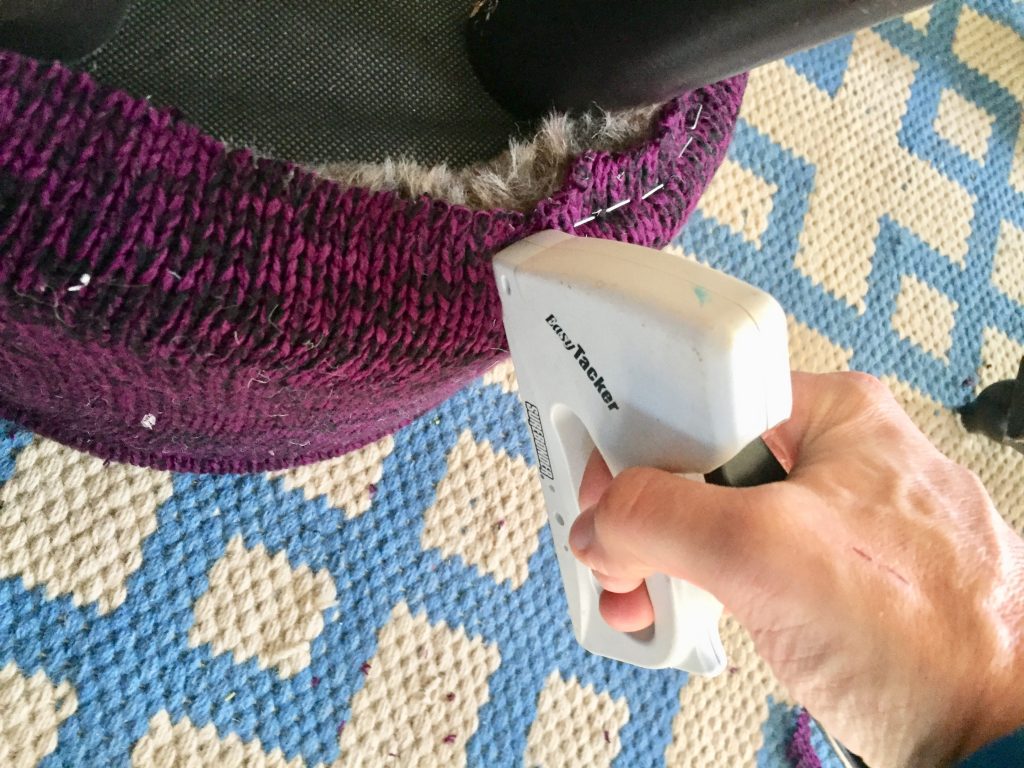 Once it is all in place, then pull up parts of the side and spray more of the craft adhesive to the original side of the footstool.
Carefully replace the side part you pulled up and continue around it, repeating this step. By using the spray adhesive, the softness of the sweater fabric won't impact the look with drooping or sagging; it will be held tightly in place.
6. Create a clean seam and embellish if possible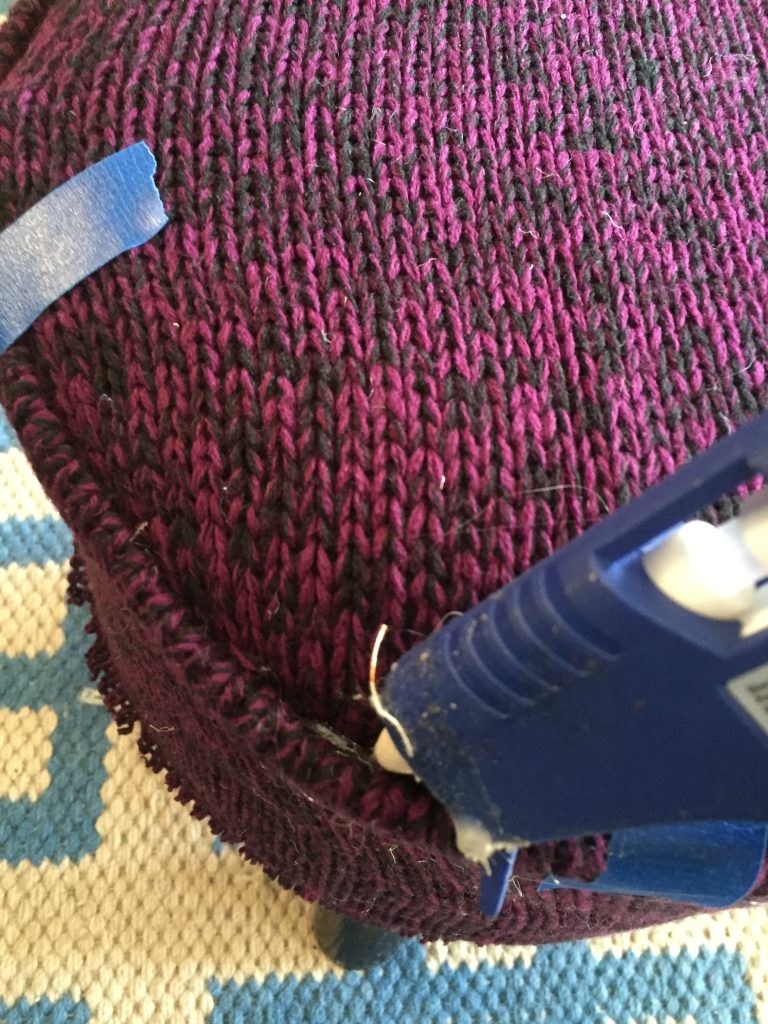 Your footstool's top and sides are covered and securely in place. The last step, and a little tricky one, is the final seam. Since it will show, see if you are able to find another clean edge. My sweater piece had another edge so I trimmed the extra where it overlapped and glued into place. You could fold over and create your own edge, if need be, gluing it in place, too.
I got lucky as my sweater had the two buttons, so I glued them along the seam. This helped to mask the seam a little and added some subtle but pleasing detailing. If your sweater doesn't come with buttons, you could cut them from an old coat to add, too.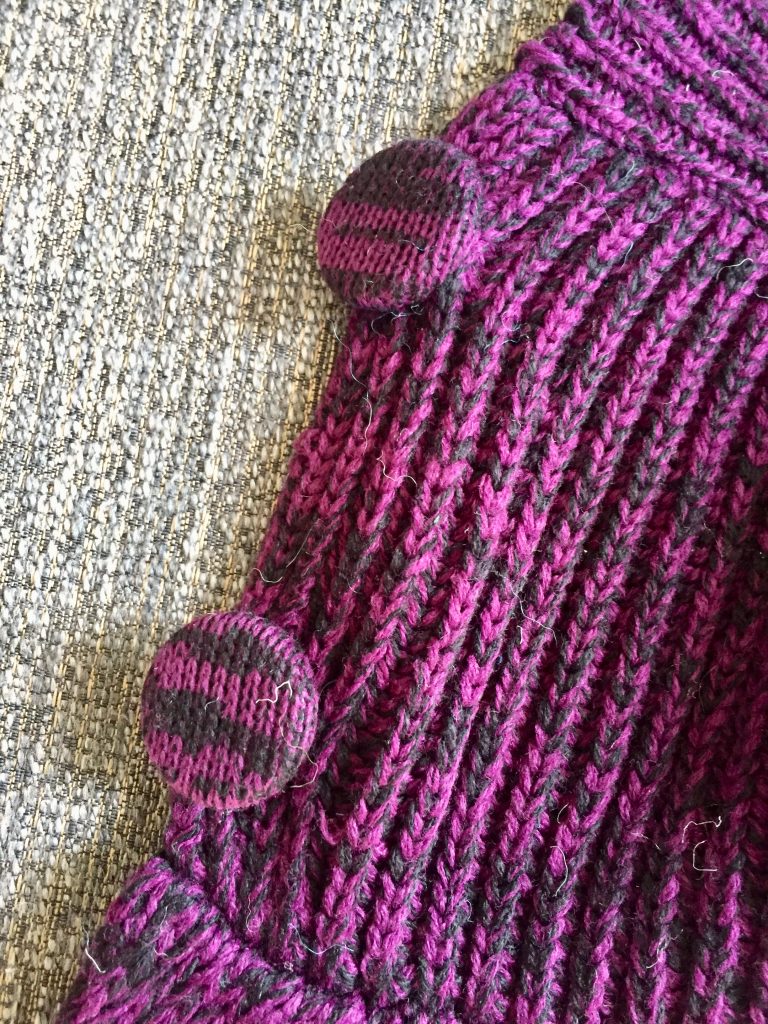 7. Staple the bottom
Turn your stool on its top.
With your staple gun, secure the bottom edge in place. Given the bigger weave of most sweaters, you may have to add a continual line of staples to hold it snuggly in place.
Cut away any extra material.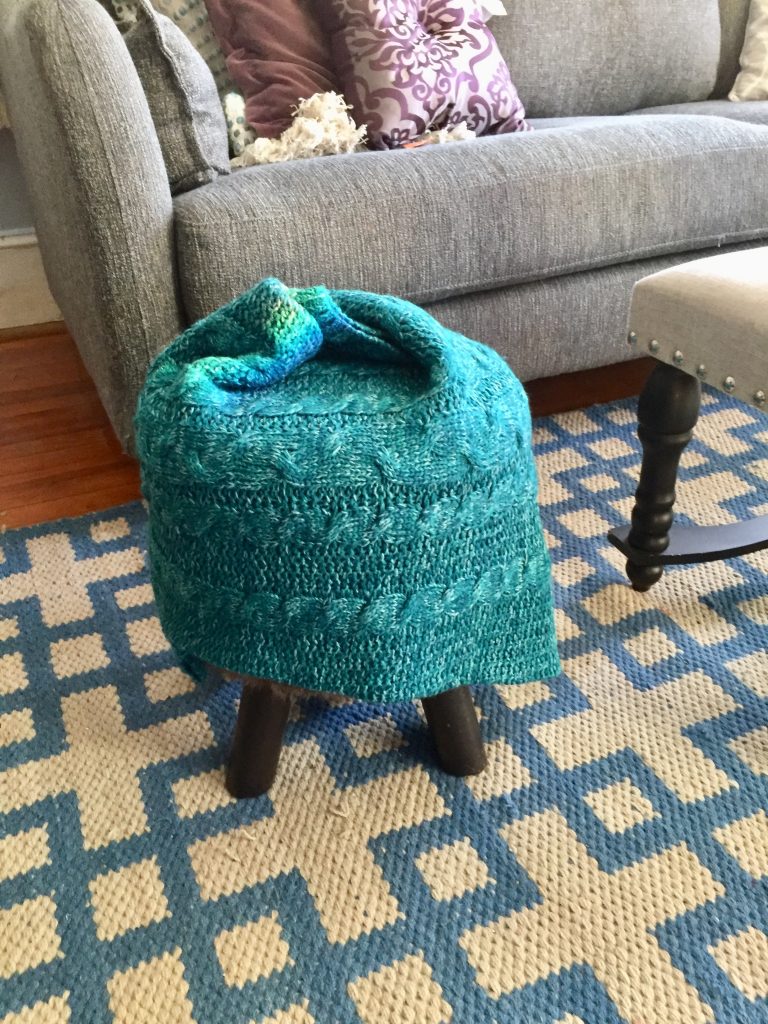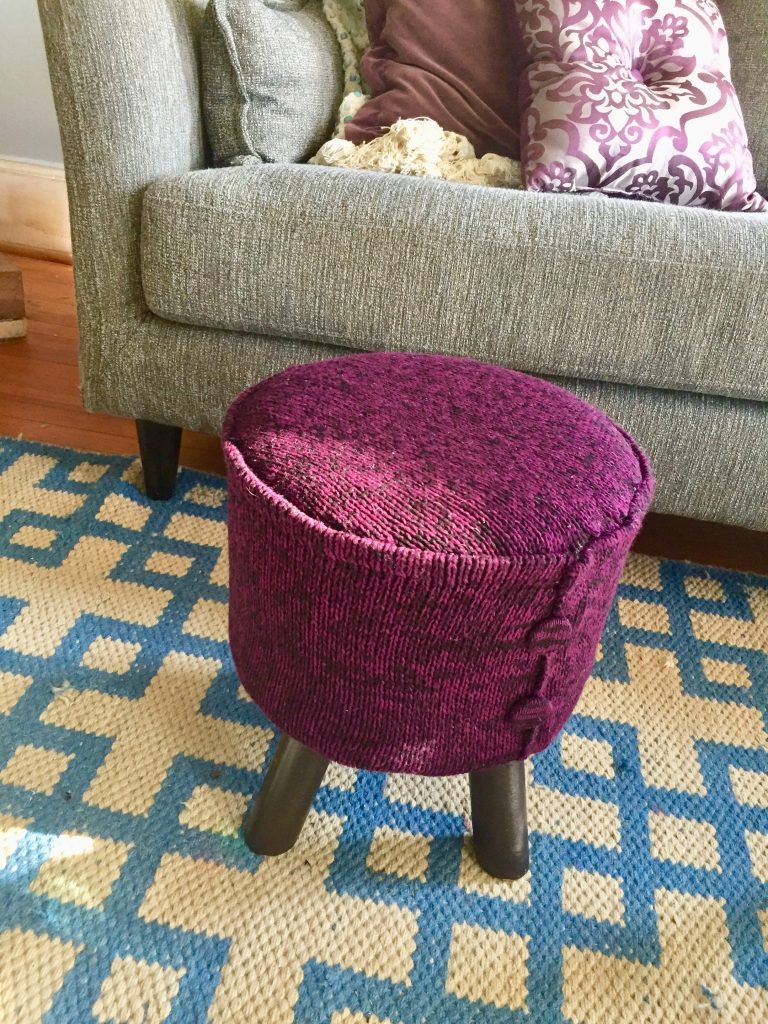 8. Flip it over then you will flip out!
Place your totally covered and totally cool footstool upright in its usable position.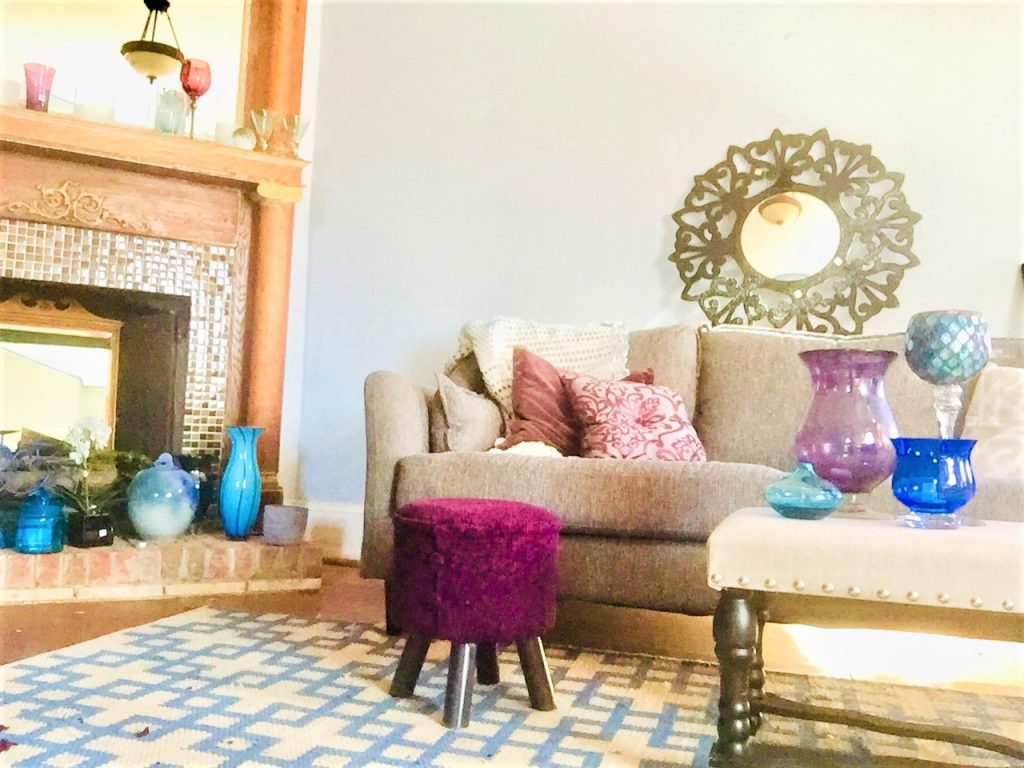 Put it next to your couch as a place to rest your feet.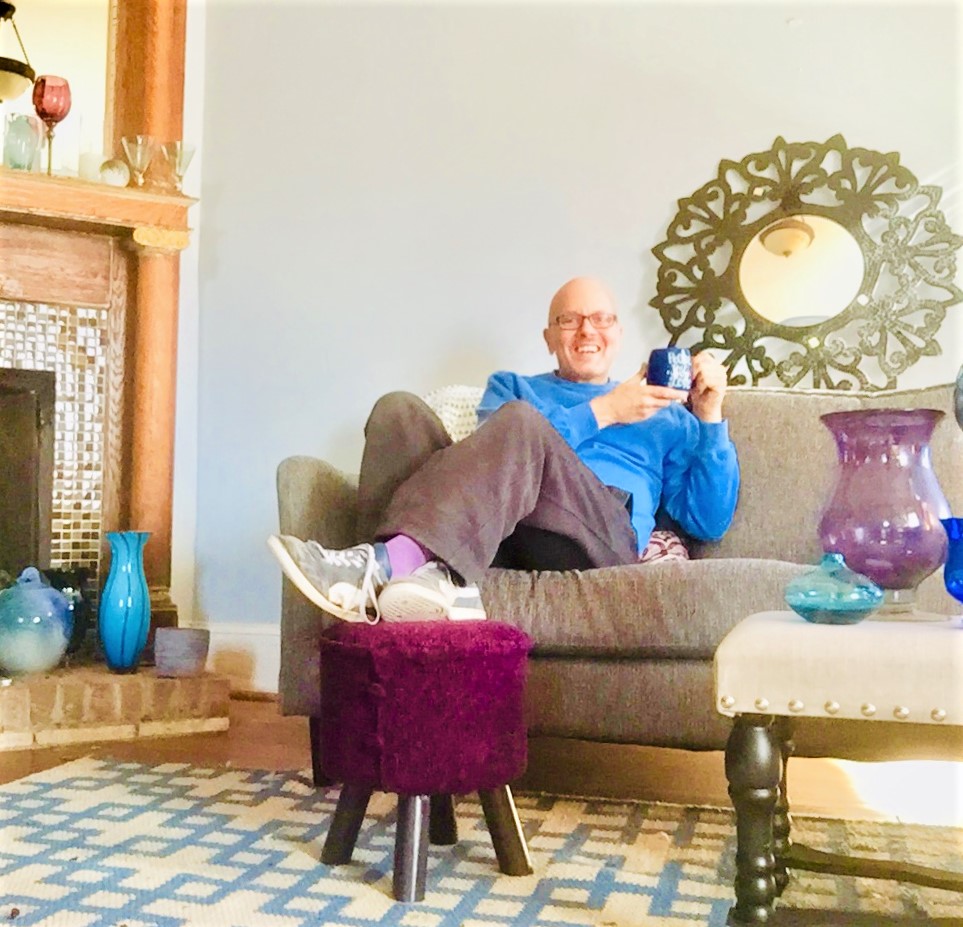 Add a small tray so it can hold your morning cuppa Joe or that glass of bubbly.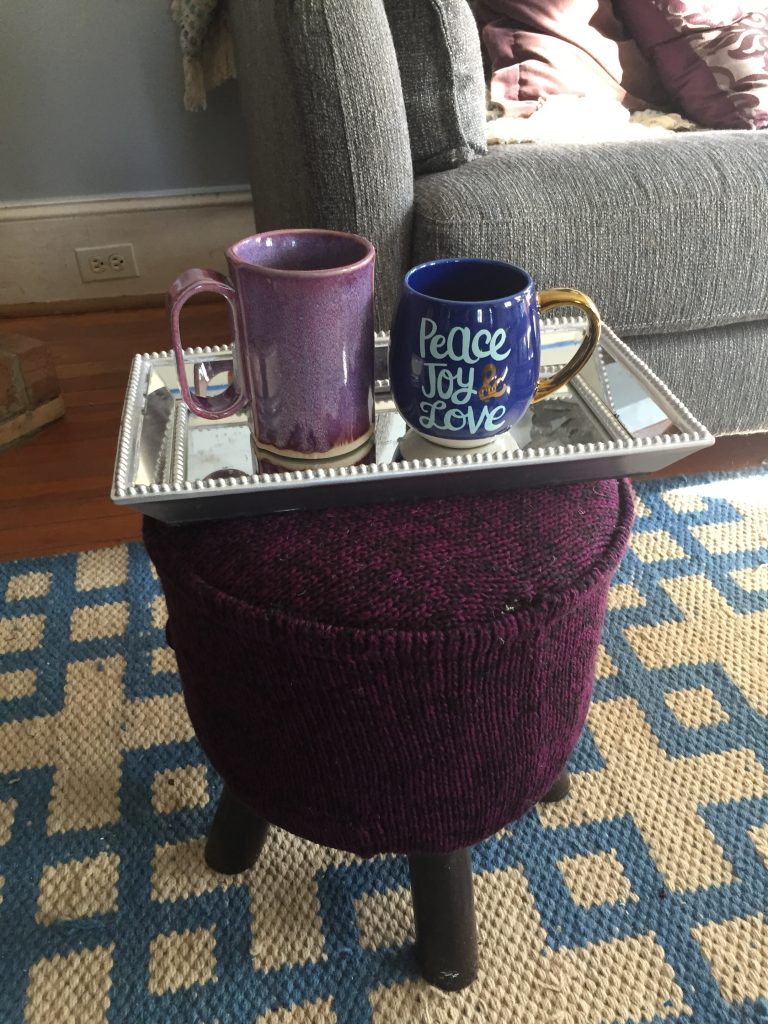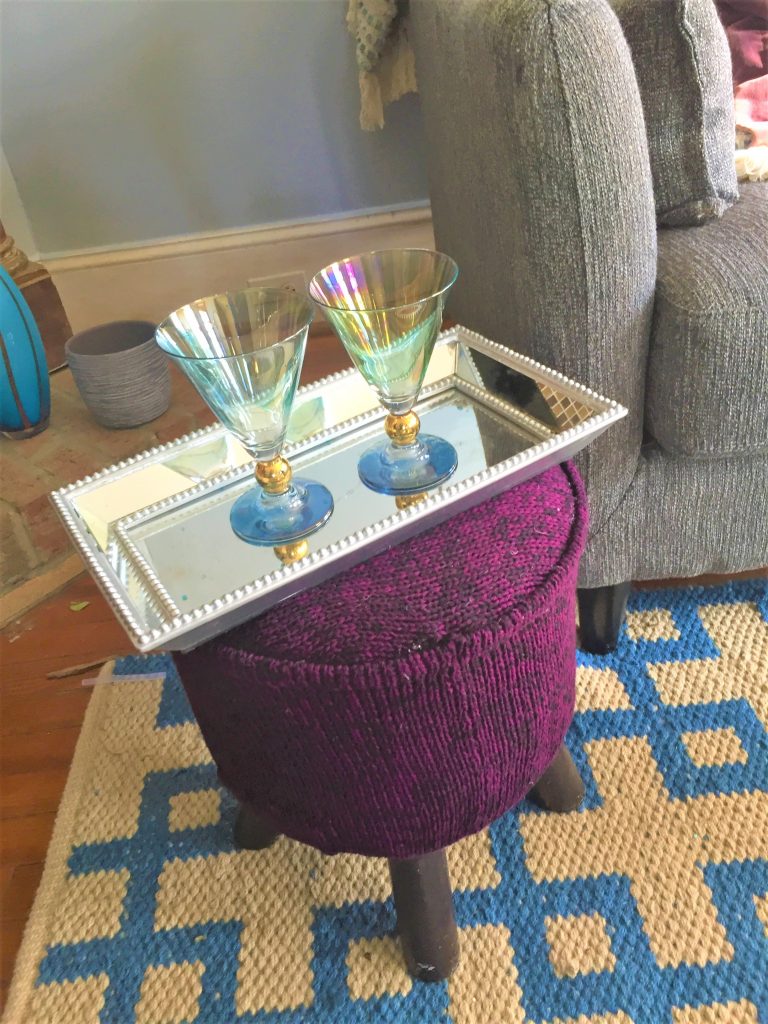 Tuck it in the corner so it is ready for extra company to take a seat.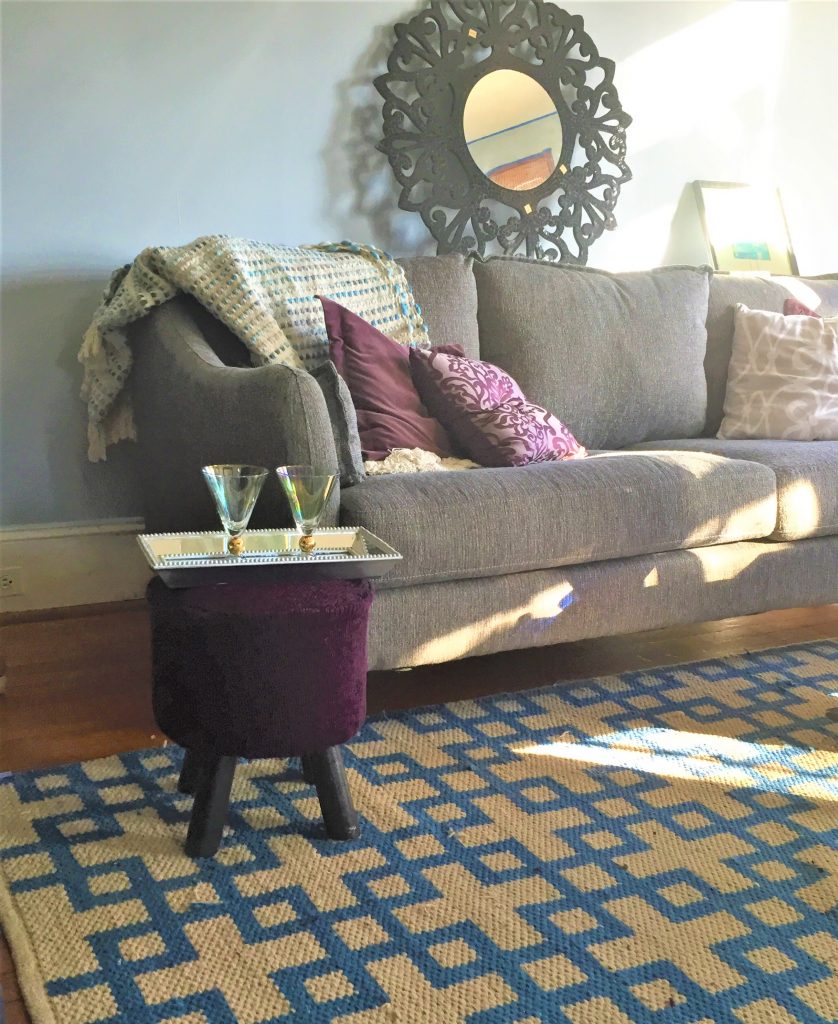 Given its small size, you will be amazed at the big duties this little guy will do! And with its colorful, cuddly covering, you will want to use it all the time!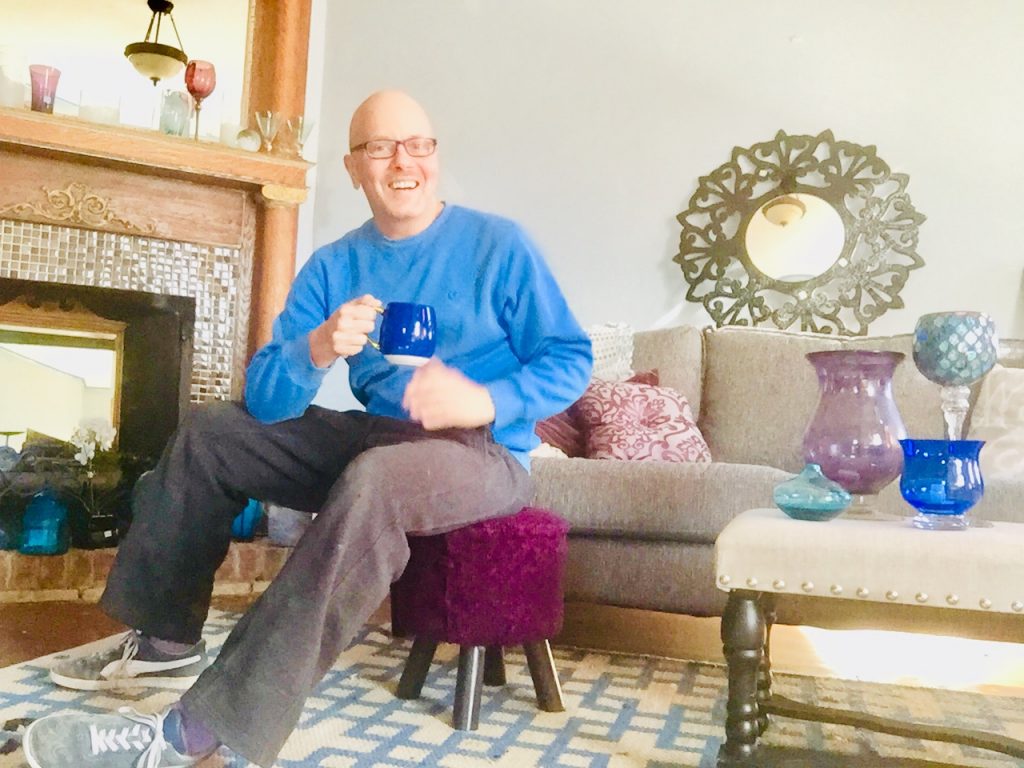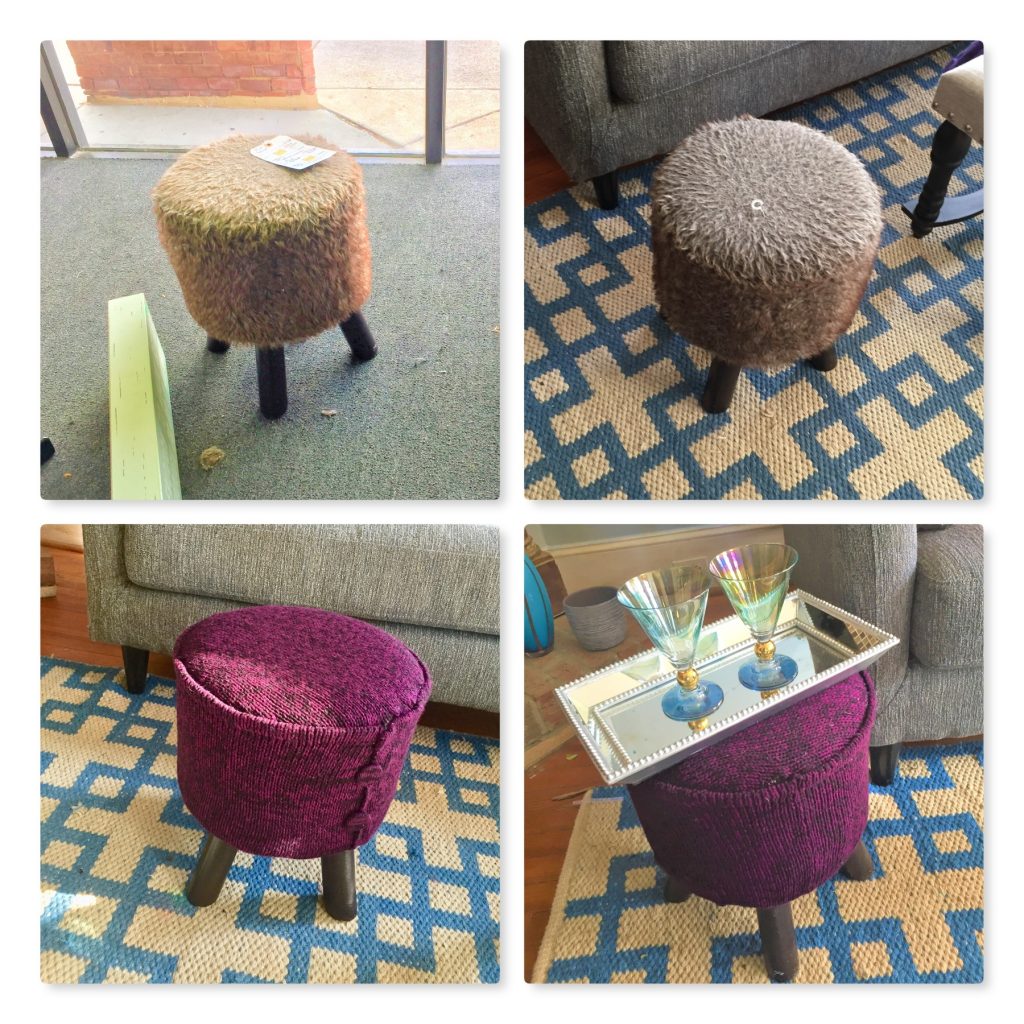 How would you use this funky piece in your space?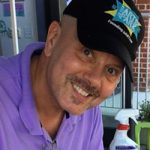 Tim Kime
Tim Kime is an artist, life coach, connector. He is President of Kime Leadership Associates offering executive coaching, meeting facilitating and motivational speaking. He is also Chief Creative Force of Transformation Junkies which upcycles furniture and other household items into functional works of art. He combined his two passions—unleashing the potential in people and transforming items with the launch of the Art of Possibilities Workshops. These workshops are part upcycling, part dreaming, part goal setting.