As we hunker down during the winter months, there is no need to put the fun, creativity, and fellowship on hold as well.  Tap into the upcycling of thrift store items with others as a unique way to connect and create with family, friends & groups.  For nearly next to nothing per person and with a little prep and planning, you will guarantee a good time for all.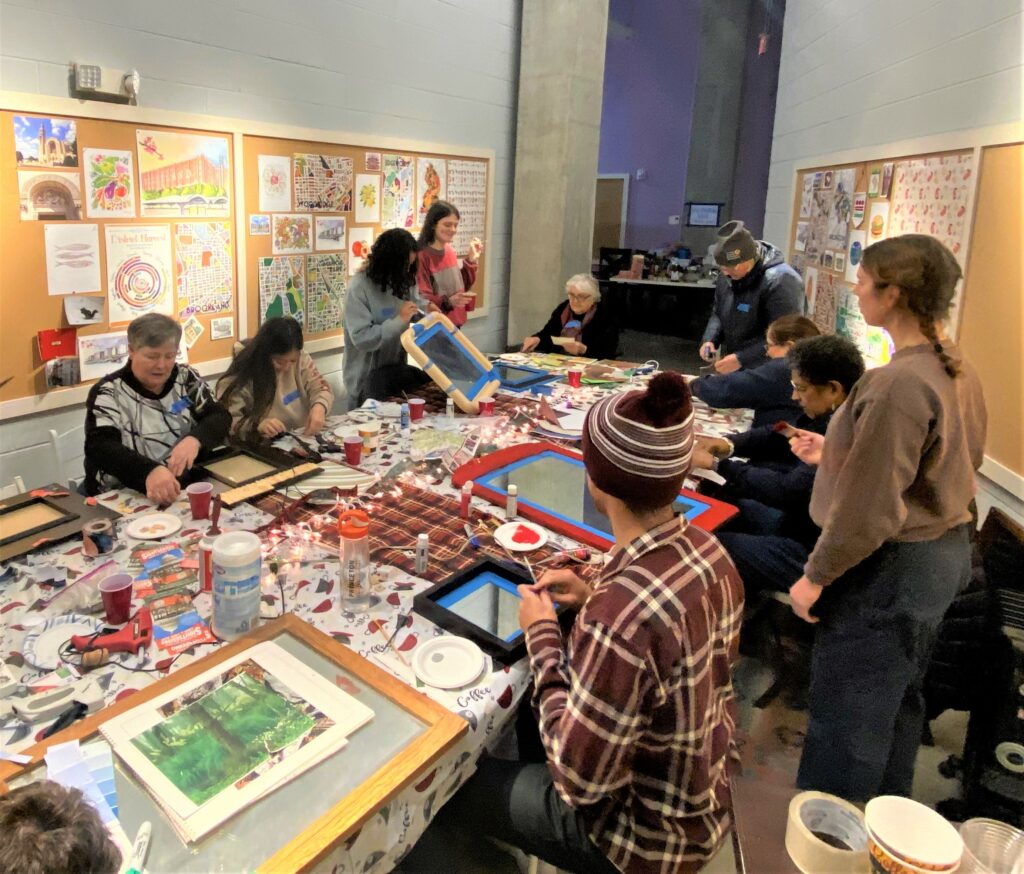 Here are three approaches for gatherings of loved ones with upcycling that will be sure to be enjoyed during and remembered long after the event is held.  Thanks to Arthur, Steve, and Julia for the chance to create a foundation for fun for you and yours!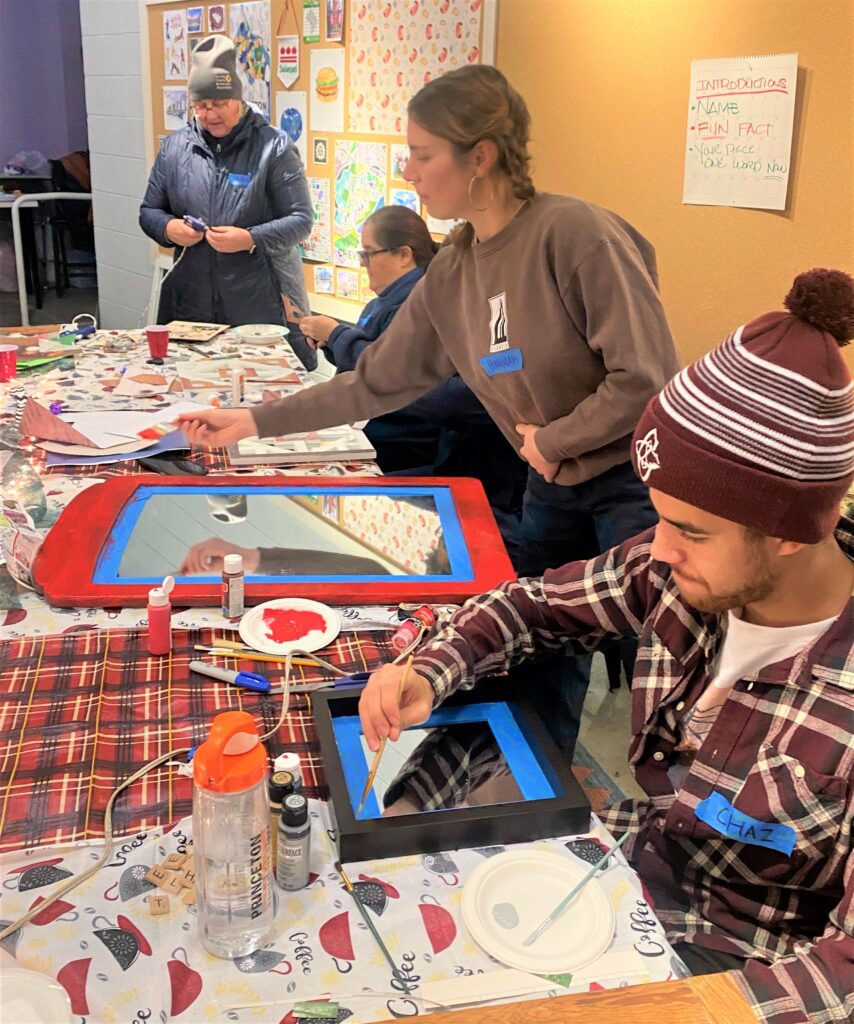 Items needed:
· A room or work area to hold all participants
· Large worktables & chairs
· Thrift store items
· Craft paints, brushes
· Mod Podge
· Glue guns & lots of glue sticks
· Items to embellish (beads, fabric, ribbon, game parts, jewelry, etc.)
· Music & refreshments
· Fun people!
Setting the stage:
Space
Pick a room in your home or find a place to host such an event where a spill or two won't be the end of the world.  Do you have a kitchen with a floor that is easily cleaned up should something happen?  What about a basement space?  The three DIY/upcycling parties featured here all took place in a community room where my art studio is located.  No carpeting, nothing cute to get impacted during the creative process. When the weather warms up, you could host such an event outside or in a garage, too.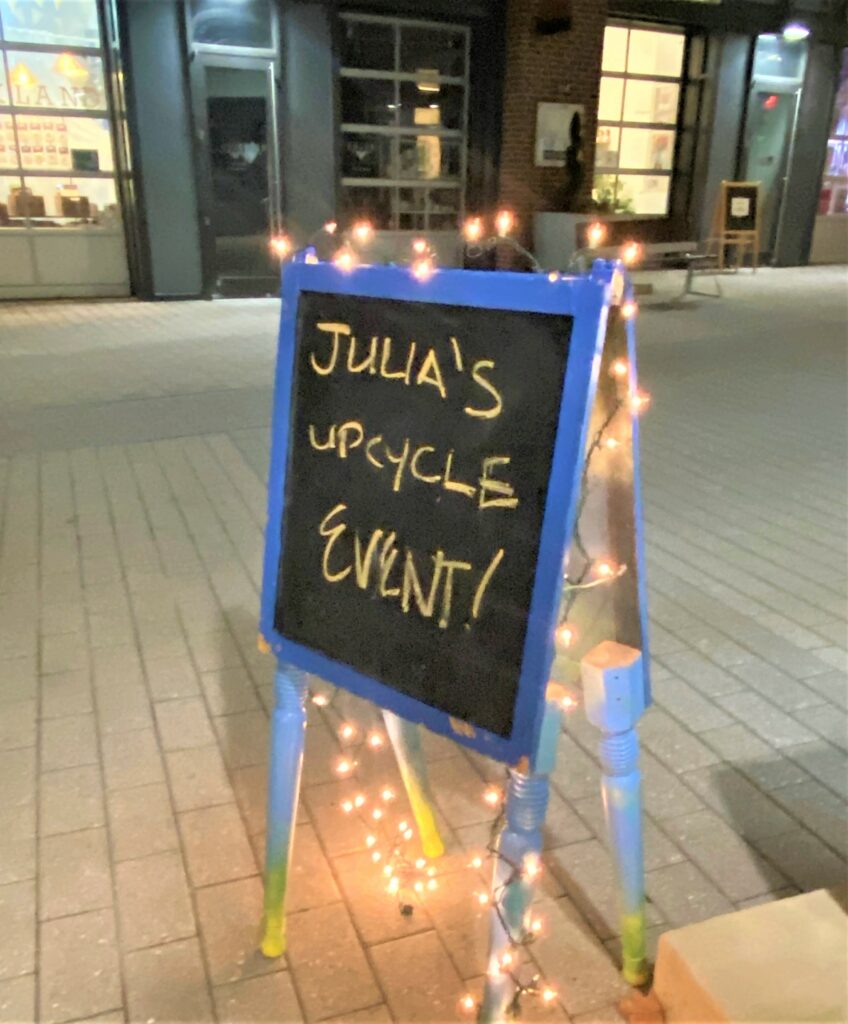 Tables
To maximize the connections between participants, it is ideal to have one big table—as opposed to two or three smaller tables—so all may sit together.  If you only have access to smaller tables, then move them together and position chairs and stools around the outside edge.  Is the party for a birthday?  Then pick up an inexpensive paper tablecloth with celebratory messages or in the guest of honor's favorite colors.  One of the parties in this blog was held just before the holidays, so a string of lights and ornaments also were added to the center to make it look friendly and festive.  Do you have a theme like the Super Bowl?  Then get your team's colors and related items to decorate the space. 
Music
A super easy way to set a positive tone, literally and figuratively, is to have music playing (not too loudly, of course!) that is upbeat and engaging.  Christmas carols greeted one family as they gathered and created—-then, later, all sang along.  Dance music was played at another, which help to get people in a happy mood.  Use your phone to play your favorite tunes or select those the birthday boy or girl loves. 

Refreshments
Ensure you have a separate table/counter/place for food and beverages.  All you need are bowls, platters, cups, and napkins to go with the refreshments, and colors can be selected to match your event's theme.
Now that you have these basics covered, time to make your event truly one of a kind!
Approach 1: Select a theme (Arthur)
For his birthday party, little Arthur wanted to do something creative and connected to Minecraft, one of his favorite online activities.  To tie into this, toy blocks were picked up from Goodwill, and scrap wood was cut into small pieces to allow his friends to build things and mimic the game.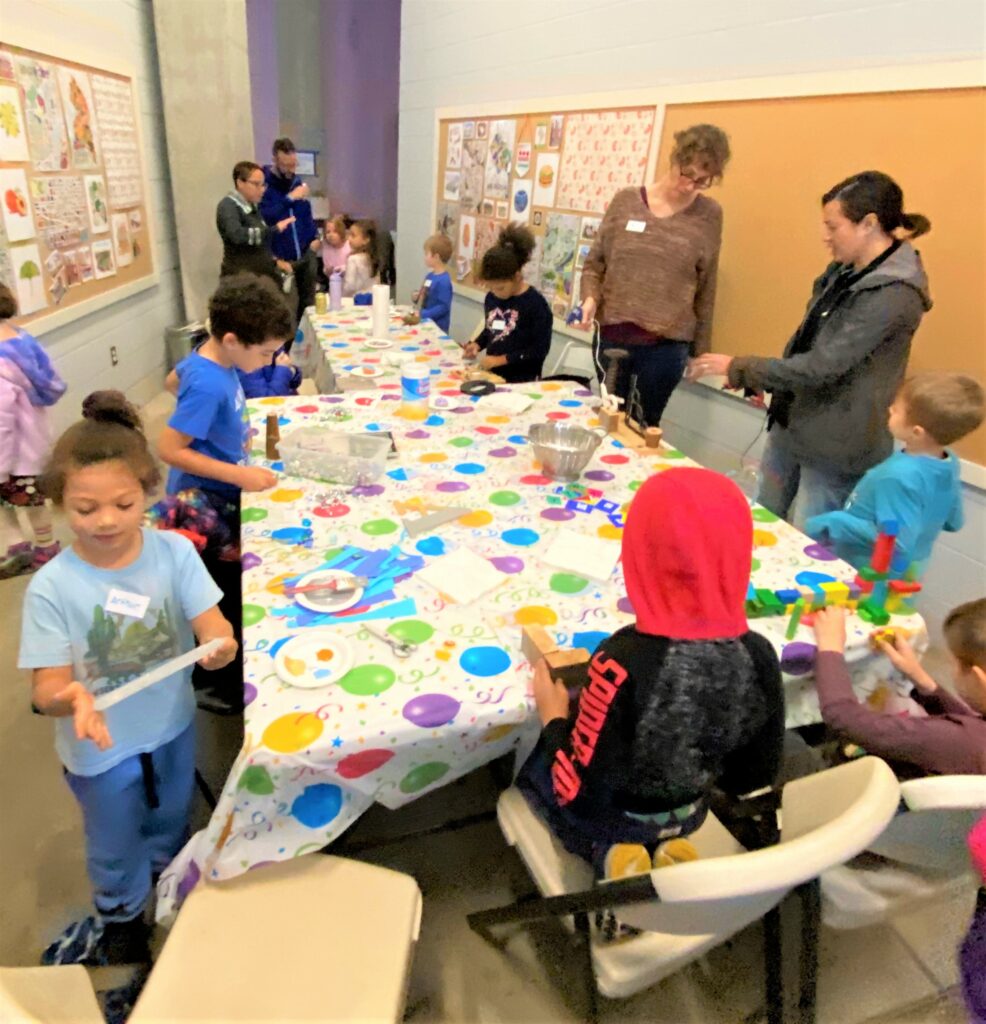 Various items like frames, boxes, wooden statues, and knick-knacks were collected from Goodwill to give lots of options for these young artists.  Wooden paint stirrers were even transformed into art pieces!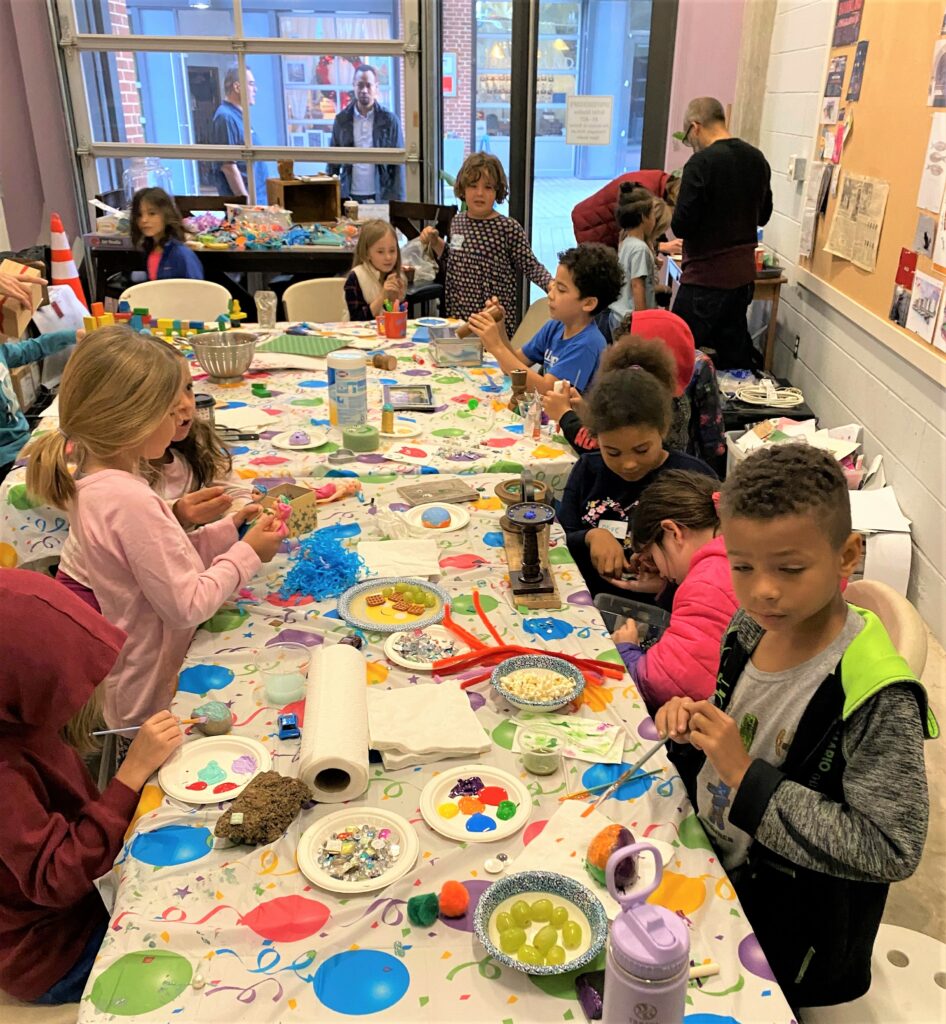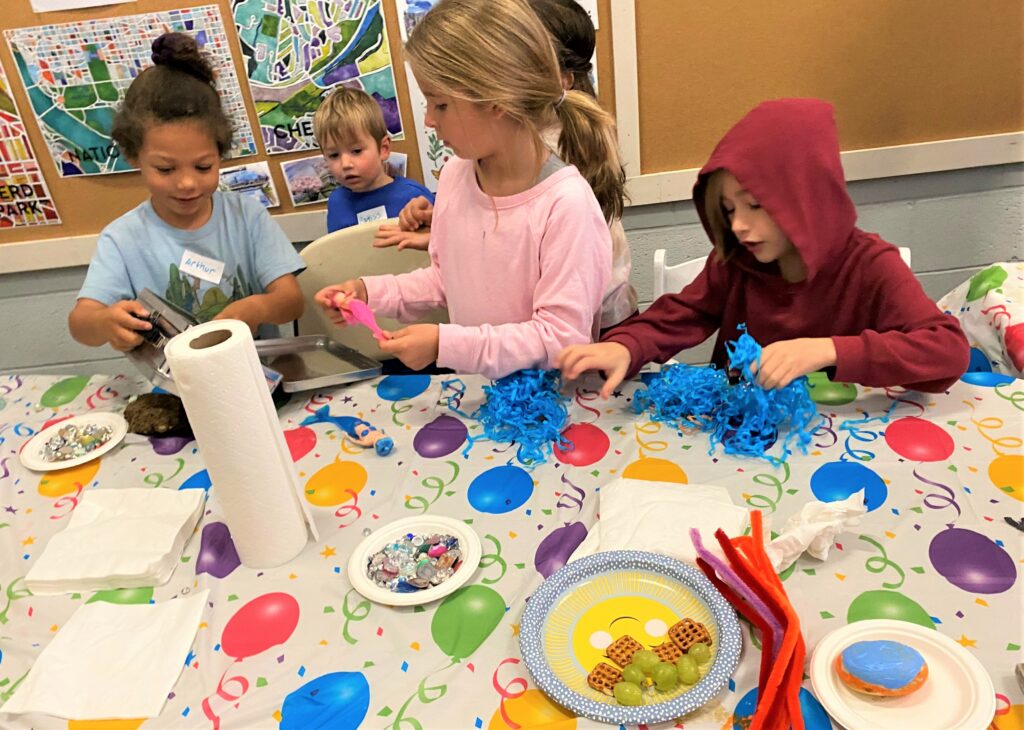 Arthur's mom, Leah, supported the Minecraft theme by taking a sheet cake, cutting square pieces, and stacking them on top of each other to look like Minecraft blocks.  So fun!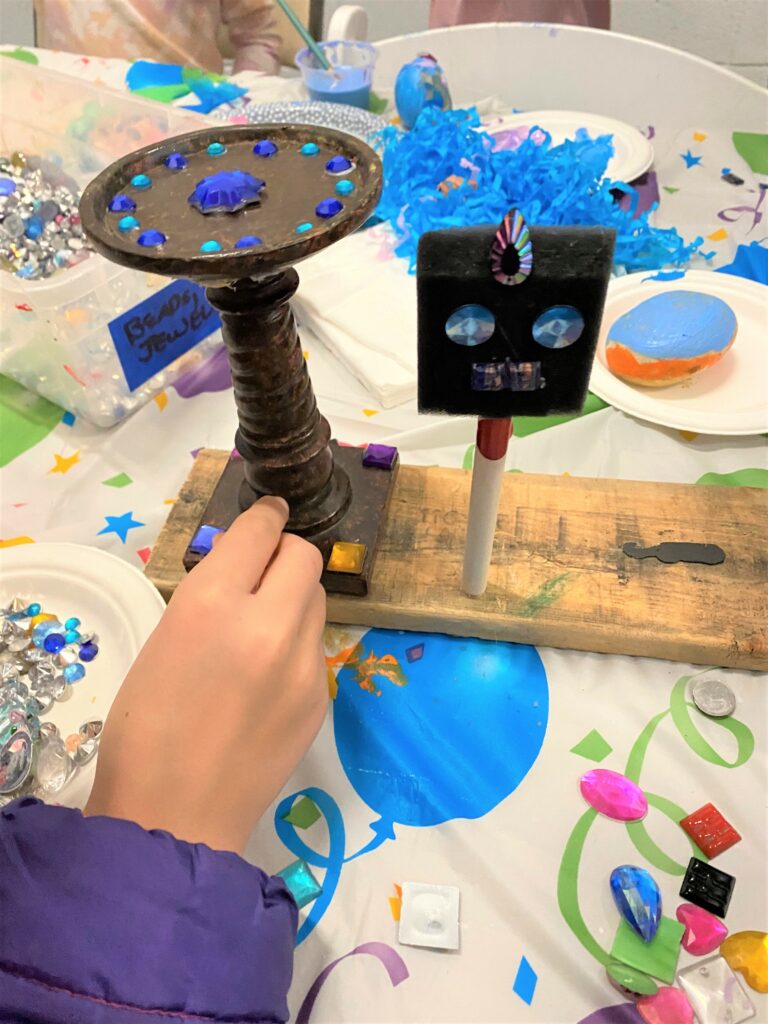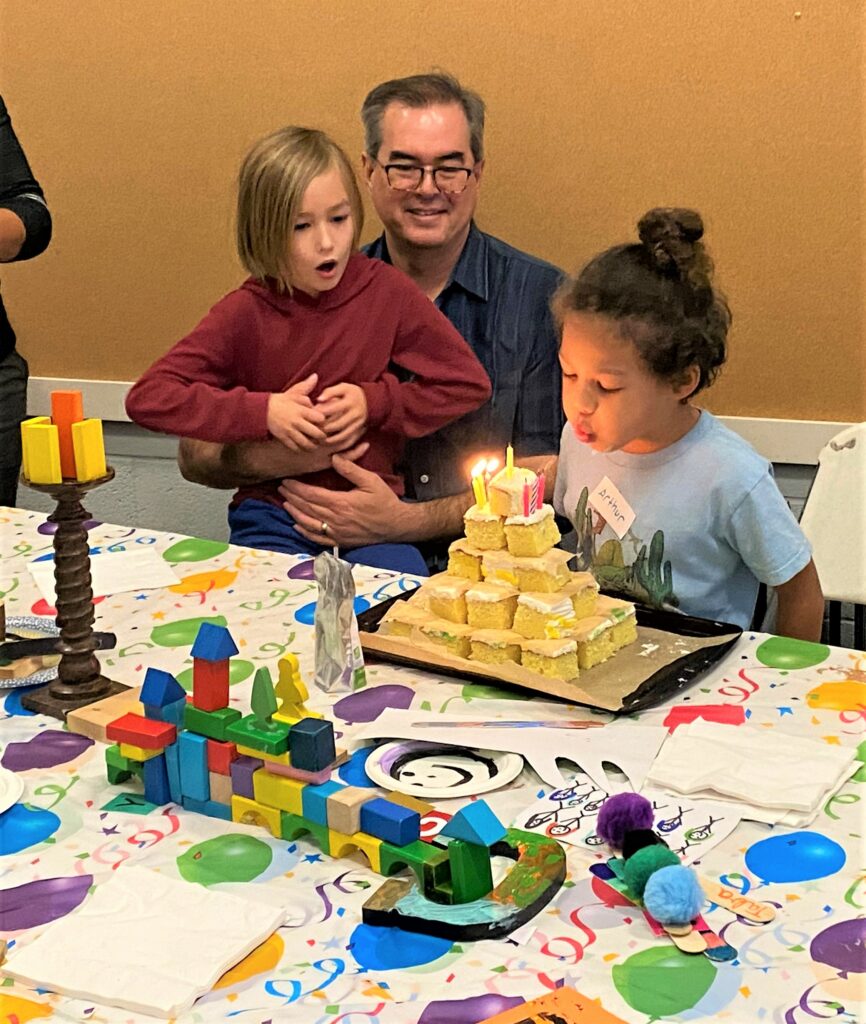 Expert tip:
To keep the little fingers safe, have an adult manage and guide the hot glue gunning process.  We set up a station so that when the youngsters wanted to use the glue gun, they moved to that place where a grown-up helped to ensure things were done very carefully.  And I loved that the kids were the ones who set the rules and said that only adults can use the glue gun! 
Approach 2: Build around the same object (Steve)
Steve and his family gathered for the holidays and wanted a fun activity to do together.  To show their care for the environment, we decided it would be cool to upcycle secondhand mirrors and frames to help reuse them and keep them from being tossed into a landfill.  These items were collected from Goodwill; participants selected a mirror that "spoke" to them.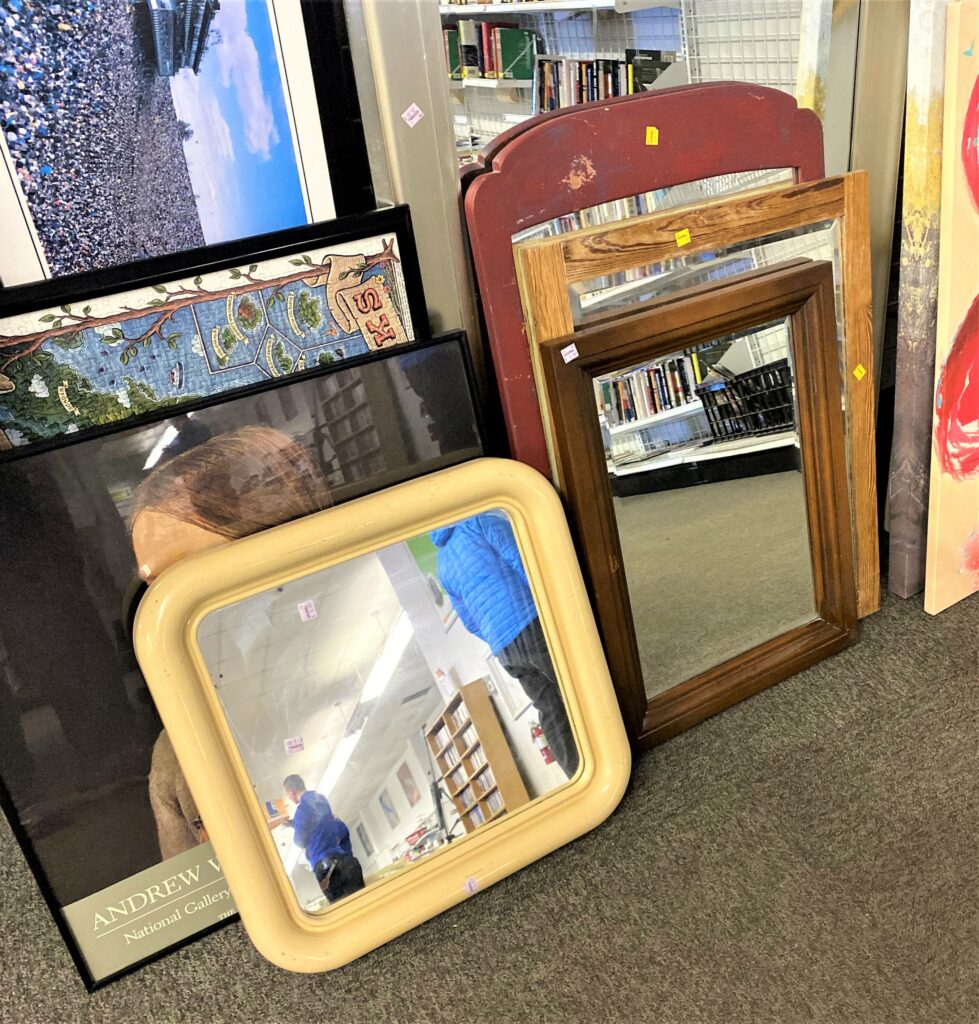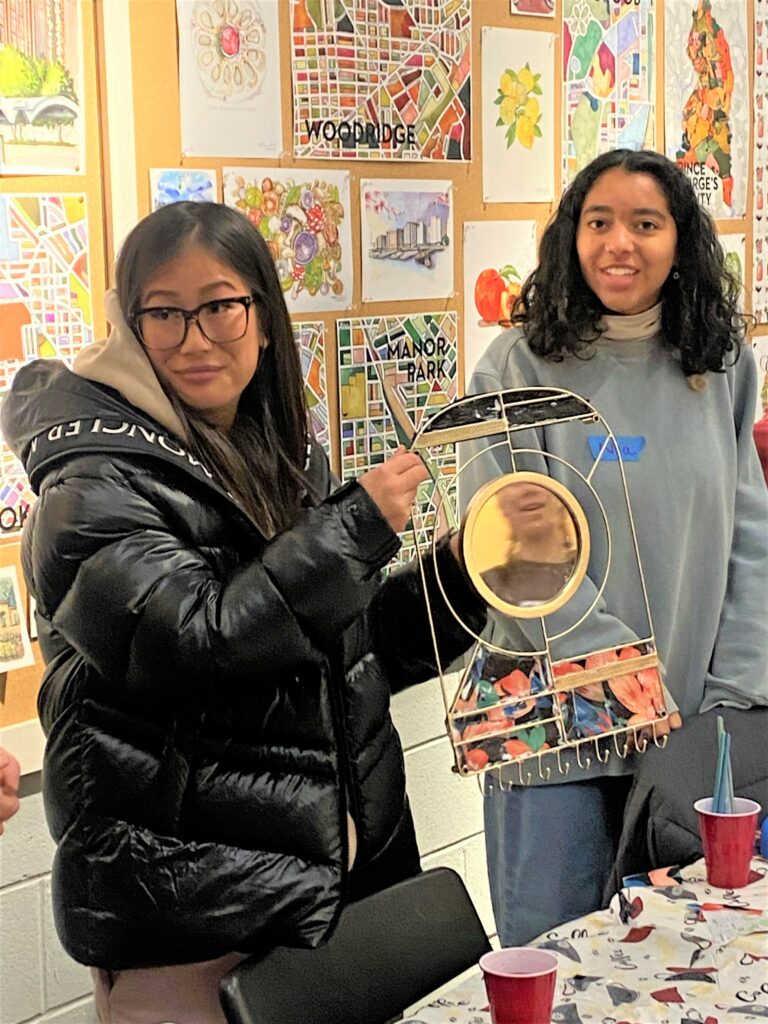 As we started, each person was asked to share a fun fact about themselves and to give a word to describe their mirror as it was.  After the projects were completed, each person stood, reminded all of their "before" word, and then shared a word to describe it after its transformation.  It was hilarious—and inspiring—as each person expressed themselves and let more of their personality show and shine.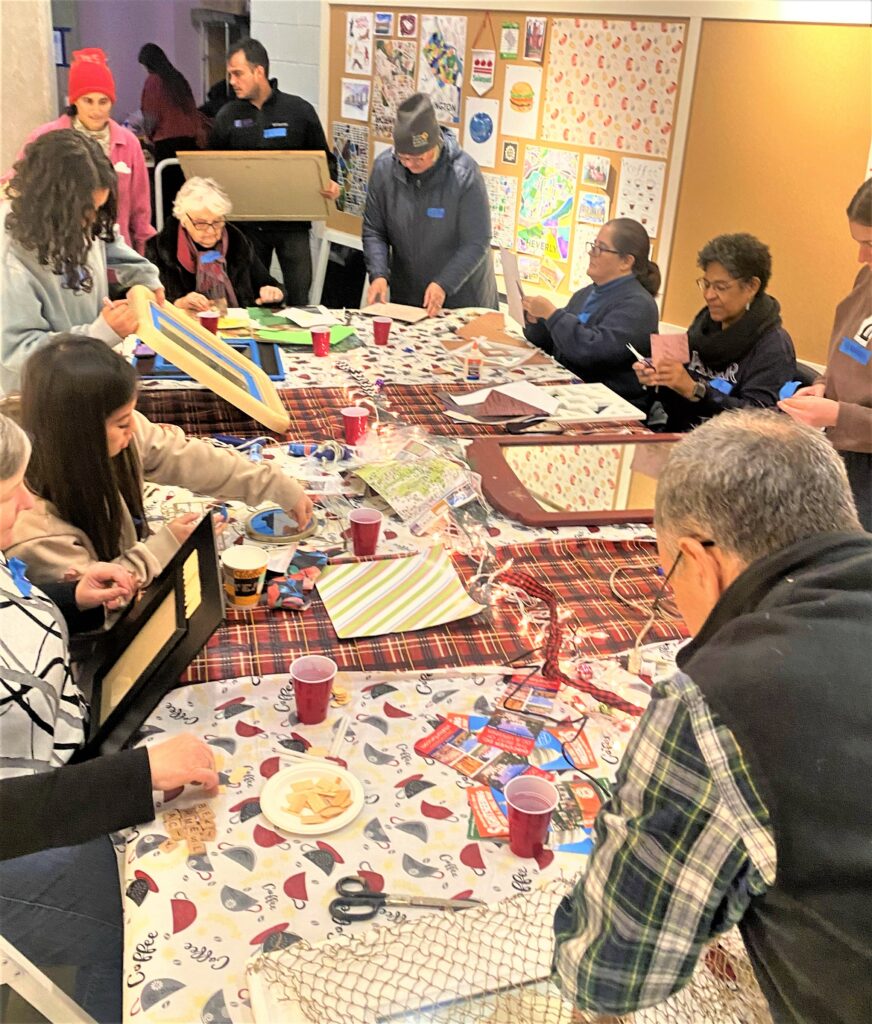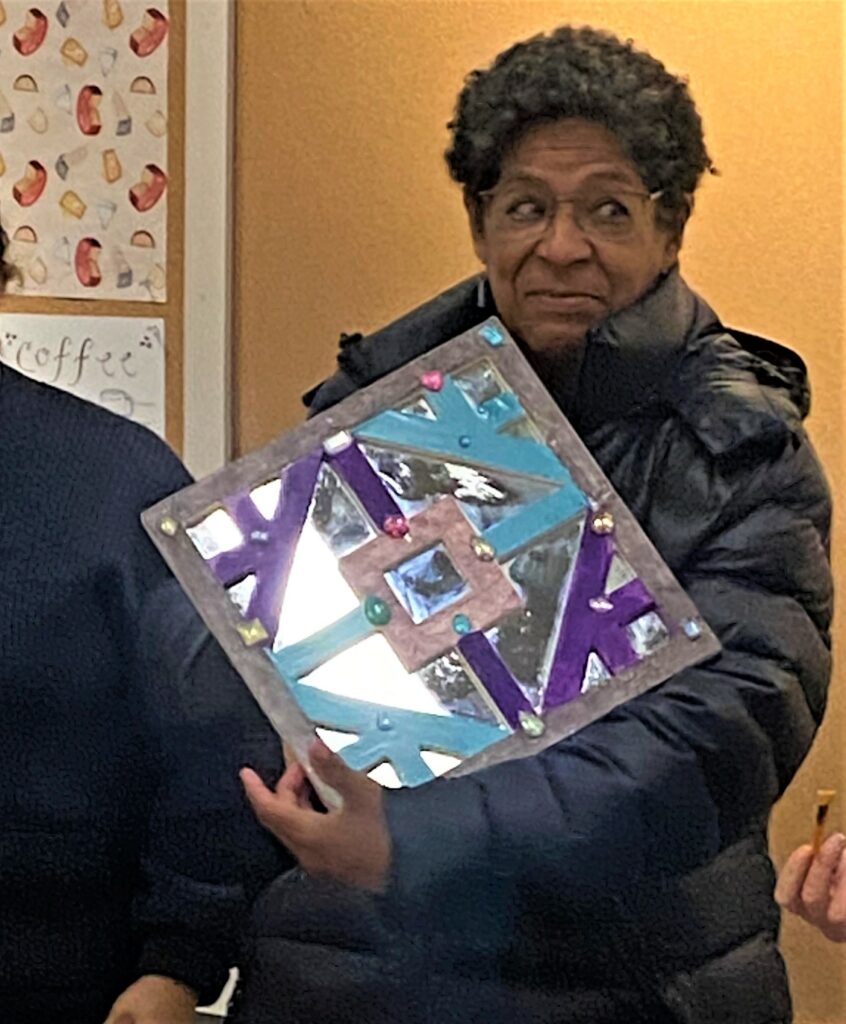 Expert tip:
Even with a group of family members, don't assume that all know each other well.  Create a way for folks to share interesting or unusual things about themselves to help foster conversation and connections.  Questions like, "What is your favorite food?" or "What is your favorite movie and why?" are great opening questions which are sure to generate some interesting and unusual responses.
Approach 3: Bring something special to you with you (Julia)
Julia and her friends wanted to get out of the house and do a group activity, so a DIY party was perfect.  To make it really special to each person, all were asked to bring their own hand-picked, second-hand item to transform.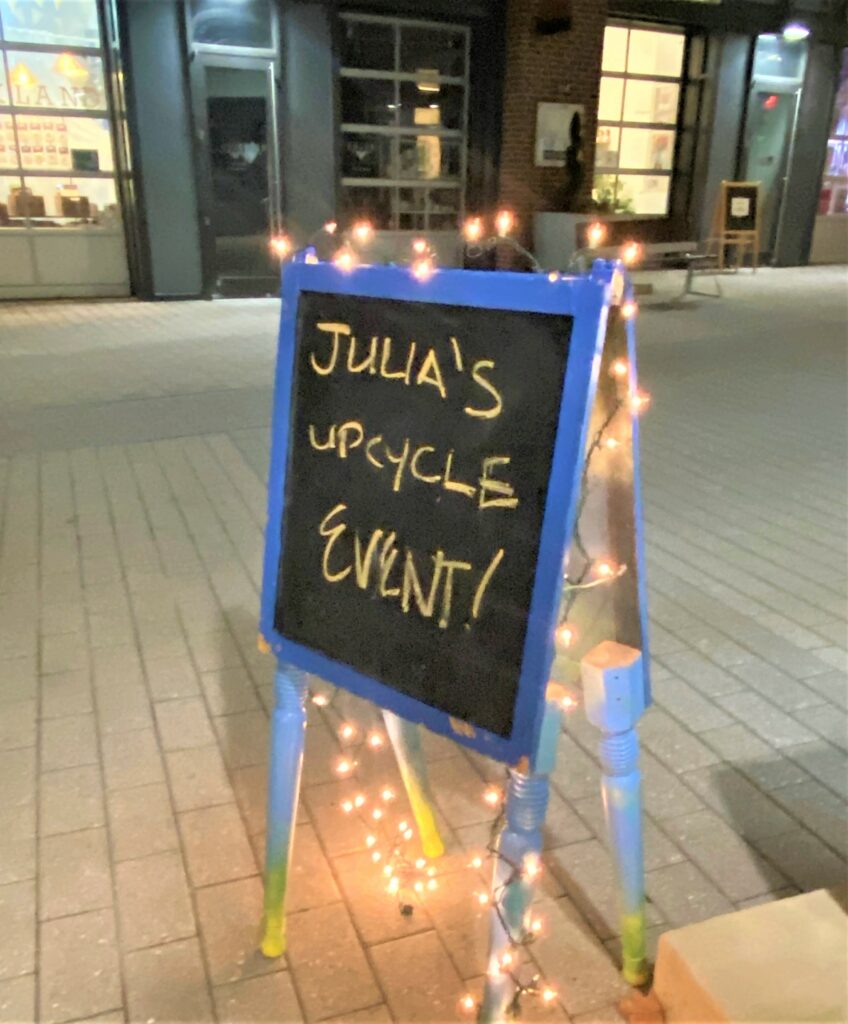 They took time to hit Goodwill or look in their own spaces for an item that they liked, had a specific purpose, or had a unique meaning to them.  You are likely familiar with the "paint & sip" or "canvas & cocktails" events where everyone paints the same image.  While that is pleasurable, having people upcycle items that are meaningful and purposeful to them is so much better, in my very humble opinion.  When done, their newly upcycled piece will be functional as well as a great reminder of the fun time with new and old friends.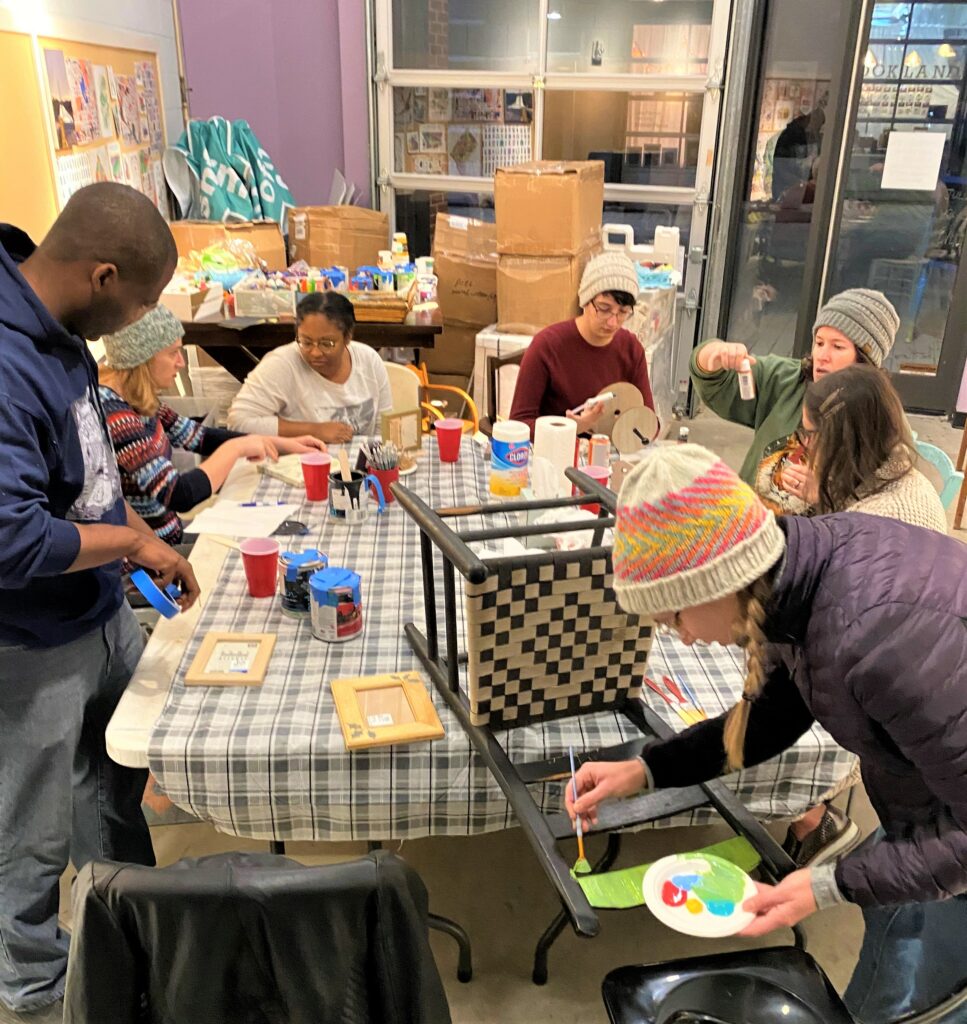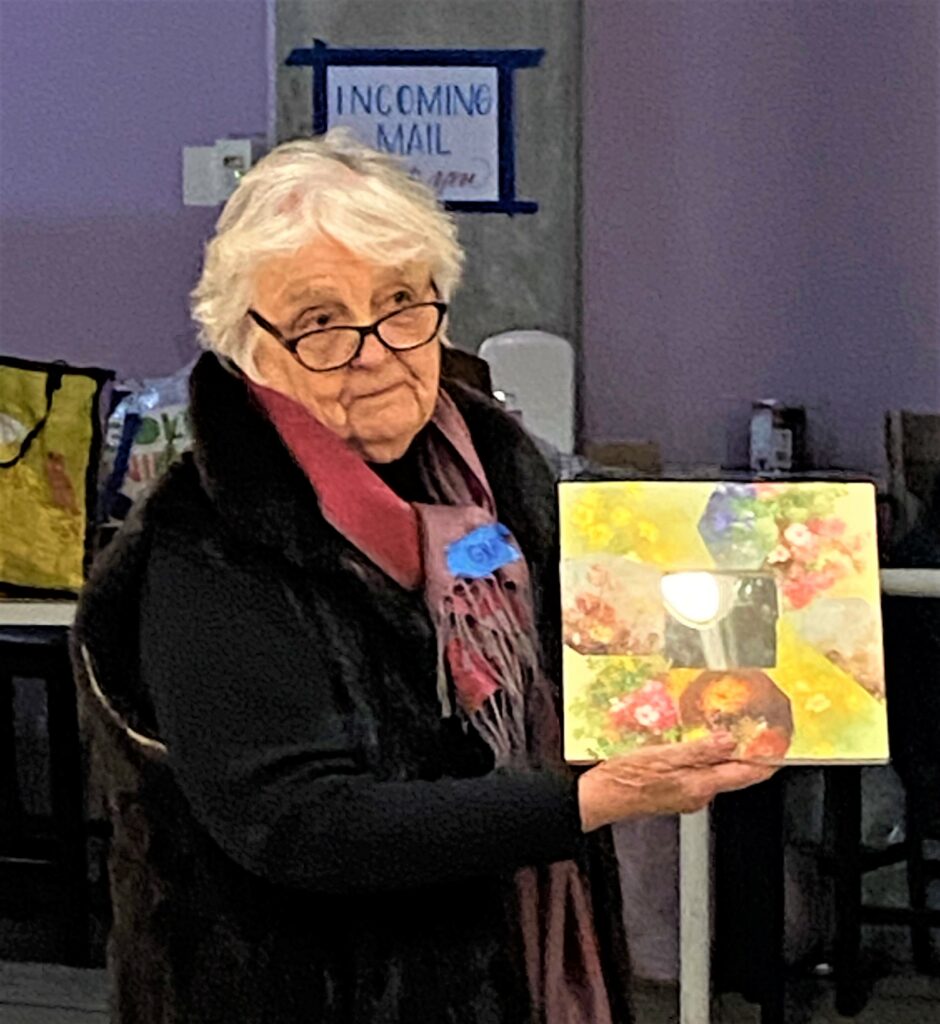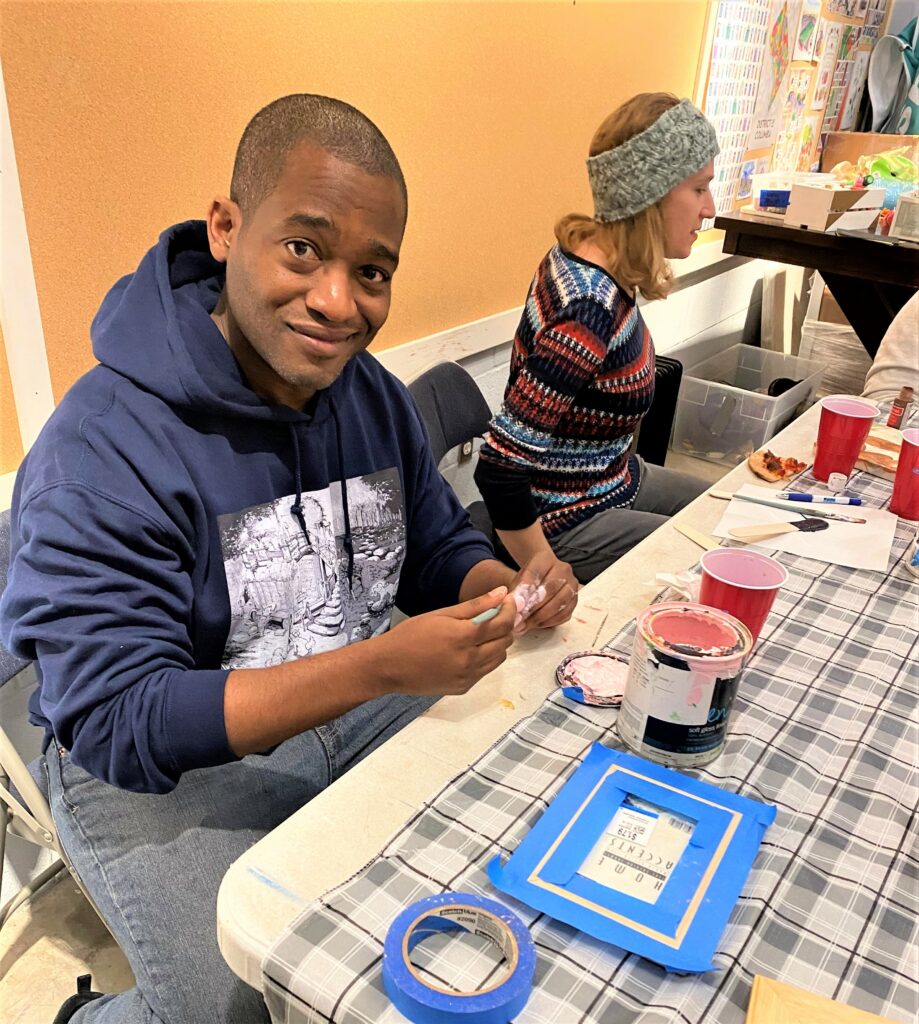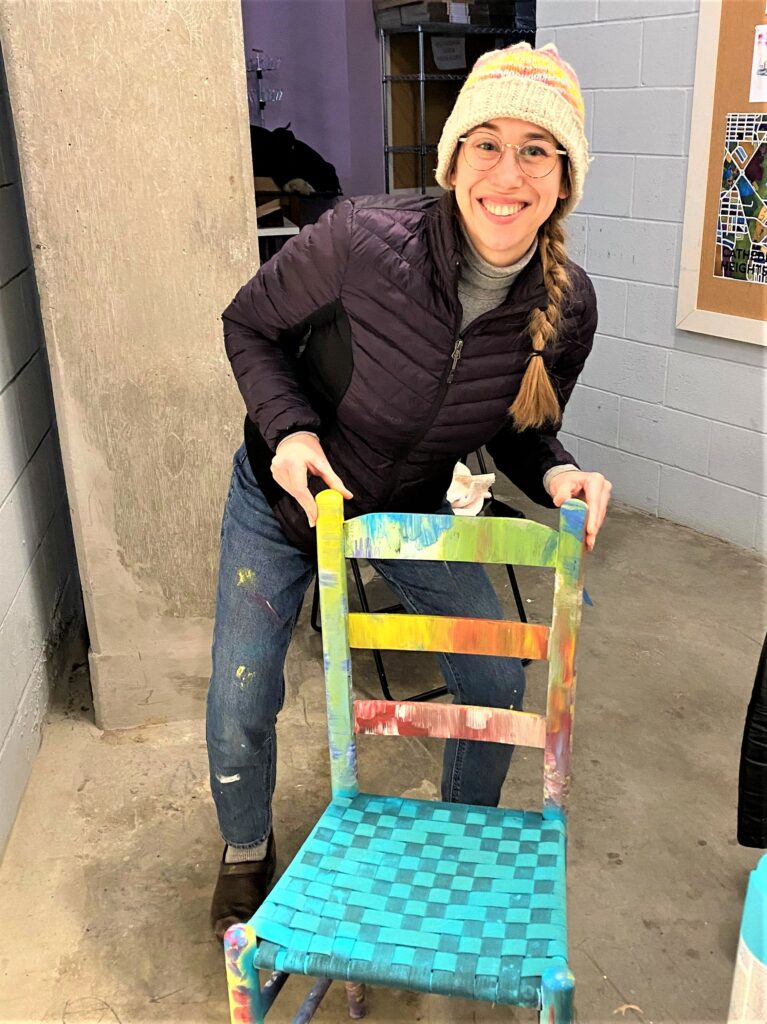 Expert tip:
Encourage DIY party guests to bring items that are easily transportable and in good shape.  Small chairs, frames, lamp bases or shades, and small wood side tables or stools are ideal options as they are portable, lightweight, and provide enough—but not too many—surfaces on which to let out your guests' inner artists or inner Martha Stewarts.   Ensure the items are in good shape already, so the limited time together is not spent repairing the piece but transforming it.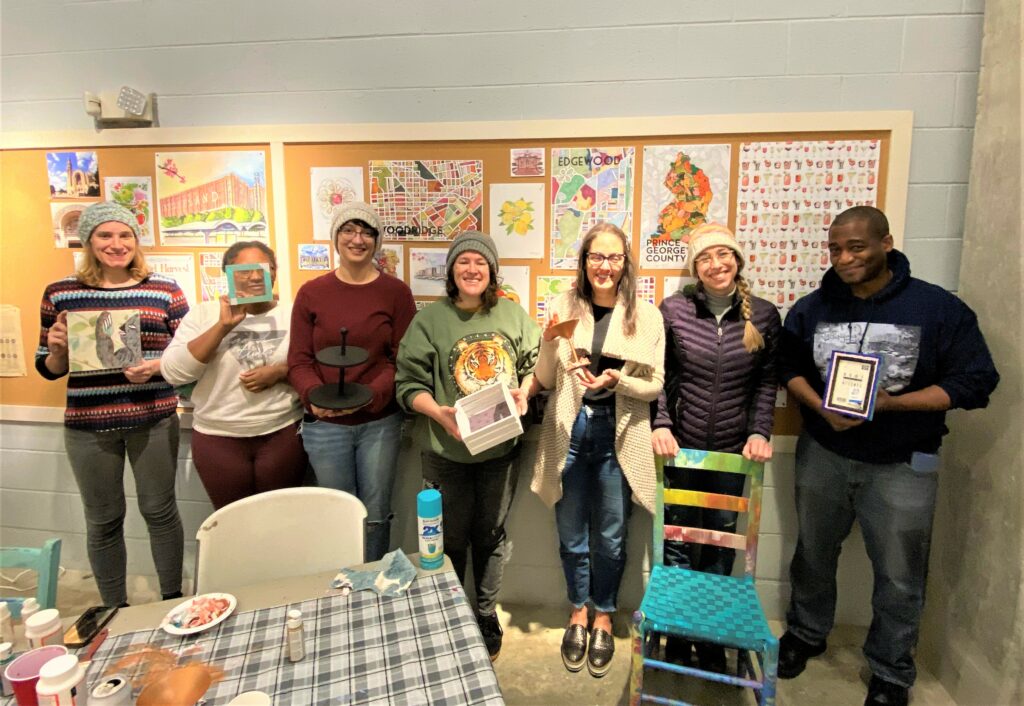 Thanks so much to Arthur, Steve, and Julia for allowing me to host your events and, hopefully, to create joyful memories for your loved ones gathered.  If you are a Finding Your Good follower/reader/fan in the Washington, DC, area, I would love to do the same and host a DIY/upcycling event for you!   
As always, thanks to Goodwill for the support of creating, connecting, and community-building!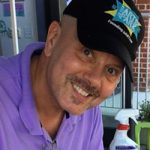 Tim Kime
Artist, Motivational Speaker, Life Coach
Tim Kime is an artist, life coach, and connector. He is the President of Kime Leadership Associates, offering executive coaching, meeting facilitating, and motivational speaking. He is also the Chief Creative Force of Transformation Junkies, which upcycles furniture and other household items into functional works of art. He combined his two passions—unleashing the potential in people and transforming items with the launch of the Art of Possibilities Workshops. These workshops are part upcycling, part dreaming, and part goal setting.