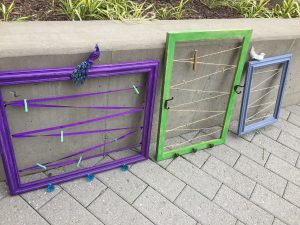 As you gear up to send your kids (or yourself!) back to school, consider adding this creative DIY project to your "To Do" list. In just an afternoon, plus drying time for paint, you will have a unique way to display school photos, report cards, event tickets, sports ribbons, team clothing and more. This is great for a kid's room as well as an entry way, dormitory or bath. Consider making one for each of your children to display with their own respective items in a public area in your home, like the foyer, family room or hallway. Or what about creating one for Grandma who will proudly add new items celebrating her family members? She will love it!
Ability level: Pretty easy but with care. You'll need to use the drill, adding eye hooks and threading with twine/string/ribbon.
Age Level: All ages if done as a team project with kids and help from parents or an adult.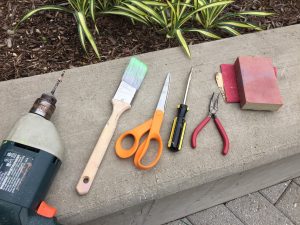 Items needed:
1. Wooden picture frames for the wall (as opposed to smaller photo frames displayed on tables or shelves)
2. Small eye hooks
3. D-shaped picture hooks
4. Twine, string or ribbon
5. Clothes pins or clips
6. Hooks and/or knobs
7. Paint
8. Paintbrush
9. Sandpaper or sanding blocks
10. Electric drill
11. Screwdriver
12. Pliers
13. Accessories to embellish (optional)
Time requirement: Once all items are purchased and/or collected, 2.5 hours (not including paint drying time)
Cost: $20 per Celebration Station (not including paint and optional accessories)
$7 per picture frame
$3 for eye hooks (per pack of ten)
$3 for picture hooks (to hang on the wall)
$2 for twine, string or ribbon
$3 for hooks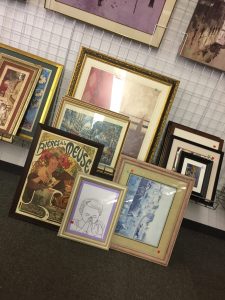 Step One- Finding Your Frame
With just one trip to Goodwill, there are so many options! In the Home Furnishings section at your local Goodwill store, you will find a whole wall of possibilities from which to select a frame to transform into this one-of-a-kind display piece. Be sure to find a real wooden frame… often they look like wood, but might be plastic and hollow which won't work for this project. Look for a frame with at least a two-inch wide wooden edge; this will give you space for adding coat hooks on the front and the D-shaped picture hooks on the back. (Just between us, when I turned over the frames, they often had paper on the back so I tore up a little piece to peek under to see if it really was wood or not!)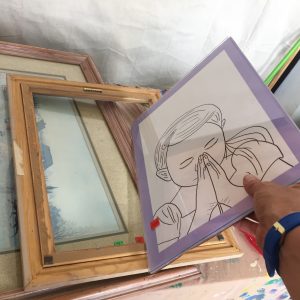 Step Two- Out with the Old: Removing Glass, Nails, Old Picture Hangers
You have the picture-perfect frame. You have all your materials ready to go. Let the transformation begin! Turn your frame over, remove any paper and use your screw driver and/or pliers to remove the hangers. Carefully pull out any nails or holders keeping the frame, glass and contents together. When all items holding the glass in the frame are removed, then very carefully take out the glass and put it aside in a safe place where it won't get knocked over or broken. You might consider wearing work gloves for this part of the project as the glass often still has sharp edges. This step is for adults only (pretty please!).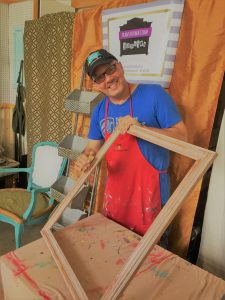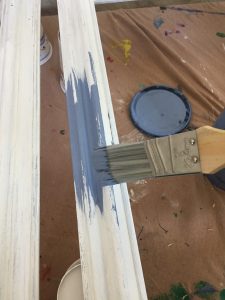 Step Three- Add Pizazz: Paint Adds Pop
In preparing to paint the frame, use sand paper to lightly sand the entire piece. Don't worry about removing all the previous paint or finish, just give it a light sanding to make it more porous for the paint. Use a latex, water-based paint. You will likely need two coats. You can also have fun here and add additional dimension by using different colors for each coat. Ideally, let each coat dry overnight. (For two of my projects, I painted a white coat first because I wanted it to show when I "shabby chic-ed" it later.)
After the paint is dried, take your sandpaper and very lightly sand the various edges of your frame to uncover or expose the first coat of paint or the wood of the frame. You certainly could leave it a solid color but my personal preference for this project is to expose the various paint layers to add more visual interest, especially if your frame has many edges or swirls that will pop out when lightly sanded.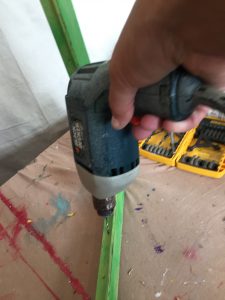 Step Four- Hook Time: Drilling Holes for Eye/D/Coat Hooks
Use your power drill to make holes for the eye hooks; drill on the inside of the frame where the glass used to be so the eye hooks will be hidden by that edge. Turn the frame over to drill holes for the D-hooks.
Determine where on the frame's front where you want to add coat hooks, cup hooks or knobs. I wanted to create a more masculine Conversation Station, so I selected dark coat hooks that matched some old dark knobs I had. Also, the frame I used was black, hints of which you can see when I sanded some of the green from it. I used twine to keep with the theme as well.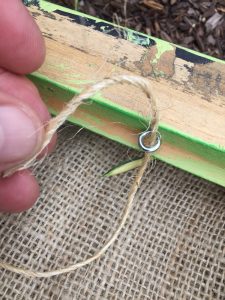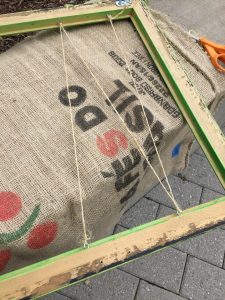 Step Five- Threading
Based on the look you are seeking, select your twine, string or ribbon and thread it into the eye hooks in one of the corners. Tie it in a knot then loop it through the next eye hook on the other side of the frame and zig zag it back to the next eye hook on the previous side. To keep it as tight as possible, and depending upon the size of your frame, I suggest you cut and tie it off after looping it through a couple of eye hooks then start the process again from the last eye hook used. Keep doing this until you have zig-zagged from side to side, top to bottom, again tying in a knot to make it as tight as possible.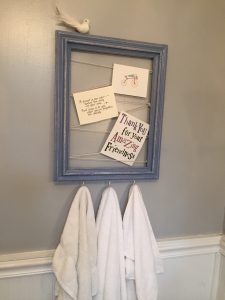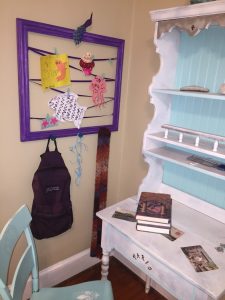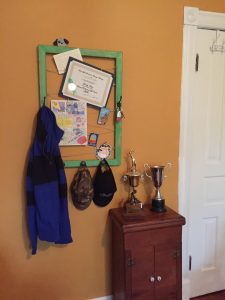 Step Six- Wall Mounting Time
Your fantastically original, one-of-a-kind, soon-to-be loved by all "Celebration Station" display piece is now ready to strut its stuff! After you have determined where it will go, use nails or wall hooks to mount it to the wall. Use a leveler to make sure it is straight! Now is when you will see the benefit of using the D-hooks on both sides to ensure it stays straight even when hanging heavier items on it.
There are so many possibilities for this project that you could create a new one for each new school year, occasion or family event. One thing is for certain, this Celebration Station will be an eye-catching addition to any space.
Tim Kime is an artist, life coach, connector. He is President of Kime Leadership Associates offering executive coaching, meeting facilitating and motivational speaking. He is also Chief Creative Force of Transformation Junkies which upcycles furniture and other household items into functional works of art. He combined his two passions—unleashing the potential in people and transforming items with the launch of the Art of Possibilities Workshops. These workshops are part upcycling, part dreaming, part goal setting.