Holy smokes, fashionistas. Today's #MyGoodwillFind is a GORGEOUS dress that I found while sifting through the racks at our Rockville location.
A rack of new items just came onto the floor and naturally, I had to take a look. The second item I came across was this beautiful gem. Heck, I wish it fit me, however, it's here for you DC Goodwill Fashionistas to enjoy today!
This Clover Canyon designer dress is a size medium. It has a neoprene scuba-like contemporary and funky print with a gorgeous bright and saturated florals. It's made out of polyester and spandex, so it is stretchy, but would not fit as a large. There are no stains and is semi-soft to the touch. While worn, I'd say this dress hits above the knees and is more form fitting.
The best part of this gem is that it's NWT and originally goes for upwards of $400. Clover Canyon is sold in stores like Nordstrom, Bloomingdales and Saks.
So basically, this dress is a showstopper!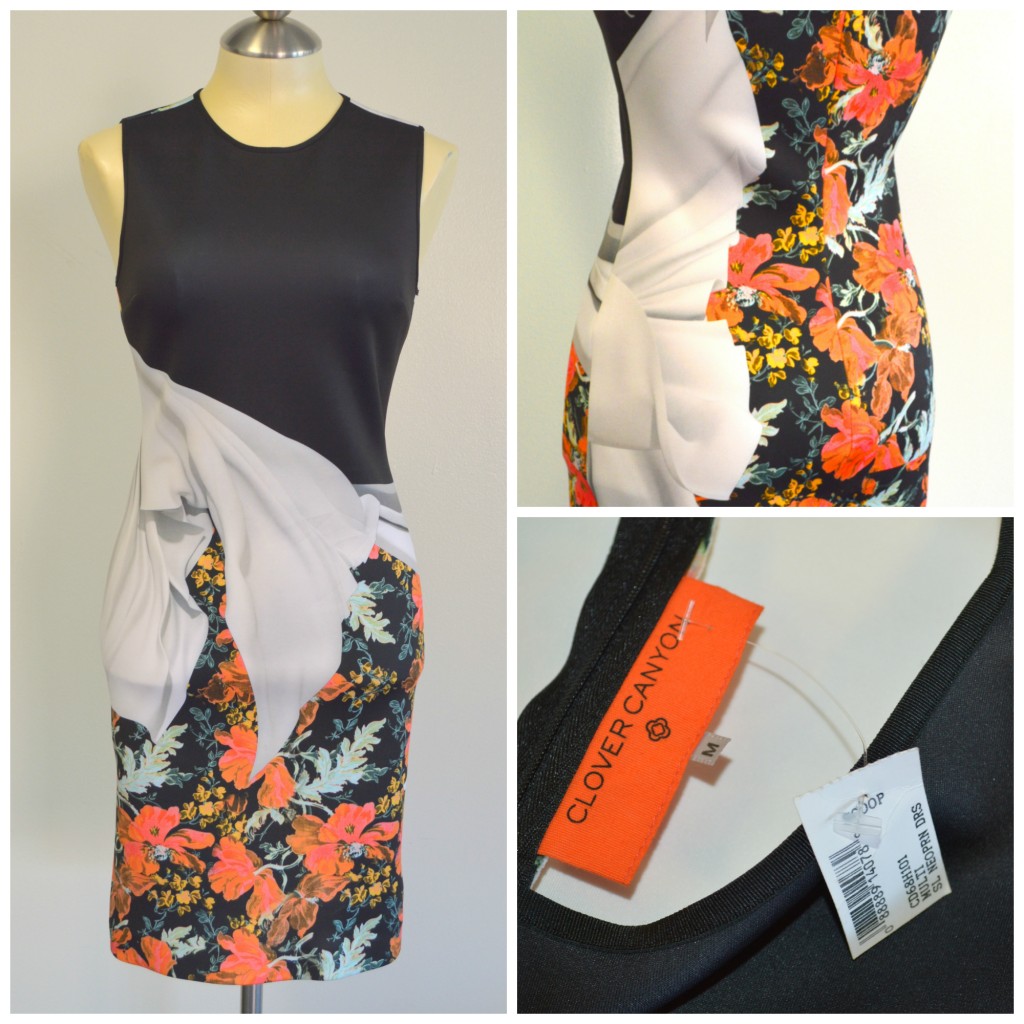 I'd rock this dress on a night out with the man or the ladies to celebrate the holidays and new year.
I'm envisioning a very sleek outfit, composed mostly of gold tones and black accessories.
For a cold evening, a slick black jacket or blazer would be perfect on top of today's form fitting dress. A blazer would add a bit of fanciness to the dress, and a long black jacket will just keep you warm in the evening. But don't wear it while at the dinner table dinner, obviously.
And if you're feeling a little too cold, why not throw on a black scarf? This will keep the black look very consistent and together. Plus, a black scarf always matches anything and everything.
Black shoes would complement the black jacket- perhaps a pair of closed toed heels for a night out? But don't forget sandals. They can work too! As long as you wear tights with them.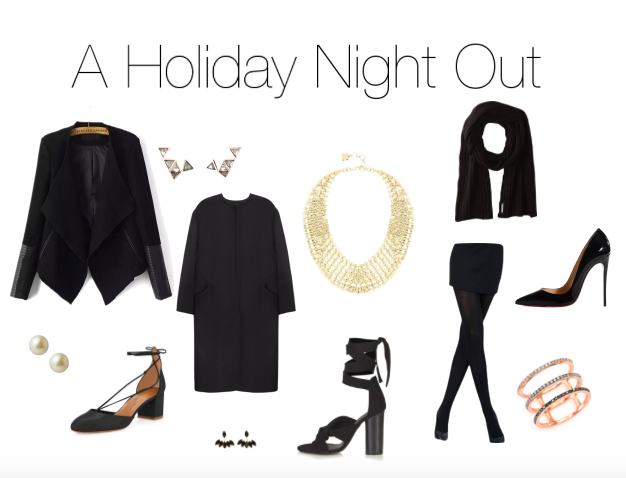 Image by Polyvore.
Talking about gems, I see a part of the neck and a subtle show on the ears. A gold bauble/bib necklace would echo the necklace of this dress nicely without being too showy. The necklace could have some specs of color, but they risk getting lost in the dress.
If we go for a lot of the neck, I recommend small studs. Pearls, gems…they will all look absolutely fabulous and classy. Almost a little Chanel!
How would you rock today's My Goodwill Find, fashionistas? Are you just as excited as I am about the brand?