For a summertime visit to the gym I have an entire look for you I'd easily rock any day or night!
Sometimes it's just nice to wear an athleisure look for an entire day – it can be comfy, sporty, and chic! Plus, it's easy to move around in on a hot summer day.
I've actually been rocking more of these kinds of looks lately. You can go to the gym in style and then a hit a bar right afterwards without feeling too out of place.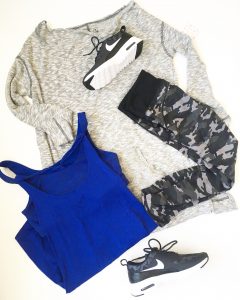 For a whole look that can be transitioned from gym to going out, I'd go with leggings, a pullover, a sporty, well-fitting, tighter top, and statement Nike (or another brand) kicks.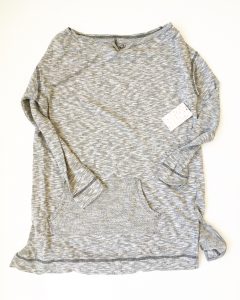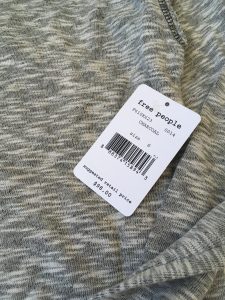 For a pullover sweatshirt, I'd wear this new with tags, granite gray, Free People long sleeve with patterned leggings. This over sized sweatshirt is in a size small and will keep you warm. It has a pocket in the middle, which can fit a phone and keep your hands warm when there are cooler temps at night. There is no hood and it has a boatneck neckline.
At full retail, this sold for $98.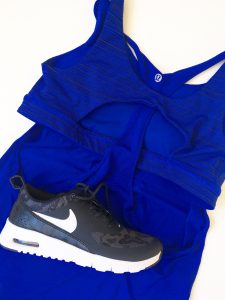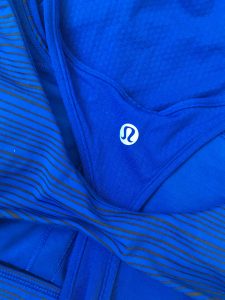 Underneath this top, I'd wear my beloved Lululemon. Today, we're showcasing this ultramarine blue and black striped, sleeveless, Lululemon workout top. It's a size 8 with sportswear bra built into the exterior tank.
The back of this top is especially unique with multiple intersecting straps and lines.
At full retail, this like-new top would have sold at Lululemon stores for around $70.
Finally, for shoes, you know I love me some Nike! Today, I'm showing off my own Nike tile patterned shoes I got at the outlet. However, I have seen many pairs of Nikes at Goodwill for under $10 a pair!
Although I always talk Nike, I am a fan of Adidas and Reebok as well. Any brand will work! As long as you like them :).
How would you style today's athleisure My Goodwill Finds, fashionistas?