Last weekend, Temica, a local thrifting diva, took over the Finding Your Good Instagram page. She provided helpful tips and took us through the Bowie location. While she was browsing the women's blazer section, she came across a hot pink blazer with black tulle accents. It was so cool, that I knew I had to reach out to see if she scored the find. Temica replied that she did not purchase the blazer and it was still up for grabs at Bowie. Through divine intervention, I was near the Bowie location and made my way to the store. I quickly made my way to the section and found the blazer! After careful examination, I discovered that the blazer was actually a vest that looked to be upcycled with tulle accents. I purchased the vest for $7.00 and made my way home.
I was too excited to try on the vest in-store but slipped it on as soon as I got home. To my amazement, it fit as if it was tailored for me. Even though the summer is upon us, this vest can be worn because of its bright color. I envision pairing it with a crisp white shirt, biker shorts, Doc Marten boots, or platform sandals for a rocker look.
I would have never found this treasure without Temica because I am not much of a blazer chick. However, with her extra set of eyes, I have a dope addition to my closet.
Thanks Temica!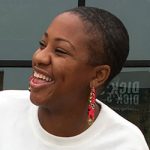 Amber Mixson
Fashion/Lifestyle Blogger
u003cemu003eAmber is a u003c/emu003efashion-bloggingu003cemu003e foodie and Instagram influencer with a passion for thrift store shopping. Her blog u003ca rel=u0022noreferrer noopeneru0022 href=u0022https://www.eatnstyleblog.com/u0022 target=u0022_blanku0022u003eEat N Styleu003c/au003e details her flair for cooking up not only tasty treats but inspired outfits as well. She has a passion for her community and is proud to serve others with her gifts. Follow her on Instagram (@u003ca rel=u0022noreferrer noopeneru0022 href=u0022https://www.instagram.com/eatnstyleblog/u0022 target=u0022_blanku0022u003eeatnstyleblogu003c/au003e) for more stylish tips and culinary adventures.u003c/emu003e