Last weekend, a friend and I were talking about how once the summer hits both our wardrobes go from all-black to a bright rainbow-colored remix.
For some reason, the bright sun and warm temperatures make me want to dress in vibrant colors that glow in the sunlight. I think it's because the sun always puts me in a great mood and I want my outfits to reflect this infectious positivity.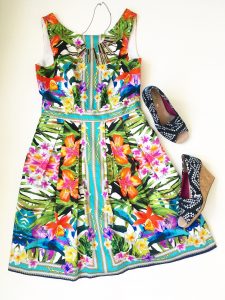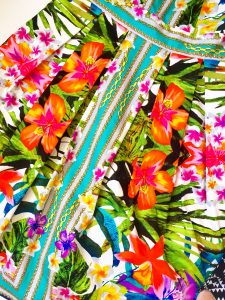 Today's #MyGoodwillFind dress fits perfectly into my summer outfit sensibilities. It's vivacious, colorful, and showcased to potentially be yours! It sadly doesn't fit me :(.
This vintage-style, bright, powerful, floral, party dress is by the brand Maggy London and is a size 6. The saturated colors and bright whites are pristine, with no stains or discolorations.
The fabric is structured and non-stretchy yet light enough for a tea party or day event. When worn, this sleeveless beauty hits above the knee. At full retail, this would have sold for around $100 at Macy's.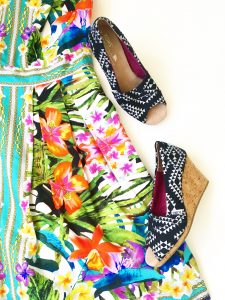 For shoes, I'm recommending a wedge like these Aztec triangle patterned open-toed wedges by TOMS in a size 7. The exterior is made of canvas and the sole shows no wear. They look practically new! At full retail, these would have also sold for around $100.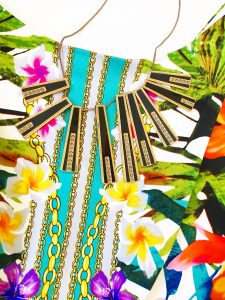 To top off this summer ensemble, a gold and black-toned or gold & single-colored necklace will do just the trick. To echo the neckline of this dress, I'd opt for a bib-style necklace that drops above the collarbone. In this picture, I'm using my black and gold piano key necklace from a clothing swap. However, I've seen very similar gems at DC Goodwill stores for under $10 a piece. Even by Kate Spade!
How would you rock this colorful vintage-like tea dress, fashionistas? Would you wear it for a day outing or special occasion?