Fashionistas, when the weather gets super hot and sweaty, I like to carry around a handy dandy, vintage, silk scarf from Goodwill.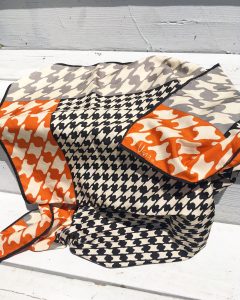 I've found DC Goodwill stores always carry an excellent selection of vintage scarves for under $1 each. In the past, I've picked up names like Kenneth Jay Lane and Emilio Pucci, just to name a few.
I use silk scarves during the summer for a multitude of reasons. But did you know you can wear one in three different ways?!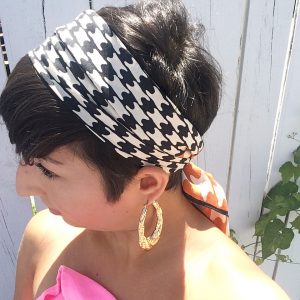 1.) Twiggy Headband
Sometimes I'm just having a bad hair day. The humidity makes my hair wavy, my bangs aren't falling flat… you name it, I've felt it.
Instead of wasting time getting my hair to do what I want, I'll throw on a scarf during the summer to make my woes go away. With a simple fold of the scarf and a quick tie you can have a funky 60's look in no time!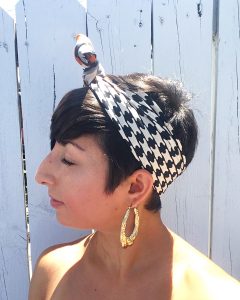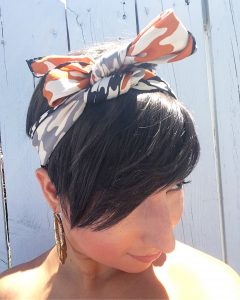 2.) Bow on Top

But when I'm aiming for more volume and balance at the top, I like to wear this $1 Goodwill Vera scarf around my hair and tie it in a shapely bow.
I do have short hair, but this could easily be done with a bun or ponytail.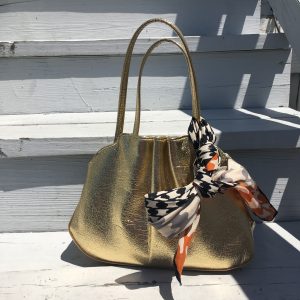 3.) Perk Up the Purse

Sometimes, my hair looks great at the start of a day but gets yucky with the uncomfortable heat. And that's when I whip out my scarf. To keep my vintage retro scarf useful during the day, I sometimes tie it around my purse to spruce it up and add pattern to my look. I like to tie it in a bow around a handle.
How do you rock your silk scarves during the summer, fashionistas?