Ahoy there!! Believe it or not, August is almost over! Yes, the last month of Summer. Although, having lived in Boston until 2014, it feels like Summer to me in Maryland from May until September. And my lifelong Marylander spouse and I have enjoyed some Summery vacations in Virginia and the Carolinas in October.
We love the seashore! We got engaged on a local shore. And, we both collect seashore-themed things — clothing, jewelry, tchotchkes (knick-knacks, bric-à-brac, small decorative items), and more. Too, because a family that thrifts together stays together, we trawl most of our treasures from thrift stores. Our favorite is Goodwill, and during the pandemic that's meant ShopGoodwill.com. My spouse is also disabled by chronic illness, which makes us more appreciative of being able to see and shop the shore without having to leave home.
Our love of the shore includes lighthouses.  We've visited seven together — six in Maryland and one in Virginia, and we hope to visit the others in the DMV and beyond.  We also want to do the Maryland Lighthouse Challenge someday soon.  Of course, CoViD has made even this kind of travel more challenging.  But, one of the good things about lighthouses is that a lot of the experience takes place outdoors.  And, it's free — though donations towards lighthouse restoration and preservation are more needed than ever.  My spouse and I would also love to vacation in the lighthouses that offer that — you'd be surprised by how comfortable, beautiful, and affordable the accommodations are.    
One of my spouse's pandemic projects has been creating a miniature museum in a room of our house. This includes a nautical collection, and the centerpiece is a group of local lighthouse figurines — some of them thrifted from Shop Goodwill.
Just this month, we almost added this piece listed by Goodwill of Greater Washington — "Coastal Journey", from Harbor Light's Sky Bound line.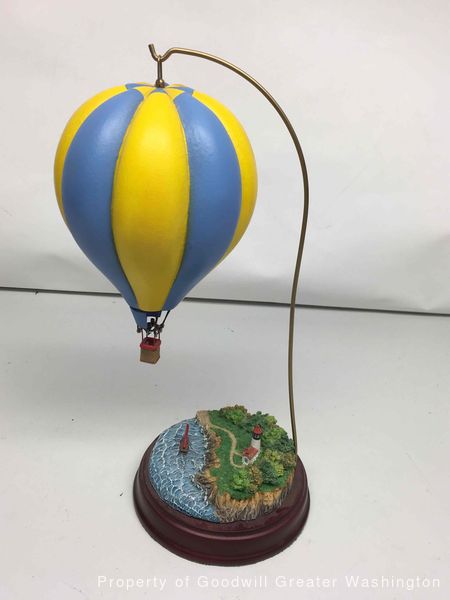 And did you know that August 7th is Lighthouse Day? On that day in 1789, Congress approved an Act for the Establishment and Support of Lighthouses, Beacons, Buoys and Public Piers. In 1989, for the 200th anniversary of the Act, they began to establish National Lighthouse Day.
[https://www.lighthousefoundation.org/national-lighthouse-day/]
One of the ways I observe Lighthouse Day is by presenting a day of lighthouse-themed posts on Facebook. And the stars of that show are my favorite lighthouse-themed items I've seen on Shop Goodwill in the past year. This year, that included jewelry, clothing, linens, tableware, tchotchkes, paintings and other wall art.
Enlightening, right? And couldn't we all use a little more light in our lives? Now more than ever! So, let's shell-ebrate by looking at some of the best lighthouse and other seashore paintings I've seen on DC Goodwill's Shop Goodwill site this year.
This one takes us back to a time when lighthouses were new.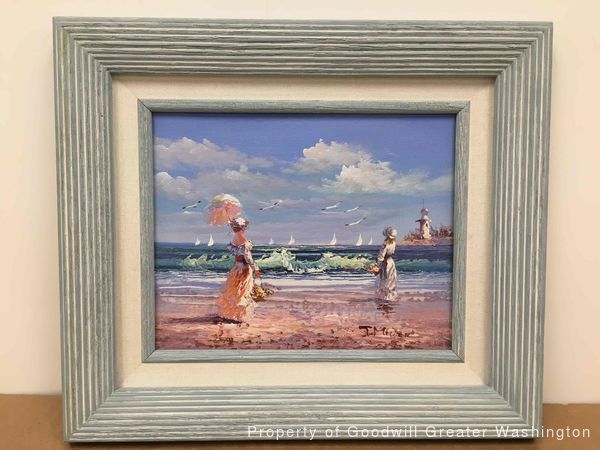 Smith Point Lighthouse in Virginia — very similar to Sandy Point Lighthouse in Annapolis, which you can see from Sandy Point State Park.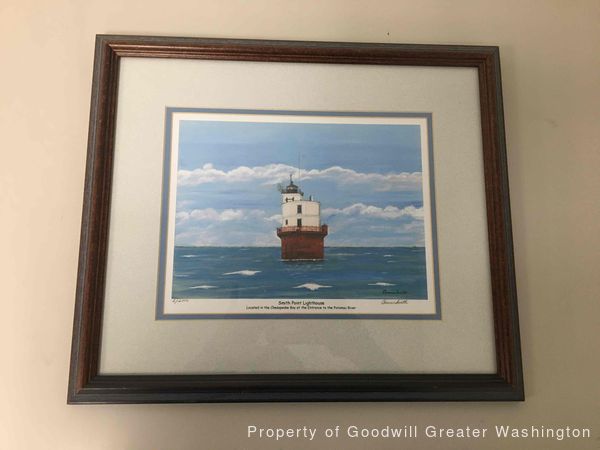 Sunrise, sunset…. These two have such beautiful colors! They remind me very much of Thomas Kinkade's work.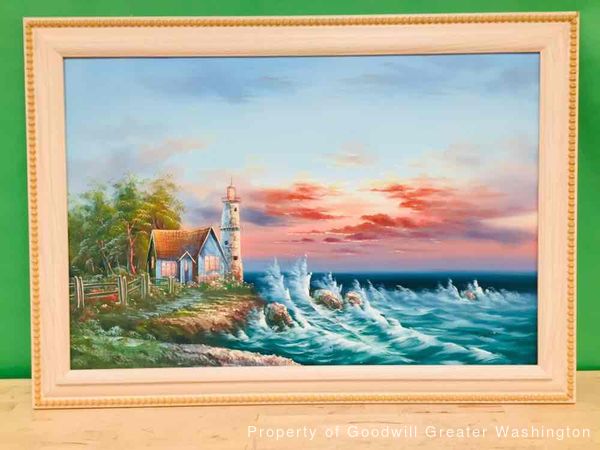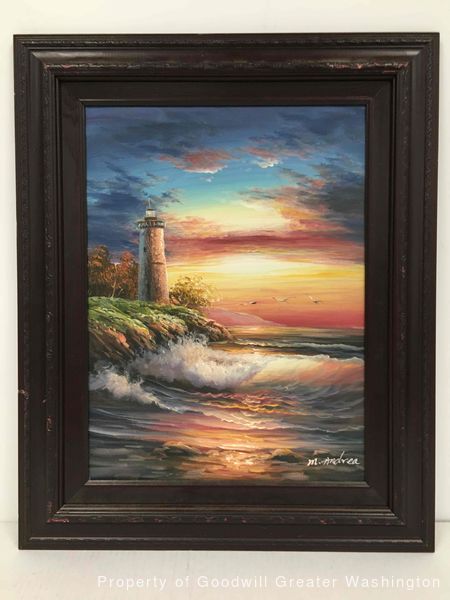 You can almost feel the sea breeze!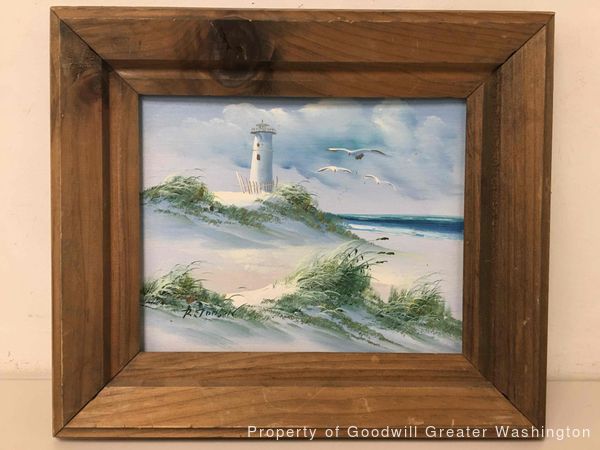 This reminds me of my brother and I as children, back on the New England shores.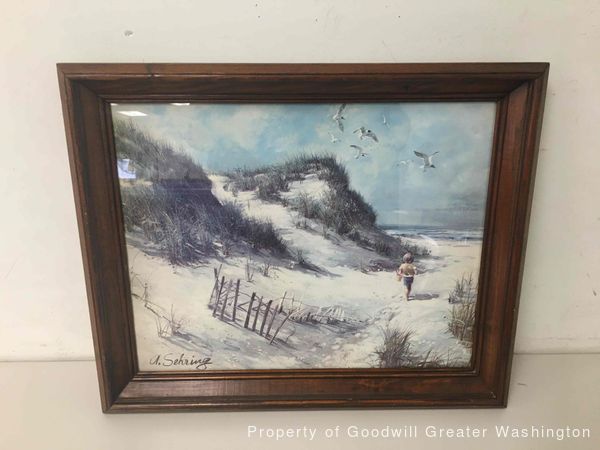 Mycroft, row the boat ashore….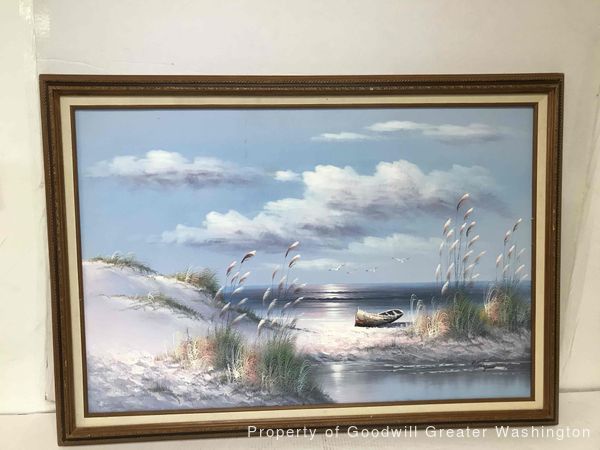 So pretty and peaceful.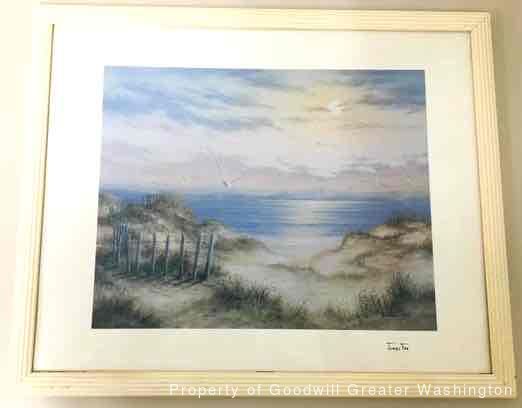 I wouldn't mind having these as the views from my second home — or my first!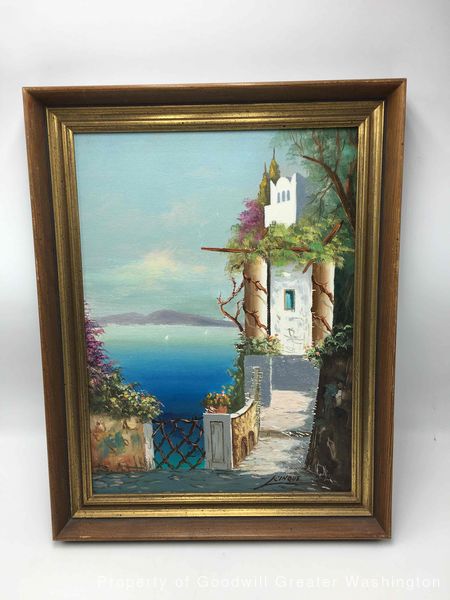 The way they've captured the water!
Dramatic and impressive.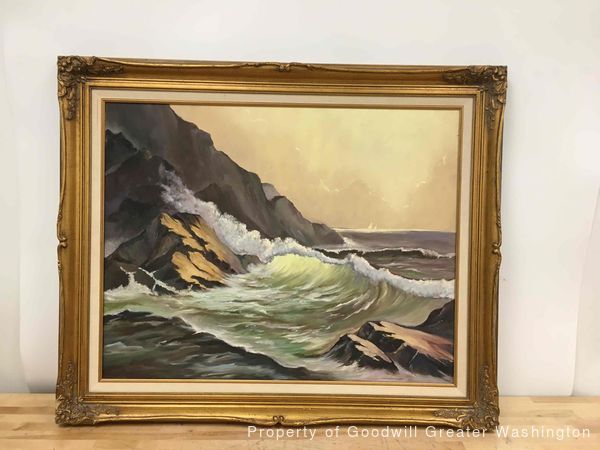 This shore could be on another planet! Which appeals to me as a science fiction and fantasy fan.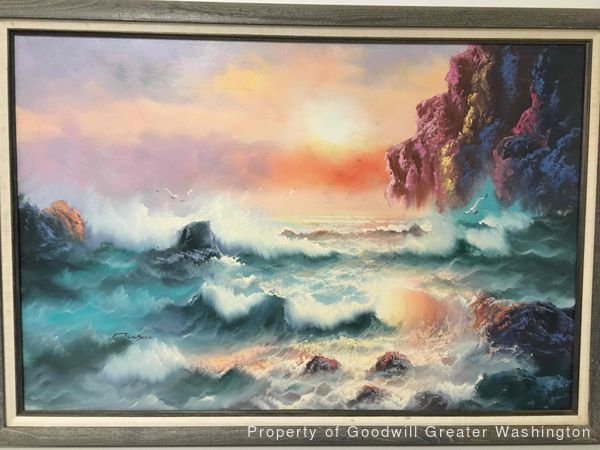 About our fabulous guest blogger: