I am so pleased with the little herb garden I planted a few months ago in containers thrifted at Goodwill. I used a grill pan, strainer and a small yellow casserole dish I found in the Housewares section.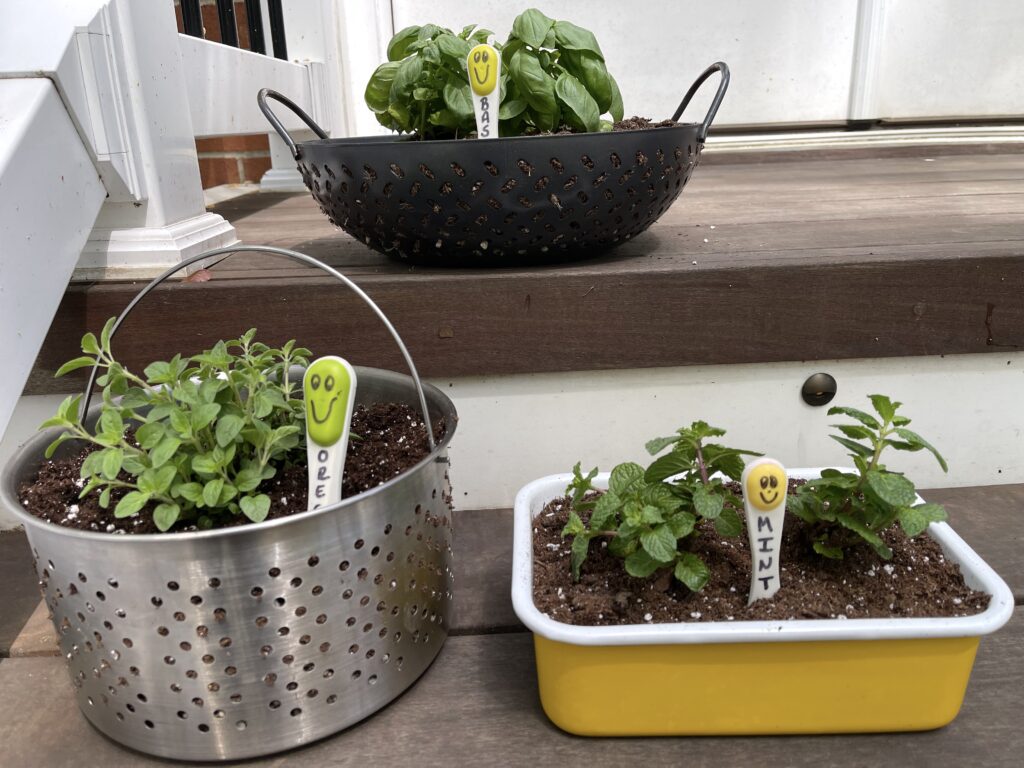 On later trips to Goodwill, I found other interesting containers and added them to the garden.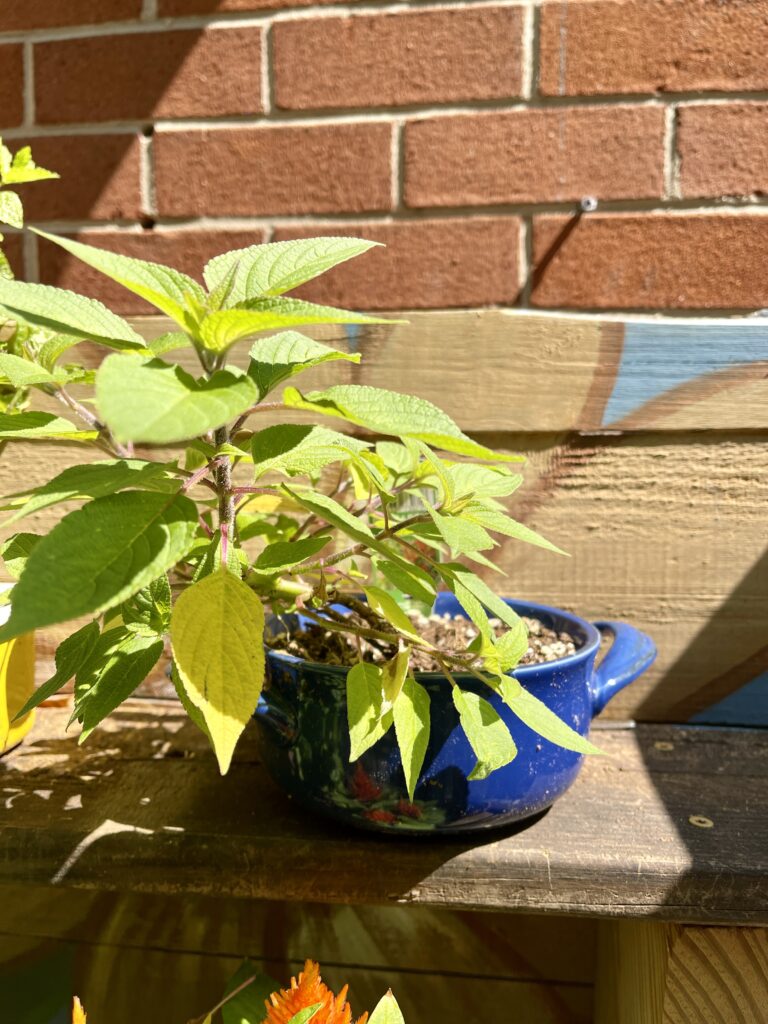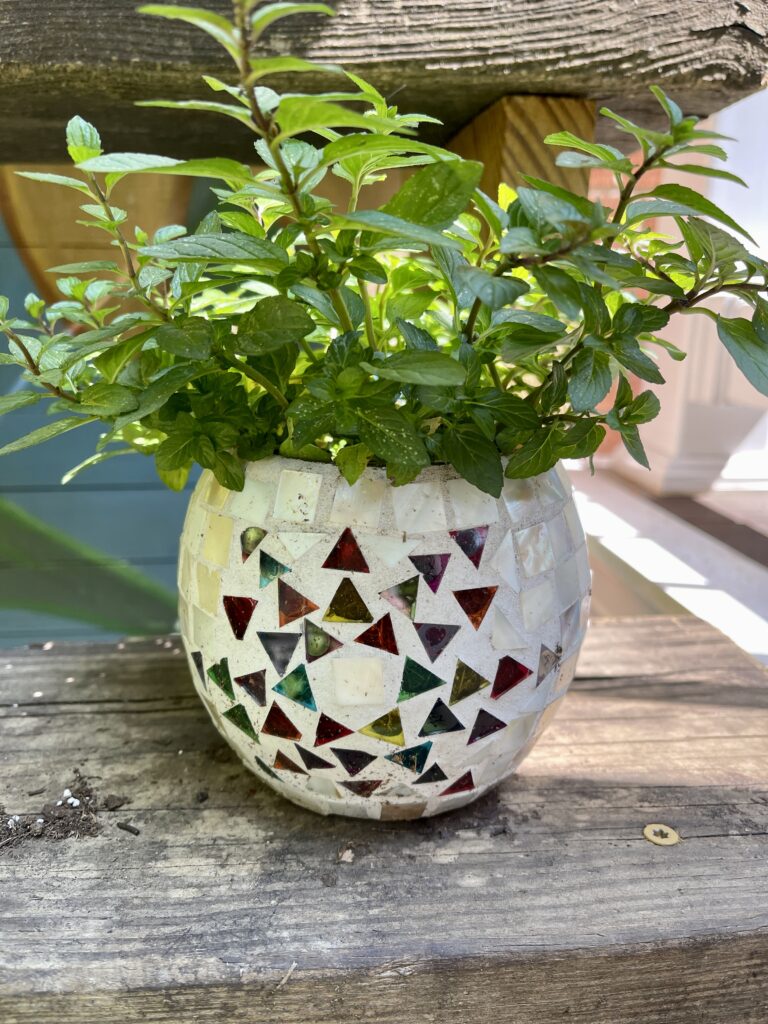 And when my tea kettle literally melted and fused shut, I took it outside and planted it too.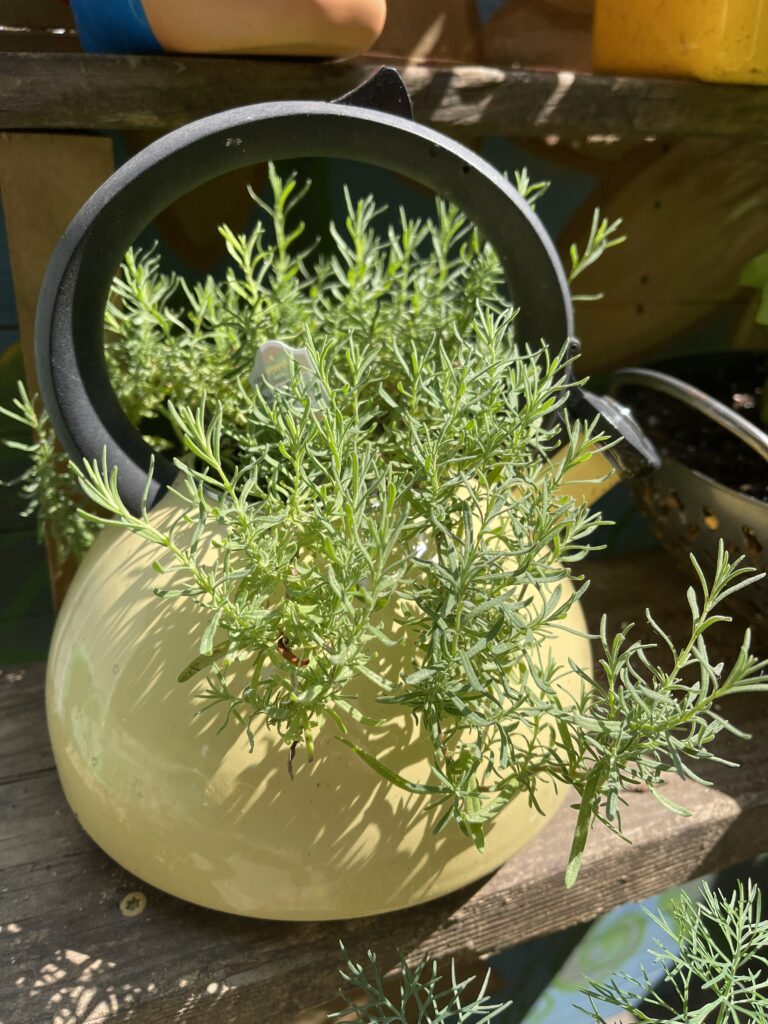 (Goodwill usually has a nice selection of tea kettles for sale if you want to try this idea.)
Then one day something delightfully unexpected caught my eye at the Hayfield, Va. Goodwill store.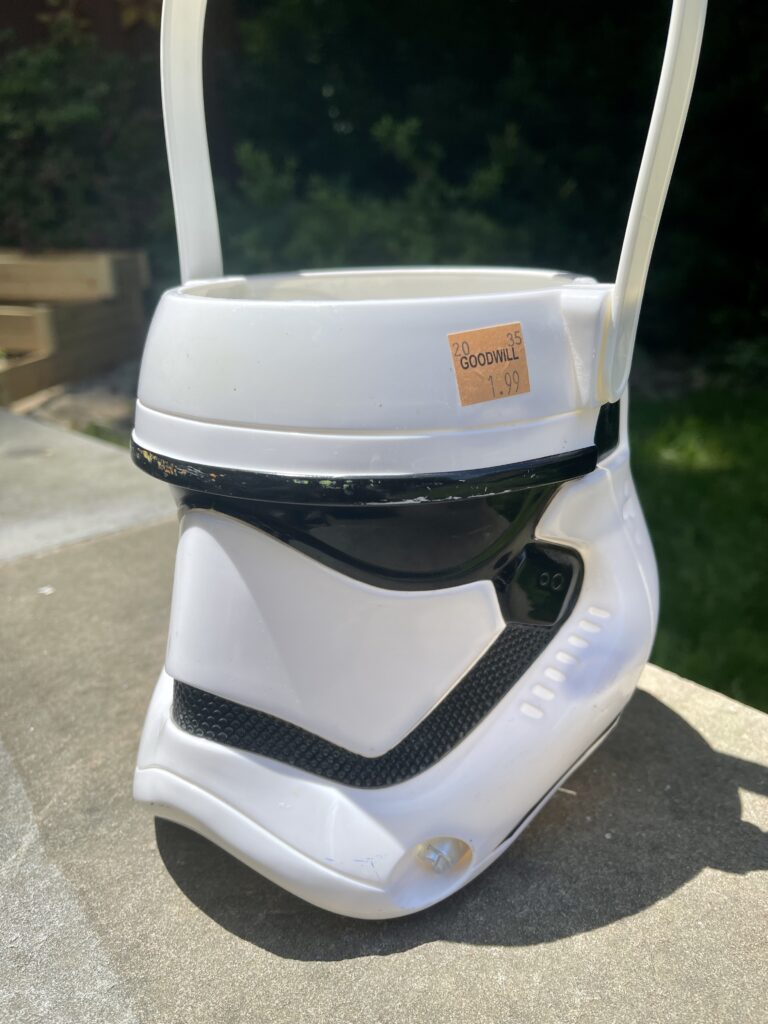 I think it was either an Easter basket or a Halloween trick-or-treat bucket. Now it's lurking in my container garden!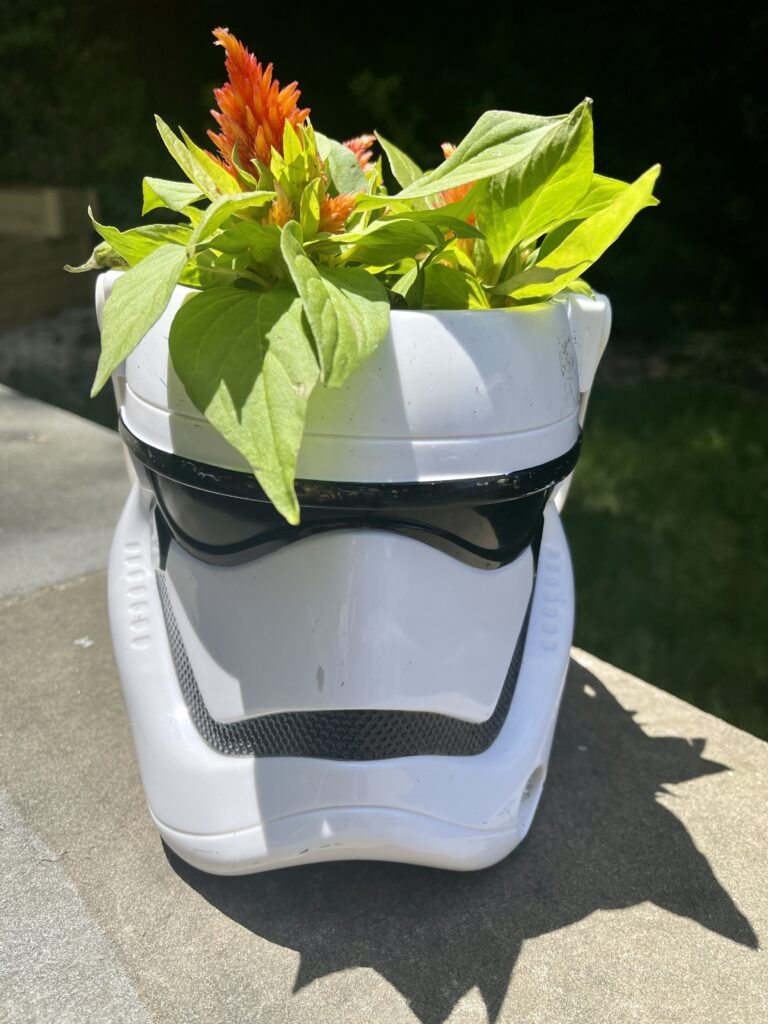 One of the lessons I learned with my original container garden was that I needed better drainage in the little pots.
The grill pan and strainer work really well because they already have holes in them. But the soil in the yellow casserole dish always seems to be soggy.
One option is to drill holes in the bottom of containers, but that's hard to do with ceramic bowls and the hard plastic the Stormtrooper bucket is made with.
Instead of drilling holes, I added a few inches of gravel to the bottom of the bucket.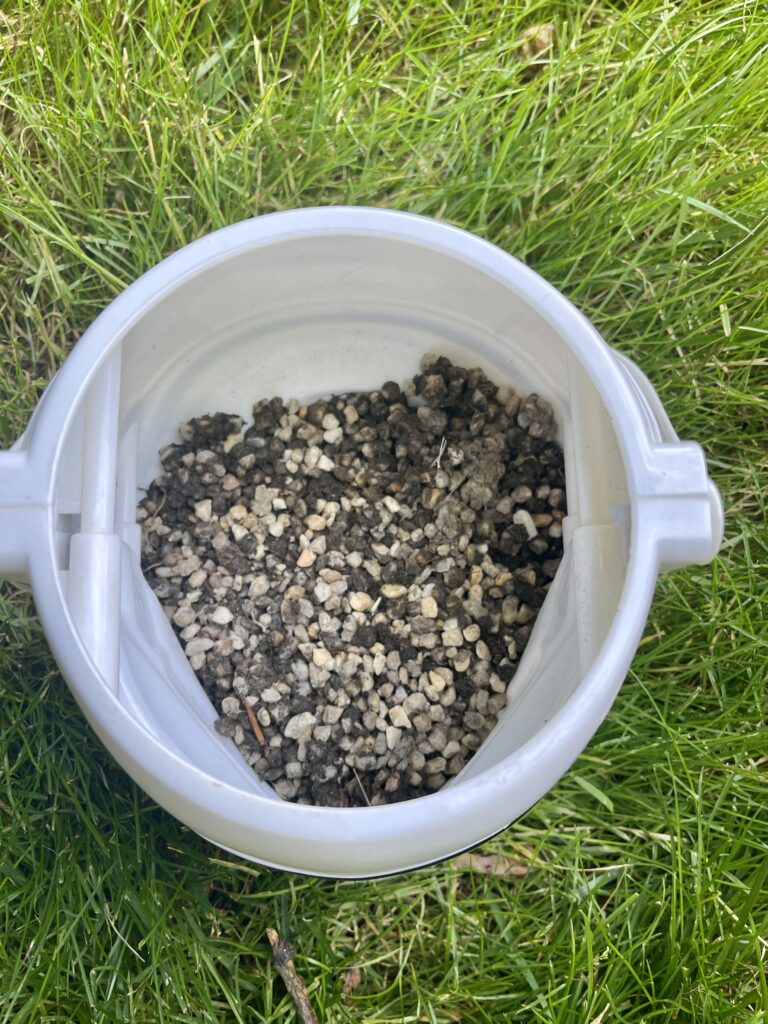 I have a pile of small gravel pebbles in my yard leftover from a landscaping project. You can buy a bag of pea gravel pebbles at the hardware store for about $5. Then I added potting soil and planted the flowers called Celosia. I like them because they look a little spiky and ominous— perfect for the Stormtrooper.
Once again, I thought I was finished with my container garden.
And once again, Goodwill surprised and delighted me!
My son and I found this guy at the Manassas, Va. location.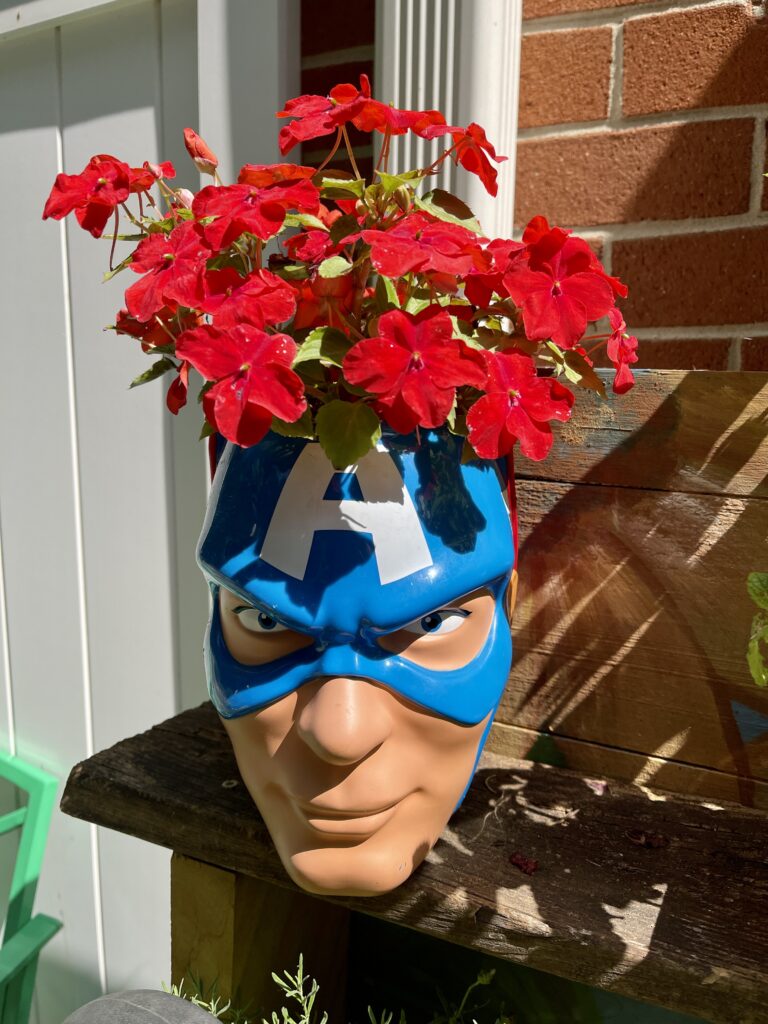 We thought Captain America should have red flowers so I planted impatiens.
Now he can keep that Stormtrooper in line!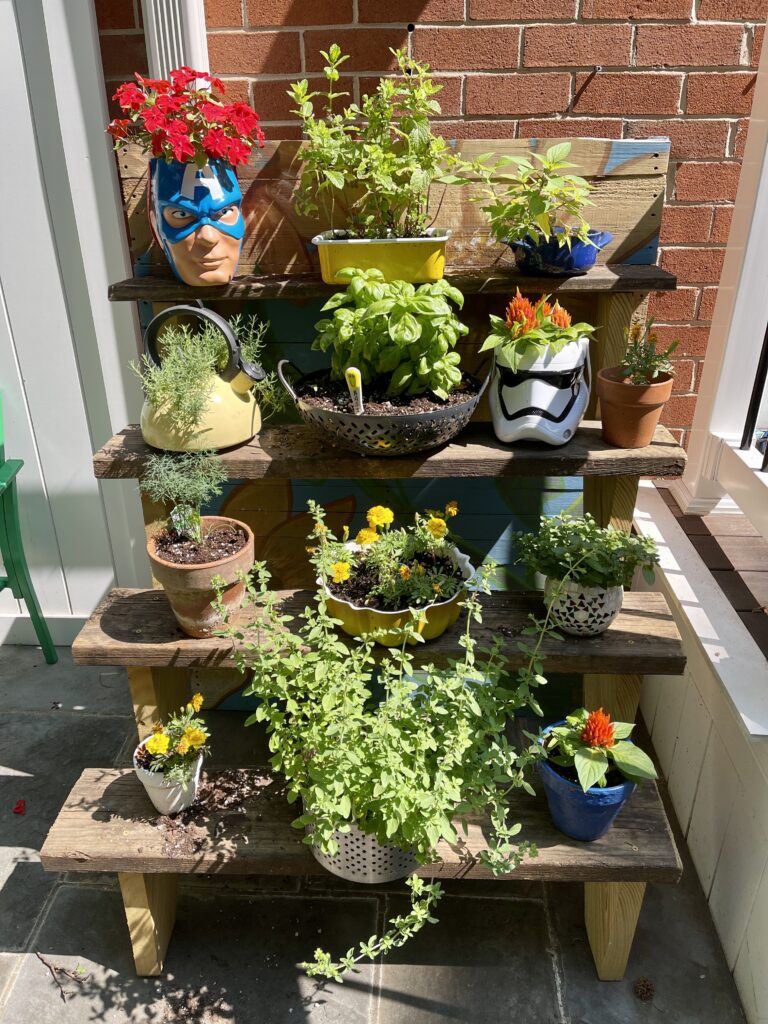 This is what I love about shopping at Goodwill.
I never knew I needed Halloween buckets in the middle of summer. But now I have them, I did something totally weird with them, and they make me smile every time I go outside. I probably would not have tried this idea with a brand-new/full-price Halloween bucket. But for $2, it was worth a try!
I would say that my upcycled container garden is finally finished … but who knows what I'll find on my next Goodwill visit?
For more inspiration, check out these Finding Your Good posts: