Happy Friday, readers! We're kicking off a new series of content where we're asking fashionstas, foodies, creatives, musicians and everyone in between about their style sensibilities and how they find their good at Goodwill stores. After working with Goodwill for several years, there's one big thing that I've learned: Goodwill is an organization for everyone. Whether you're into fashion or need help acing an interview – Goodwill has great resources.
We're excited to commence this celebratory showcase by shining the light on one of your favorite local fashion mavens and writers, the great Kalee Rinehart!
I first stumbled upon Kalee's vintage meets modern Goodwill looks when perusing Instagram for outfit inspiration. Kalee would use Goodwill tags from time to time, which then allowed me to locate her stylin' looks with ease.
Since finding Kalee's pages, we've been interacting and sharing Goodwill finds with one another on a weekly basis. She even attended one of our past Meetups and took home a great vintage haul!
Now enough of me talking, let's meet Kalee!
How long have you been shopping at Goodwill? Any fun Goodwill stories?
I've been shopping at Goodwill since college, so about 15 years. It used to be more of a once-in-a-while thing, but now it's my preferred shopping spot.
Last year, I was shopping with my 1-year-old daughter in a Goodwill in Phoenix, AZ. I jokingly threw an adult-sized fur coat on her, and she WOULD NOT LET ME TAKE IT OFF. She cried every time I tried. I had to distract her with a book to get it back on the hanger. I probably would have bought it for her (or more likely, me) but it had a huge rip, unfortunately. She's got refined taste already, what can I say?
What's your favorite DC Goodwill find of all time?
Oh man, a few years ago, I found a pair of kids's Liberty overalls, brand-new, tags still on. They fit me perfectly, except for the length, but I got them hemmed. They are definitely one of my favorite all-time buys. I'd like to take this opportunity to say "thank you" to that very tall child for donating the overalls.
What's your favorite DC Goodwill store and why?
Any time I'm out in the DMV, I google "Goodwill" and go to whatever spot is closest. I don't think I have a favorite store, because I find awesome things everywhere I go! I recently had a great experience at the Goodwill at 6220 Richmond Hwy in Alexandria, though.
What's your favorite thing about DC Goodwill?
My favorite thing about DC Goodwill is that it's really a one-stop shop…I can find dress shirts for my husband, baby and kids clothes for a constantly growing child, cute tchotchkes to use as gifts, replacement drinking glasses after clumsily breaking all the ones I own…the list goes on.
How do you "find your good" at Goodwill?
I'm always finding my good at Goodwill, either by literally finding GOOD pieces for myself, my friends, and my family, or by feeling GOOD when I leave. I don't get buyer's remorse after a Goodwill spree, because I know that I am shopping sustainably and supporting my community.
Thanks for taking the time to speaking with us, Kalee! We love your eclectic looks that are focused on sustainable fashion and decade mixing. To follow more of Kalee's looks, visit her Instagram.
Stay tuned for next week's feature! We're showcasing a local food truck owner who shops at Goodwill to find both fashions and plating for his business.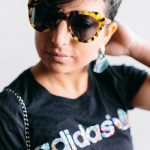 Carolyn Becker
A self-proclaimed thrifty spunky petite fashionista who works in the marketing field by day, and is an artist and musician by night. You can find her bragging about her designer Goodwill thrift finds on her Instagram: @petite_punk.