"Sweatpants are a sign of defeat.  You lost control of your life so you bought some sweatpants." Clearly Karl Lagerfeld is not on board with athleisure, but Rihanna, Karlie Kloss, and Kendall Jenner are rocking this trend for the paparazzi.  Let's take a closer look at this trend that is storming the fashion world.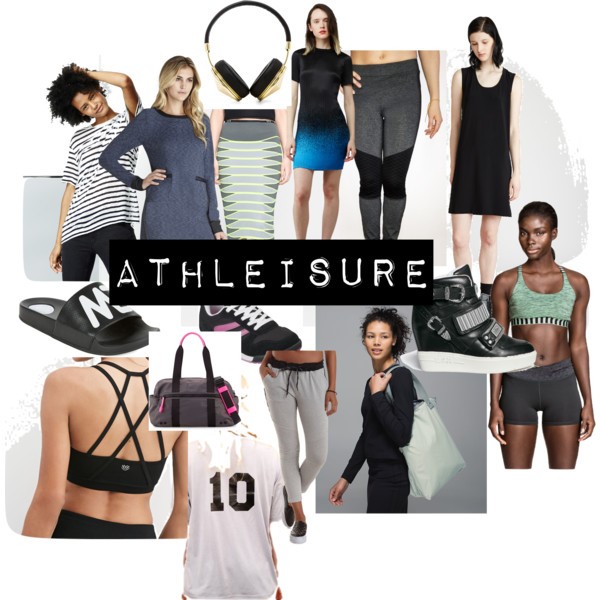 The Trend
Athleisure, a portmanteau of athletic and leisure, is the popular trend of wearing what were formerly called work out clothes as your going out clothes.  Stella McCartney recently teamed up with Addias to create a new athleisure line called Stella and she captures the trend perfectly, "It takes the Stella girl from the campus to the club and finds a link in sport and technology without sacrificing style." Lululemon, Athleta, and Lucy are brands that exemplify the athleisure trend.
The Style
The athleisure style is the epitome of the cool girl look.  It says "I don't need to spend a lot of time on my clothes, I look great whatever I wear, even leggings, a sports bra, and a tank top."  Instead of pulling out your old high school senior sweatshirt and beat up Nikes to meet your friend for coffee, you pick out a fitted hoodie, tapered track pants, and designer sneakers.  This trend is most often a weekend or after work look, given the casual style, but some fashionistas are bringing it to workplaces without a dress code.
What's to Love?
You can be comfortable and stylish at the same time!  Instead of stuffing yourself into a pair of Spanx, throw on a sweatshirt!  Trade your stilettos for sneakers like Atlantic-Pacific blogger Blair Eadie did on her recent trip to San Francisco.  Our own DCGF noted last week that jogger pants, the most comfortable of all pants, are trendy for spring. It's easy to mix and match separates with this trend, pairing your bright pink sports bra with any number of tanks or tunics.
What's to Leave?
Adopting the athleisure trend is a financial commitment, because an unstated rule is that your comfy clothes must be designer, or at least expensive.  It's not "wear your college hoodie," it's "wear a $300 Être Cécile hoodie."  Designers like Marc Jacobs, Phillip Lim, and Kate Hudson are leading the athleisure movement and are sending the message that the label is just as important as the clothes.  Additionally, the casualness of this trend makes it inappropriate for most workplaces.   You probably won't be able to incorporate your athleisure attire into your professional wardrobe, so you're stuck with two separate wardrobes, not a savvy shopping situation.
The Verdict
I'm with Karl Lagerfeld on this one.  One of my personal fashion rules is no sweatshirts outside the house.  I understand the appeal of this trend, but it's just not for me.  I like to put together an outfit that makes it clear I care about my appearance.  I feel like this style is a lie, pretending not to care about what you wear, but in reality, spending hundreds of dollars to do so.  It just doesn't fit my aesthetic so I'm going to stick to jeans and save my joggers for the gym.
Have you been sporting the athleisure trend?  Do you think I've got it all wrong?  Share your thoughts below in the comments!
 A teacher by day, a thrifter by night, I love going to the Goodwill and finding great things.  Whether it's organizers for my classroom, pots for my kitchen, or sweaters to relax in, I know I'll find it all at the Goodwill.  You can follow all my favorite DC Goodwill finds on Instagram @gotitatgoodwill.