One thing I love about Spring and Summer is the pops of color everyone is drawn to wearing. Don't get me wrong, Fall is still my favorite season, however, neon and pastel colors often trend during the warmer months.
Knowing this, I took to my local Goodwill at the beginning of the year hoping to find recently donated summer wardrobes. Despite visiting several stores, I still didn't find exactly what I was looking for in the women's section – a wrapped skirt that would pair well with an off-the-shoulder bodysuit or printed crop top. Not wanting to store hop any longer, I decided to do what any experienced thrifter would do – I began to shop the other sections of the store! After spending less than 10 minutes in the men's section, I lucked up and found a pastel-colored gingham oxford shirt for $4.99! This shirt would look great as-is on my husband but I wanted it for myself. Now I know what you may be thinking, how will an oxford shirt turn into a wrapped skirt? Well with a little help from a belt, you can not only turn a Men's oxford shirt (which you can wear as a shirt for one look on its own) into a skirt but you can also turn it into a shirt dress as well. Follow the steps below to learn how.
Lay the shirt down on a flat surface with its tag facing you
Pull the sleeves inside out
Fold the collar down
Now lift the shirt off the flat surface with its collar still folded down and wrap it around your waist.
Find the first button that will allow the shirt to fit snugly on your waist and begin buttoning the proceeding buttons.
Now add a belt to cover the waist of your makeshift skirt and you're all done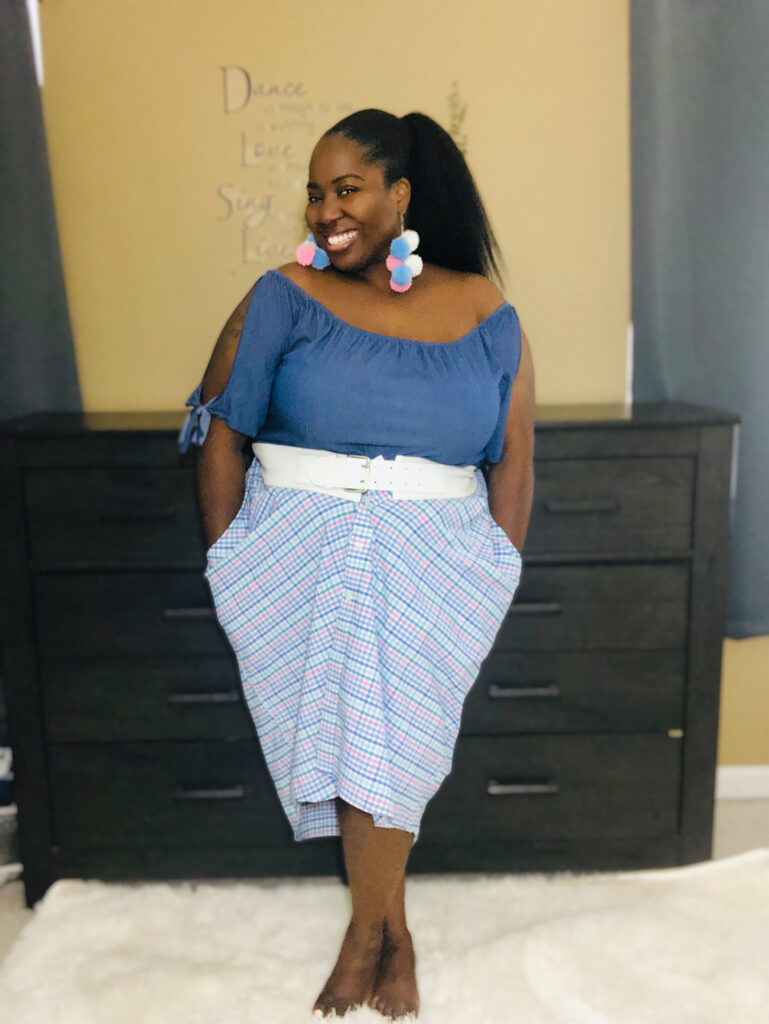 The coolest thing about this flip is the faux pockets you've created when you pulled the sleeves inside out. It gives the skirt a more polished look and highlights your body's natural curves rather than hiding them. But if a wrapped skirt is not your jam you can also turn this shirt into a shirt dress with just a few simple steps.
Fold the collar down
Put the shirt on as normal
Adjust the fabric around the neck to keep the collar folded inward
Begin buttoning the shirt where you feel the most comfortable
Add a belt to highlight your waist
Adjust the sleeves as preferred
Use safety pins to keep the collar down if needed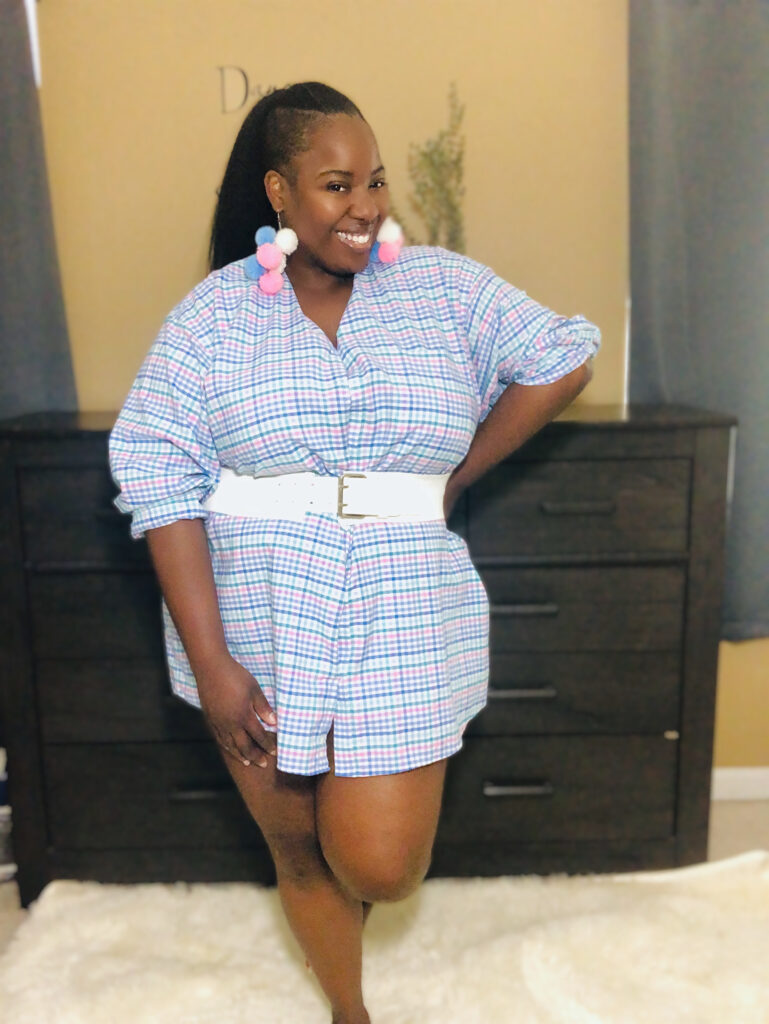 The next time you find yourself disappointed because you're unable to find exactly what you're looking for, remember that shopping for the fabric/material is far easier than shopping for the exact item! Explore other areas of the store and you just might find a suitable alternative if you remain open-minded. Happy Thrifting!
About our fabulous Guest Blogger: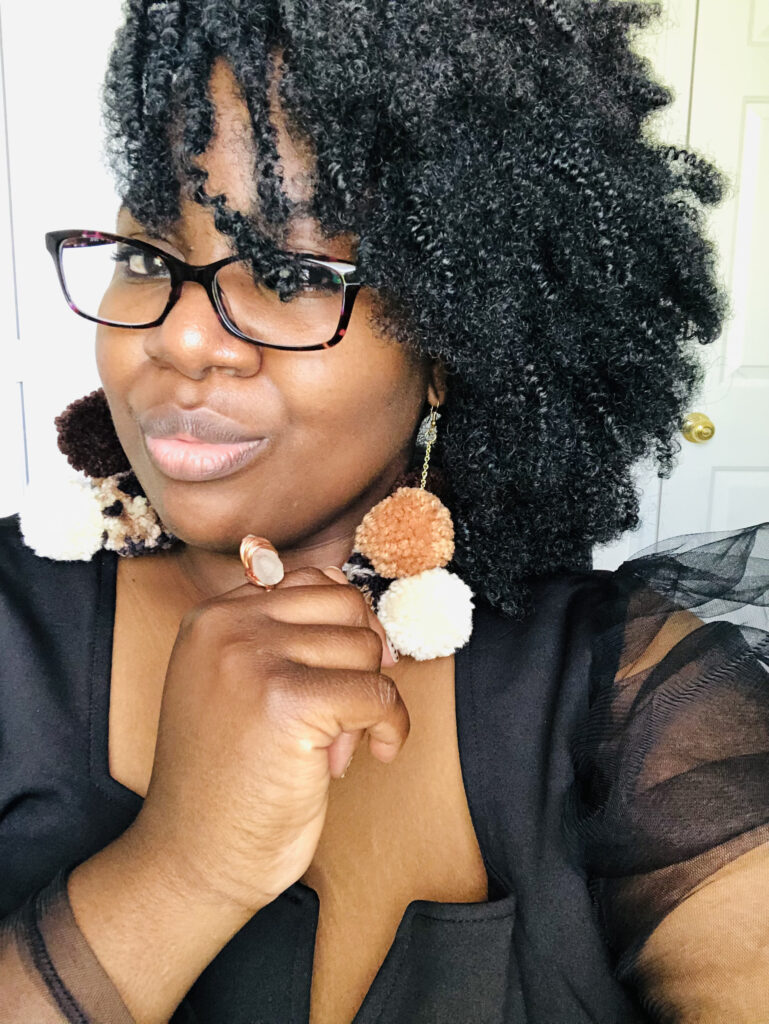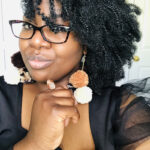 Temica Gross
Lifestyle and Fashion Blogger
Temica is a Life u0026amp; Style Blogger and podcast host. Her blog, With Love Meek aims to give her subscribers a dose of inspiration and courage to live their lives out loud and unapologetically. A native New Yorker, Temica enjoys traveling with her family, binge-watching paranormal shows and dark roast coffee. Follow her on Instagram @WithLove_Meek.