Dear readers, I can't tell you how much I love weddings. The buzzing excitement of new love, the reminiscing of old friends, fun music, good food and family time are what make weddings one of my absolute favorite events to attend. As I am preparing for my own wedding in just five short weeks, I am looking forward to attending several of my friend's weddings as well! In the spirit of love and excitement for all the weddings, I'll attend over the next few months, I thought I would share with you some fantastic ways to rock stylish looks from Goodwill for under $25!
I paired all of these looks with my $14.99 Guess Patent Leather Nude Pumps. There is something so timeless about this shoe. I find myself wearing them several times a week to work and now, on the weekend too. I scored these babies from the Bowie, MD Goodwill just last month (they were brand NEW!) and they are definitely my spring go-to shoe for a trendy but classic style.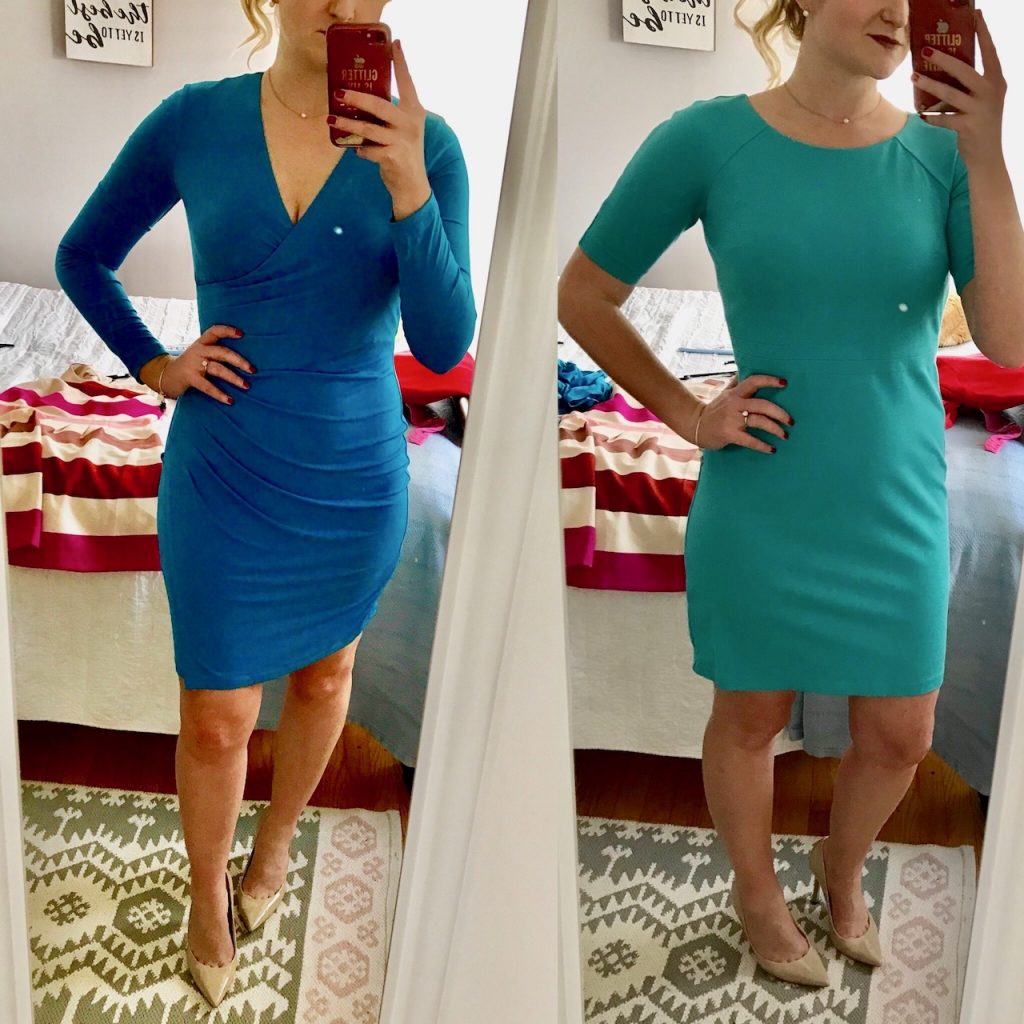 1.) Sleek and practical. 
I recently wore this sleek, Calvin Klein long-sleeved turquoise dress to my cousin's wedding at the end of April. The sleeves were perfect for a sunny but chilly April day. This brighter blue turquoise dress is by Talbots. The half sleeve makes it a great option for a semi-warm spring wedding! These are both a sleek style that hugs curves and they both are fantastic color choices for spring events. Each of these cost $8.99 and were scored from the Alexandria, VA Goodwill on Richmond Highway.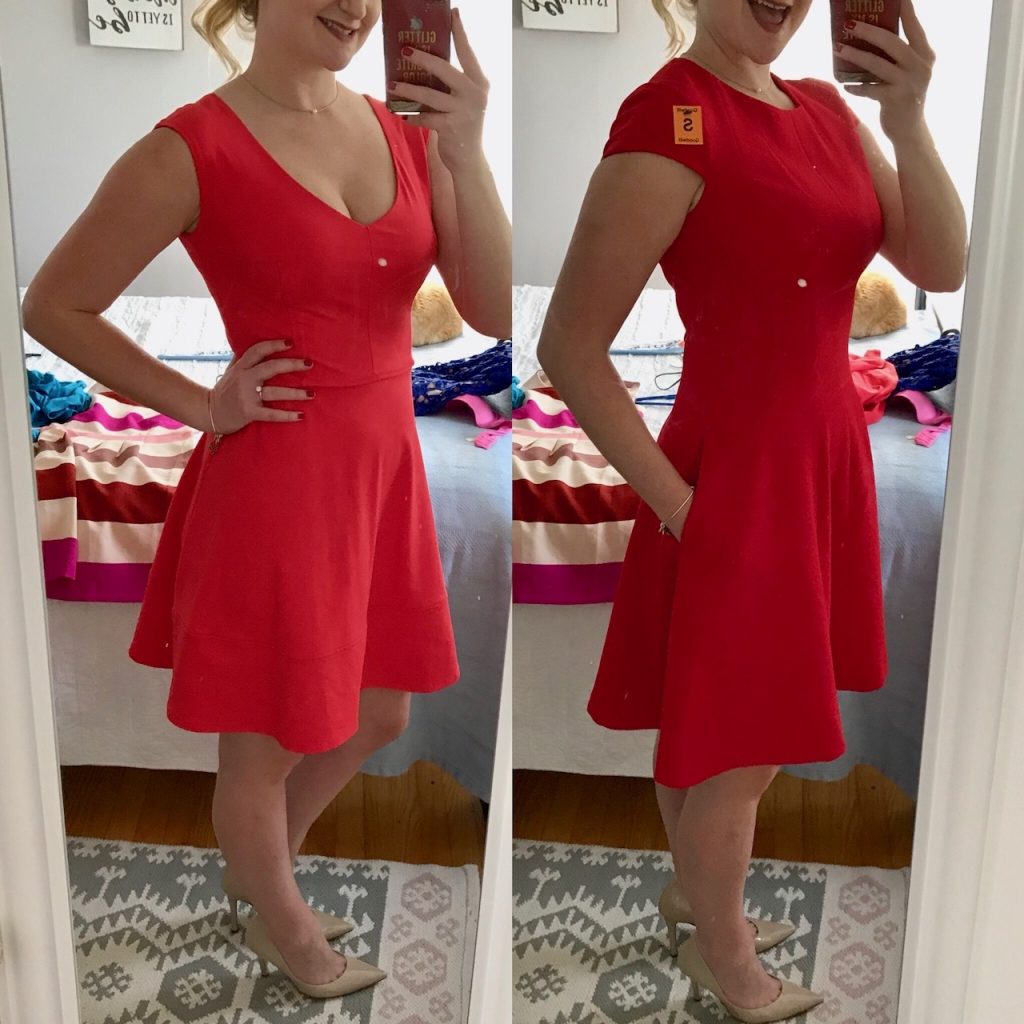 2.) Feminine. 
The A-Line is a classic hemline that flares from the waist down. The slight flair creates a beautiful feminine shape. This is one of my favorite styles to wear to a wedding because I love to dance and these dresses are perfect for doing a little twirl here and there. The bold coral dress with the v-neck is a Cynthia Rowley number and the red, high-crew neck dress (with pockets!) is Eliza J (it retailed at over $150.00!) – both were scored at Goodwill for $8.99.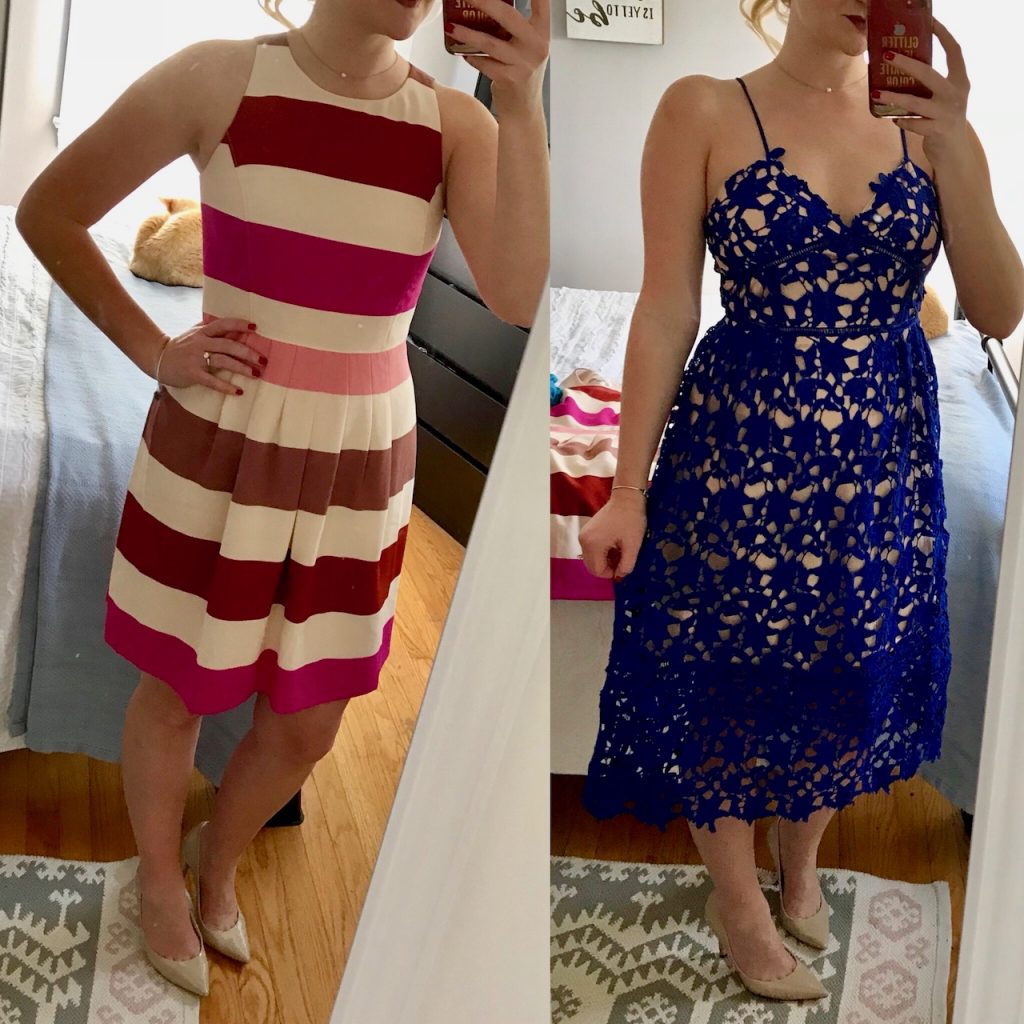 3.) Bold and fun. 
I am always looking for a fun and memorable dress to wear to weddings. But – who wants to pay $200.00 for a dress that is so unique, you definitely cannot wear it twice… yet another reason I turn to Goodwill for my fashion needs. If I only pay $8.99 for a dress, I feel much better about passing it to a friend or donating it back to Goodwill after just one wear. Here are two bold options that embody trending styles for spring. The striped dress is a LOFT score (new with tags!!). The high neckline and interesting color pairing make it a statement piece for any event (especially an early summer wedding). But let me tell you all – I CANNOT wait to wear this royal blue lace midi-dress to a summer wedding. This a super trendy style and I was so excited that I found it at my recent stop into the Glebe Road Goodwill in Arlington, VA. How perfect will this be for a July wedding? So TRENDY and so AFFORDABLE!
There you have it, fashionistas! Six wedding guest outfit ideas that all cost less than $25.00!
Which dress is your favorite? I think you can probably guess mine! 
Karen Wathen is a young professional and self-proclaimed "thriftanista."  She has brought her love of writing, food and affordable fashion together on her blog, County Meanderings, where she frequently posts about her thrifting adventures. Follow her on Instagram  (@k_wattt) for a peek into her savvy life.