I have a wonderful little collection of shimmery carnival glass, including a few pieces I found at Goodwill last summer. It doesn't serve any grand purpose. I just like how the light bounces off the colors.
I needed a better way to display my growing collection and I was really excited when I found this super-cute wooden rack at the Annandale, VA Goodwill store last December.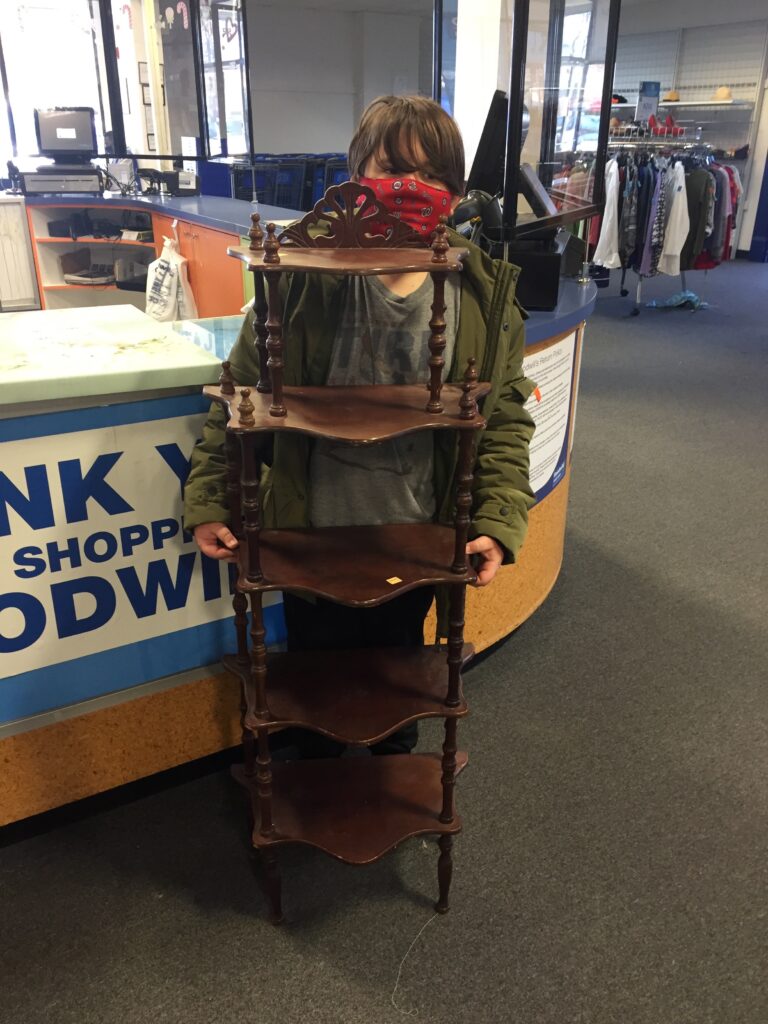 Notice my son's winter coat, face mask, and hair that hadn't been cut in months. December seems like a long time ago, doesn't it?
The rack didn't match my home's style, but I loved the smallish size and details on it. I brought it home and stuck it in the garage with every intention to paint it after the holidays.
Eight months later, it was still out in my garage collecting dust—along with a few other projects I brought home to paint 'some day'.
I really do love the little rack and I have the perfect spot for it. I didn't mean to forget about it all this time. I just got busy with life and never got back around to it.
Sound familiar?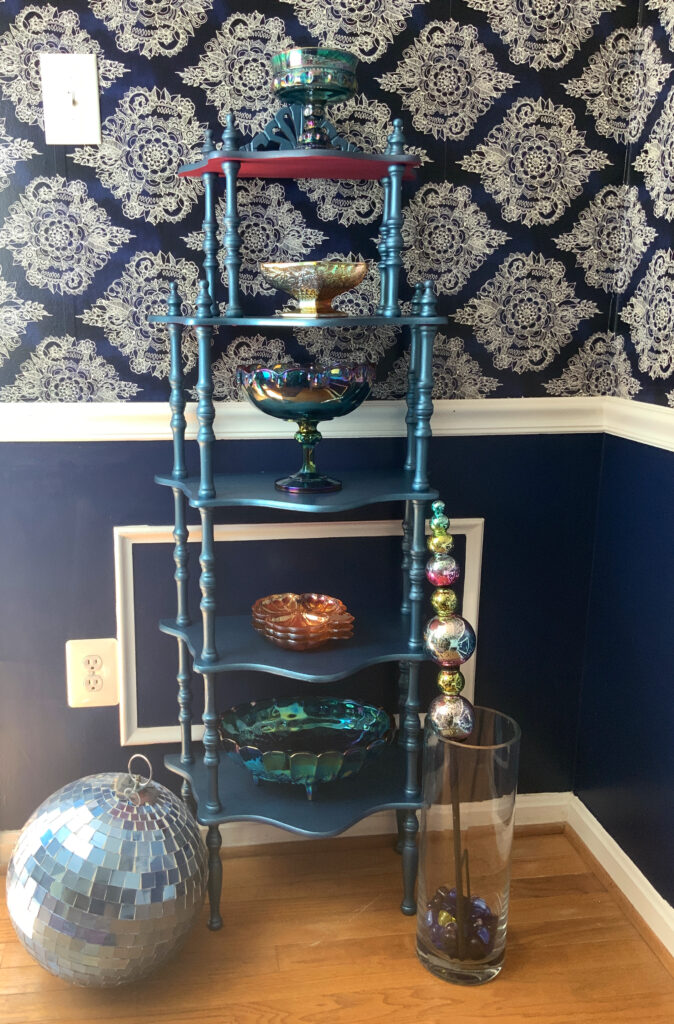 It's so easy to get busy with work and school and family obligations and, well, just life in general. It's easy to put home projects on the back burner when other things in life seem like higher priorities.
But I think having a home that looks good—and more importantly, feels good—is a priority too.
After all, home isn't just where you eat and sleep. It's where you live. It's where you come after a long day of trying to fulfill all of those other priorities. It's where you can relax and spend time with the people you love. It's where you fill back up so you can go back out in the world and be amazing.
To me, that's important too.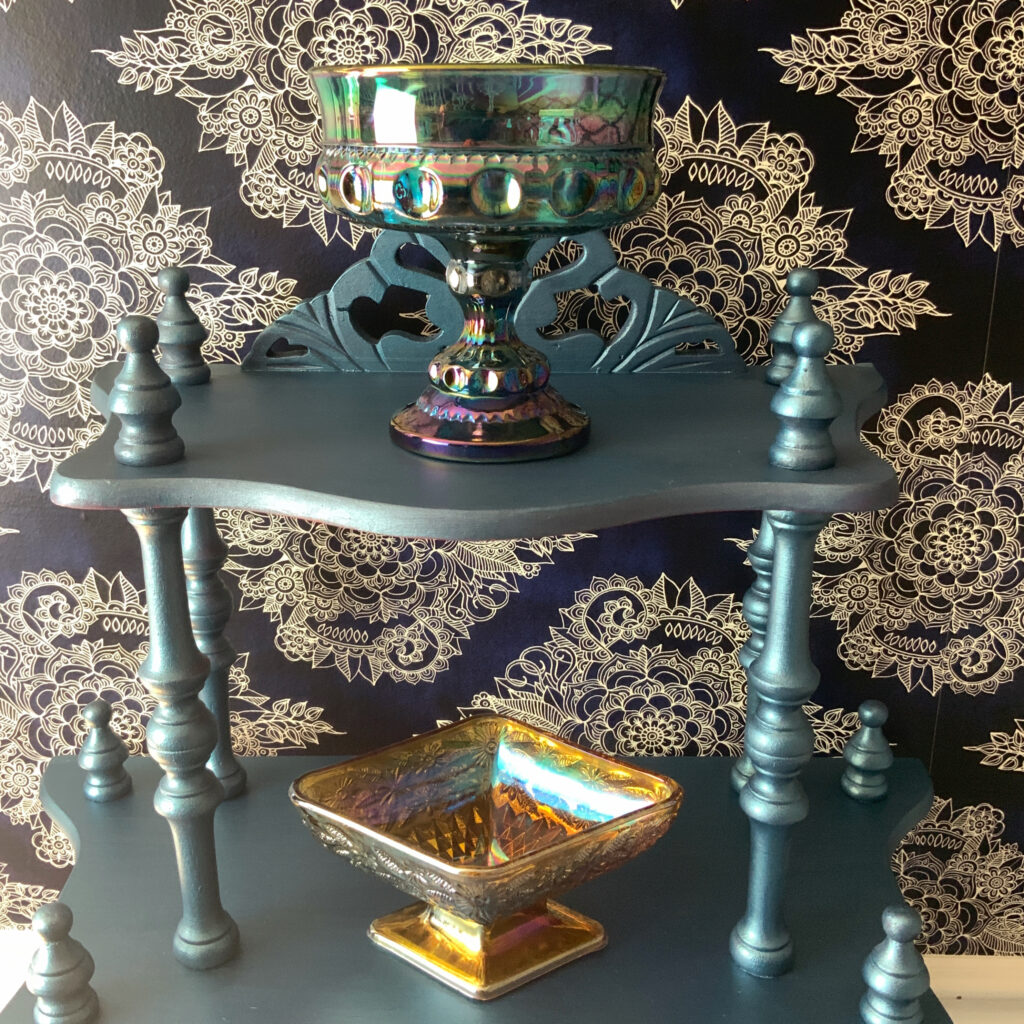 It doesn't always take a huge amount of time or money to create a home you love to live in, especially when you upcycle thrifted items to perfectly reflect your style.
It just takes a little effort.
I finally started the makeover on this rack last week by cleaning it really well so the paint would adhere to it. Then I painted it a shiny metallic blue. I painted underneath the shelves hot pink. Most people won't see underneath the shelves when they look at it, but it makes me happy knowing that little surprise pop of color is under there.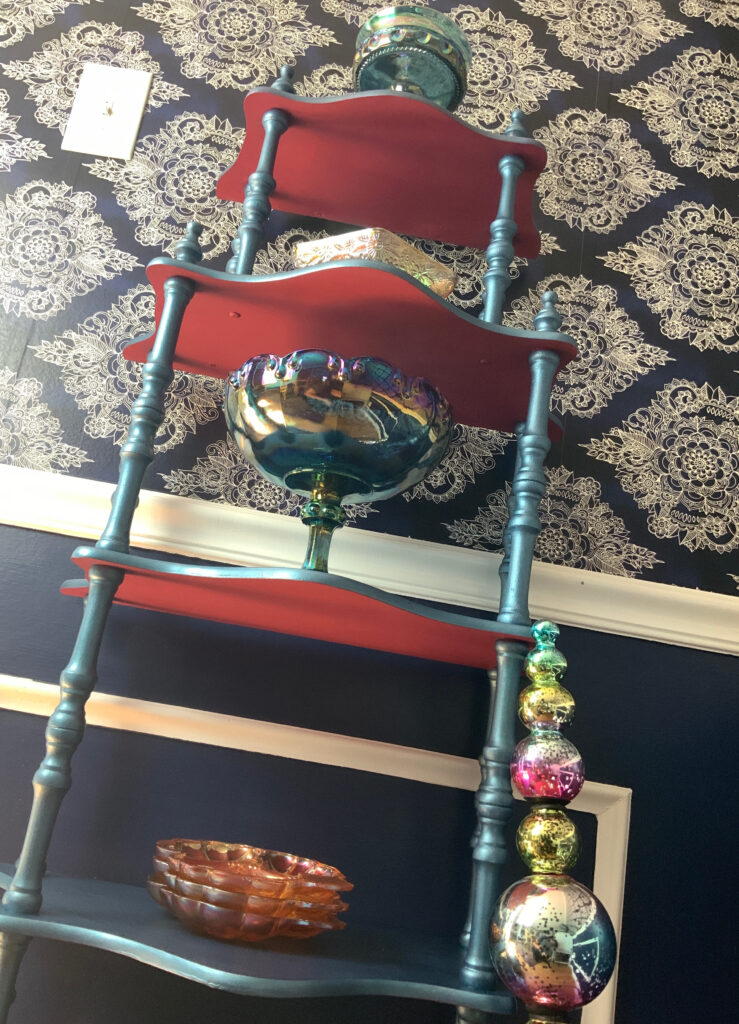 And having a dedicated space to (finally!) display my carnival glass collection makes me happy too.
What about you? Do you have a collection of items that serve no real purpose other than you like it? How do you display it?
Goodwill is a great resource for interesting display ideas. With a little imagination—and sometimes a little paint—you just might find the perfect thing for your home too.