You know, dear readers, I talk a lot about how shopping for pieces that are versatile is the first commandment of budget shopping. The wild and wacky have their place in our closets, don't get me wrong. But where we find savings by stretching our dollars are in pieces that can be transformed with add-ons. Today's My Goodwill Find will do just that for you. Layer it up for cooler weather and keep it simple for warmer days.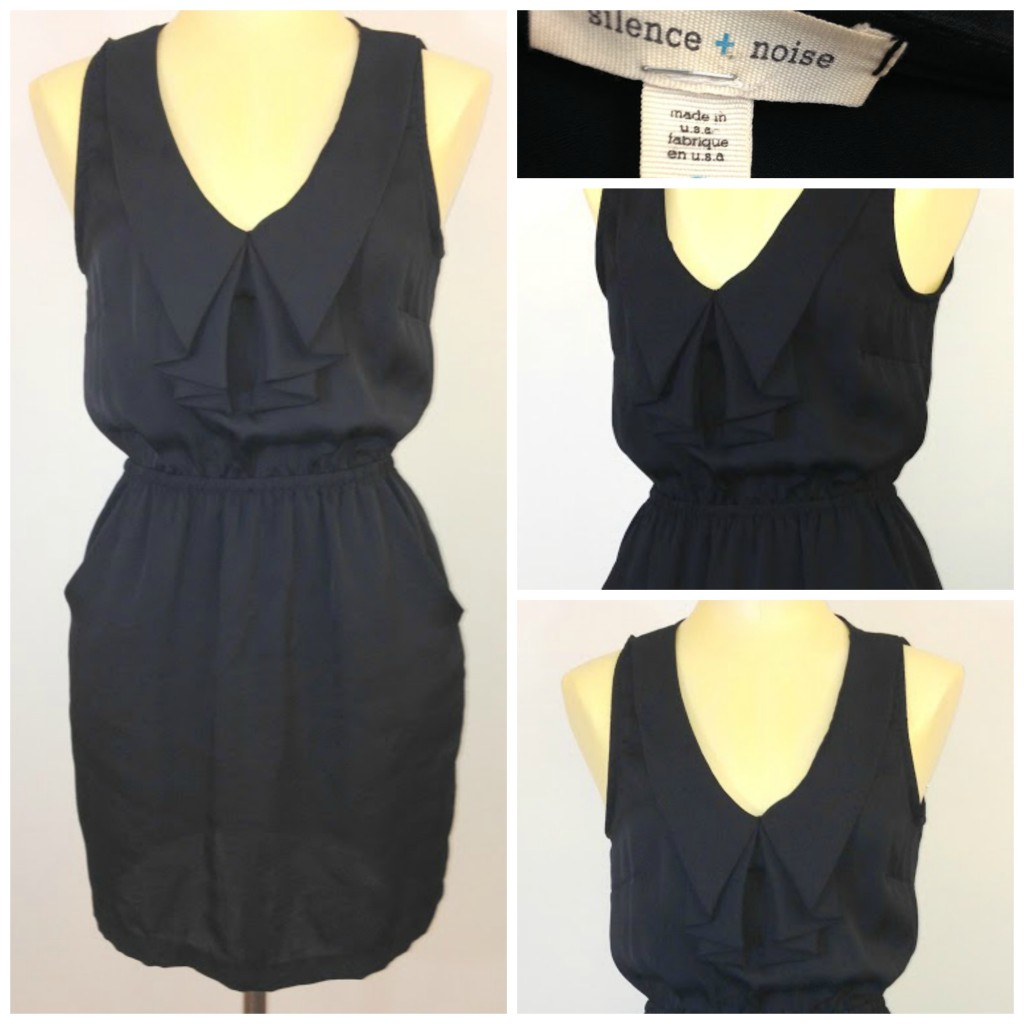 Made by Silence + Noise, this dress is surely one that is built to last. If you're unfamiliar with the brand, it is sold most often at Urban Outfitters. That tells us that this piece is surely on trend! Most of their dresses run in the $45 – $65 range so you're totally snagging a deal, here. This piece is a size small so it should fit fashionstas size 0-4. This dress in particular is a classic navy in a complete solid, with no accent colors. That gives you free range to style this piece virtually however you please. It has a great cinched waist that will provide the perfect accent to your lovely shape. Additionally, its got a lovely accented neckline with pressed pleating that gives it just the right pop of personality. Last but certainly not least, it has pockets! Raise your hand if you are a lover of pocketed dresses like me! Nothing beats a dress with pockets. That majorly ups the versatility!
In terms of style, this piece is ready and waiting to be jazzed up and shown off. As a stand alone, this would make the perfect summer date night dress! I imagine this piece standing on its own two pleats (get it?! Ha!) when paired with a simple arm party and nude wedge. A bold clutch would add the perfect amount of pizzazz if you choose to let the solidarity of navy shine. If you're one for belts, the tapered waist here gives you the perfect medium for adding a skinny belt for color and polish. In the cooler days, I wouldn't pack this one away. It could be worn through fall with a cardigan and flats or boots. When thinking about color, remember that nude, yellow, burnt orange, coral and turquoise all make unique pairs to navy. That gives you seasonal options to make this piece a closet favorite.
Have you ever worn Silence + Noise? How would you style this lovely frock?