Sometimes style trends have the tendency to come around (or back) that we could never have expected to. Just to name a few: fanny packs, neon colors, shoulder pads, KANGOL bucket hats and classic white sneakers are all in slow but steady movement making an encore appearance back into the fashion scene.
I will admit, that this dad sneaker trend crept up upon us (as they usually do) via the influence from social media channels, celebrities, bloggers and IG influencers, and most noticeably during Cochella 2019.
Nevertheless, there is no denying that white chunky sneakers were basically a staple in everyone's wardrobe back in the 90's.
Fast forward 20 years, now more popularly referred to as "Dad Sneakers" these kicks are undoubtedly making a comeback for this year's spring/summer season. To paint an image of what a dad sneaker is- basically: visualize a middle aged male wearing relaxed-fit, medium-wash denim or jean shorts, a tucked in polo shirt, clip on cell phone holder on his belt and chunky white sneakers. The look at first, second and even third glances doesn't exactly scream glamour OR fashion for that matter.
As a kid who grew up in the 90's, I distinctly remember owning several pairs of white chunky sneakers (embarrassingly I will admit, they were all the Sketcher's designs) fanny packs of all colors and iridescent shades, shoulder pads, denim overalls and STILL wasn't welcomed among the cool kids at my school. Now as an adult in 2019, it looks like my nerdy girl fashion sense has finally caught on to the masses and my childhood dreams are becoming a reality! (at least on Instagram).
Yet, if executed creatively there's are several opportunities to make this trend work with almost any ensemble from office suits, date nights to sequin dresses. There is a new found freedom when you are able to pair your favorite pieces with these casual kicks and otherwise present an outfit that blends regal elegance with comfort. I like to think of it as the perfect balance in not taking yourself too seriously.
Being a woman that gravitates to jeans, sneakers and tee shirts, I couldn't wait to mix and match my favorite feminine pieces with my new shoes! Now while there is an abundance of white sneakers to choose from that fit this trend, I chose to purchase the FILA Disruptor II and I am in love. What stood out to me was the jagged bottom silhouette, noticeable chunky platform structure and it's sleek monochromatic colorway. They ainstantly seemed to pair so well with almost everything in my closet. They are definitely a staple piece that incorporates elements into the look(s) I am anticipating with my outfits.
So How Do I Style my Chunky Dad Sneakers?
I think the better question here is, how many ways CAN you style your sneakers? Many of the pieces I've decided to pair were purchased with Goodwill over an extended period of time. Here are some of my favorite outfits I choose from.
1. The Summer Dress Sneaker
A classic take on femininity and comfort. Paring a comfy summer dress and sneakers isn't exactly an emerging style trend but, it is the most common way I've seen these sneakers styled. It's comfortable and functional for almost any casual activity you are up to.
My dress is a vintage A-Line dress with a flattering neckline and floral print. I also threw on this light-wash thrifted denim jacket for when it gets chilly.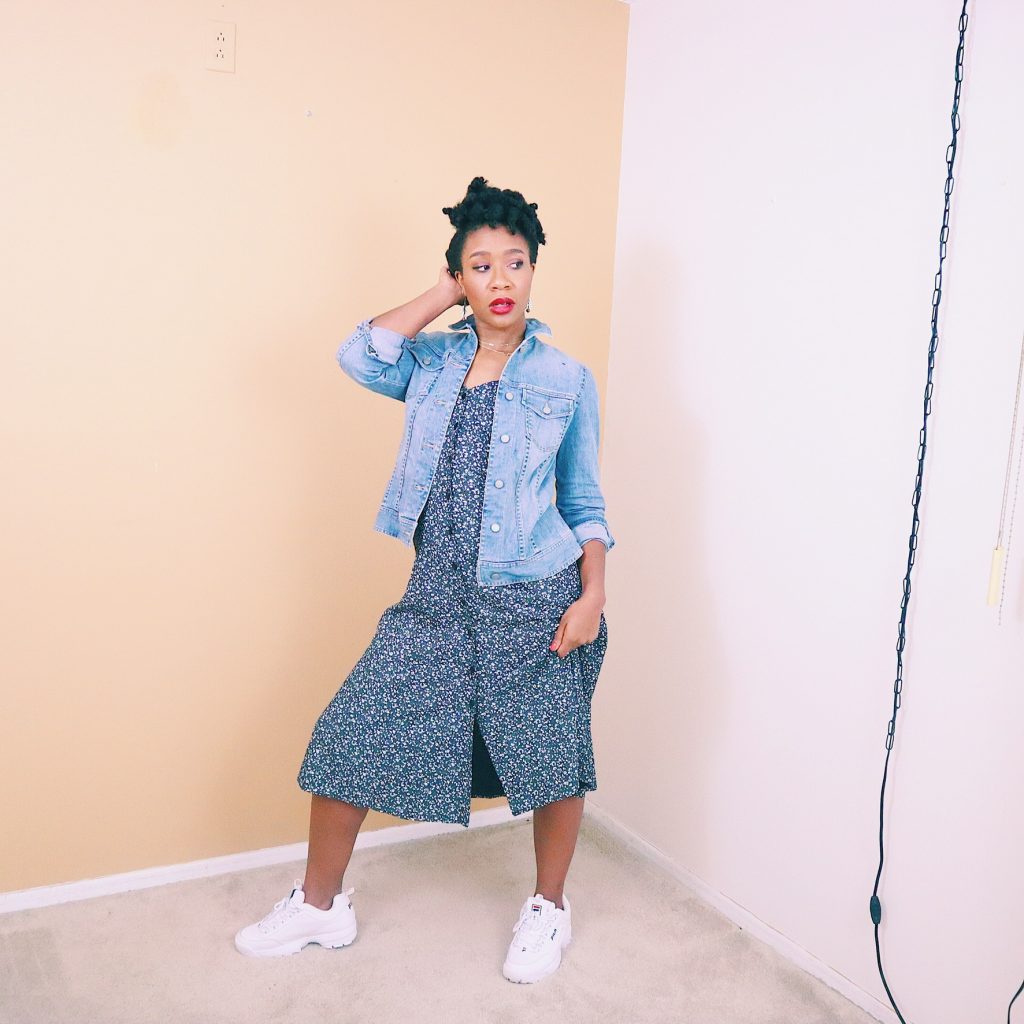 2. The Athleisure Sporty Sneaker
How could we skip athleisure wear? When I'm not at the gym (which is regularly) I'm more than likely hanging out in my leggings and sports bra. I was actually shocked when I found this one piece neon highlighter pink body suit at the Goodwill.
Moreover, I was surprised when it fit me! Since I don't want to blind anyone, I paired the bodysuit with my favorite track pants that I found in the men's section at Goodwill. Although blue and pink are not quite complementary colors but, I'm still loving this pairing!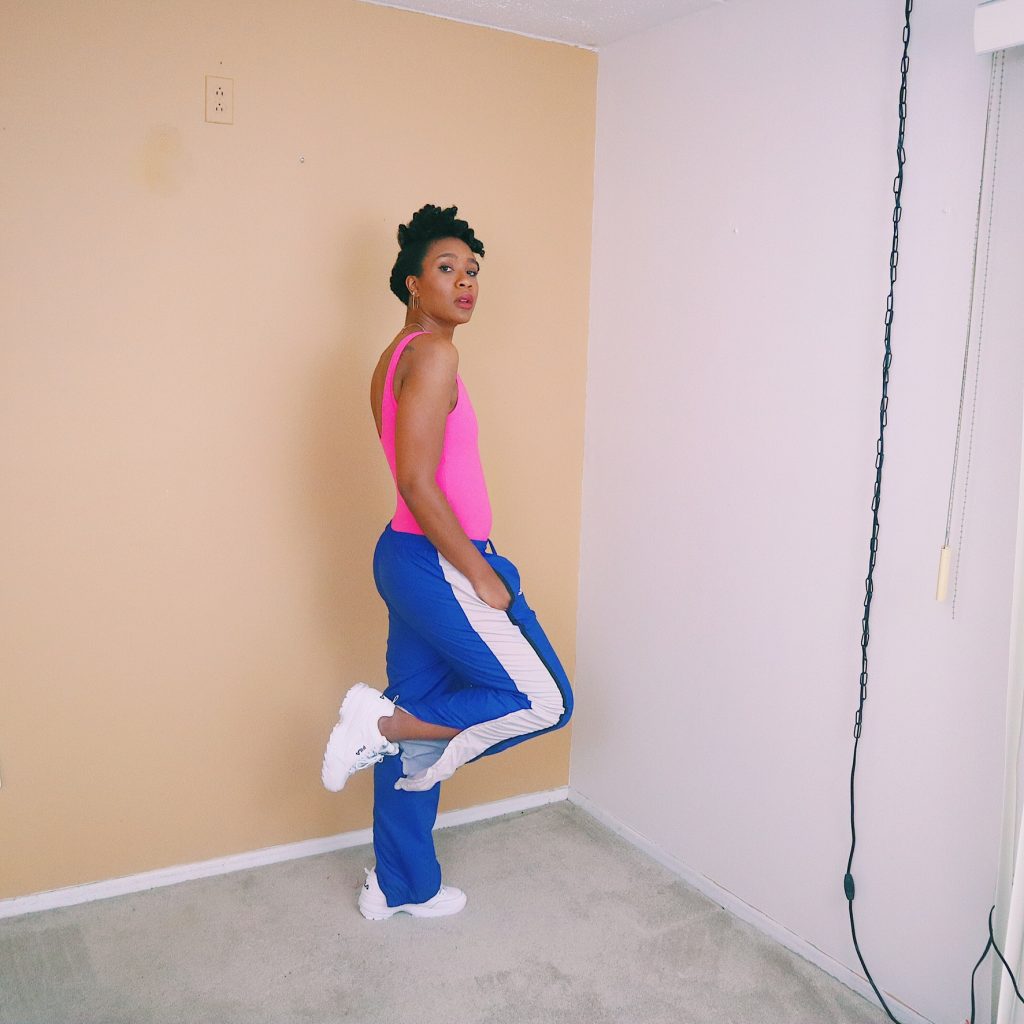 3. The Vacation Sneaker
If there is any an appropriate time to wear sneakers, it's on vacation.
I've paired this tie day off the shoulder dress with, yep, you guessed it-my Fila's. I love everything about this dress from the color to its pattern combination. I threw on my oversized straw hat, and I'm ready to go!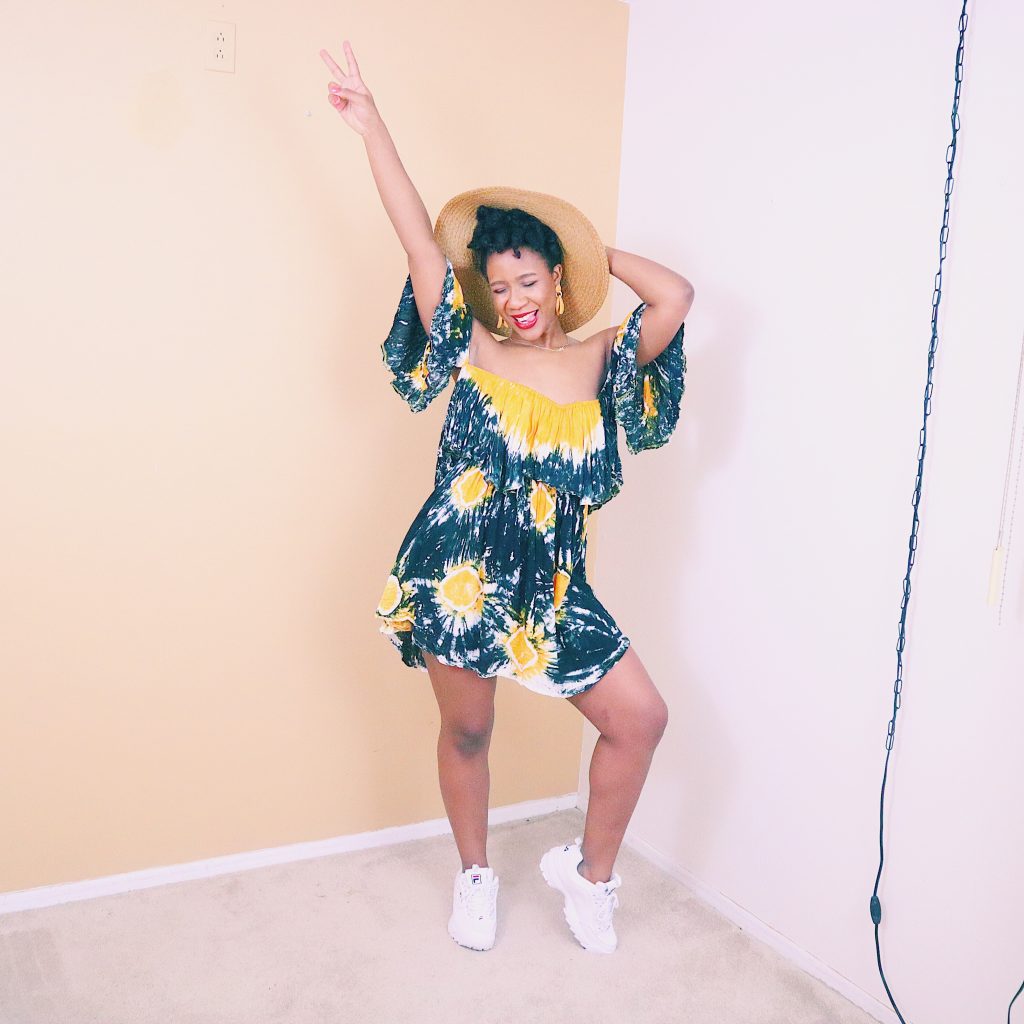 4. The Night Out Sneaker
As I stated above, I am a jeans and tee-shirt kind of girl. So when it's time to have a night out or date night, I sometimes struggle to figure on what an outfit to wear that doesn't involve painful heels or dresses that hug me like a hot dog casing.
I found that I can still incorporate denim, if it is a dark wash or black denim. It becomes a fail safe for me when putting together an outfit in most occasions. For this outfit, I decided to pair dark denim with a silk bold red tank top that I actually found in the intimate section at Goodwill! I added some accessories and a black moto jacket over my shoulders to complete the look.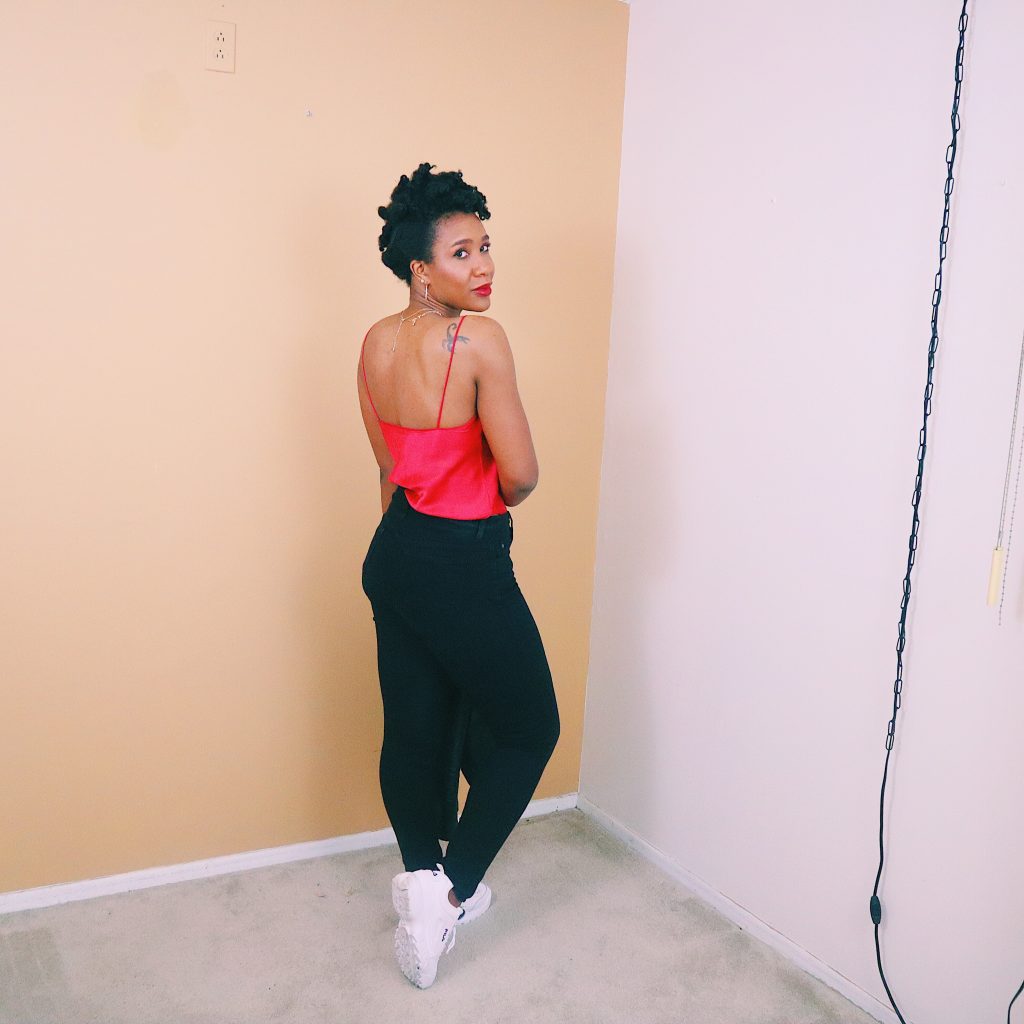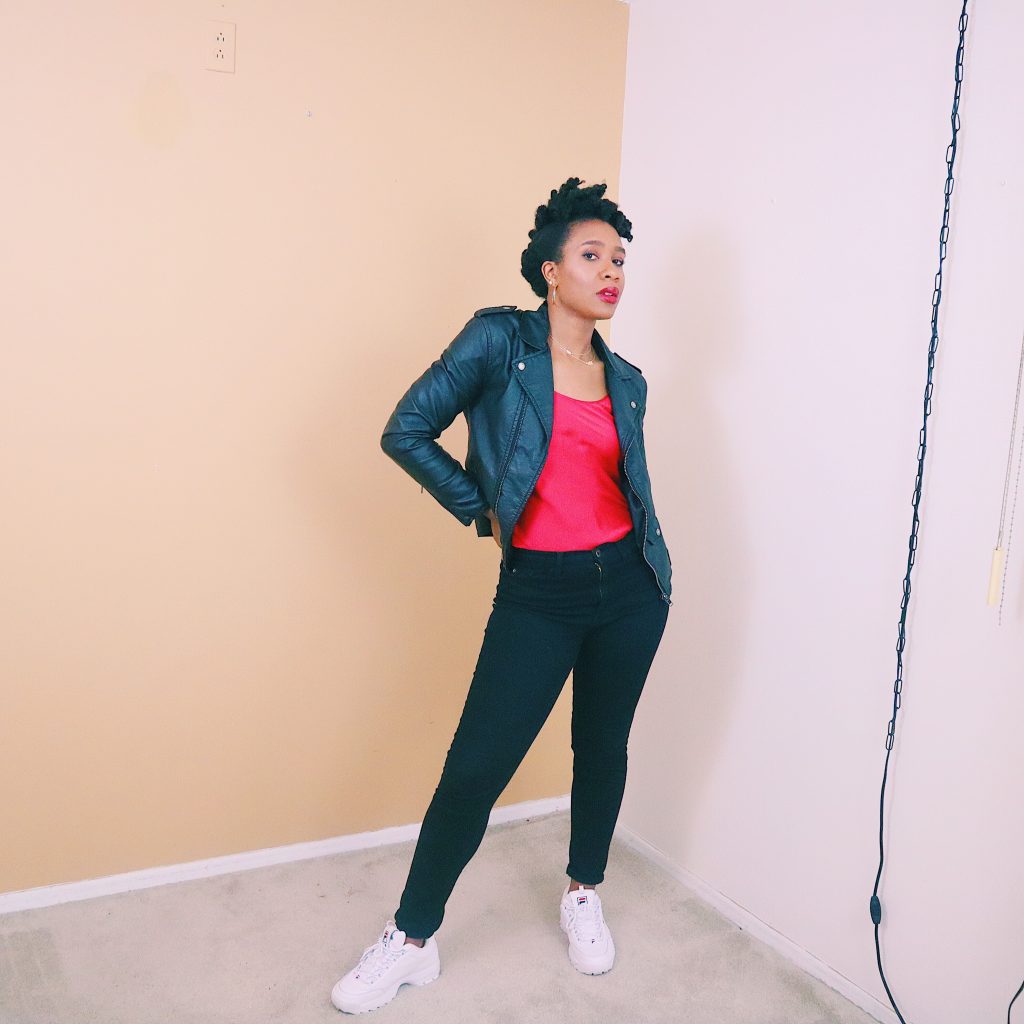 Which look was your favorite so far? Do you plan on trying out the dad sneaker trend this year? I'd love to hear your thoughts!
Good Luck,
Danielle
About Danielle: Danielle, founder of Thread.Lift, is a self proclaimed secondhand shopping queen, blogger, and tall girl who is living a sustainable slow fashion lifestyle through the art of secondhand living. Follow Danielle for tips and tricks on how to transform a wardrobe without breaking the bank,DIY projects, and making your side hustle work for you.