This week's blog project is a two-fer!  Easy steps are provided for you to make personalized and meaningful decorations for a wedding—including using thrift store finds—then reuse them in other ways in your home.  
Thanks to Heather and Jim for the opportunity to create some unique pieces for your special day and for all the wonderful things you do for others in our community! Congrats on your marriage—many good wishes!
Supplies needed:
· Branches in light and dark tones
· Burlap ribbon
· Blue netting ribbon
· Beach-theme embellishments (shells, star fish, natural elements)
· Wire and twine
· Glue gun & glue sticks
· Scissors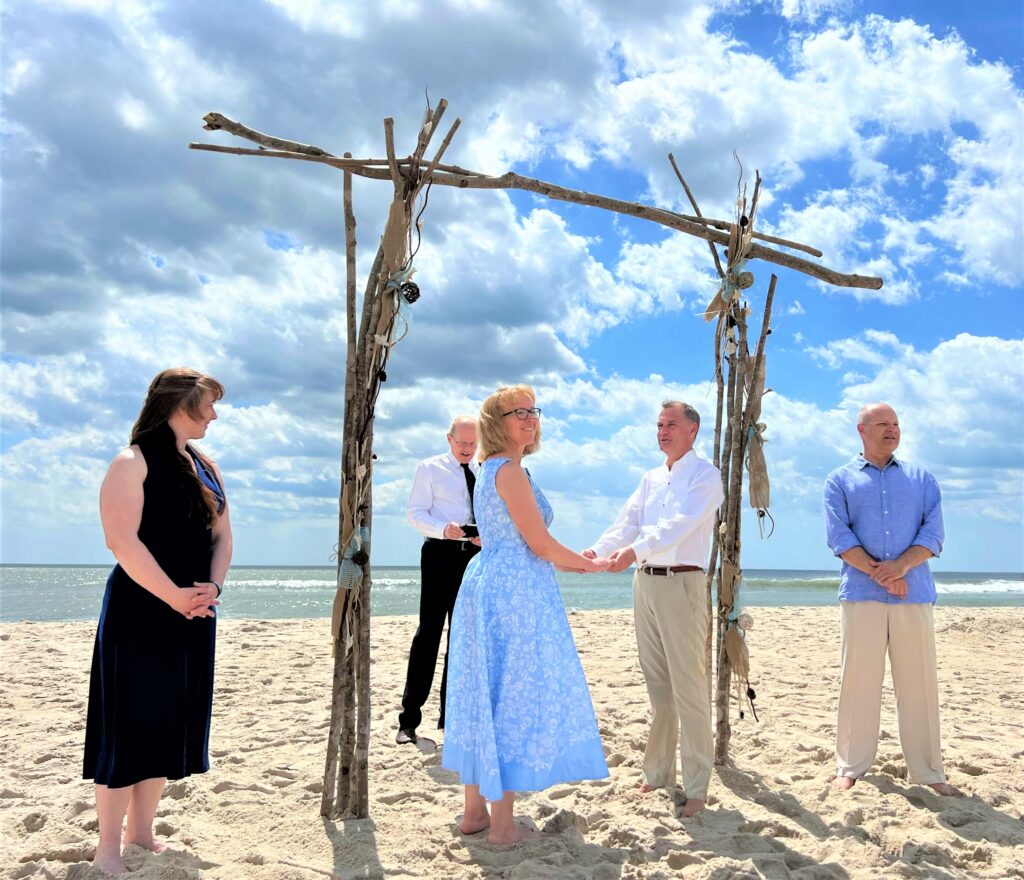 Build decorations around a theme or location
Heather and Jim love the beach, so they made plans to get married along the ocean at Assateague Island in Maryland.  A wooden arbor was available as part of the setting.  This location and their love for nature and organic things made the design decision easy.   Water/ocean blue-toned ribbon, starfish, branches, grasses, ropes, and other items (picked up from an arts & craft store) were used to create decorations to add their personalities to the arbor and other spaces.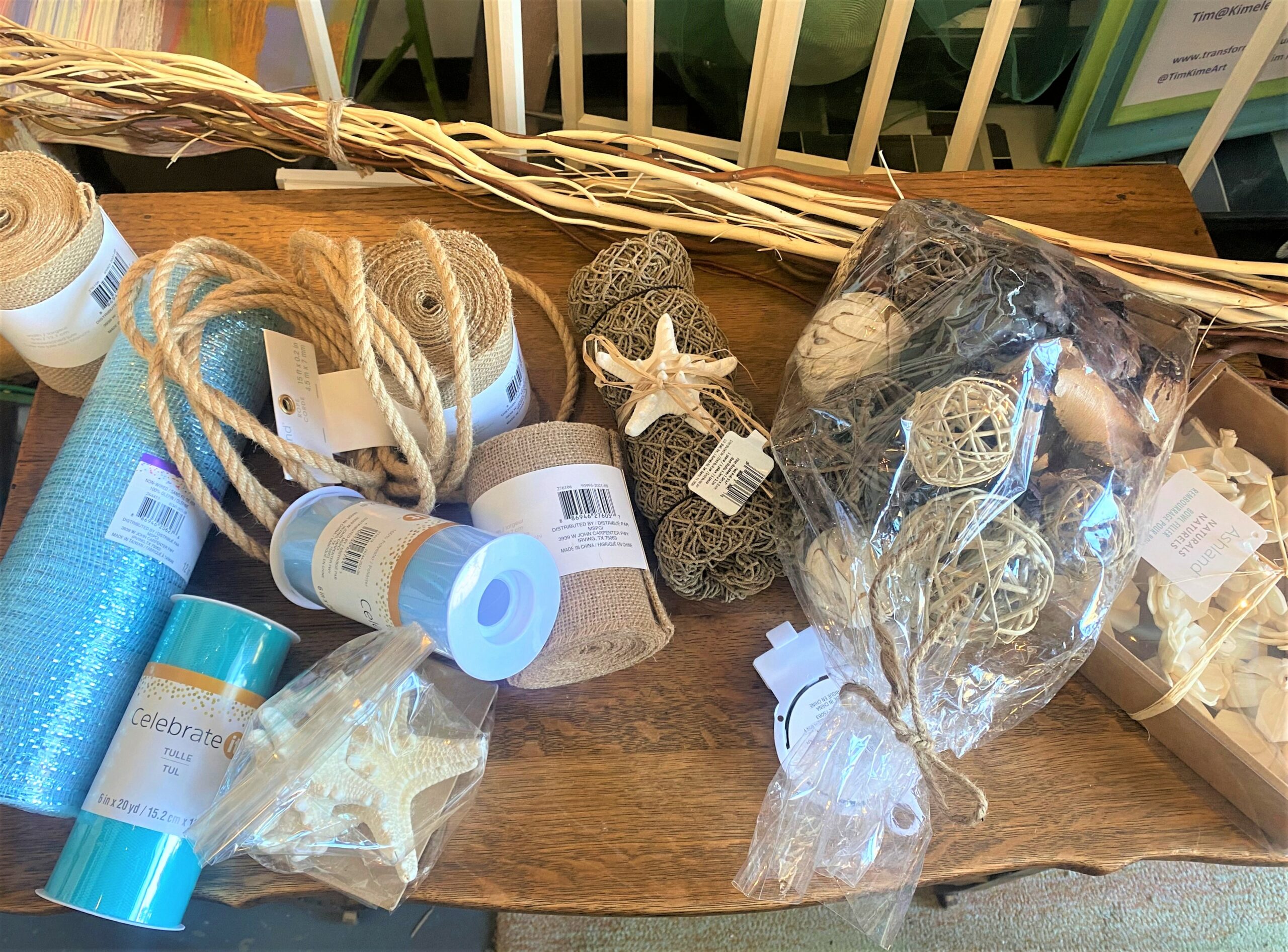 Create Beachy Branch Bundles!
Branch bundles were created to dress up (or should I say "beach up") the water-side arbor. Here's how:
1.      The branches were divided into smaller bundles ensuring each had some light and darker tones for visual interest.
2. Floral wired was wrapped in the center to hold them together.
3. A length of the thick burlap ribbon was cut to go behind the branches; it was folded over in the center and glued in place with the glue gun.
5.      A piece of the blue netting ribbon (with some sparkling material woven in) was cut and then wrapped around the center of the bundle and adhered to with glue.
6.      In the center and on top of the blue netting ribbon, a starfish and some round decorative accent pieces were wired and glued.  Small pieces of rope were added, too, with glue.
7.      Light and dark flower accents created from natural materials were glued on the branches.
8. A long piece of twine was tied around it and secured to the back to allow it to be easily hanged on the arbor.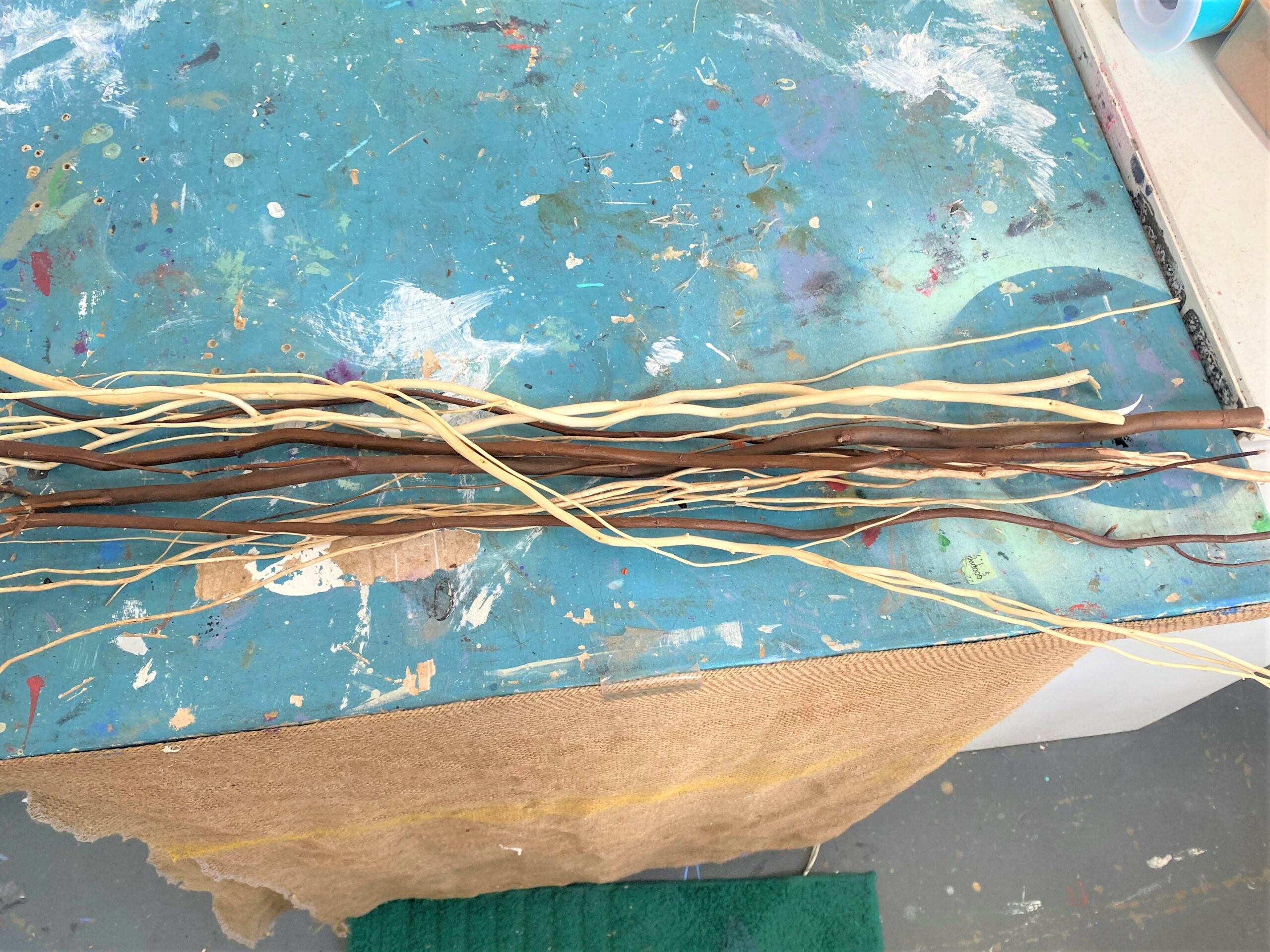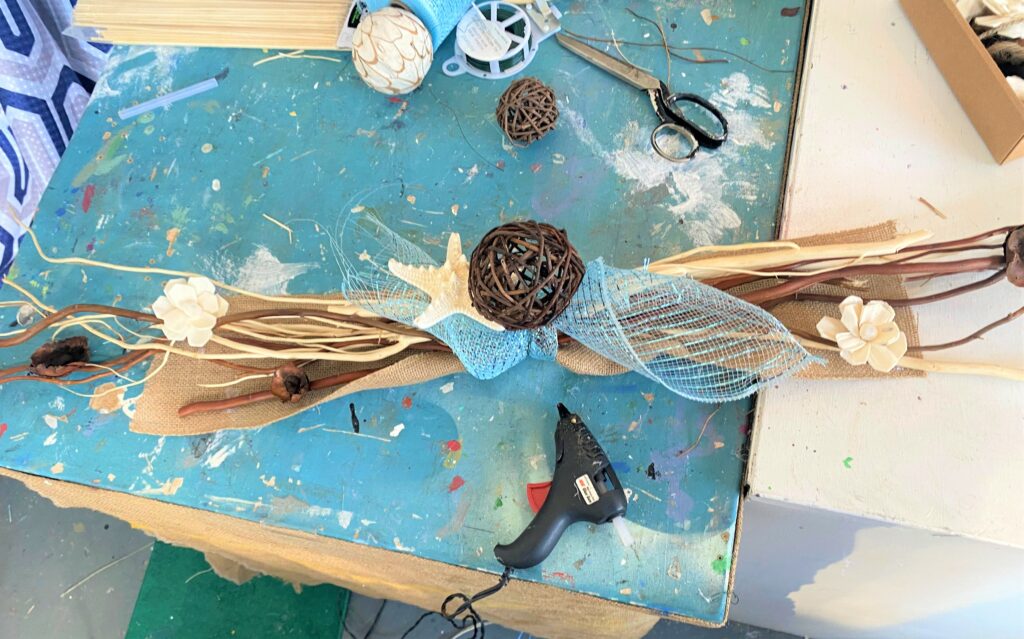 Accessorize With Goodwill Finds!
To add more beachy fun and visual delight, pick up items at Goodwill to go with the overall look and feel. Embellish them to tie to the theme, too.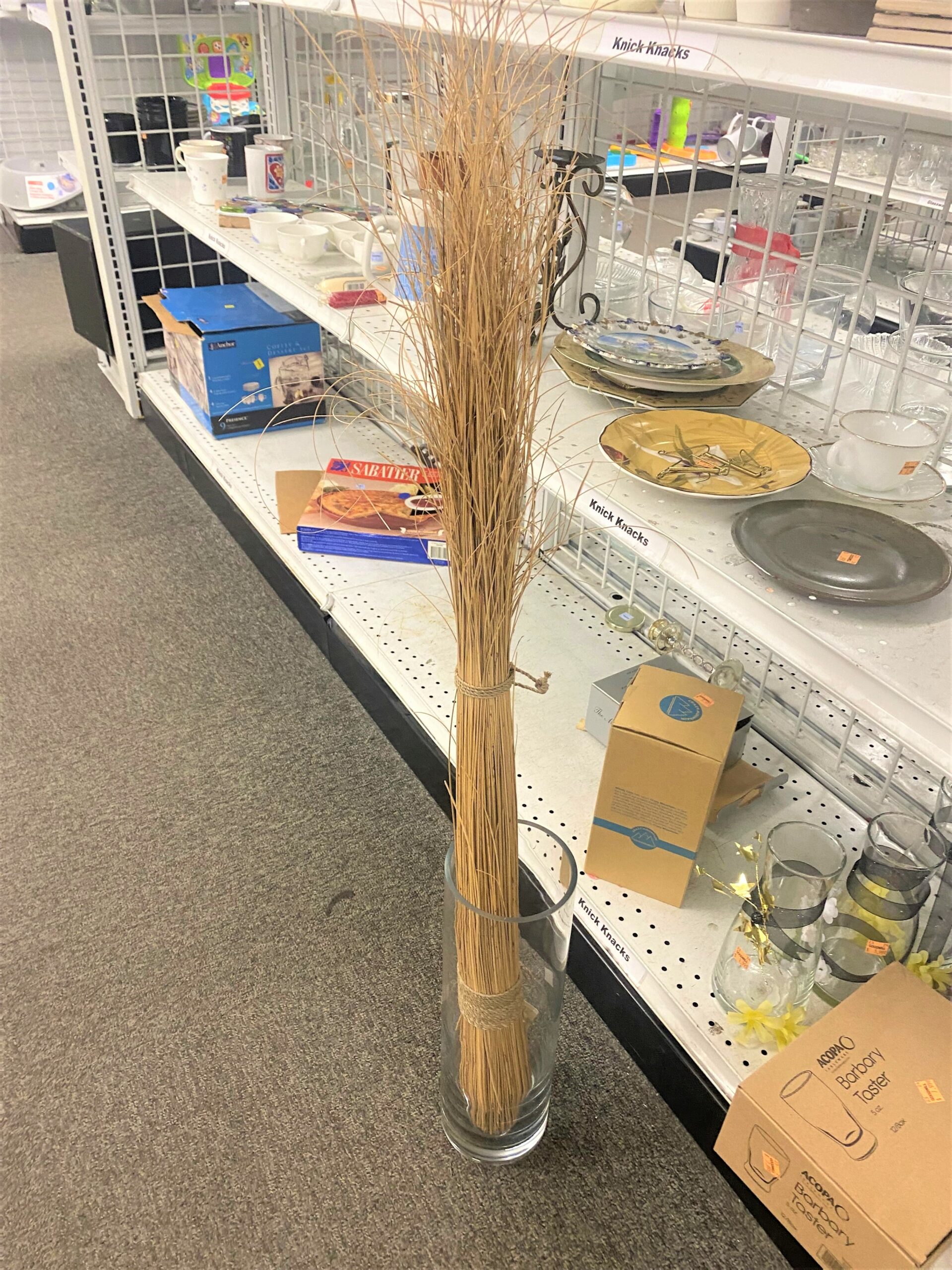 · A clear glass vase of tall grass was picked up and included, given all the grasses along the beach. Some burlap ribbon was wrapped around it and secured with hot glue. A small star fish and shells were added to complete the look.
A large mason jar was filled with dried lavender stems; a burlap bow and shells were added. This was pretty to look at and smelled lovely!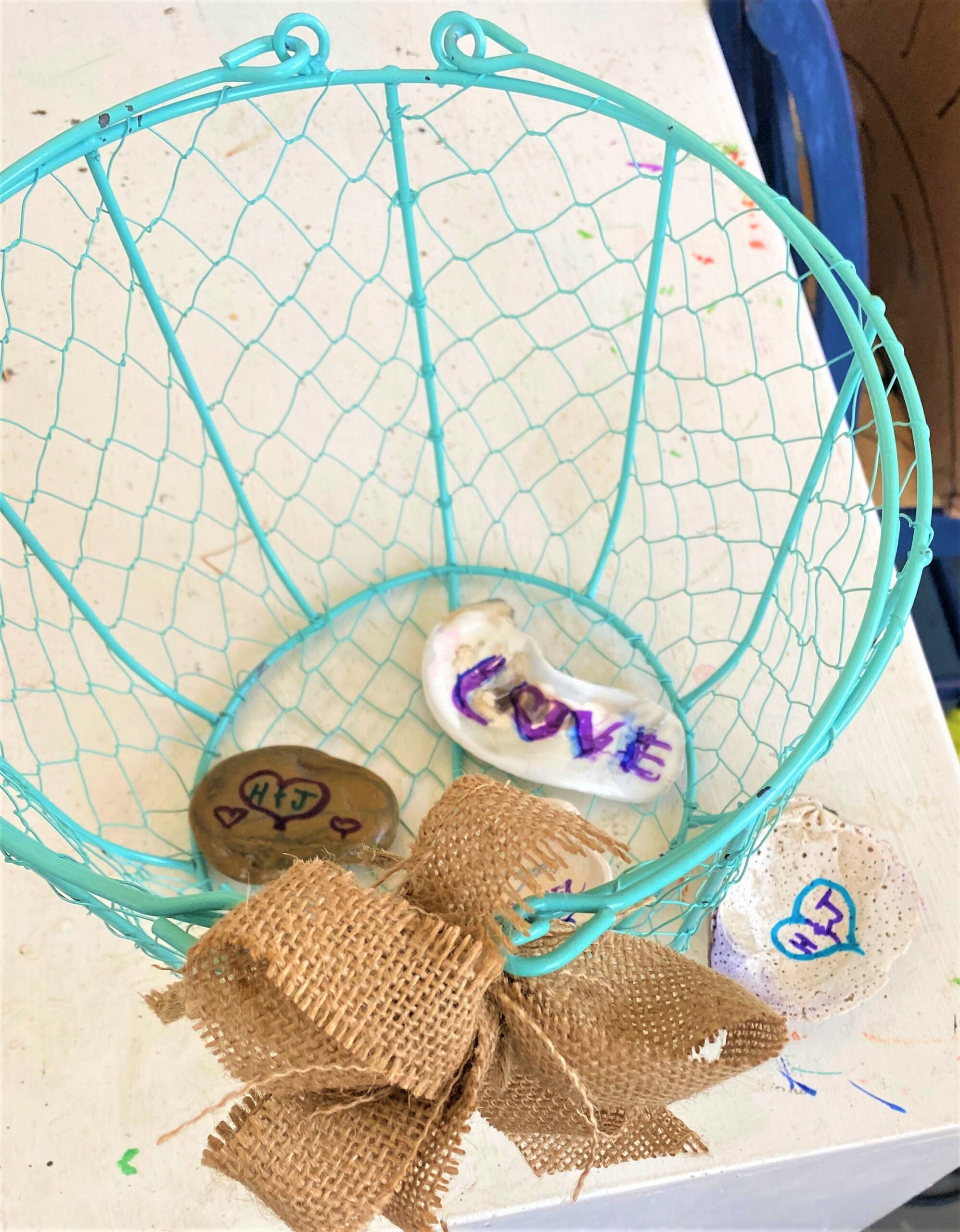 · A teal-colored wire basked was perfect for holding seashells, rocks and small pieces of driftwood collected by wedding guests who added messages of love with art markers. A burlap bow was added to match.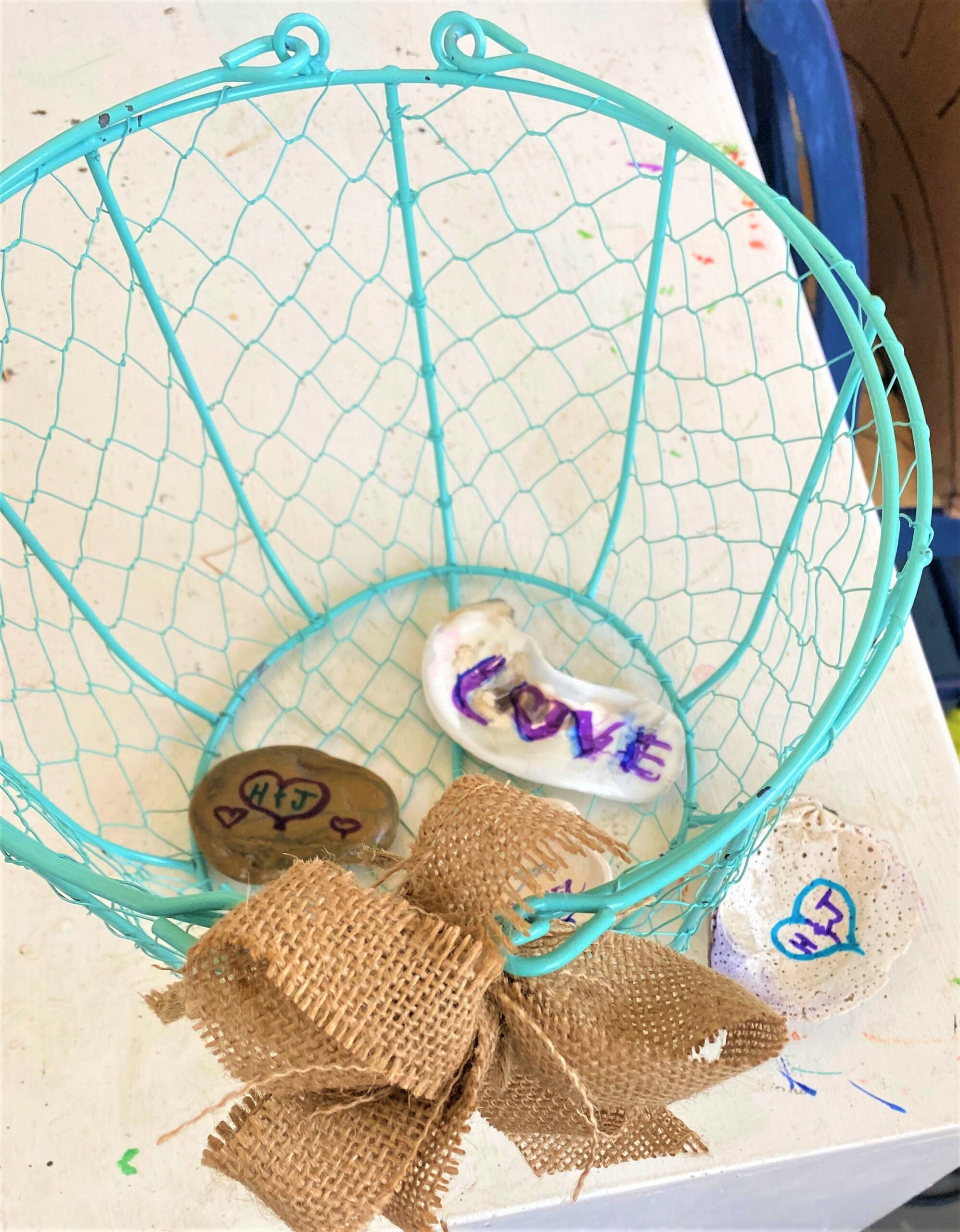 · A sailboat decoration with blue stripes on its sail was the perfect accessory for this special gathering. Two flowers, representing the newlyweds, were glued in the boat's passenger section. On the back, Heather and Jim's initials were added, too, to totally personalize this whimsical little vessel.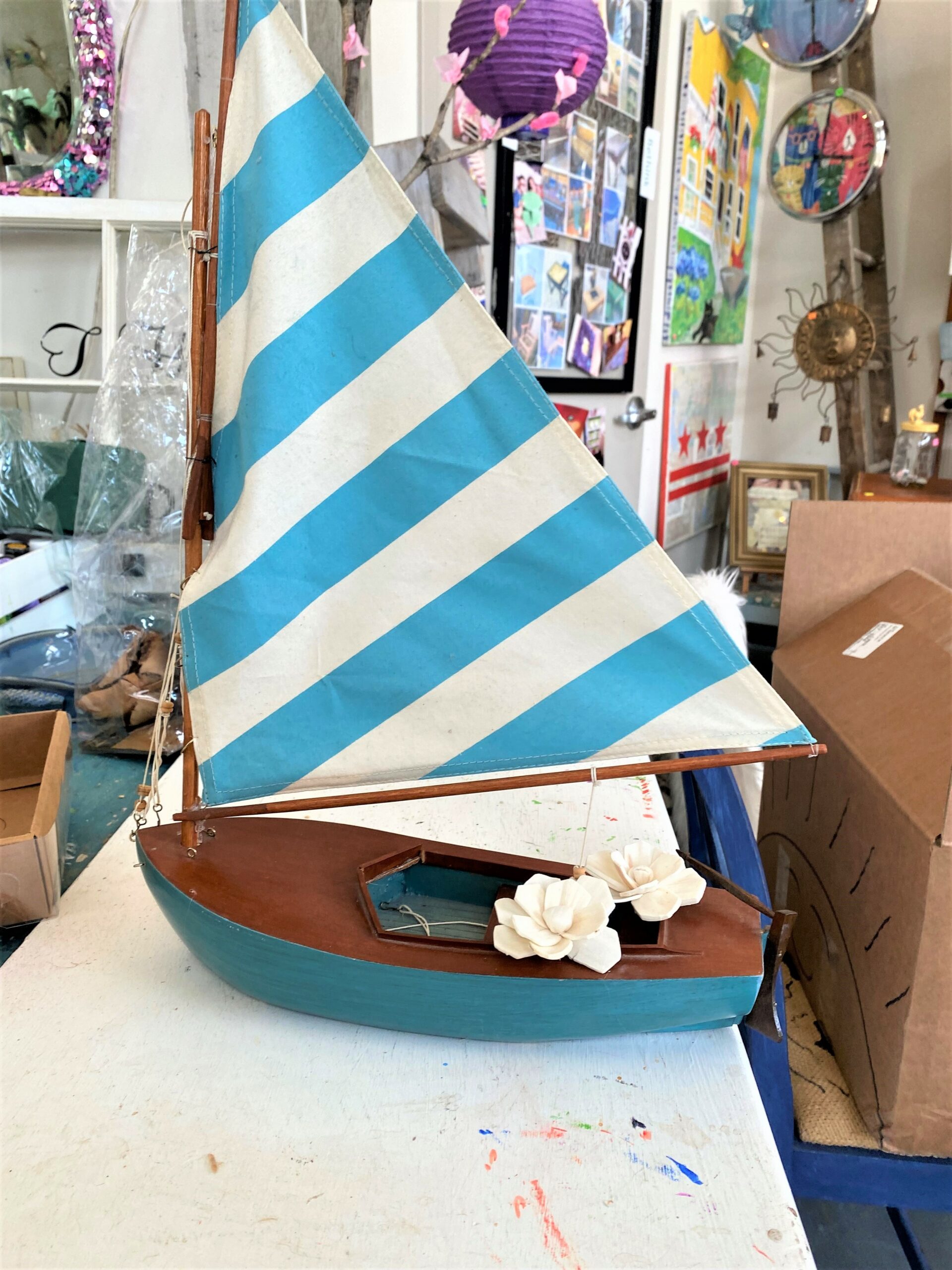 · A white-washed, wooden crate was dressed up by adding a piece of rope around its top edge, again enlisting the glue gun's services. A burlap ribbon was secured as were several small shells.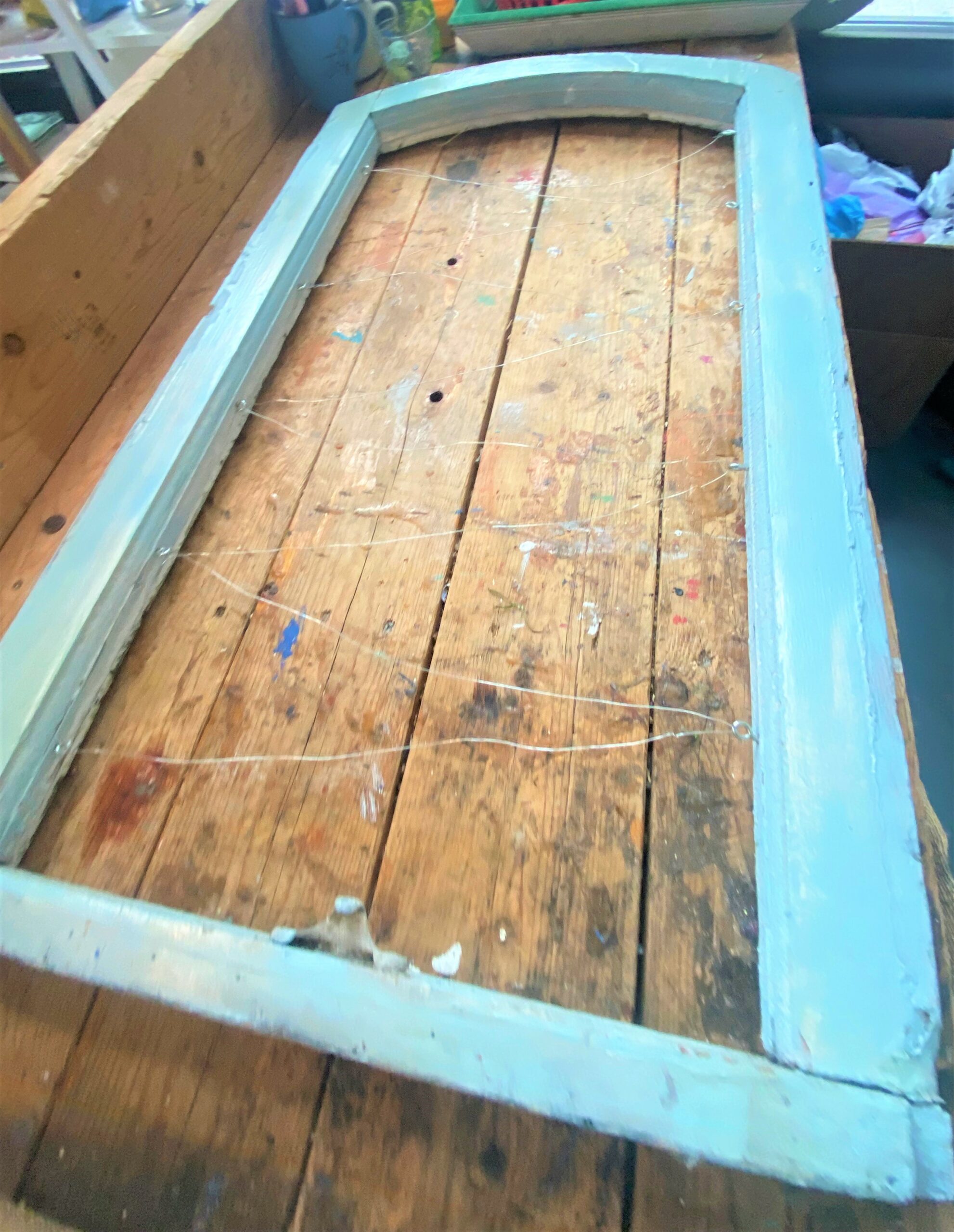 4 Ways to Reuse Your Beachy Branch Bundles
Following your wedding, what might you do with the beachy bundles/decorations you created? They are certainly too pretty to take apart, so reuse them in your home! Here are some ideas:
1.      Create a piece of art:  an arched window sash had been repurposed as a memo hold so it had wires to hang messages.  A beachy branch bundle was tied to the center and, "Viola!"  You now have a unique framed piece of art to remember your special day.  Below it, place a small table with a shimmery lamp and blue accessories (all picked up at Goodwill for next to nothing) to complete the look.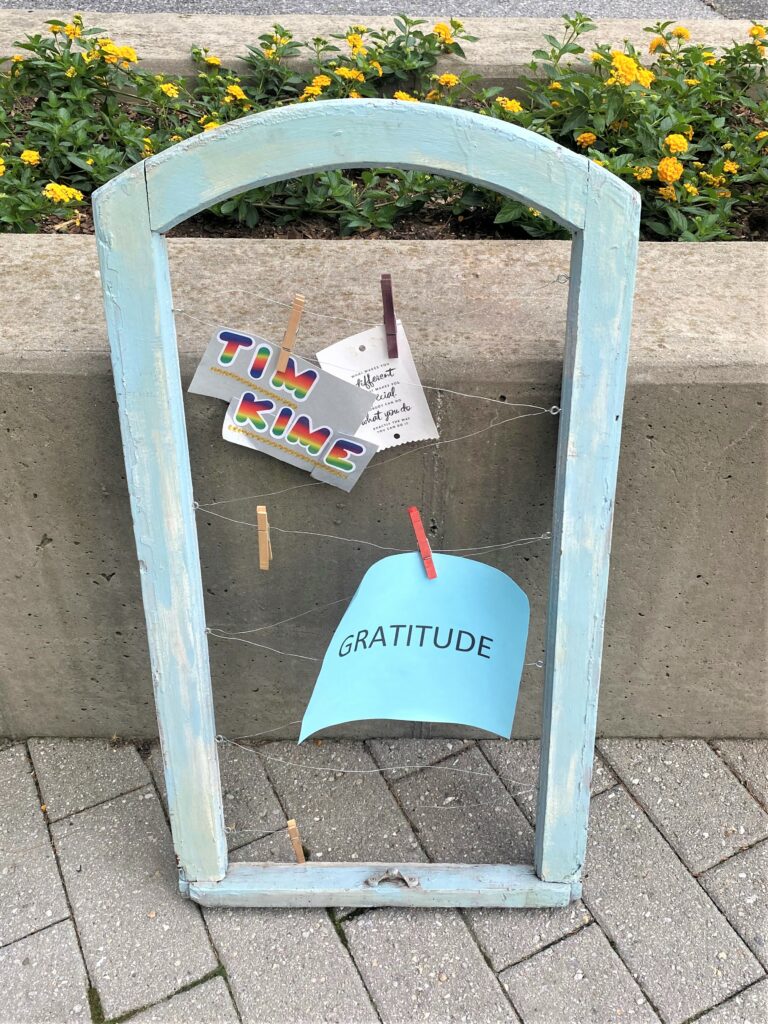 2.      Delight your front door: Perfect for the summer season, a bundle was hung on the front door to welcome family, guests, and neighbors.  Its long shape matches the door's vertical shape and height.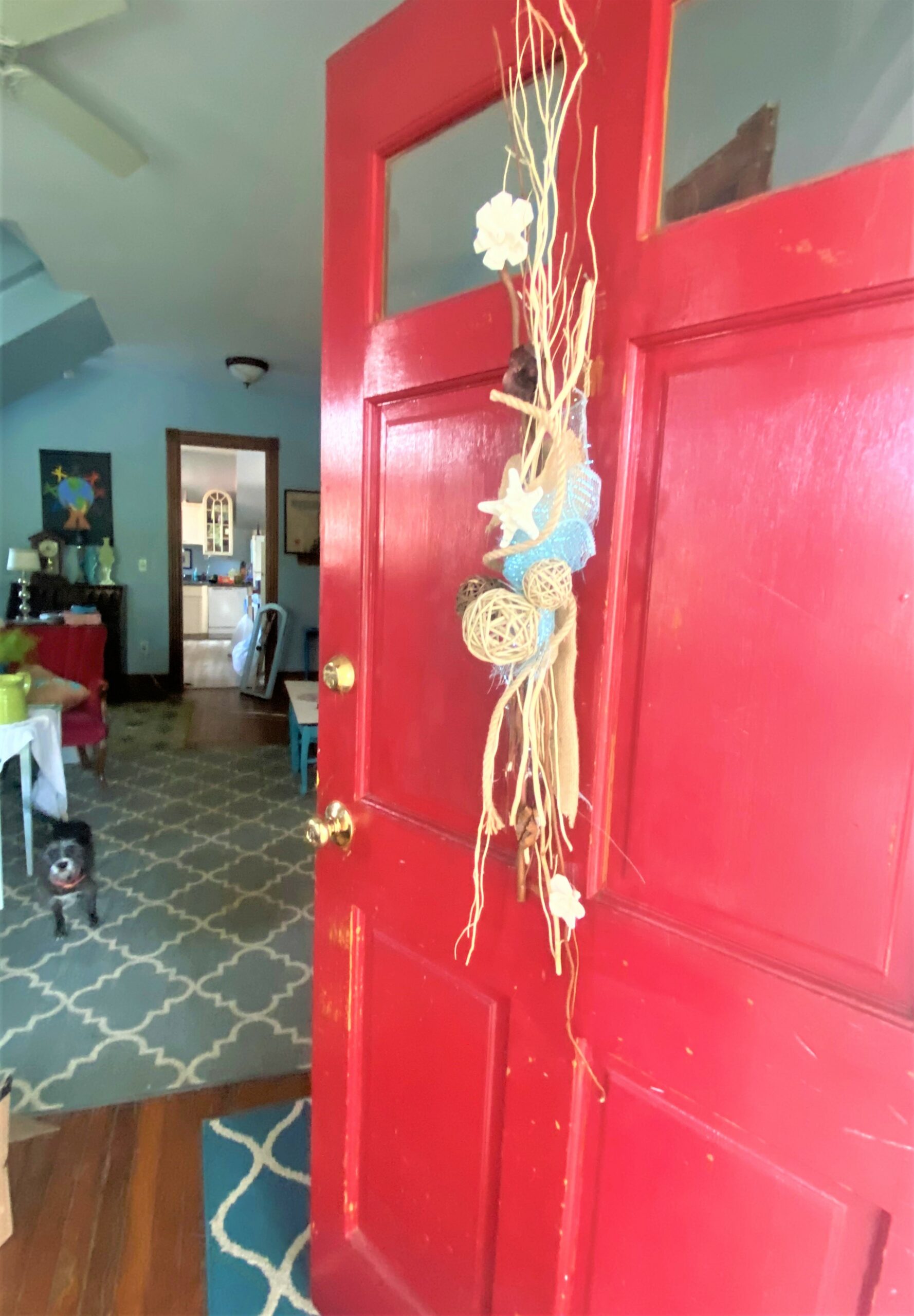 3.      Mesmerize your mantel: A bundle was placed on top of a mantel for an easy seasonal update.  I love that my mantle had two small lamps, one with a shell design and one with a fish one, that tied in perfectly to the beach theme!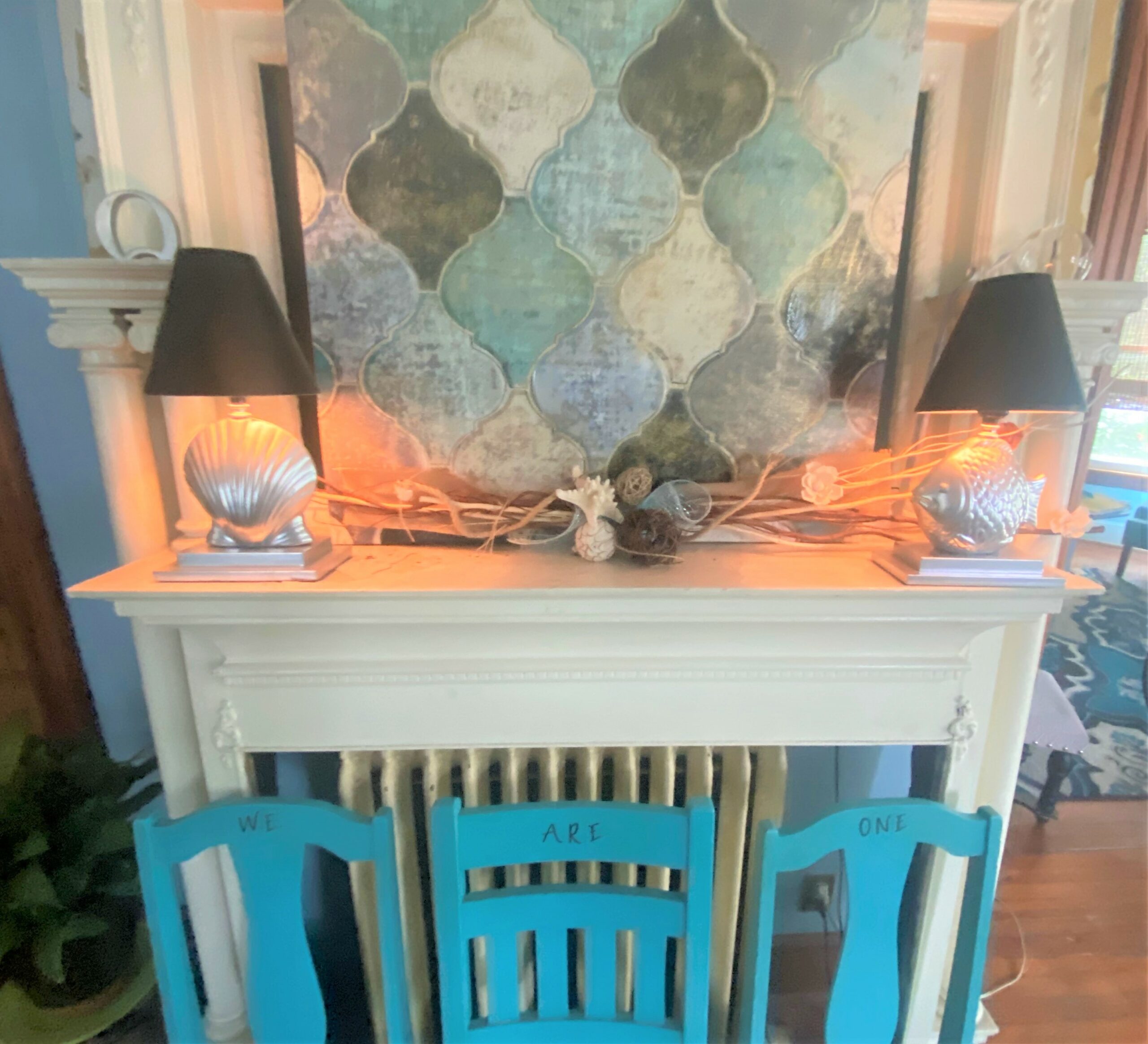 4.      Beach up your bathroom: Add a bundle to the top of your mirror to add some visual interest to an unused/overlooked space.  Accessorize with a shimmery container and shiny shaving/make-up mirror, also found at Goodwill, to give some style and more purpose to the space.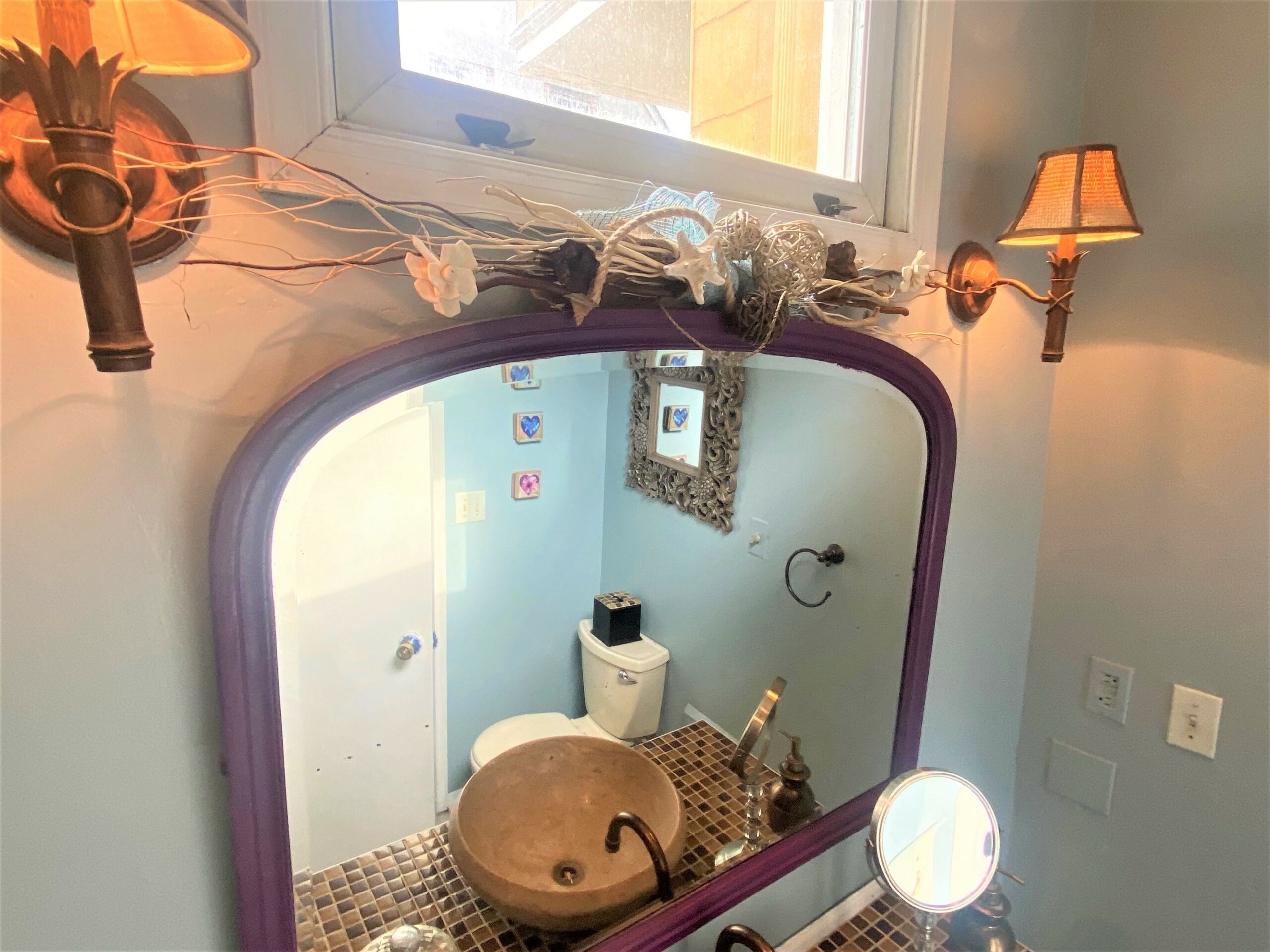 Show us wedding and special event decorations that you made yourself and ways you repurposed them in your living space. We so love when creative projects get upcycled and reused time and time again!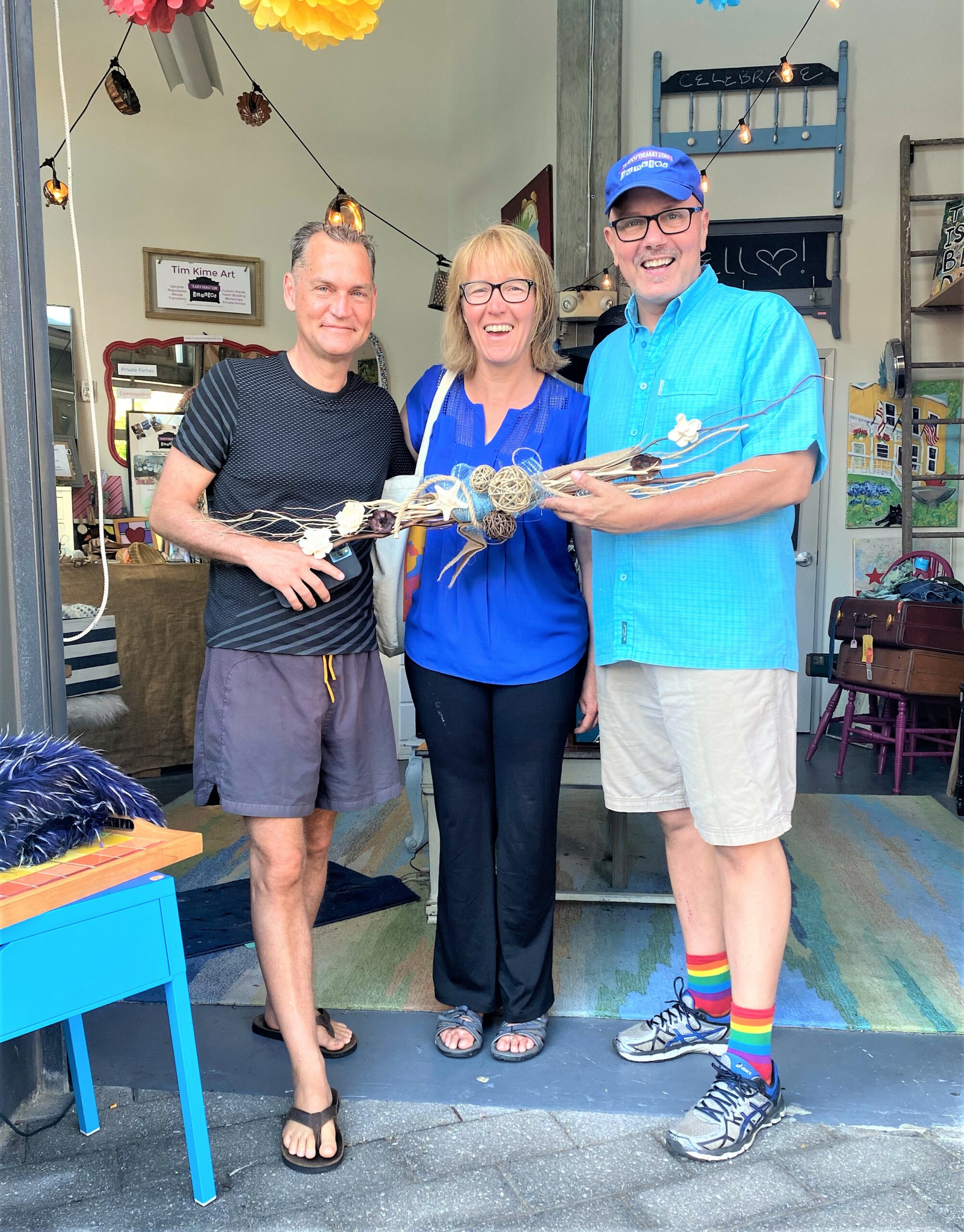 Congrats again to Heather and Jim!  May you have many joyful and fun voyages together and set sail for a lifetime of happiness and love!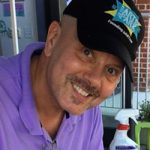 Tim Kime
Artist, Motivational Speaker, Life Coach
Tim Kime is an artist, life coach, connector. He is President of Kime Leadership Associates offering executive coaching, meeting facilitating and motivational speaking. He is also Chief Creative Force of Transformation Junkies which upcycles furniture and other household items into functional works of art. He combined his two passions—unleashing the potential in people and transforming items with the launch of the Art of Possibilities Workshops. These workshops are part upcycling, part dreaming, part goal setting.