Summertime and the living is easy, especially when you use Mother Nature's creations for your DIY projects. The sunflower symbolizes the current season with its bright colors and happy, carefree look. Use it as inspiration to transform two side tables from sorry to soaring! Sunflowers are my favorite flower, so seeing them all over the community makes me smile.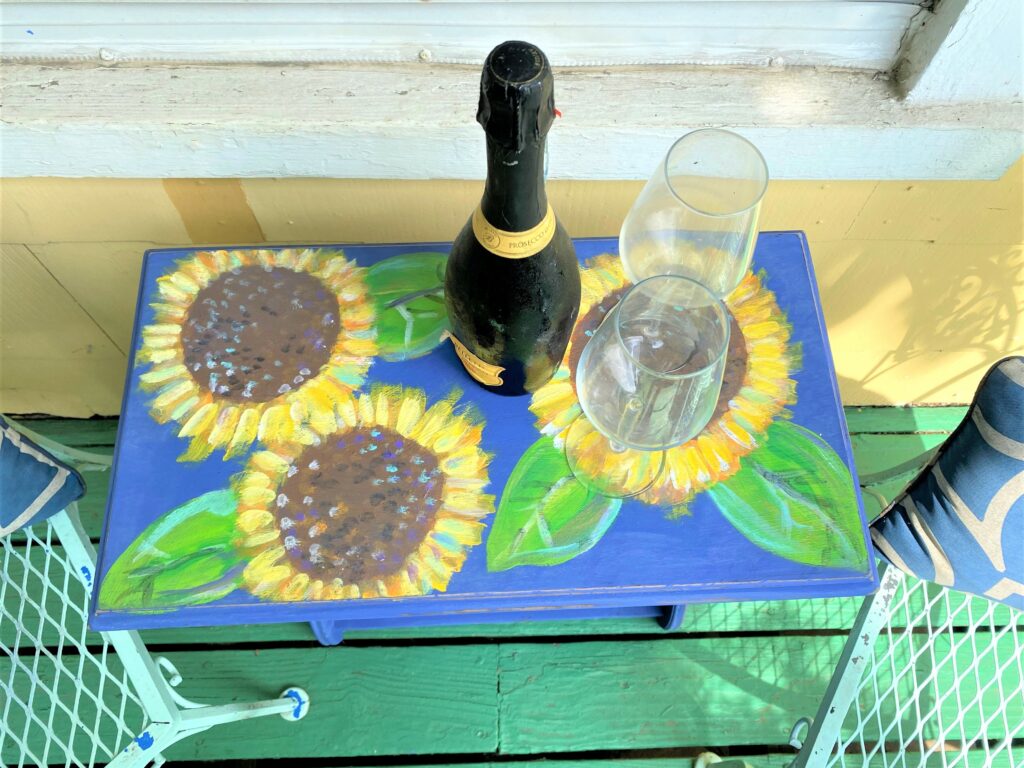 Sunflowers on blue was the inspiration for a huge mural project in my hometown, Toledo, Ohio. I had seen this larger-than-life work of art up close and personal recently, so that must have also impacted my creativity, too. Here are details: www.cbsnews.com/news/glass-city-river-wall-mural-toledo-ohio/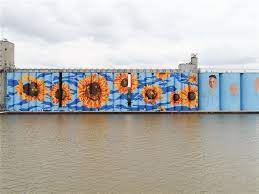 Supplies needed:
Wooden side tables with shelves
Paints in blue
Craft paints in yellows, oranges, greens, browns, white, black
Various sizes of paint brushes
Sanding block, medium to coarse grain
Damp cloths
Polyurethane
1. Get out the heat into a cool Goodwill store
Take a break from the hot and humid weather by hitting your nearby Goodwill store. Hunt for small side tables made of wood and, ideally, with shelves and exciting details.
The two side tables featured and upcycled here were made of solid wood pieces, had great curved sides, and sported beveled edges on their tops. One had two shelves, and the other had a place to hold books. Score times two!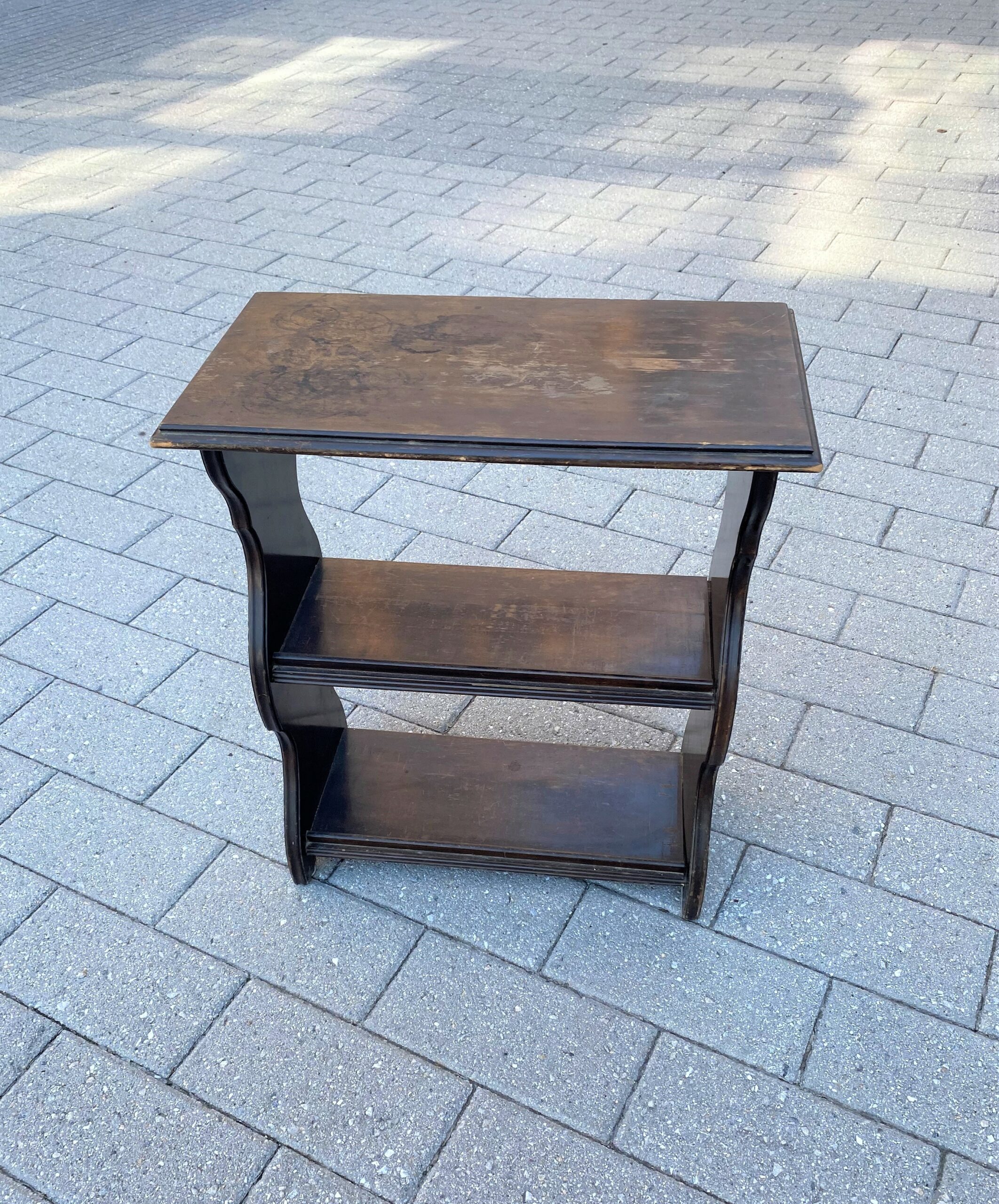 While there, shop for accessories to add fun to your summer celebrations like serving trays, pitchers for cold beverages, and funky plastic glasses. As long as you are there, you might as well make it a real adventure!
2. Prep for painting
With a medium to coarse-grained sanding block or sandpaper, buff up your side tables to make them more paint-ready and paint-friendly.
Don't worry about removing the table's entire current finish; just give it a ruffing up.
When done, wipe it down with a damp cloth to remove all the dust and debris created from sanding.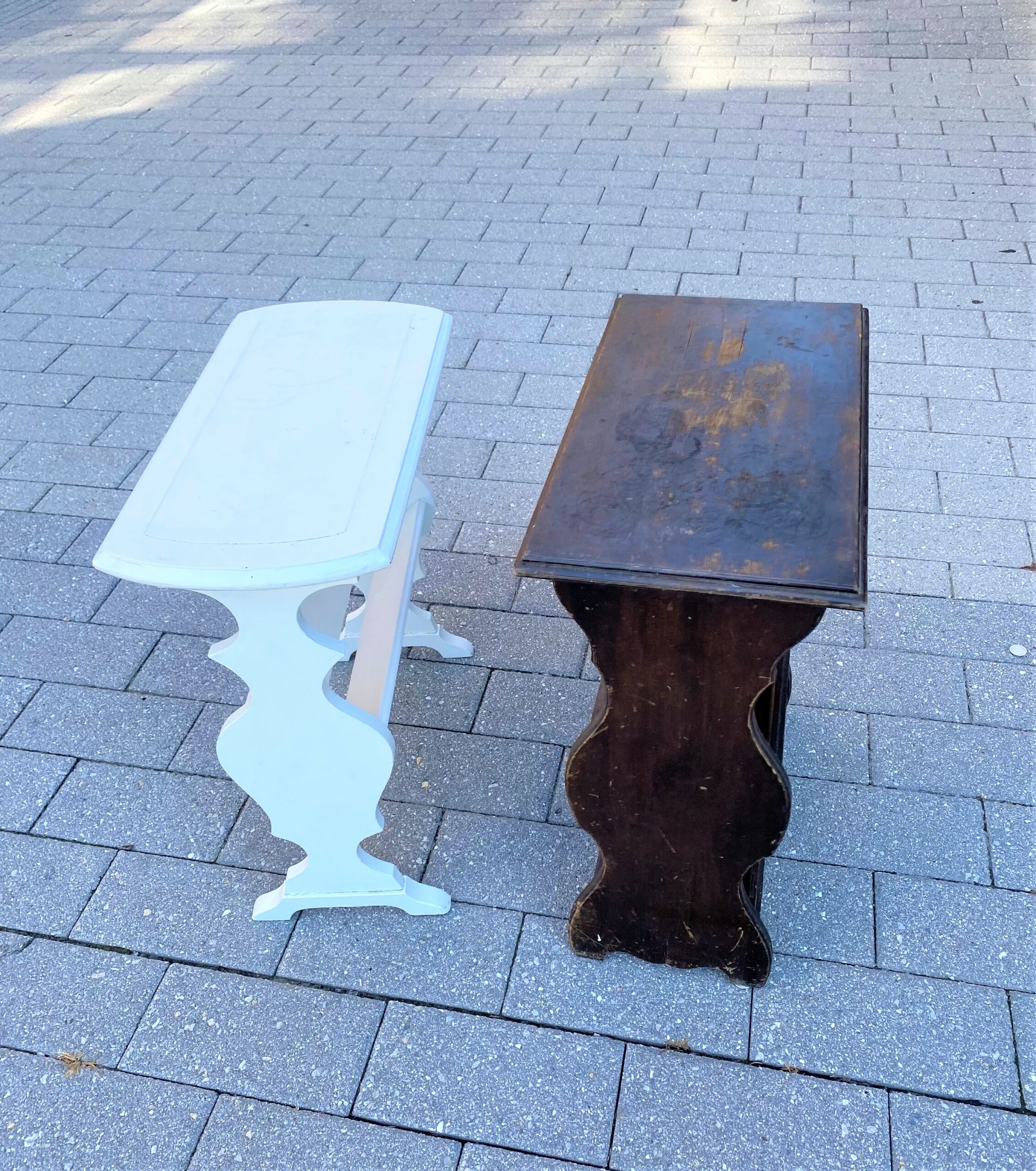 3. Brush on summer toned paint
Bright sky blue and deep ocean blue tones were selected as the base colors given the time of year when many of us often hit the beach and see these colors.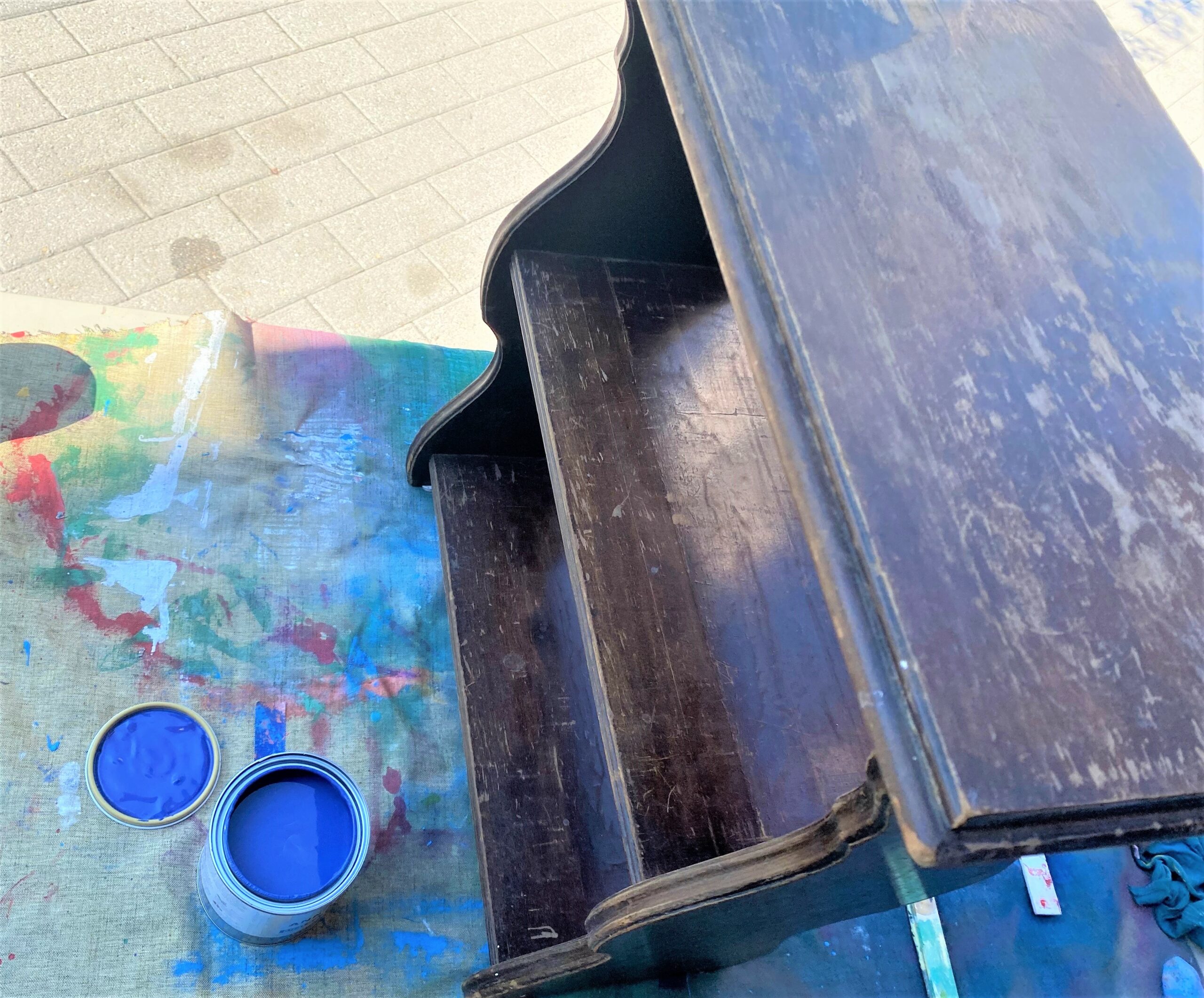 Place your table on your workspace and brush a light layer of paint over it. Let dry, then lay it on its side or top to get all edges.
Repeat this step until you have at least two to three solid paint coats on your table. This step is always so much fun because it is amazing how a coat of bright paint can change the mood of your piece…and your mood, too!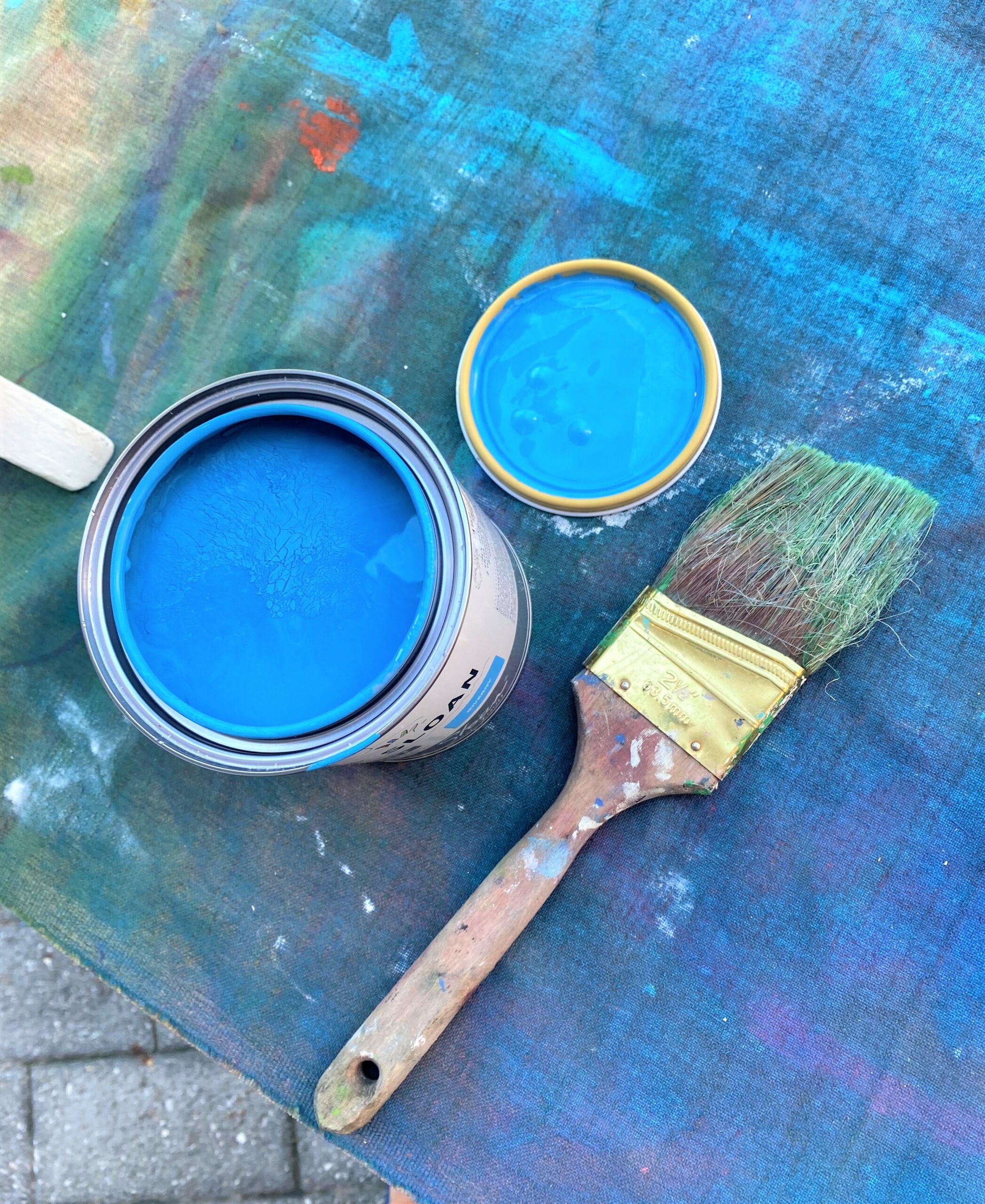 4. Let out your inner Van Gogh—paint on a sunflower or two
Dutch post-impressionist painter Vincent Van Gogh (whose life story is moving in many ways) painted countless images of sunflowers. Use him as inspiration, too, so approach your table's top as if it were a canvas. Sunflowers are simple to re-create when you draw or paint them because they are a circle with small brush strokes flowing outward from them.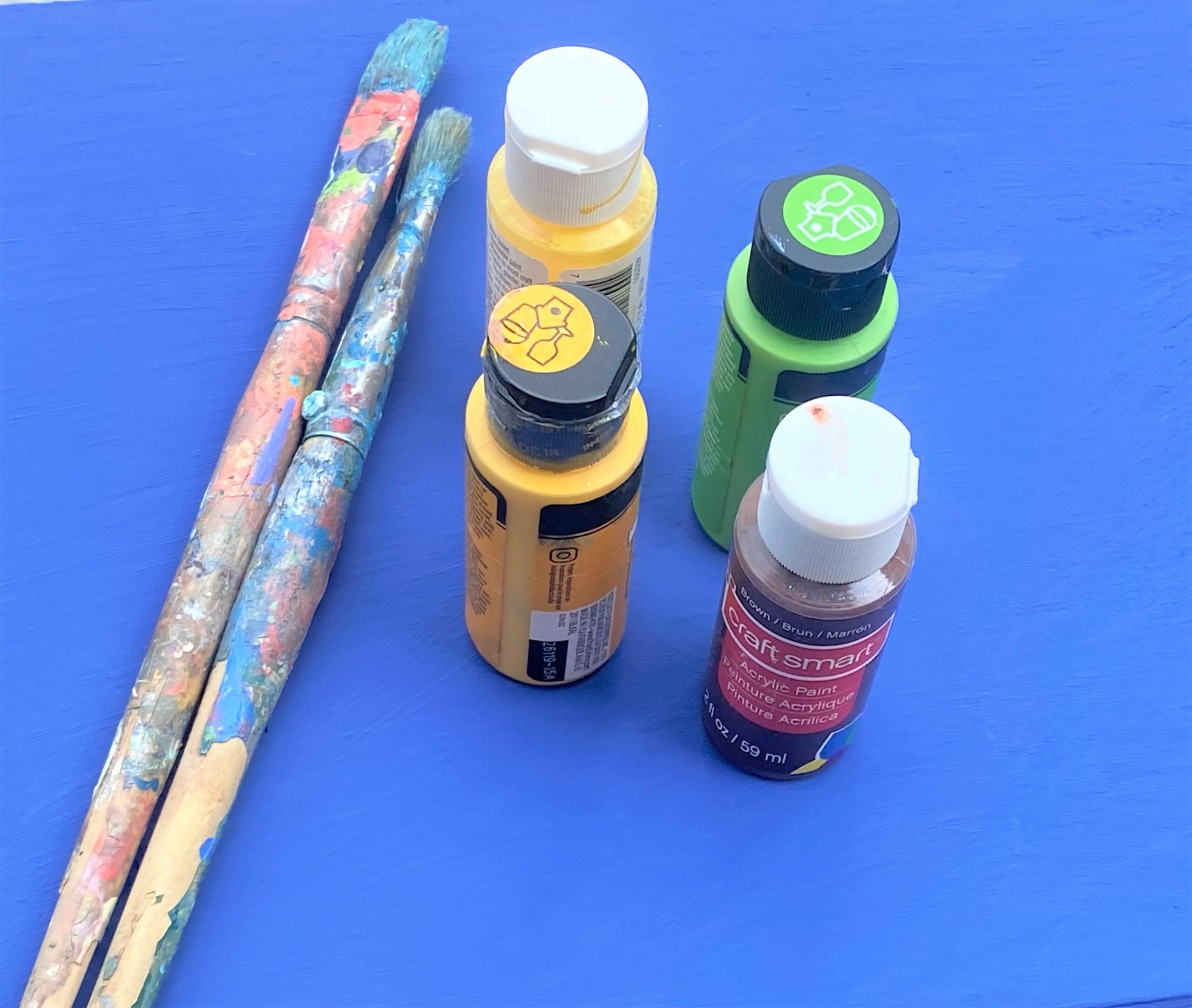 Paint a circle, then fill it in with dabbing brush strokes in brown and black.
Radiating from around the circle, apply yellow, white, and orange brush strokes.
Brush on leaves with green paint in a triangle shape with curvy sides.
To add an artsy feel to your flowers, add additional dots in yellow, gold, light blue, and even purple to their center.
Give your sunflower's petals some style by adding several layers of white along with yellow and oranges. Blend in some light blue and bright green in spots, too.
Brush on details on your leaves using purple and black, then add highlights in bright yellow and white.
Expert Advice: Have fun with this project and don't worry about perfection. Sunflowers are organic, flowing and cheerful so you can't go wrong. Use whatever colors of craft paints you have on hand to make each flower fun and flirty.
5. Destress to bring out details
After your sunflower artwork's paint has dried well, use your sanding block or sandpaper to distress your table and call attention to its pretty details.
Lightly sand away paint from edges along the top and the curved sides to bring them out. This will be a dusty, messy step, so do it outside if possible.
When your destressing is done, wipe down your table to remove the paint dust it will create. You may need to wash out your cloth often to keep them clean.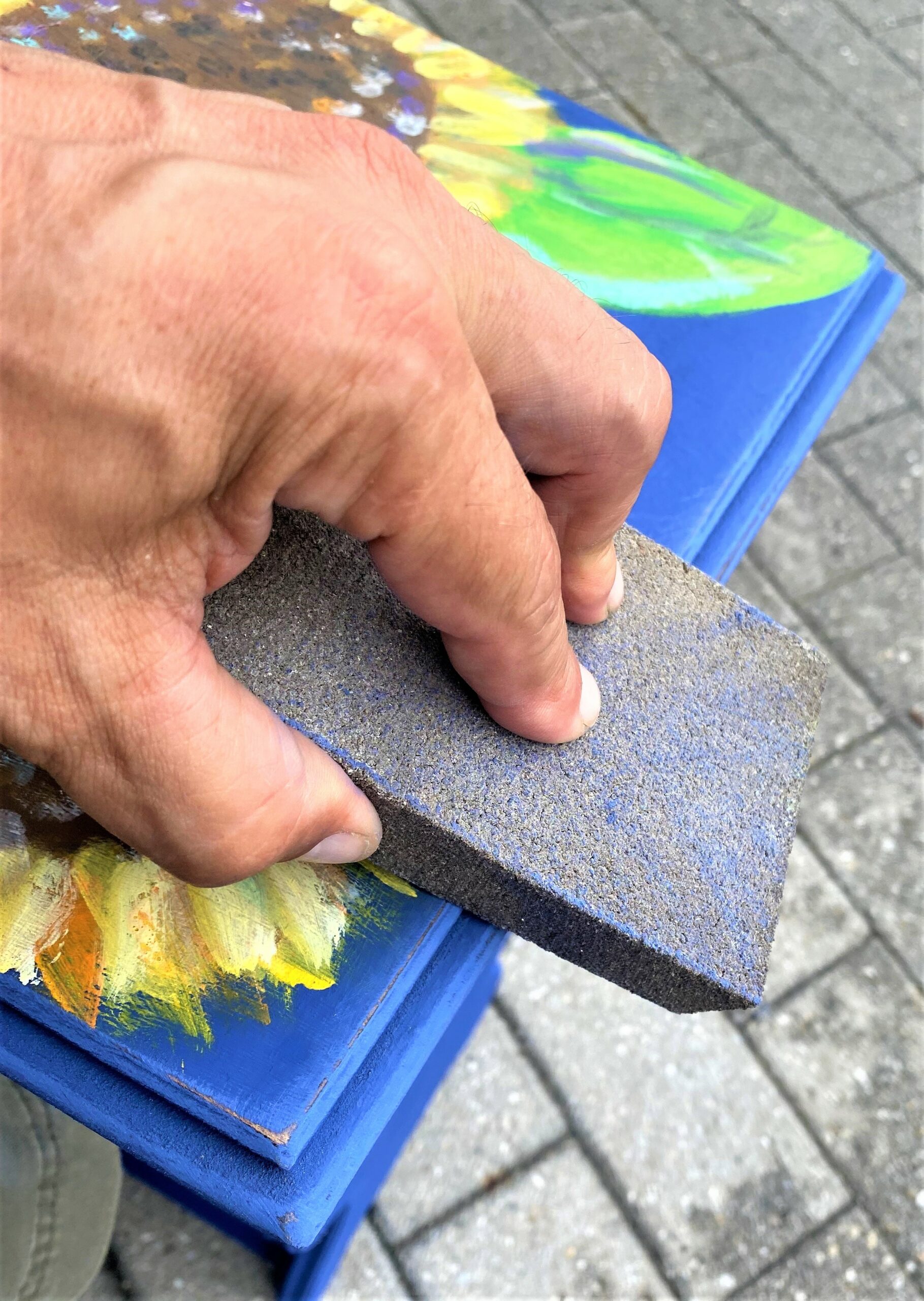 6. Add poly to protect
Brush on a couple of light layers of satin or semi-gloss finish polyurethane to protect your artwork and allow for easy clean up.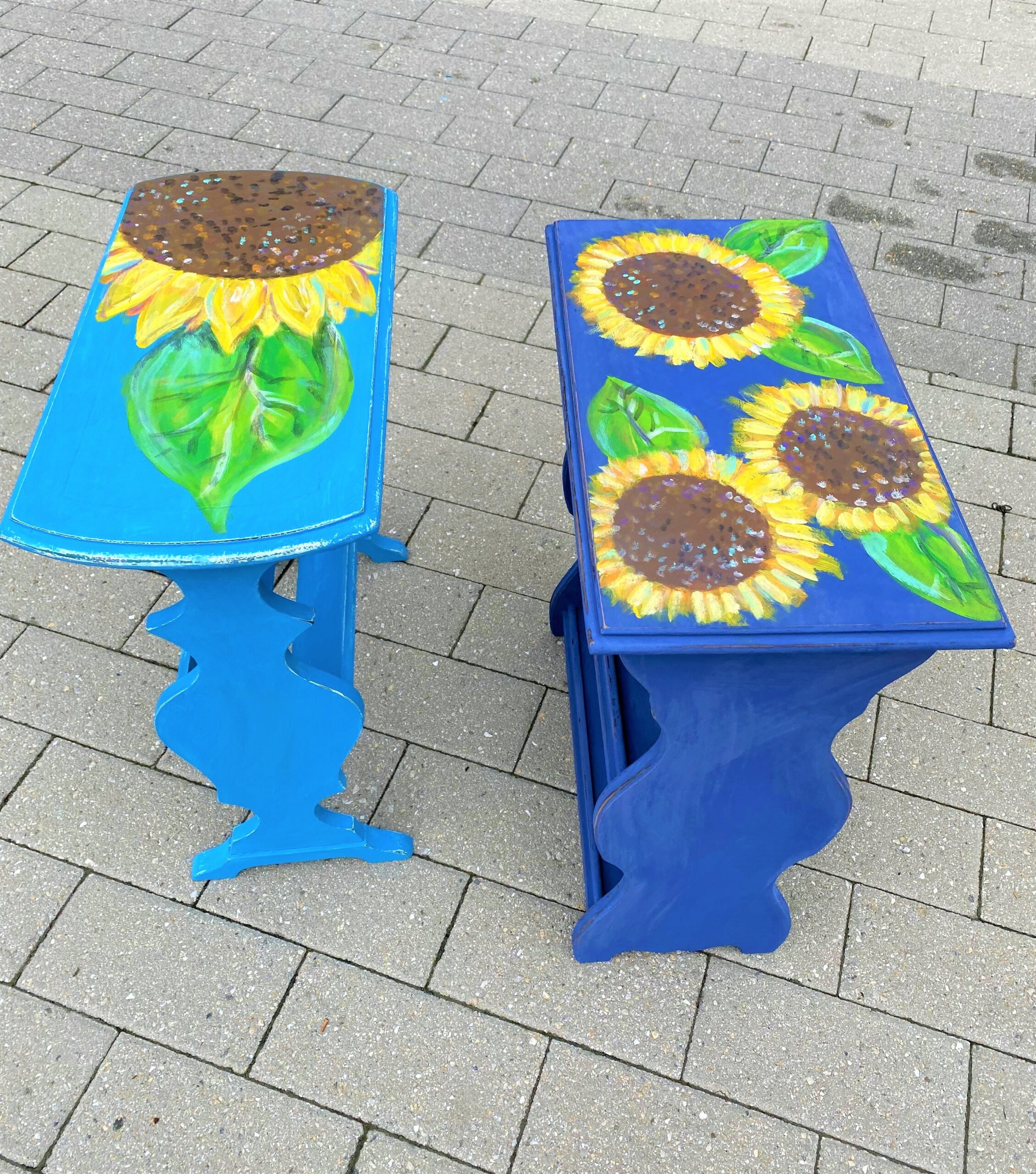 7. Place and accessorize
A small charming, and happy table like this blooming pair will look great anywhere.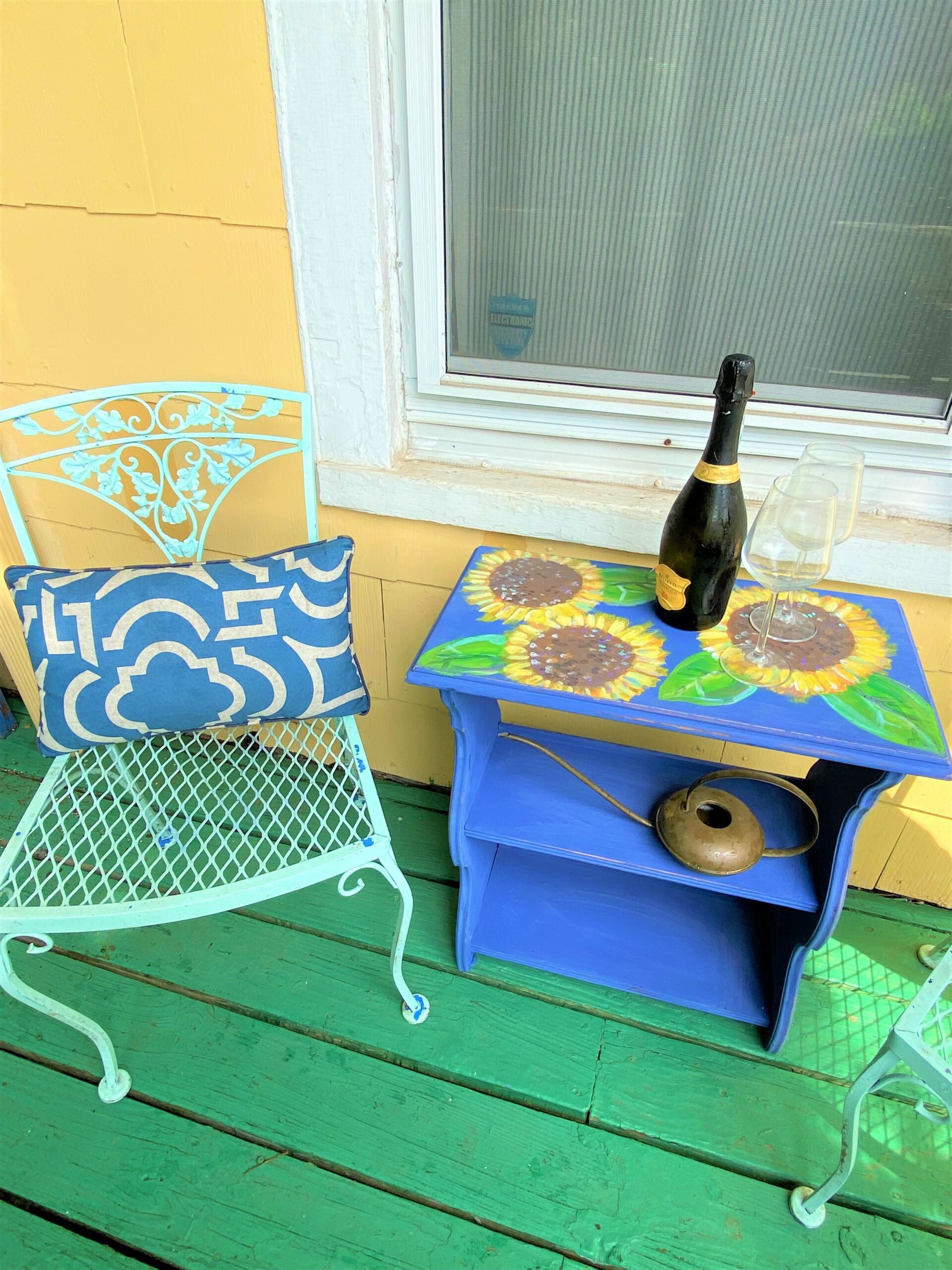 Place it on your deck or porch to hold drinks, or place your coffee mug. Put a small lamp on it and position it by your front door to welcome you home in a cheery way.
Set it next to a child's bed and add their favorite story books on the shelf. Sweet dreams are guaranteed for sure!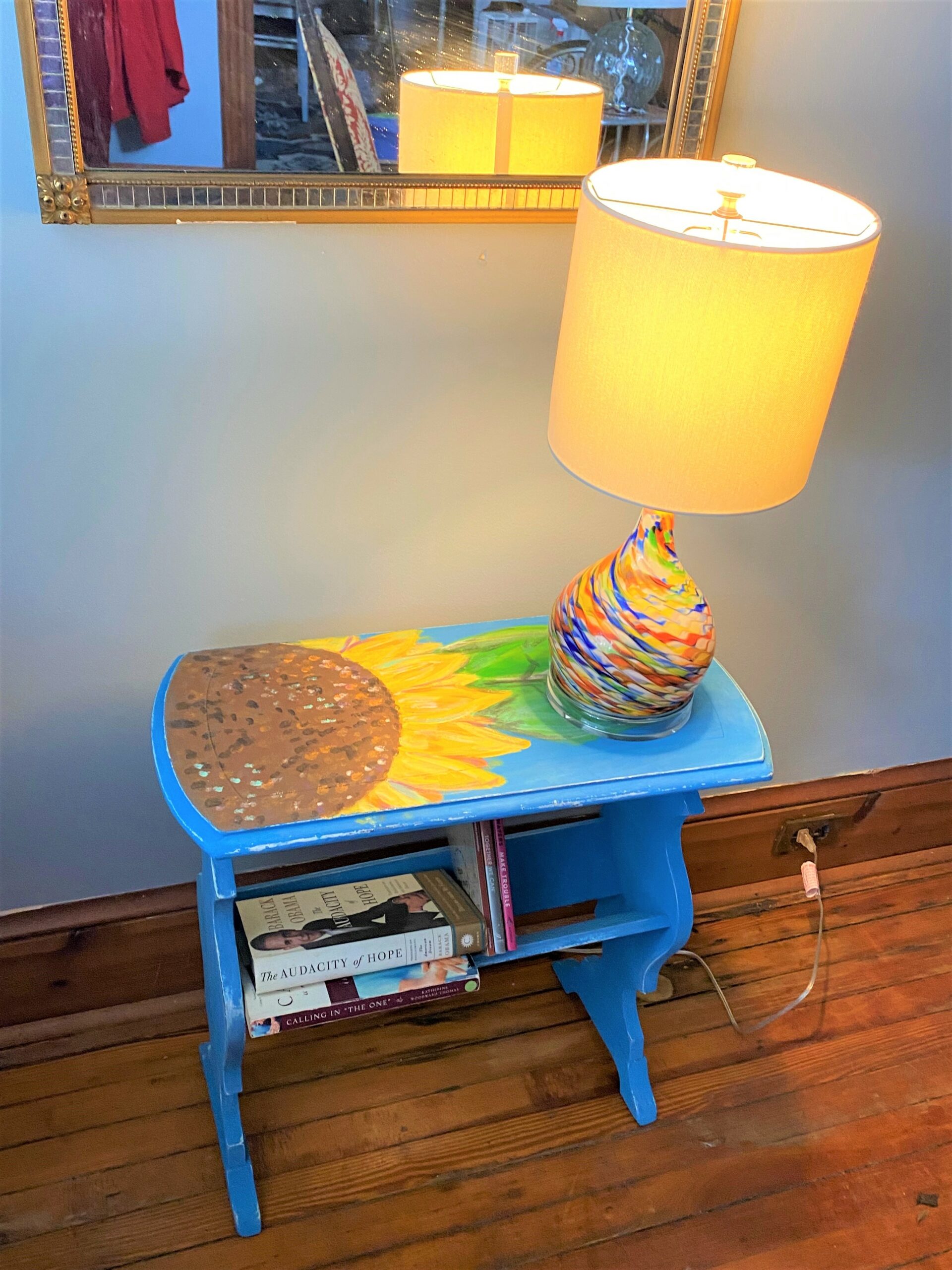 Wherever these sunflower-inspired tables call home, their friendly look will keep the happy summer memories around all year long!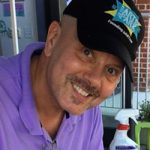 Tim Kime
Artist, Motivational Speaker, Life Coach
Tim Kime is an artist, life coach, connector. He is President of Kime Leadership Associates offering executive coaching, meeting facilitating and motivational speaking. He is also Chief Creative Force of Transformation Junkies which upcycles furniture and other household items into functional works of art. He combined his two passions—unleashing the potential in people and transforming items with the launch of the Art of Possibilities Workshops. These workshops are part upcycling, part dreaming, part goal setting.