Based on the remarkable response to my recent spray-painted easy chair transformation featured in the Finding Your Good blog, here's another one to whet your DIY appetite.
An elegant, upholstered side chair is given a jewel-toned transformation to take her from wallflower to belle of the ball. And yes, she was given her colorful new look not with dye, not with new fabric but rather with spray paints designed just for fabric.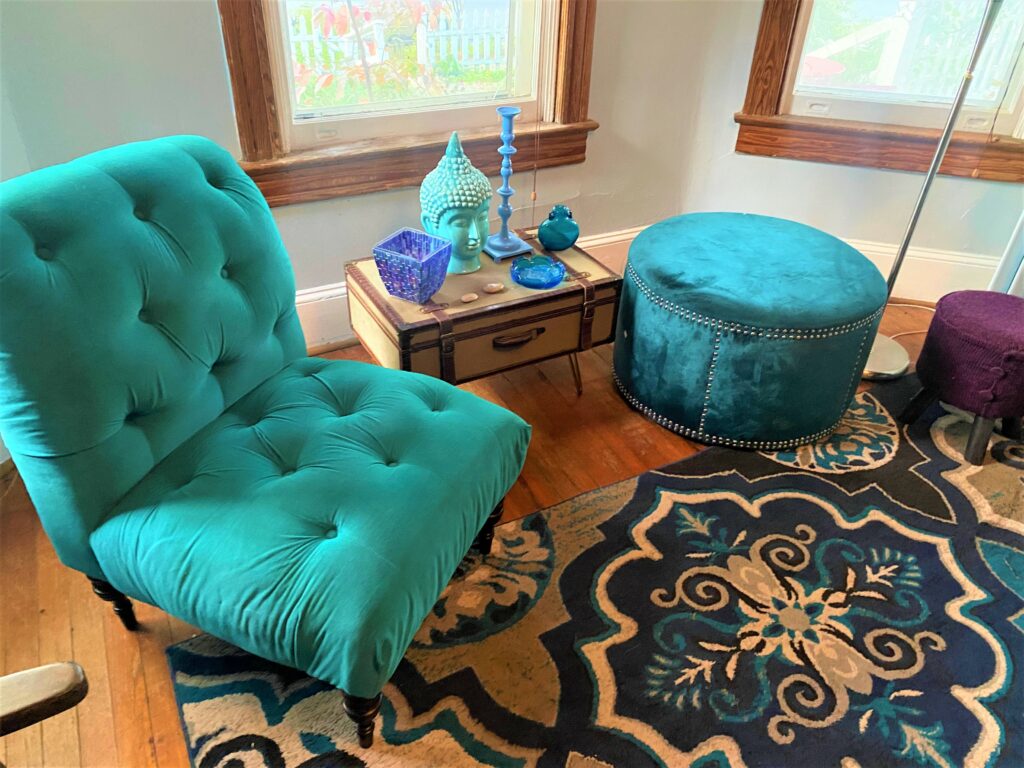 Items needed:
· Fabric covered easy chair
· Outdoor fabric paints in teal and turquoise
· Drop cloth
· Face mask
· Plastic or work gloves
1. Find your good and a "diamond in the rough" at Goodwill
There is something about a tufted chair (or sofa or headboard) that is super chic and sophisticated, while being timeless all at the same time. As soon as I saw this gem at Goodwill, it was certainly a must-have to transform—and possibly to keep for myself. The chair was in excellent shape, fabric-wise, but was very faded from likely being in a very sunny room. It's curvy shape and round wooden legs added to its elegant appeal.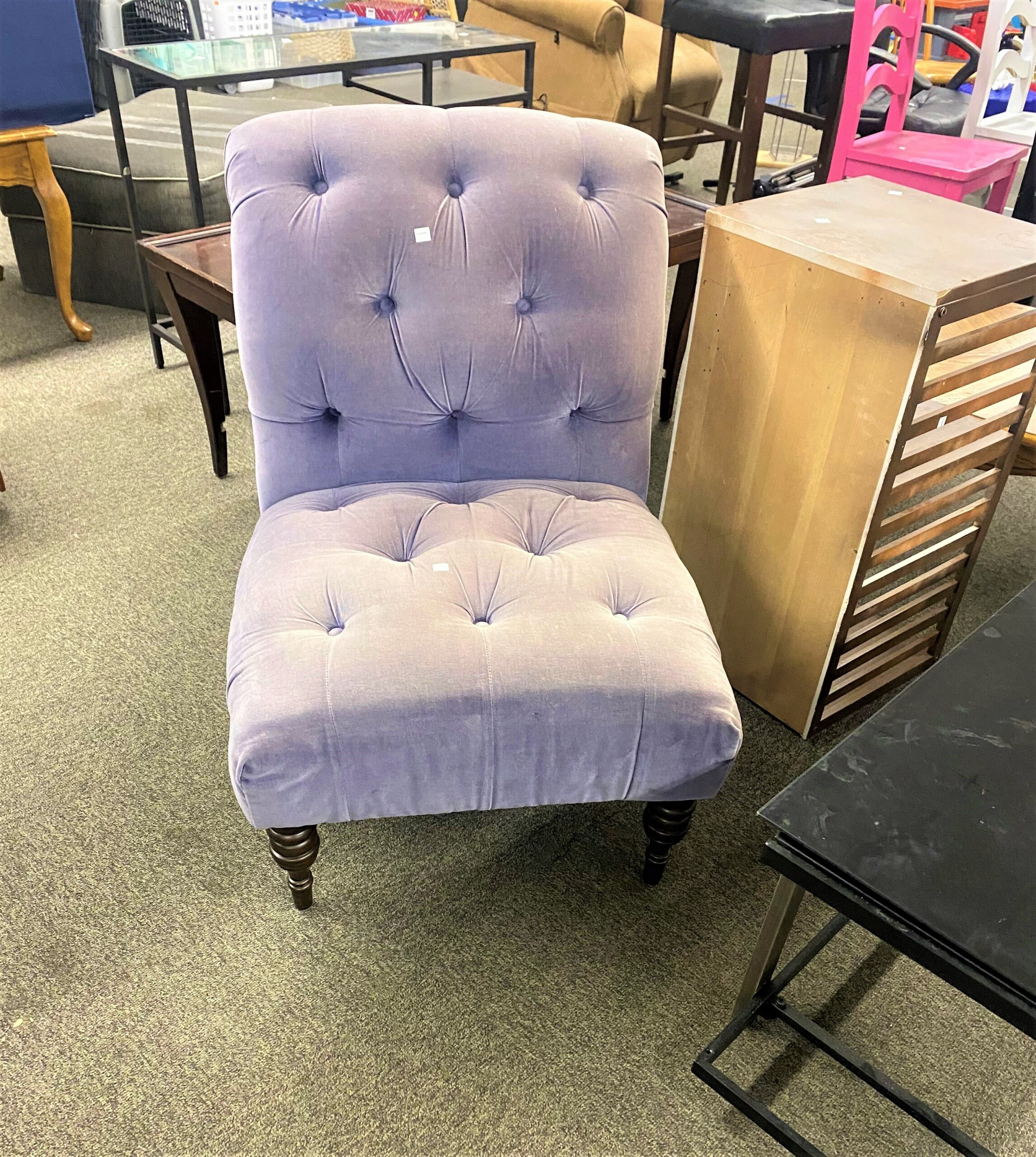 What is tufting? According to the experts at Wikipedia, "tufting is achieved when layers of fabric are tightly stitched into a pattern forming indents that are evenly positioned throughout." Given the time and care it takes to create a tufted piece, be sure to take home any and all you see at Goodwill, knowing that you can tweak the color a bit by this process.
2. Find fabric paints either online or the hardware store
When I stumbled across these paints at the big box hardware store near my home, I had no idea what to expect. For a relatively small investment for the paint and next to nothing cost for the chair, it was worth the low risk to see what would happen. Consider this as you think about trying your hand—and fingers and wrists—by upcycling a piece with paint. Given this new technology in painting, the color options are fewer than regular spray paints AND if you are like me, you will find a couple of colors you love. Teal and turquoise always make my list and it was exciting to see them as options.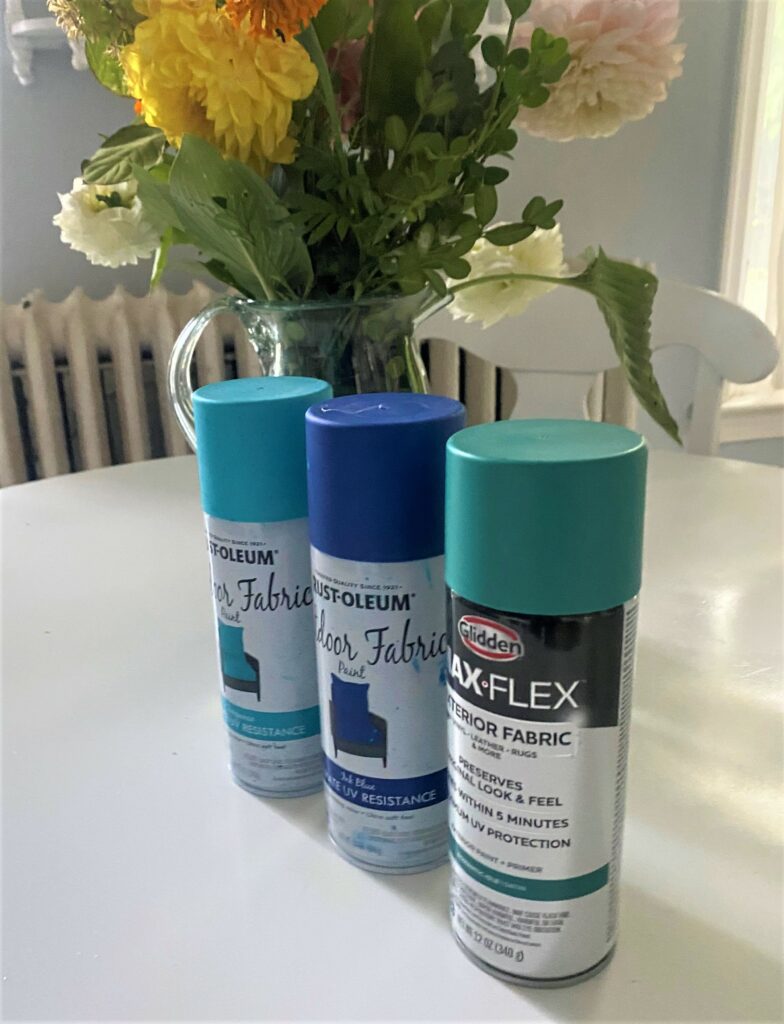 3. Get outside (if possible) & start shaking!
We still have some nice days outside, so take advantage of Mother Nature's warm spirit by doing this project outside. Before painting, are there any parts on your piece that can be removed or should be protected with painter's tape? One of the beauties of this side chair was that all the legs easily screwed off so were put aside before painting.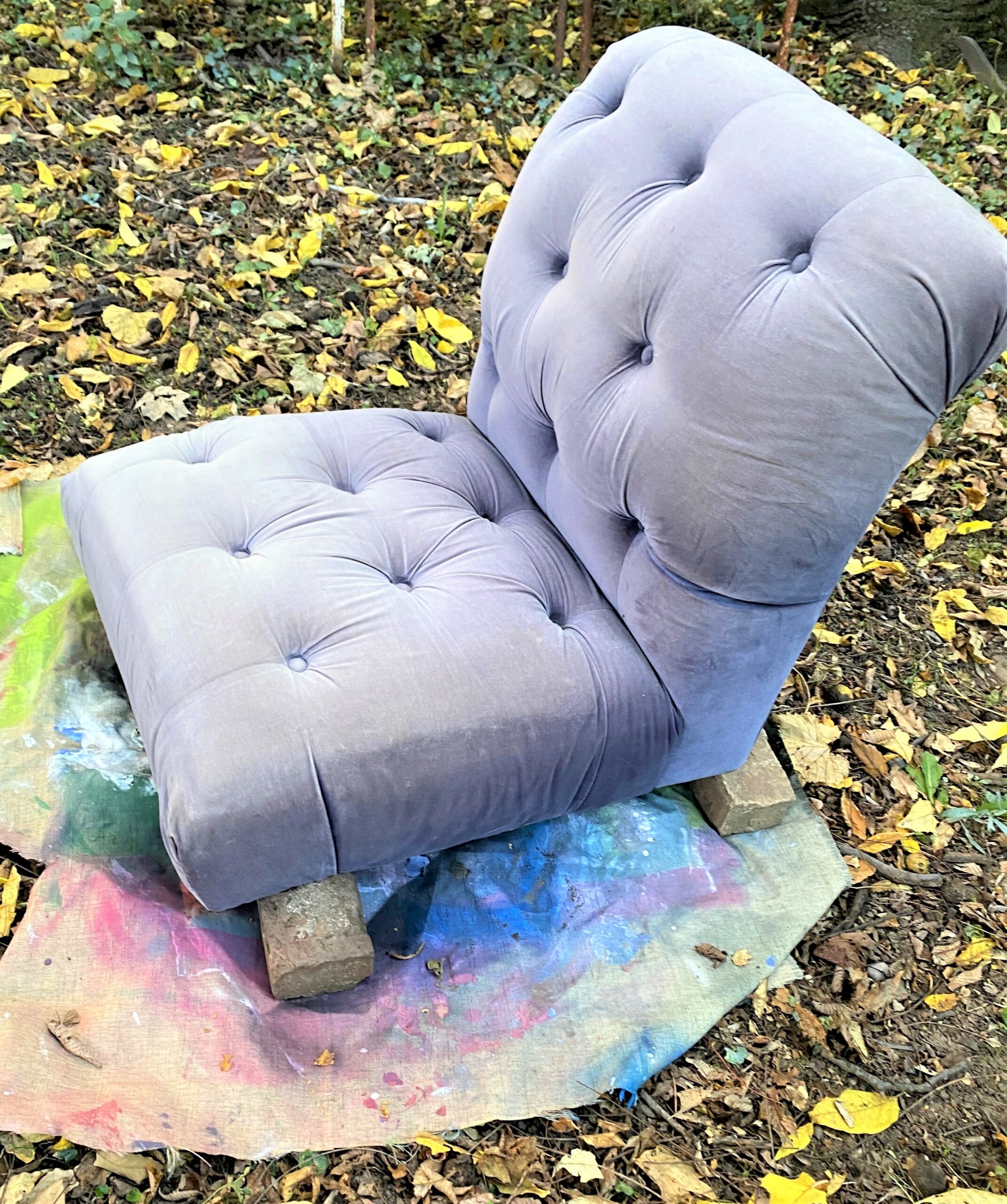 After putting your chair on the drop cloth, shake, shake, shake your spray paint can very, very, very well. Then go to town on it adding a solid layer over its entire surface.
The fabric will absorb the paint quickly so this step will take some time—some finger and wrist strength, too (smile).
To ensure solid and even coverage, you will likely need to give your chair several layers of paint so be sure to buy a couple extra cans, just in case. After a couple of layers, let it dry then place it on its side to get any lower parts which might show when the legs are reattached. Let dry overnight before putting it back together. That's it…super easy and super exciting!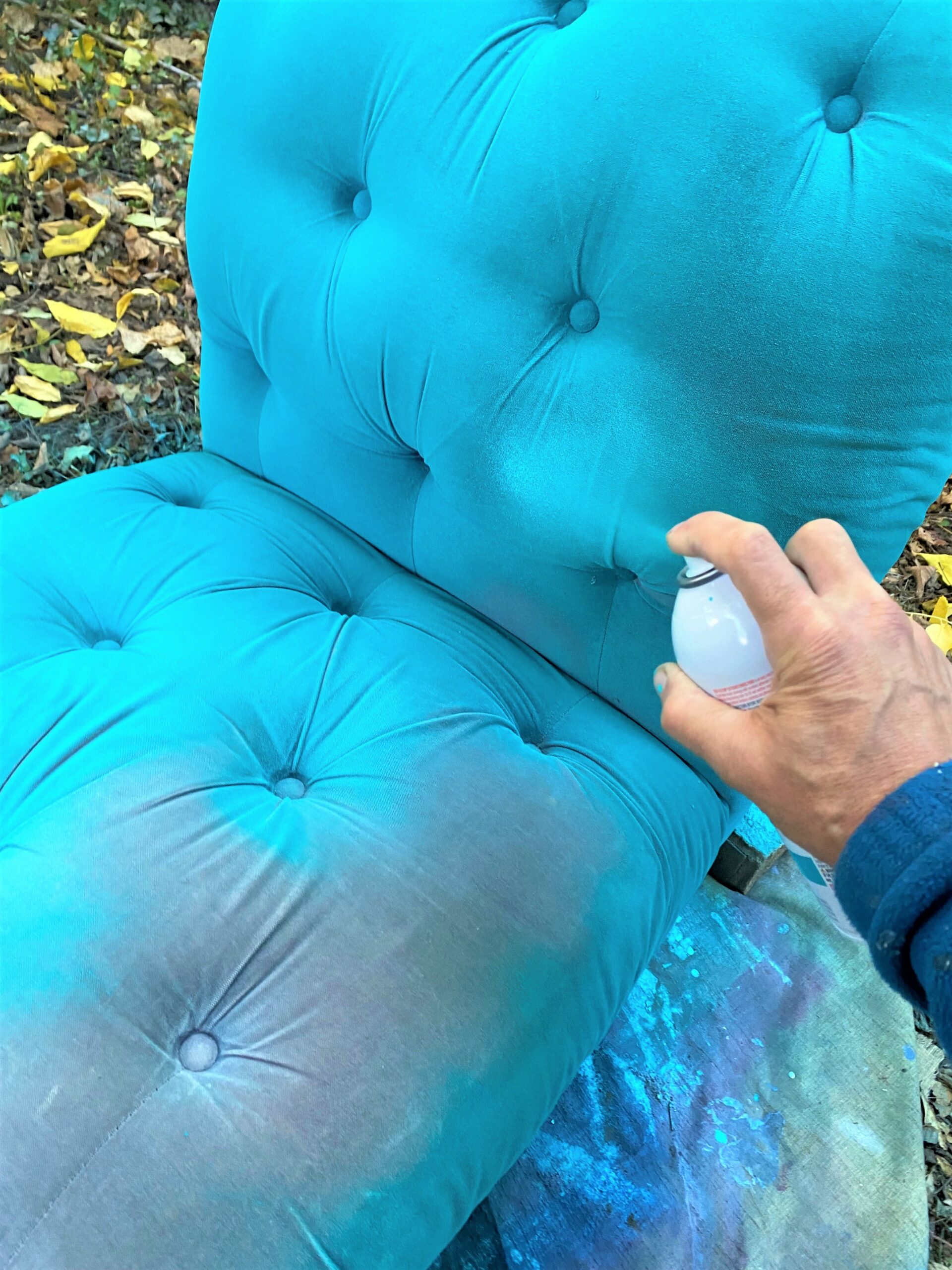 Expert Tip
A lesson I learned with my first spray painted chair transformation is that this fabric paint is much for fluid and watery than traditional spray paints. This allows the fabric to absorb them and their new colors.
Be sure to wear plastic or work gloves to protect your hand from the paint's drippy, runny make up. Also, the paint didn't go as far as I thought, so pick up an extra can or two to ensure you have enough for several layers and solid coverage.
Design idea
To give your piece some extra dimension and visual flair, consider adding layers of different colors in the same general color palette. The first layer was turquoise and the second was a greener tone which resulted in the lovely emerald jewel tone, making it truly a one-of-a-kind piece.
Select colors that are close in tone like blue, green, teal together or perhaps red, yellow and orange. Don't mix colors on the "opposite" side of the color wheel, like red and green, because the result will be brown—and I don't think you will be happy with that hue.
4. Add other thrifted gems to sit in style
This is the hardest step in your fabric chair's transformation using spray paint—-deciding where to place her now that she is bold and beautiful!
Place her with a side table and a lamp—also found at Goodwill—to provide a lovely space to read or converse. Pair her with another fabric painted chair in the same color so she has a matching friend, at least color-wise.
Wherever she calls home, you will congratulate yourself on your transformational talents and for finding a jewel ready to polish.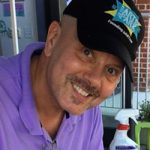 Tim Kime
Artist, Motivational Speaker, Life Coach
Tim Kime is an artist, life coach, and connector. He is the President of Kime Leadership Associates, offering executive coaching, meeting facilitating, and motivational speaking. He is also Chief Creative Force of Transformation Junkies, which upcycles furniture and other household items into functional works of art. He combined his two passions—unleashing the potential in people and transforming items with the launch of the Art of Possibilities Workshops. These workshops are part upcycling, part dreaming, and part goal setting.