A numinous November to you, my fellow gifted thrifters and thrifty gifters!
It's the third and last month of Fall, Cheshvan and Kislev of 5783, Transgender and Native Months! The month of All Saints Day, All Souls Day, Daylight Saving Time, Election Day, Veterans Day, Transgender Day of Remembrance (TDOR), Sigd, Day of Mourning / Thanksgiving Day, Native Day, Small Business Saturday, the beginning of Advent, and GivingTuesday! And don't forget to include Goodwill in your GivingTuesday.
Nu, if you know me here and/or elsewhere, you know I adore the seashore. And that includes thrifting seashore-themed things, for myself and others. And I don't think I have to tell you there aren't a lot of shopping days left until the Winter holidays. Or that thrifted gifts are the best gifts – especially because you save your money and our Earth while supporting great causes. My family and I celebrate Chrismukkah. I don't currently give eight nights or 25 days of gifts to anyone, but sometimes it feels like it. I've always loved gift giving, but whew.
Thereshore – I mean, therefore – let's look at some of the best seashore-themed items I've seen on Goodwill of Greater Washington's Shop Goodwill site recently. I've also seen and bought some great shore items at my local DC Goodwills this year – here in Gaithersburg, and in neighboring Rockville.
Yes, Shop Goodwill has a lot of Lilly Pulitzer, and much of it is shore themed – mostly very small sizes, but not always.  And how fabulous is this purse – you really have to click through to see all of it – especially the back, which has a lot of the classic abalone colors.  Also, check out the unusual aerial view of the beach on the sneakers.  Too, I was pleased to see the Cape and Islands of my home state of Massachusetts on the bag.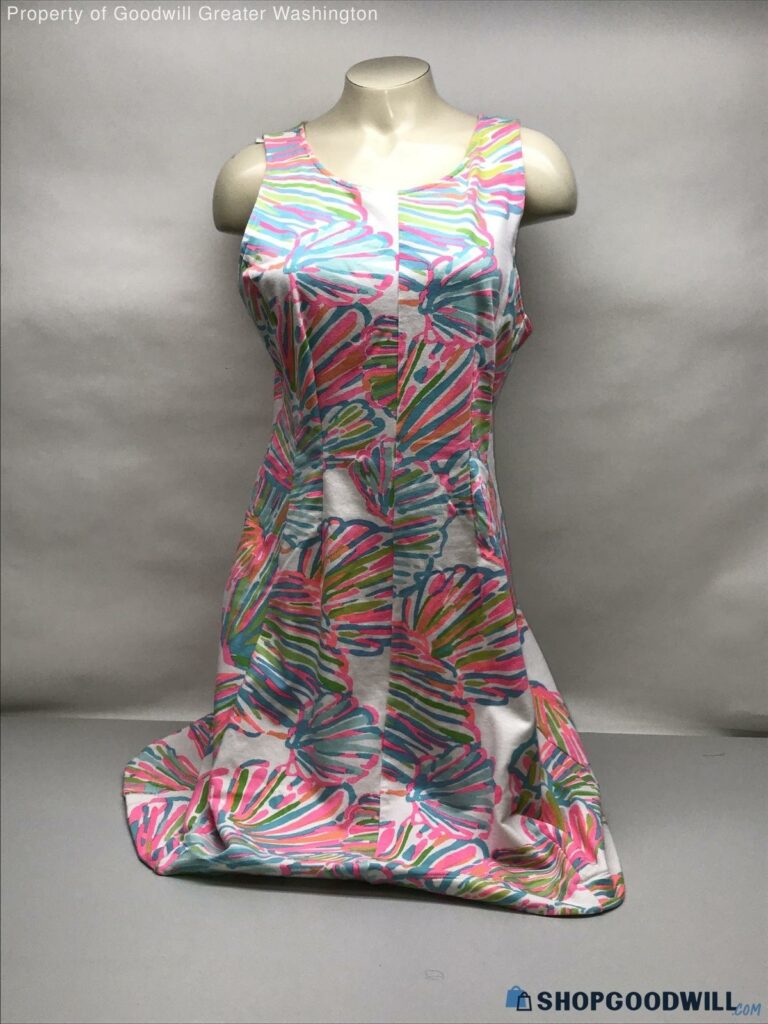 https://shopgoodwill.com/item/154108879 – Lilly Pulitzer Women's Hot Pink White Lime Green Blue Pleated Dress Size Large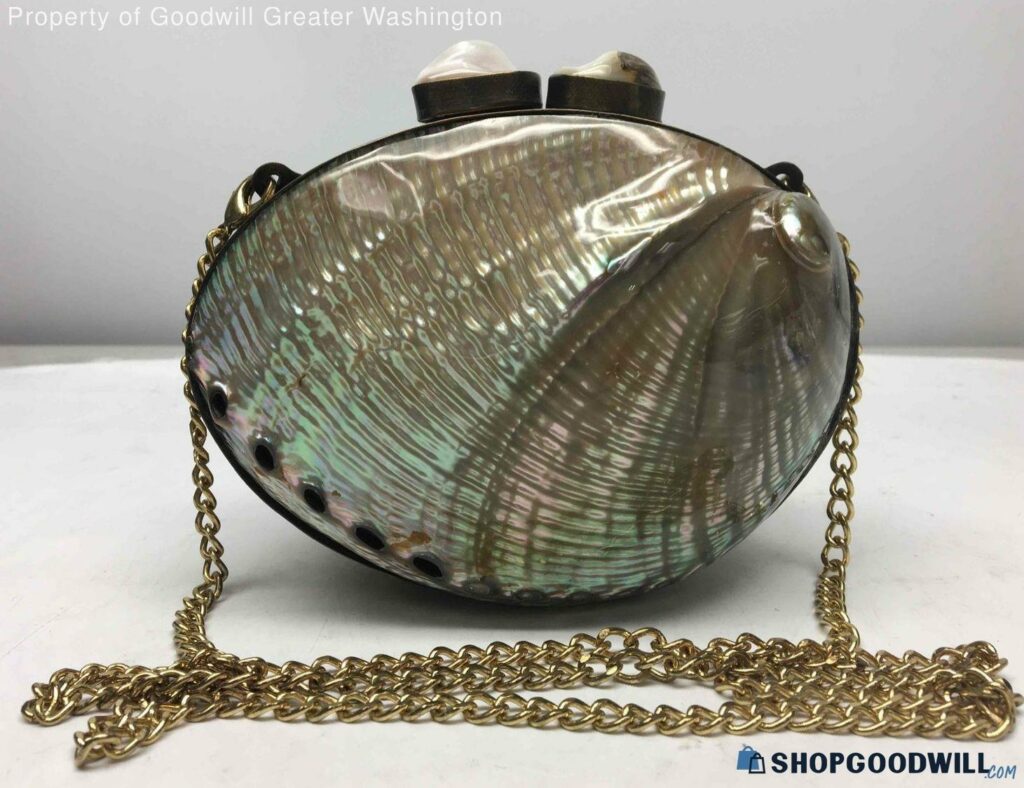 https://shopgoodwill.com/item/149689982 – Vintage Sea Shell and Metal Crossbody 6×4 Shoulder Bag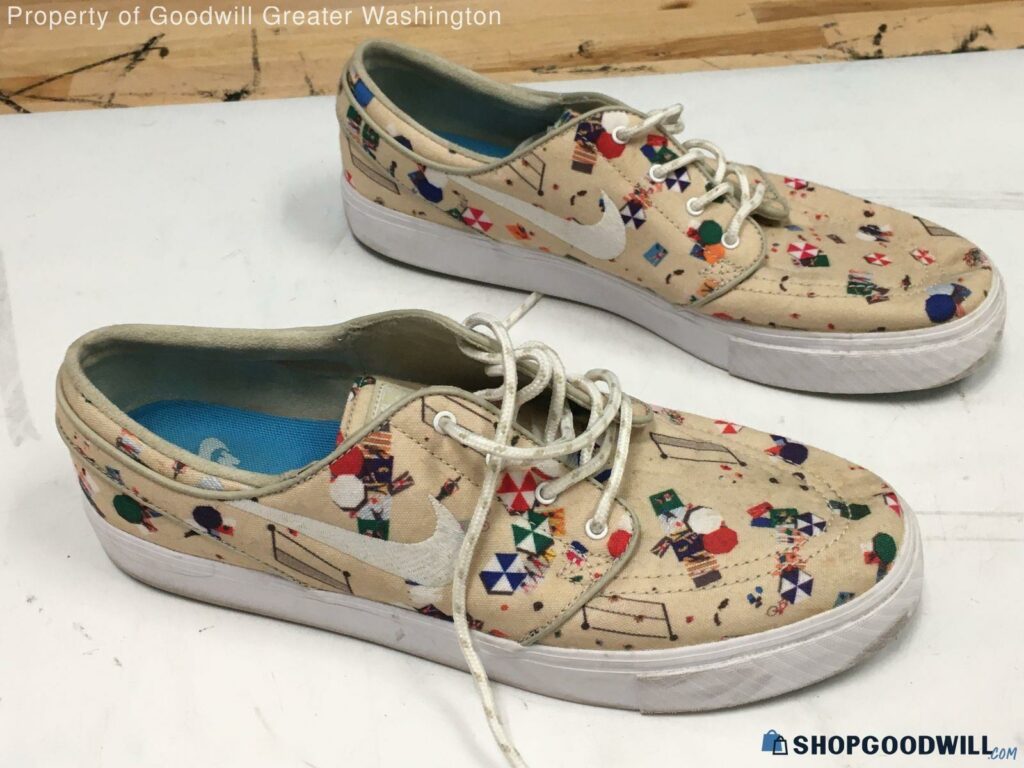 https://shopgoodwill.com/item/154944594 – Nike Zoom Stefan Janoski 'Beach' Men Shoes Size 9.5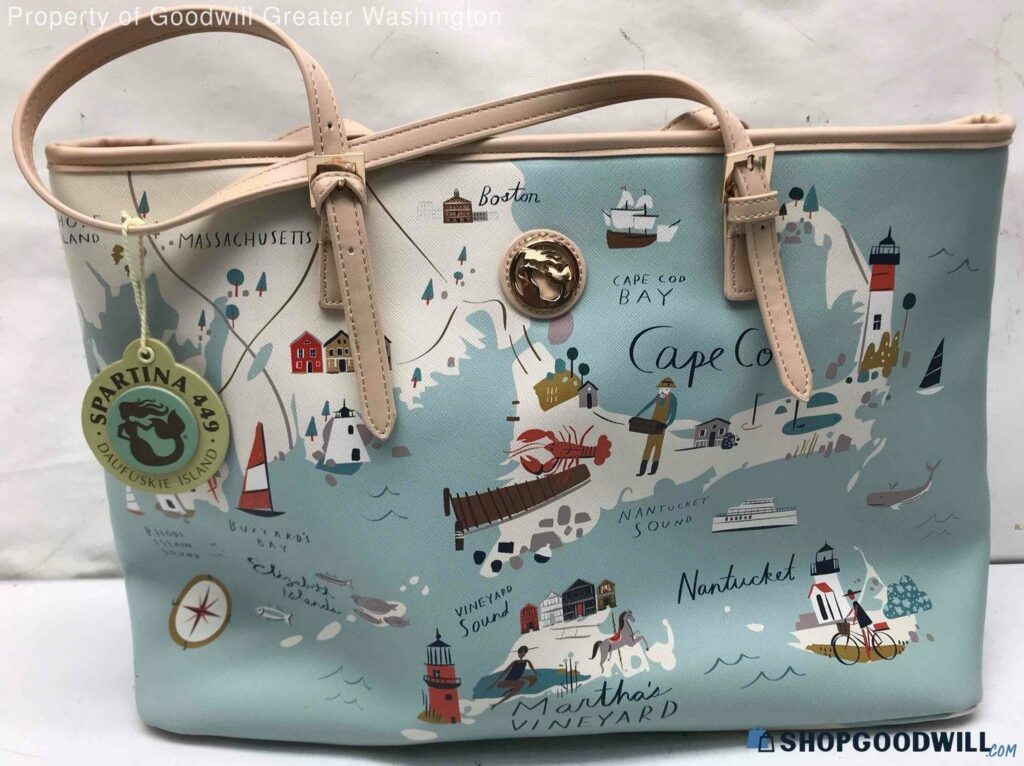 https://shopgoodwill.com/item/151718242 – Nwt Spartina 449 Daufuskie Islands Northeastern Harbors Map Tote
This set of artworks is so nice, and framing them in weathered wood that looks like seashore houses really complements and enhances them.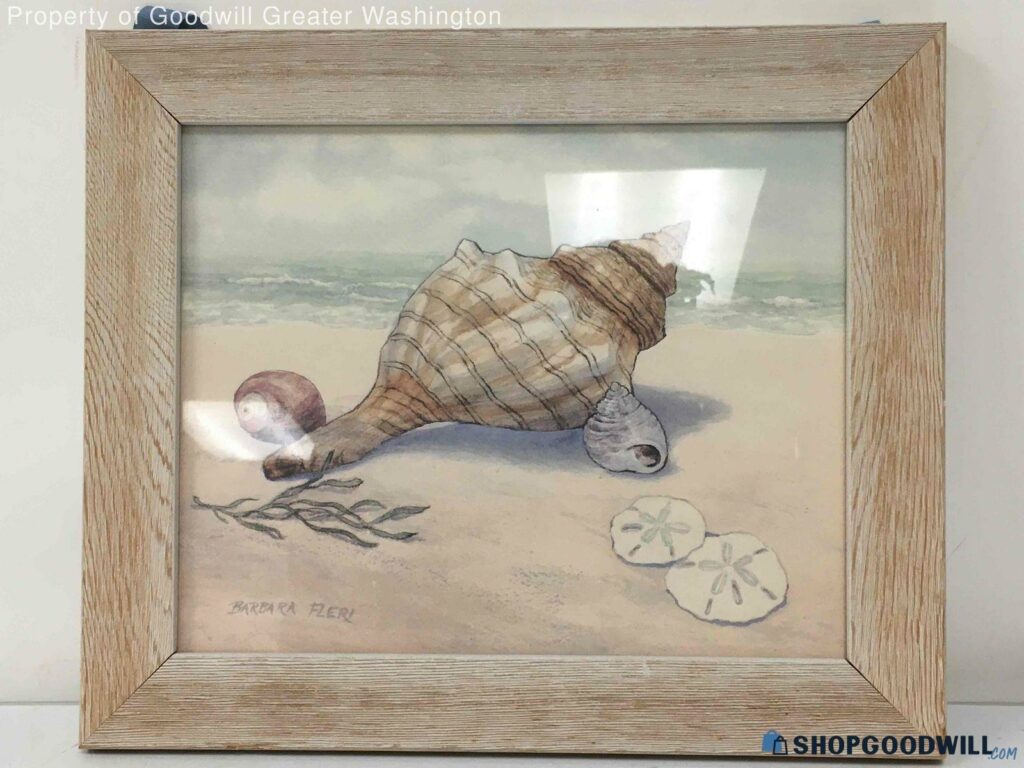 https://shopgoodwill.com/item/151450317 – Vintage Signed Barbara Fleri Framed Seashells Beach Framed Painting 10×12″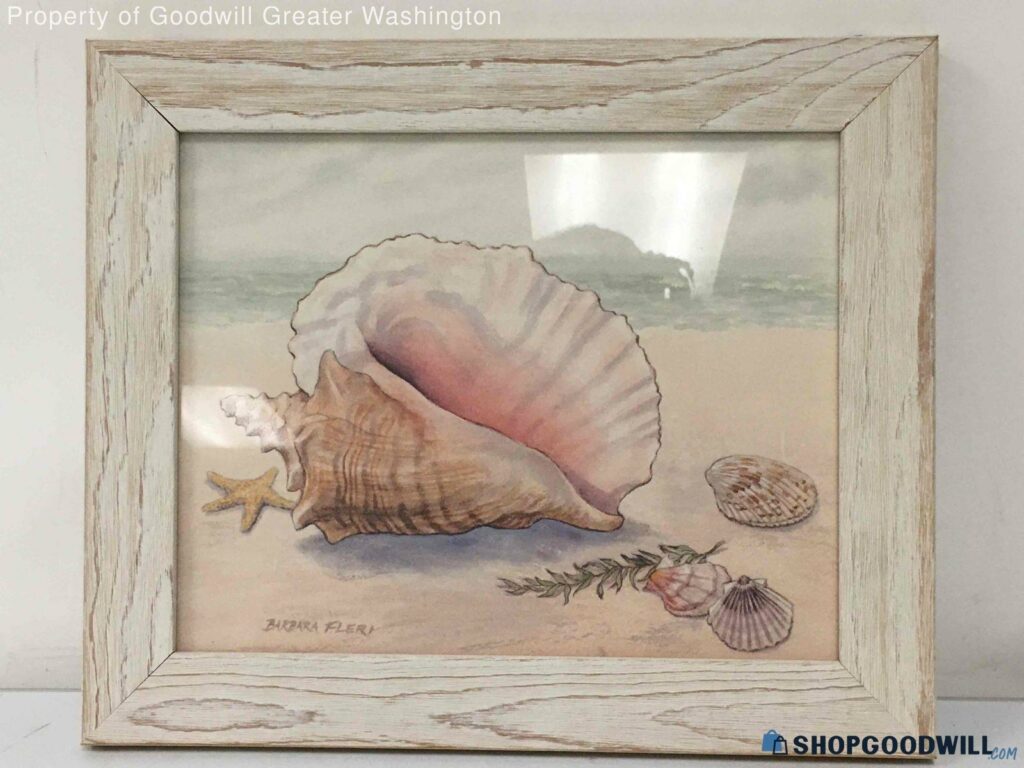 https://shopgoodwill.com/item/151450705 – Vintage Signed Barbara Fleri Beach Scene With Seashells Framed Painting 10×12″
I love these, and was very tempted to bid on them. Though there is a part of me that isn't sure I'd want them in my home. Especially at night.
https://shopgoodwill.com/item/150616989 – One With The Sea Unsigned Sculpture 15×9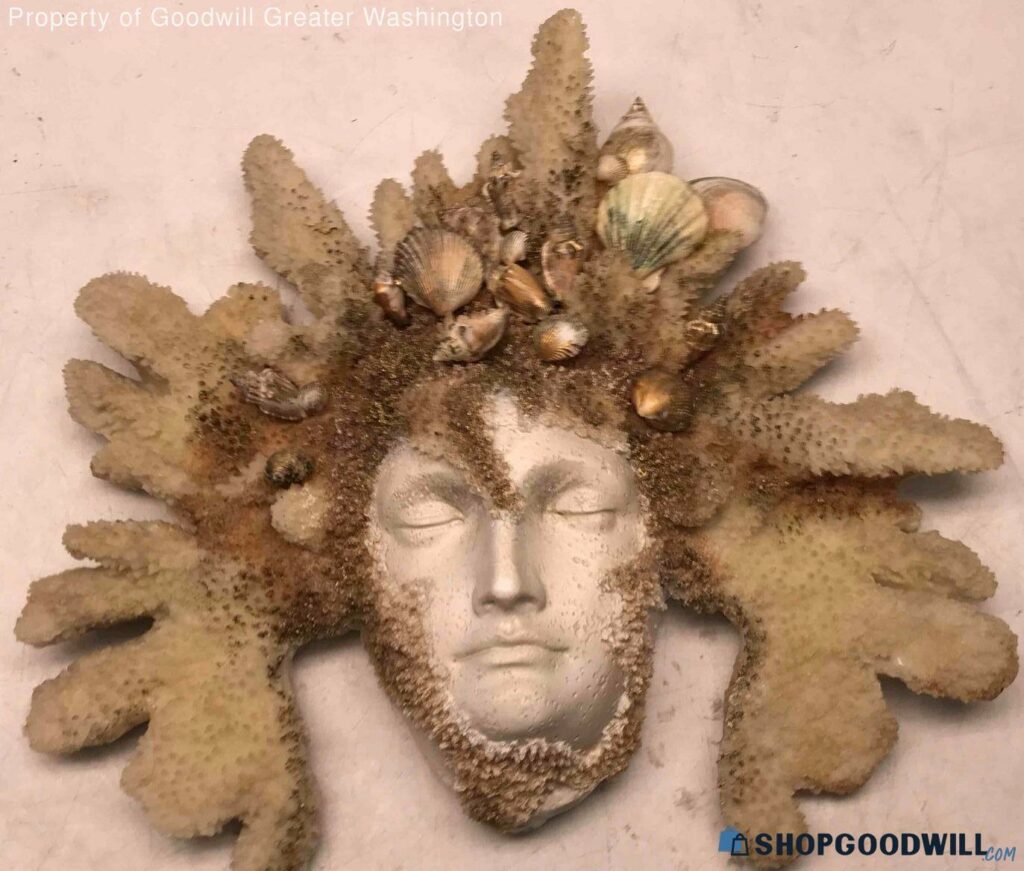 https://shopgoodwill.com/item/154799476 – Plaster Face Sea Shells Coral Wall Sculpture 16×14″
What time is it? It's always time to be at the shore, if you're me and mine. Especially in the off season.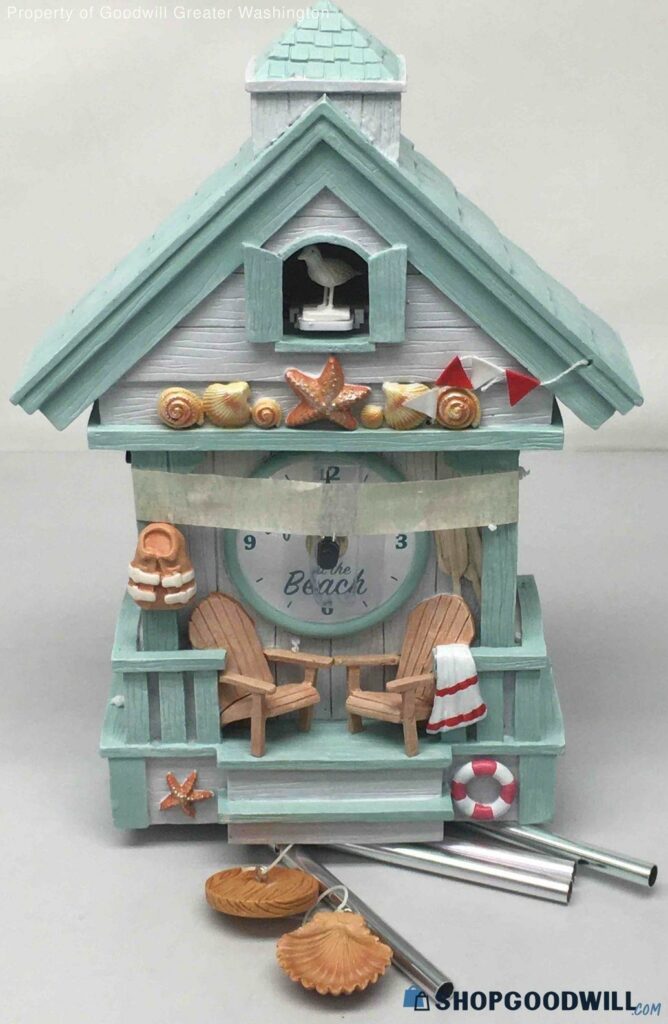 https://shopgoodwill.com/item/145121541 – Life Is Good At The Beach 12″ Green And Grey Clock
Shells, seagulls, and sailing ships, oh my! The ship is particularly interesting, because the sails are made out of pieces of animal horn – probably buffalo. It actually reminds me of a deconstructed shofar (the Jewish ritual musical horn made from a ram's horn).
https://shopgoodwill.com/item/151711583 – Authentic Orange Brown Iridescent Abelone Seashell Home Decor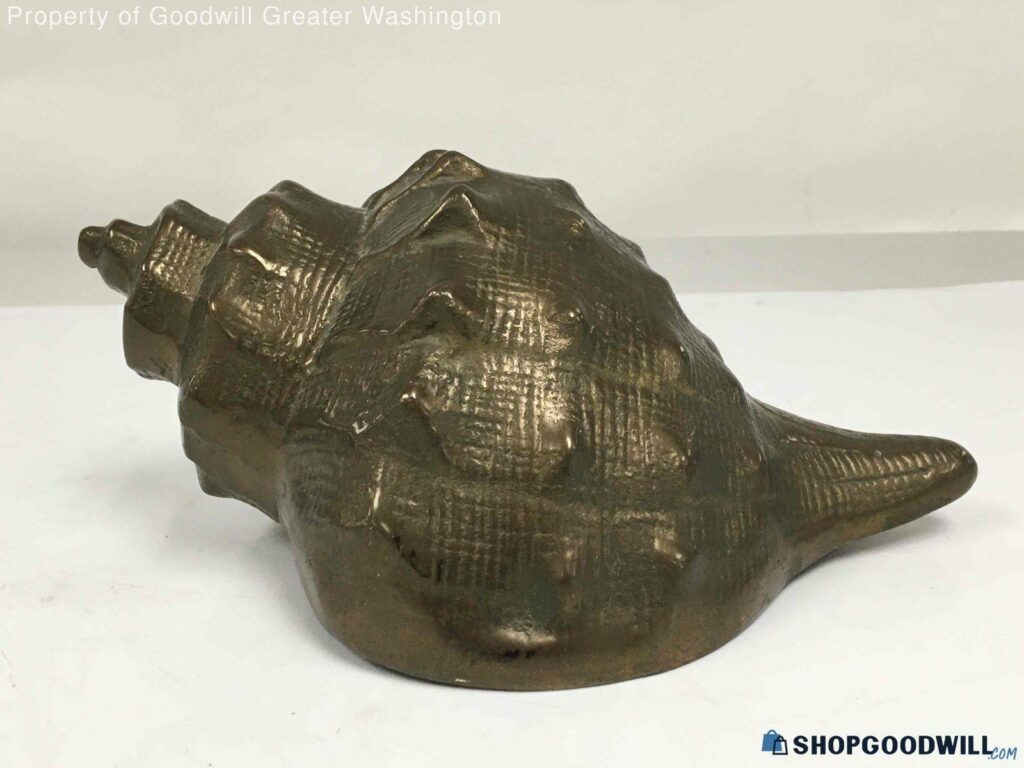 https://shopgoodwill.com/item/143367805 – Brass Metal 6.5″ Conch Shell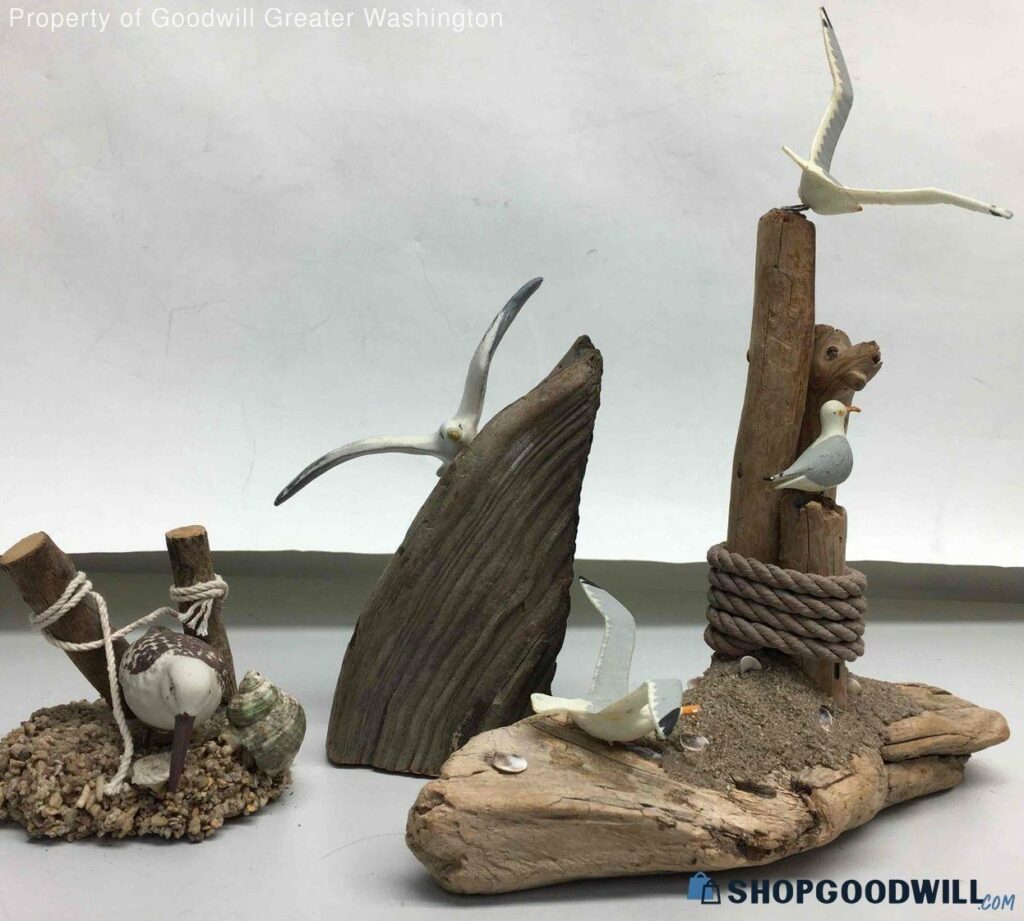 https://shopgoodwill.com/item/142963477 – Unbranded Lot Of 3 Stone Seagulls On Wooden Base Decor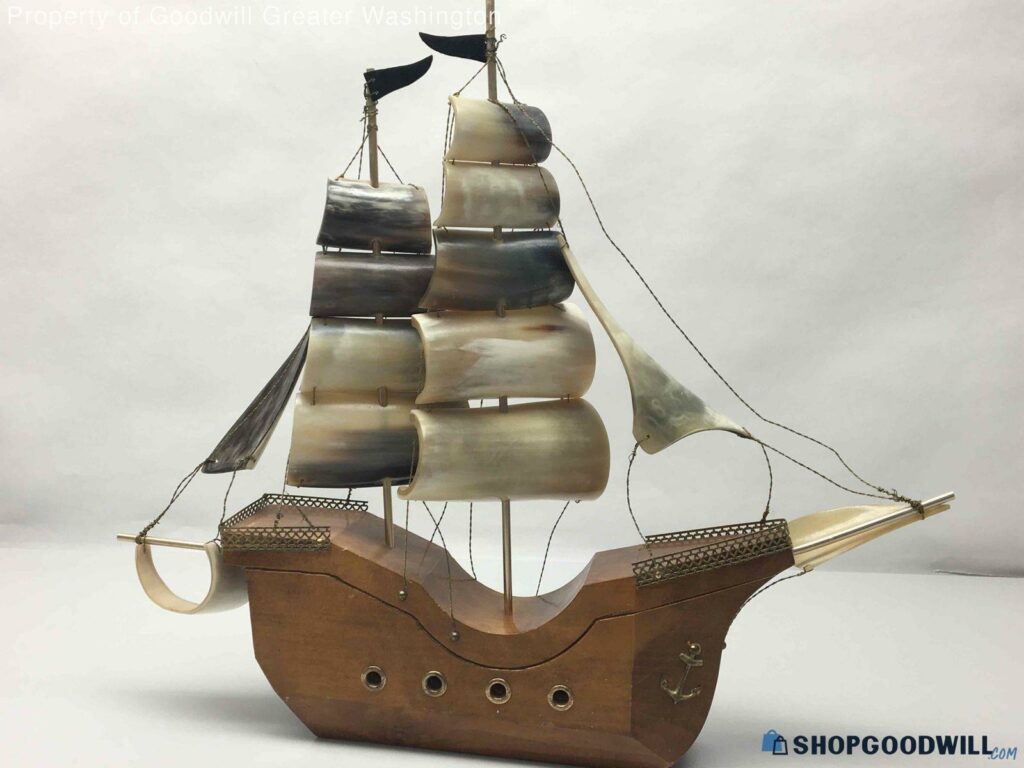 https://shopgoodwill.com/item/143463100 – 13″ Wooden Brown And Gold Tone Sailboat Unbranded
L'chaim and b'teavon (to life and with appetite)! The teapot has another fish on the other side. And I love how the fish-framed platter is also scaled.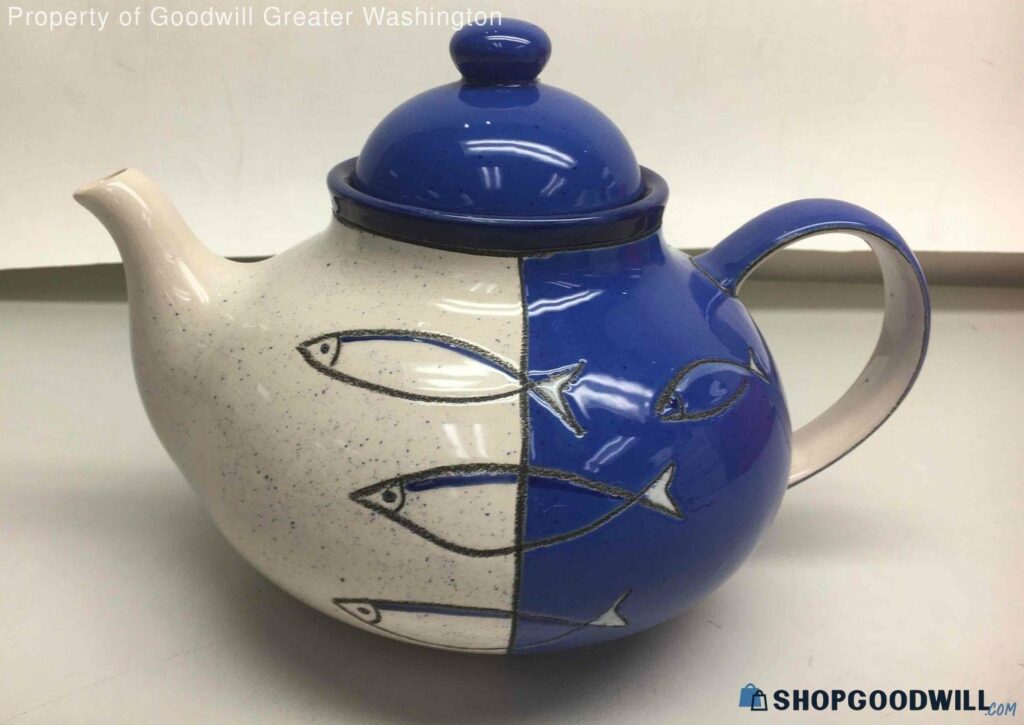 https://shopgoodwill.com/item/145060067 – Artesa Handpainted Fish Design Blue & White Porcelain Tea Pot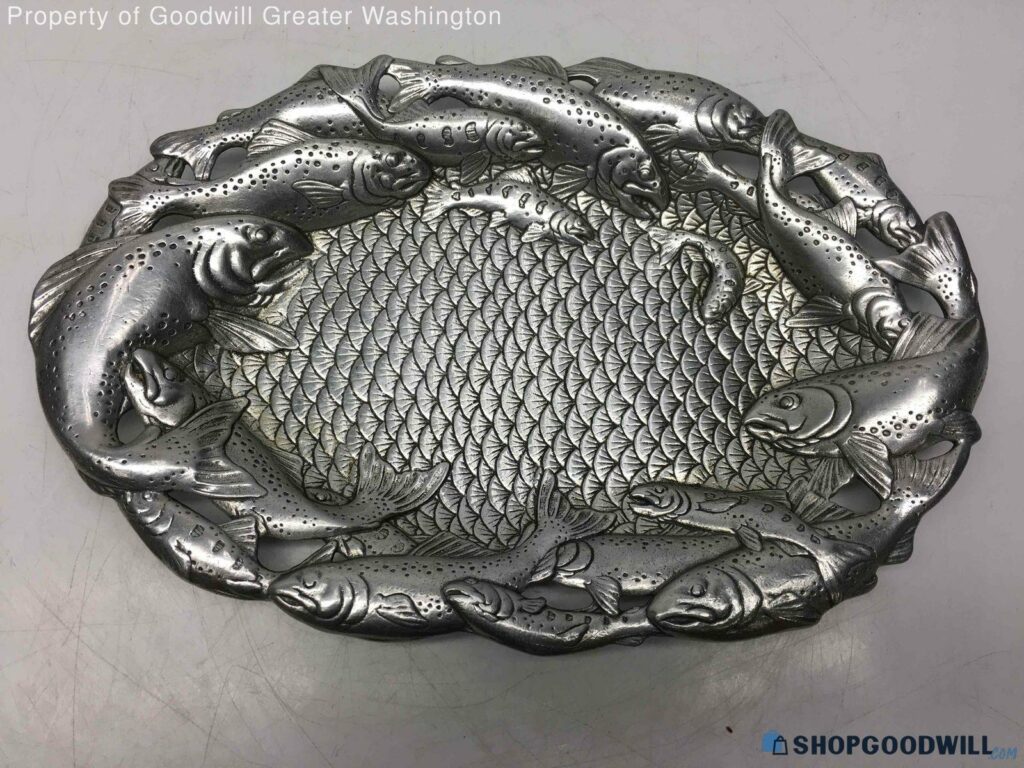 https://shopgoodwill.com/item/143638687 – Vintage 1993 Arthur Court Aluminum Fish Salmon Serving Tray
Versions of these brass scallop shell bookends turn up a lot on Shop Goodwill. The horses are here because they remind me of seahorses. Too, I love colored glass, and blues.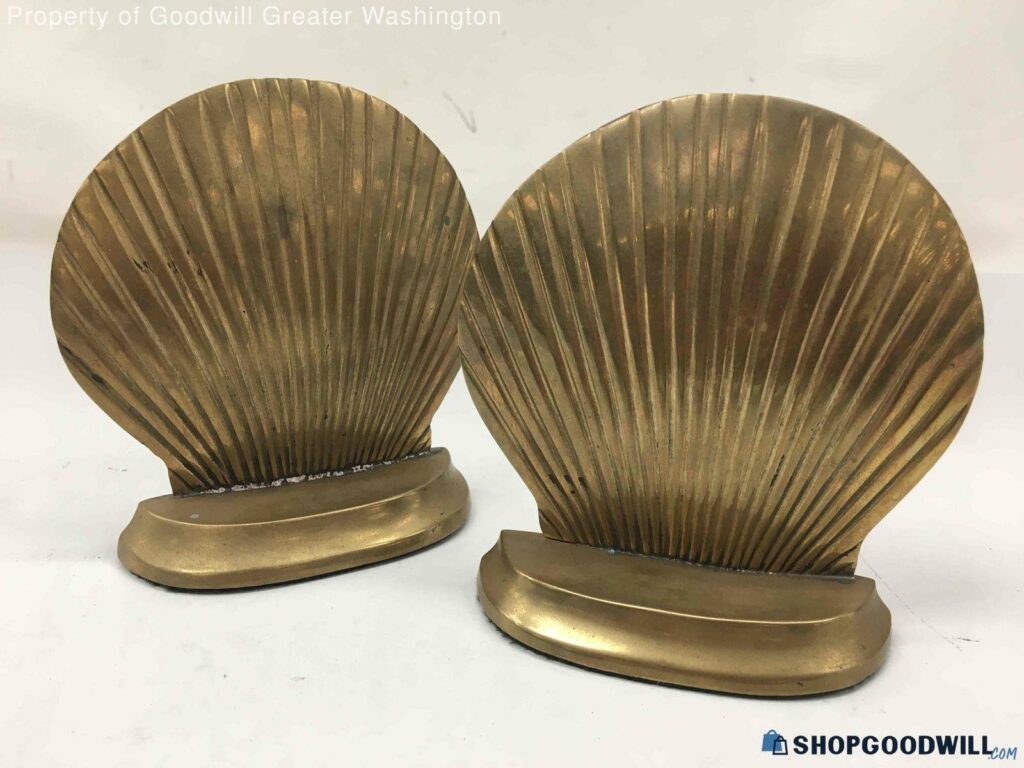 https://shopgoodwill.com/item/154403781 – Pair Of Vintage Brass Metal Sea Shells Made In India Bookends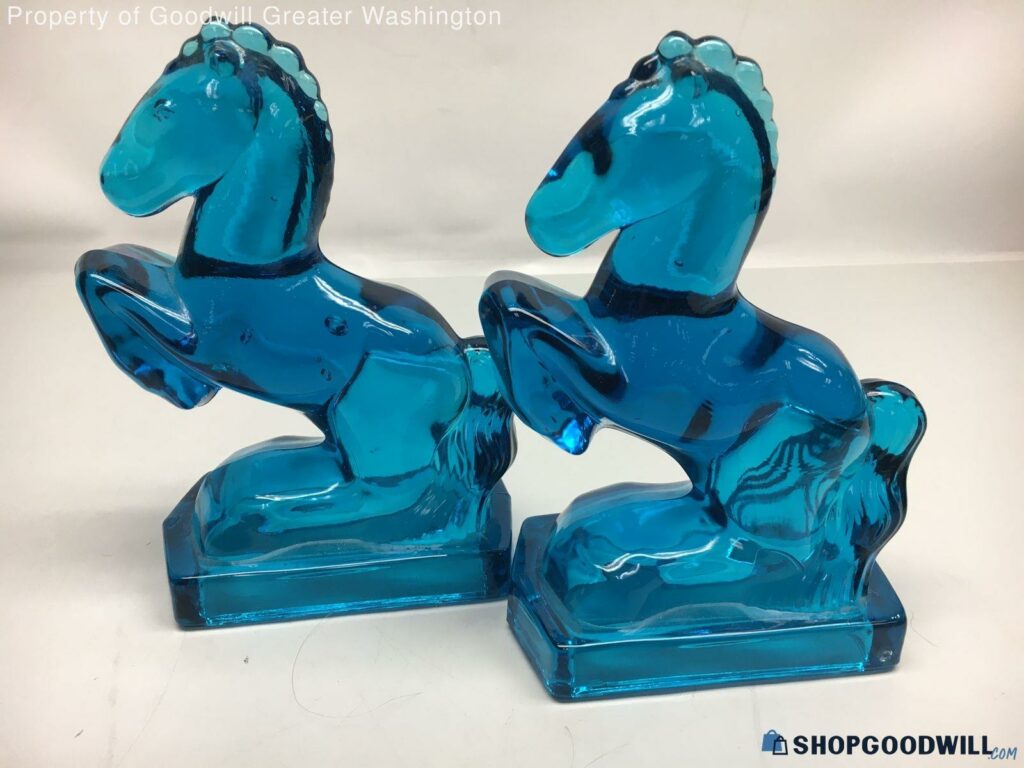 https://shopgoodwill.com/item/153534392 – Mid Century Blue Glass Horse Bookends Glass Lot Of 2
Well! We both need to get back to our holiday prep, including shopping. Remember to thrift your gifts whenever you can, post about them, and tag FYG – after it won't spoil the surprise, of course. And don't forget to put meeting me back here next month on your holiday to-do list. For December, I'll be celebrating Hanukkah by exploring menorahs, including mine – many of which are from Goodwill.
About our fabulous guest blogger: