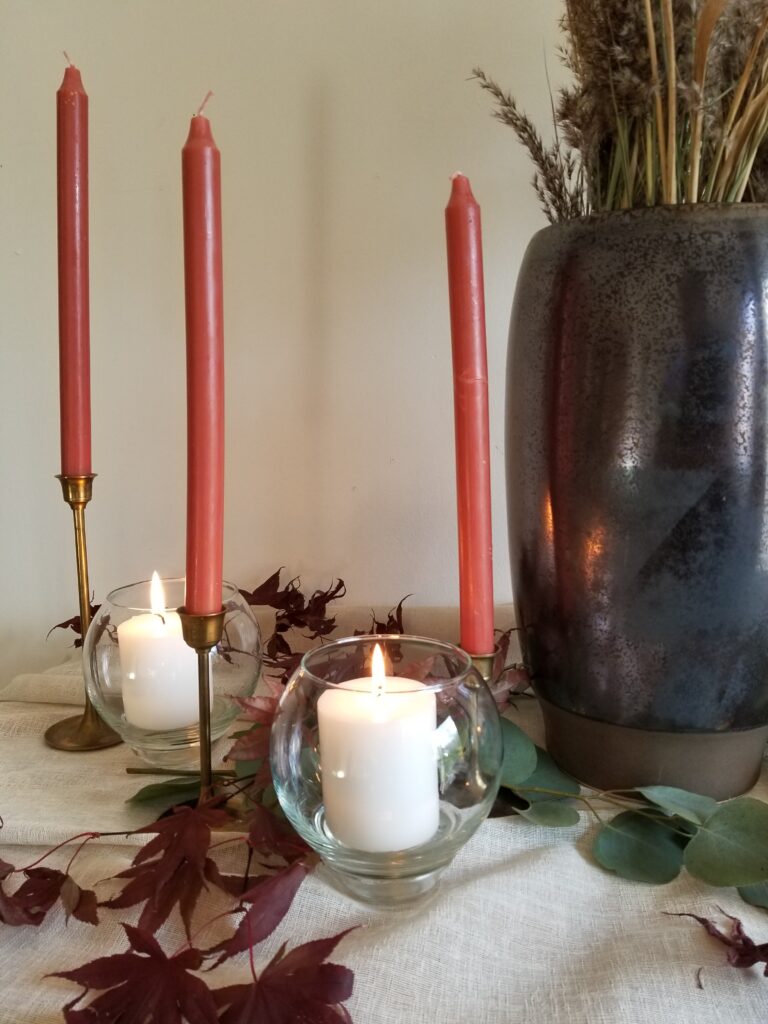 The Holidays are right around the corner, and you're hosting at least one gathering this year! What do you do?? Make a trip to Goodwill, that's what! I recently visited a new Goodwill I've never been to before, The Edgewater Location in Maryland. They have everything you need for hosting this holiday season.
From housewares to serving ware, you will find these items at any Goodwill. Here is what I loved from this location.
I came across great glassware while shopping. I found a set of small crystal cordial glasses, a punch bowl with cups set and gold etched wine glassware. A fancy touch to impress your guests!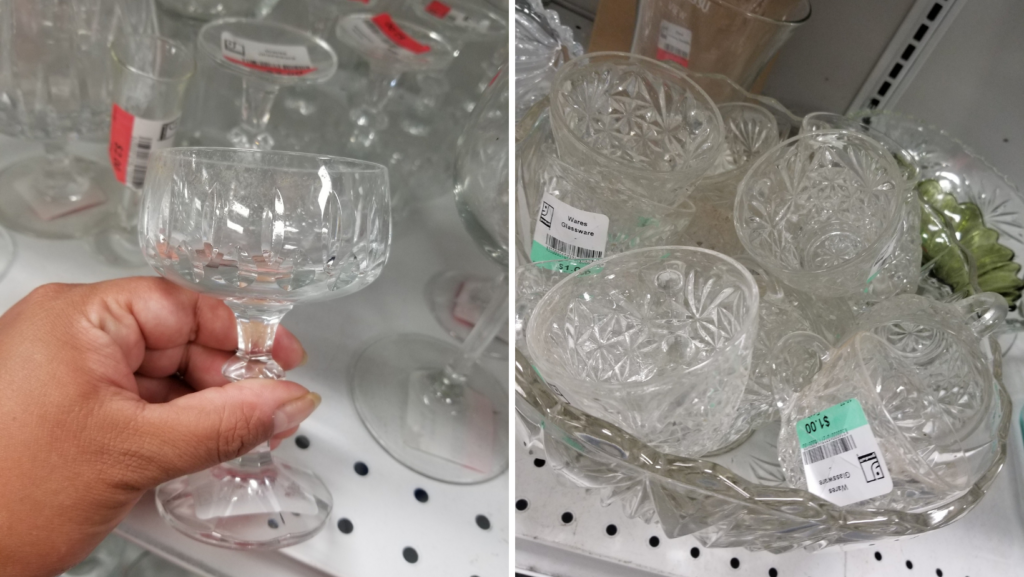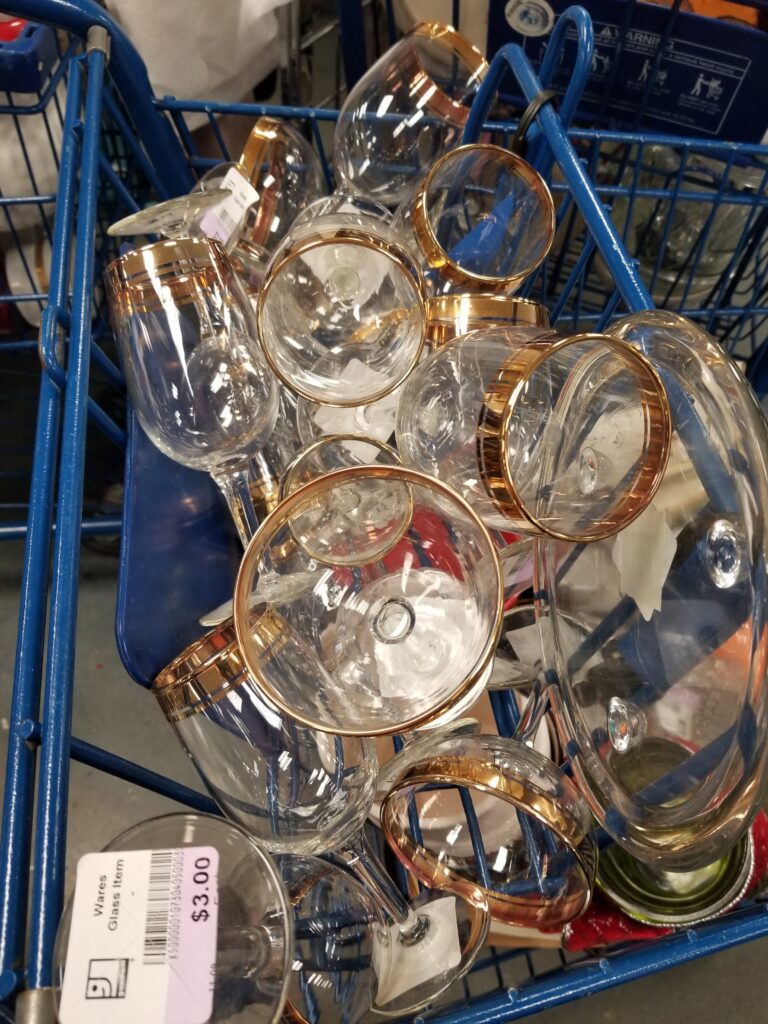 The fancy serving ware did not stay behind. I came across great serving platters, dinnerware sets, and plate chargers for that extra sparkle to your dining plate.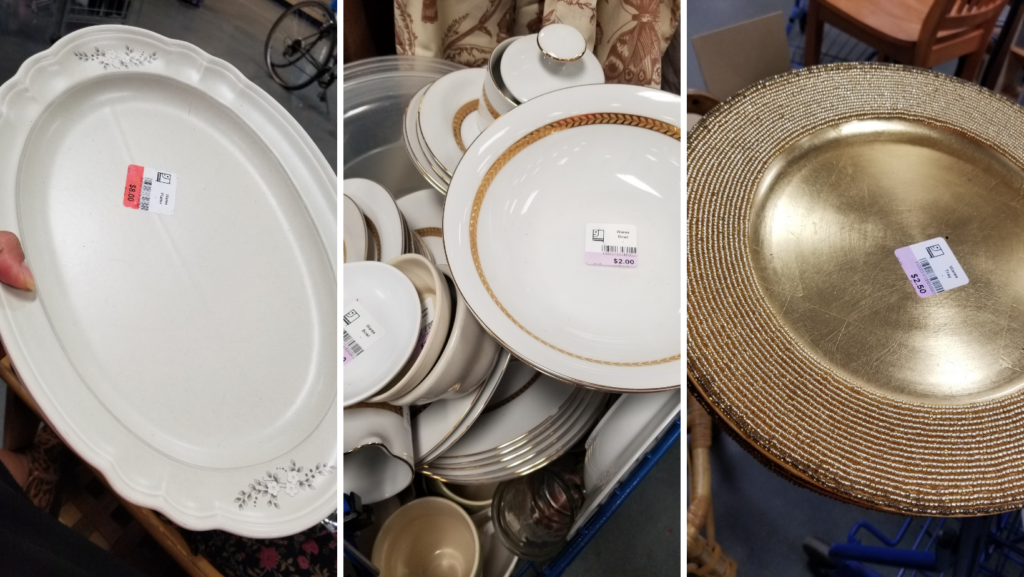 I already have most of these items I mentioned above at home, so I didn't buy them. What I was really there for was tablescape items. I want to be resourceful with my coins this holiday season so I looked for items that could transition from Thanksgiving to Christmas.
Next, I found a cute set of 4 metal napkin ring for only $1 each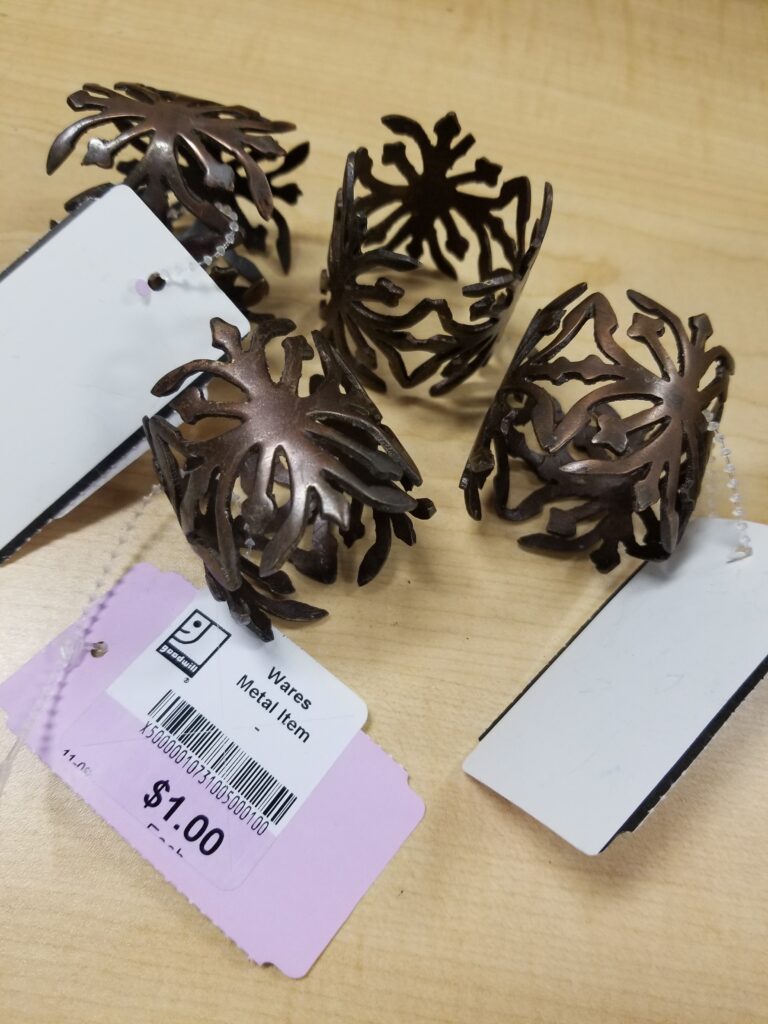 I got stopped in my tracks when I encountered a gorgeous large ceramic glazed vase. I thought it would be perfect as my centerpiece for Thanksgiving dinner. It was only $8, it could have easily retailed for at least $60. I had to get it!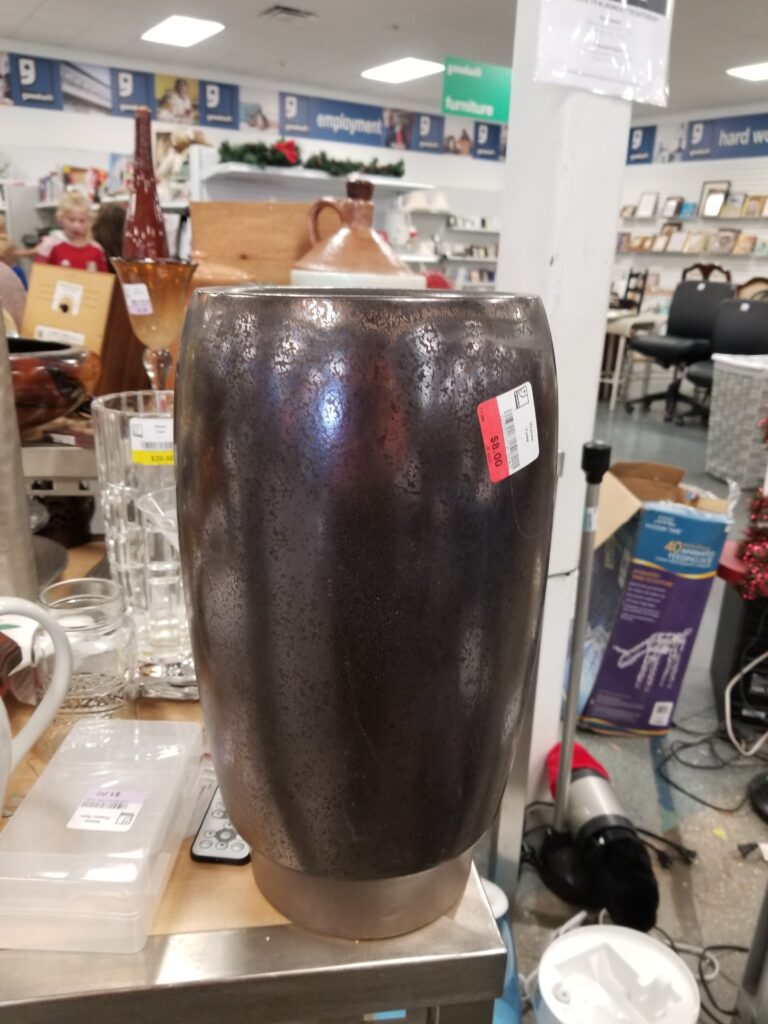 In this trip I found a recycled glass taper candle holder for $4, 2 varied height crystal glass taper holders for $3 each, a brass plate for $6, a glazed ceramic vase for $8, a set of 4 napkin rings for $1 each and 6 green wine glasses for $1 each.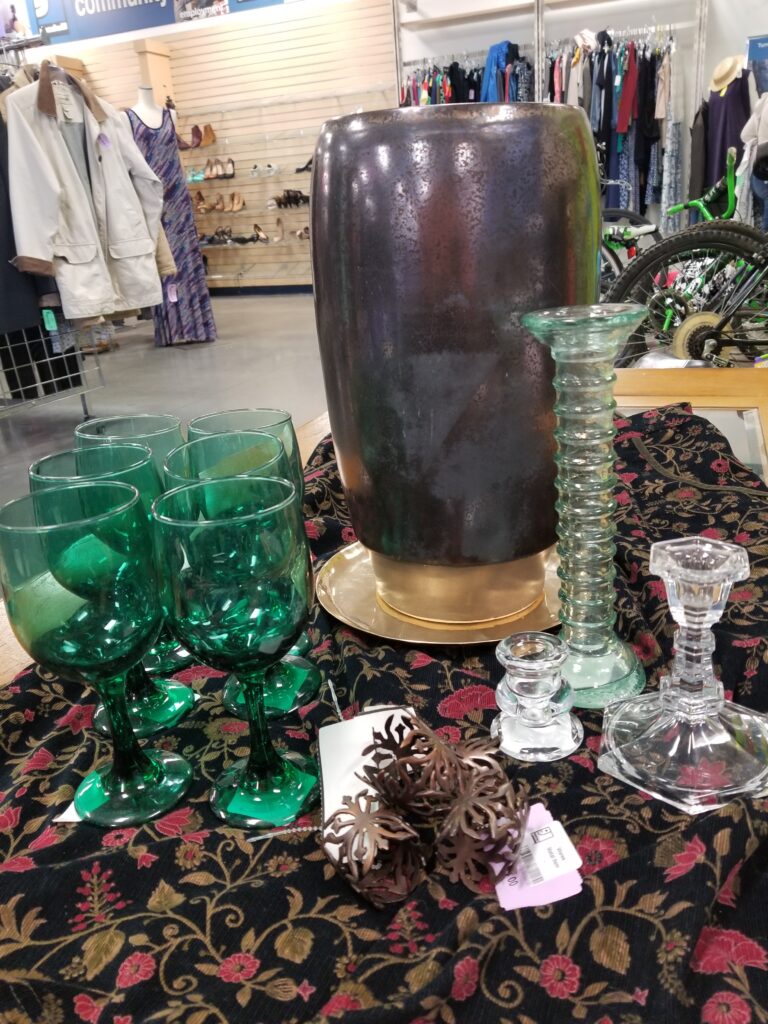 Next, I visited the South Dakota Avenue location in Washington DC.
I was on the hunt for more candleholders and smaller glass vases, and I found just what I needed when I walked to the Glassware section!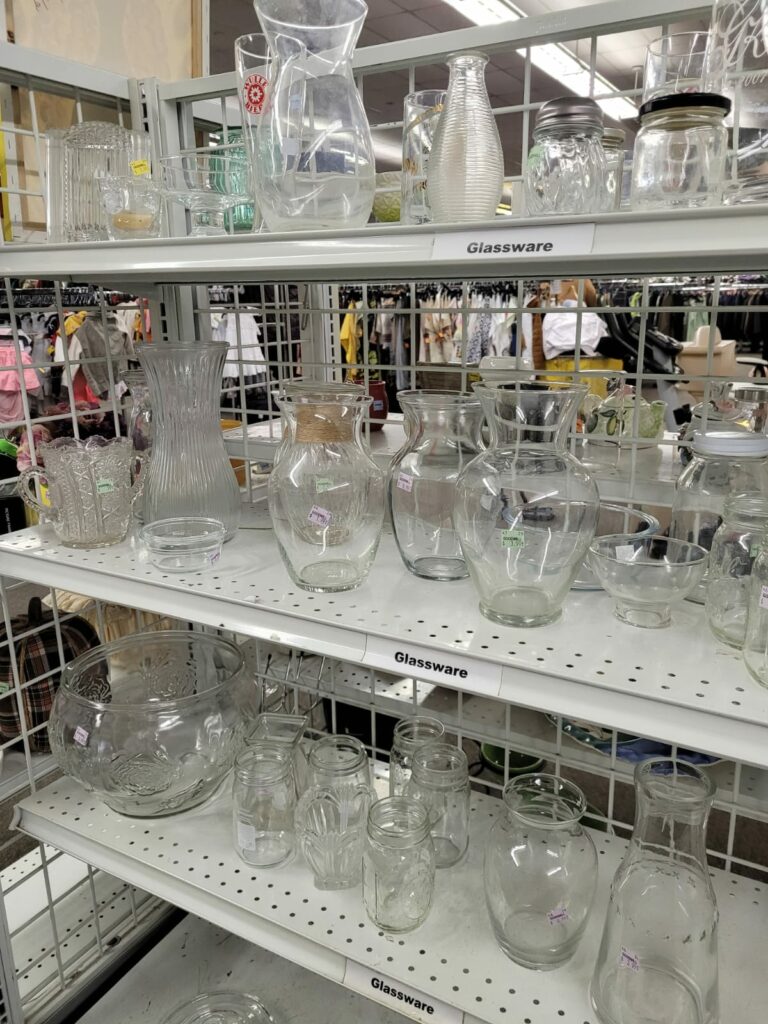 I found 3 medium sized glass vases for only $1.99 each and 1 slightly smaller one for .99 cents
I also came across 4 small round vases for only .99 cents each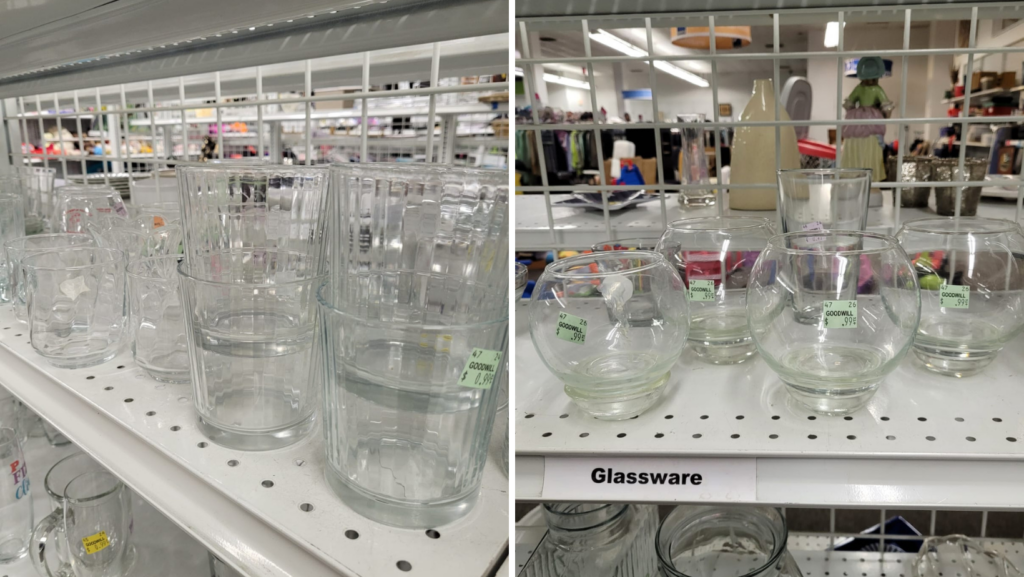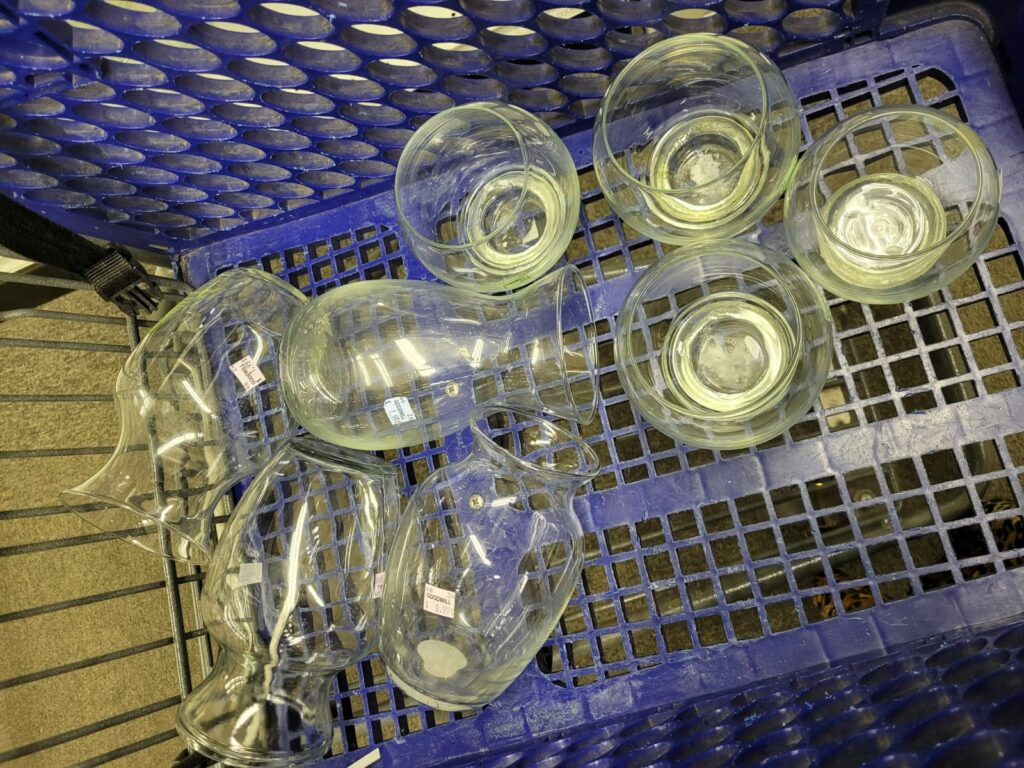 And right when I was leaving the home decor section, I came across a set of 6 deep orange taper candles for only $1.99. I immediately grabbed them as they are the perfect shade of color for the autumnal flare I'm going for.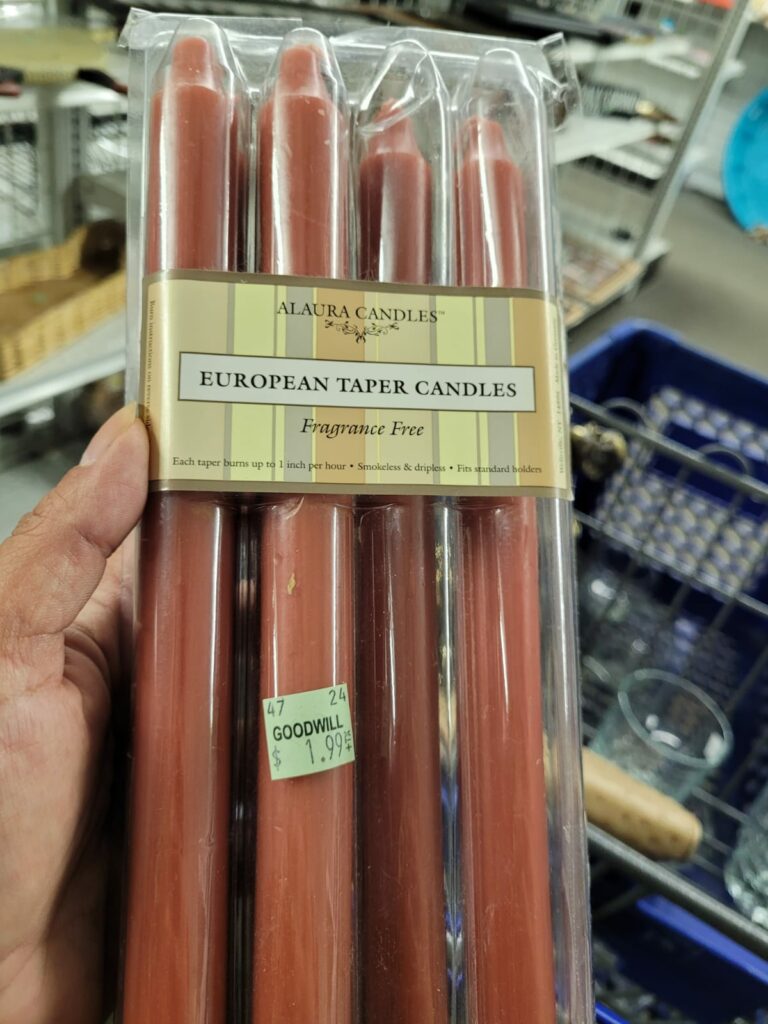 Ok, it's time to set the table but before I share what I created, I want to share your must-have pieces to create a perfect tablescape. Here is what you will generally need:
1. Tablecloth, Table Runner or Placemats
Pro tip: If you can't find the perfect tablecloth consider going to a fabric store to choose the fabric you love. Check out the outdoor fabric section for durable performance water resistant selections. You can also find curtains at Goodwill for a large piece of hemmed fabric as I did for my tablescape below.
2. Vases
3. Candle holders
4. Florals and greenery
For this tablescape, I am using fall foliage and eucalyptus leaves.
5. Vegetables or fruits for filler props
Pro tip: Decorate with food, for this tablescape I chose persimmons, a late fall treat that is currently in season as well as seasonal squash and pumpkin. I chose these for the pop of color it will add to the table.
Now that we have what we need, it's time to create your centerpiece!
I have a variety of trees in my backyard, so I went foraging to gather my fall foliage. Tall pampas grass, orange berries and Japanese Maple tree branches and leaves are what I gathered. I bought the eucalyptus leaves at a local floral shop. Decide if you want a tall tablescape or a shorter one to see your guests' beautiful faces. These tablescapes can be created for the food table too! Next, you'll want to decide if you want a maximalist look or minimalist look. I will show you both here today.
Tall Tablescape
Let's start with the tall tablescape. Start off by adding your centerpiece first, I used the tall brown vase for this with my tall pampas grass. Next you want to layer in some filler foliage underneath the vase all the way to each end of the entire width of the table, like a table runner. I used Japanese maple leaf branches and eucalyptus sprigs for this.
For my minimal look using this ensemble, I added the 4 round glass vases and used them as candle holders with a simple white short candle. Please make sure to keep any leaves away from the open flame and do not leave the candles unattended.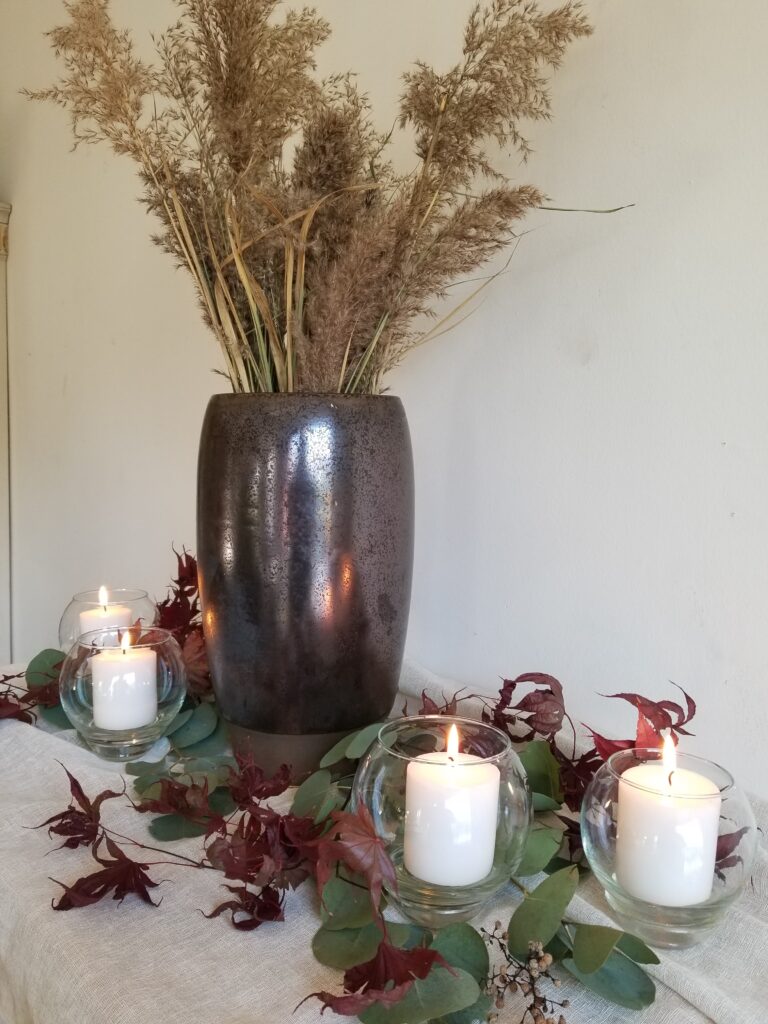 So, you want to get fancier, and you want taller and more of everything. Let me show you how to transition this minimal look for a maximalist look in seconds. I simply layered in more pieces to the minimalist setup. I added a set of brass candle holders with the taper candles I found at goodwill. I also added some seasonal squash for color and decor to the table.
Short Tablescape
You decided that tall isn't your style and you want to go shorter. Here is a maximalist look and minimalist look I created for you! Let's start with the maximalist look where more is more. This might be the best option if you have a big family and a long dining table.
Start with laying down some foliage down the center of the table, remember to add some to both the left and right side of the table to provide the same look for both guests sitting opposite each other. Next you want to layer in your vase centerpiece. For this one I chose the 3 medium sized glass vases and filled them with eucalyptus sprigs. Next, layer in the candles and holders of your choice. Find little pockets within the fillers on the table to place the holder. Next you add your food of choice, for this one I used the same seasonal squash and mini pumpkin as the tall set up.
In these next images I will show you how to dress your dining plate setting and a minimalist look using the same items. This is perfect for a more intimate setting of 2 to 4 plates.
Let's start with the dining plate setting. You always want to have either a plate charger or placemat. Followed by your dining plate, appetizer plate, bowl if you are serving a soup or salad, napkin, napkin ring silverware and glassware. I used a placemat for mine. I added the persimmon on top of the napkin for a pop of seasonal color in the first picture and the persimmon on the dining plate with the napkin and napkin ring next to it. For extra flair, add a small sprig of berries to the napkin ring.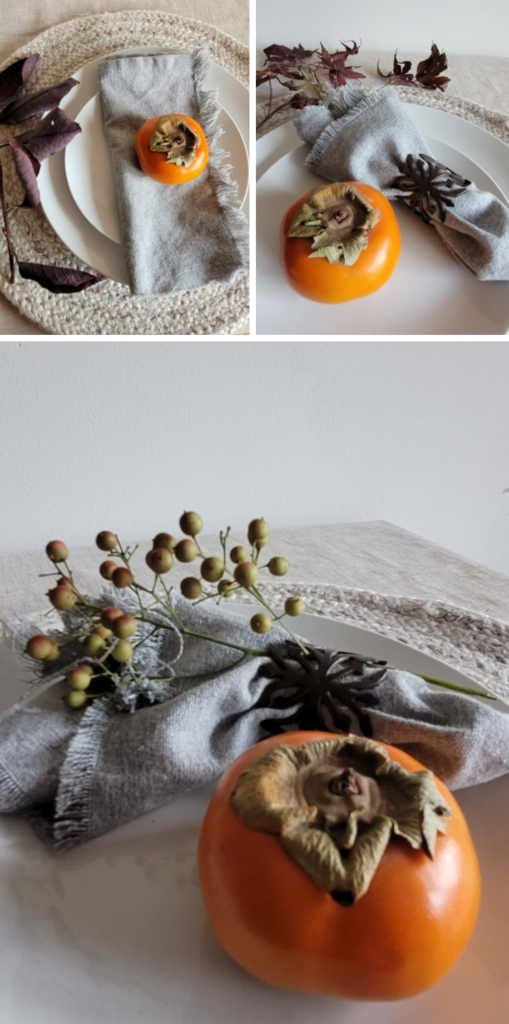 It's time to set up your minimalist table for two! I used one of the medium glass vases with eucalyptus sprigs and draped a maple tree branch to the bottom. I added the recycled glass taper holder with candle to the table alongside a shorter one I found at the Rockville store for $1.99.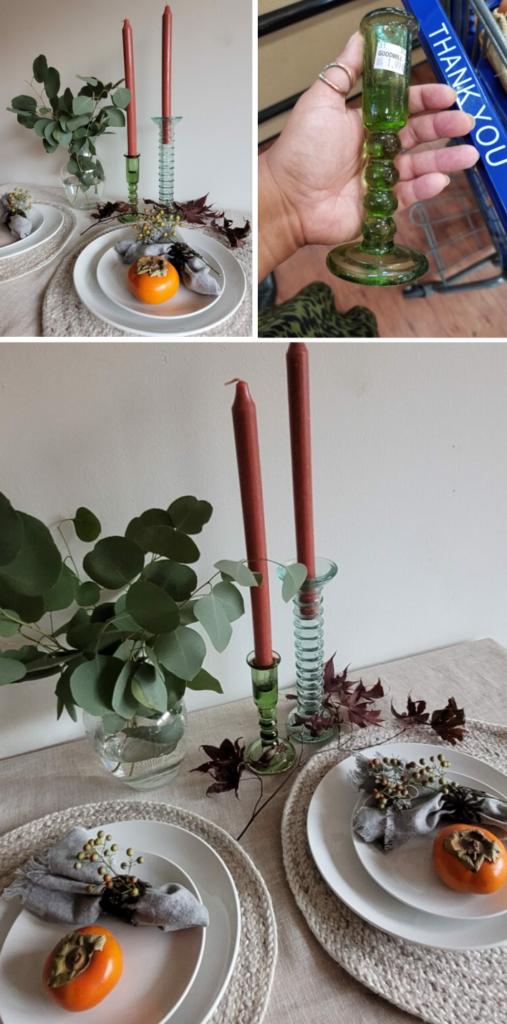 I hope this will help you create a gorgeous tablescape this November for your own gathering this Thanksgiving, Friendsgiving, or fall dinner! I can't wait to show you how I transitioned these same pieces for a classic Christmas tablescape in December. Until next time my thrifty home decor enthusiasts!
Love & Design,
Cat Guerra
About our fabulous blogger: