There was a time in my life—back in 2011 when my son and nieces were little babies—when I would pay $15 at a big box store for a special Halloween picture frame with the year emblazoned on it.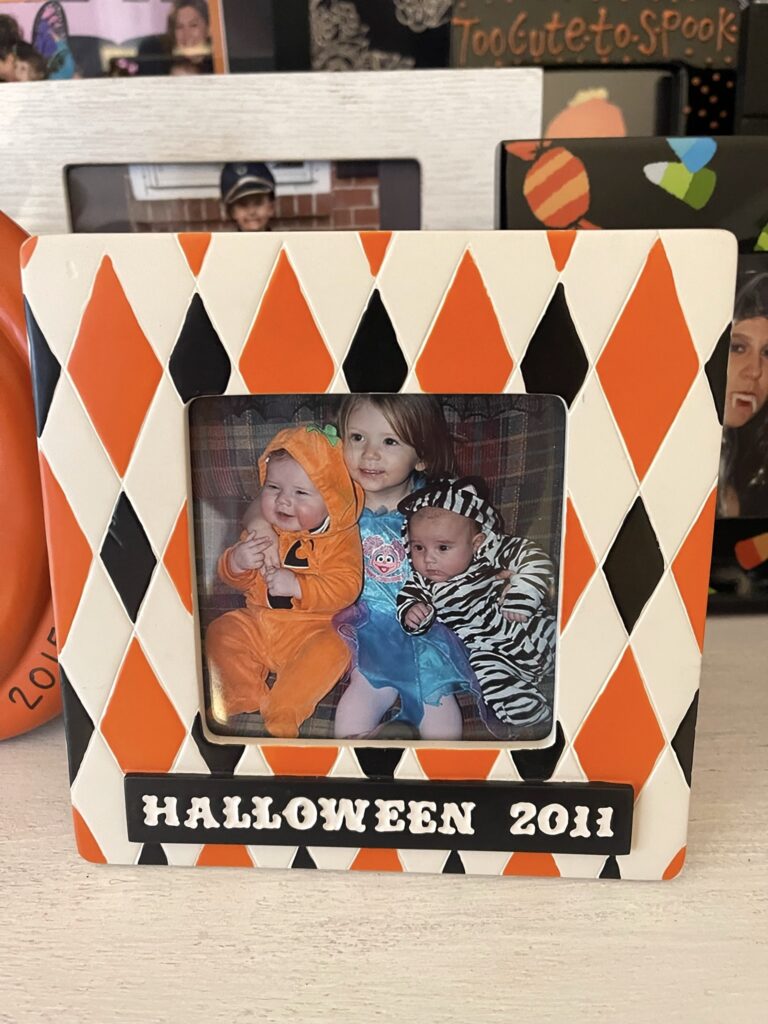 A few years later, we had another awesome cousin in our family, and I realized that if I waited until November, I could buy Halloween frames for half-price in the clearance aisle. I simply added the year myself with a Sharpie and thought I was getting a great deal.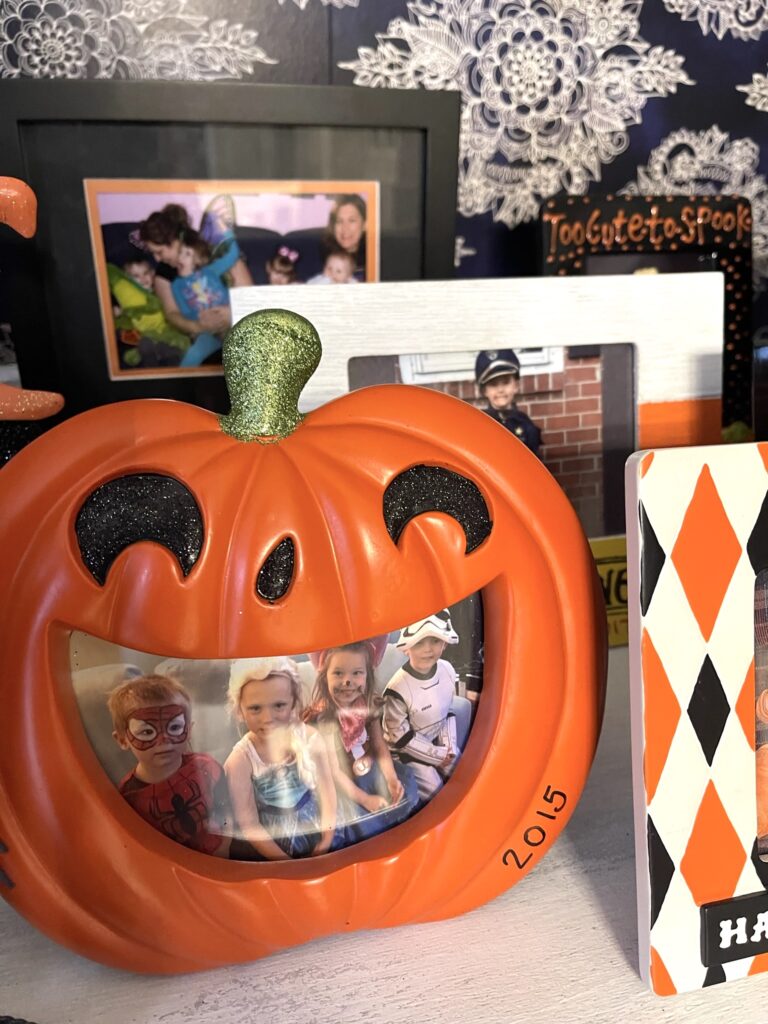 Now I skip the big box store altogether and head straight to Goodwill when I need picture frames for any occasion. I found so many great frames on my recent trip to the new Hayfield location in Alexandria, Va. The most expensive (and fanciest!) frame I bought only cost $4.99 and the cheapest one was 49 cents, thanks to the Color of the Week Sale!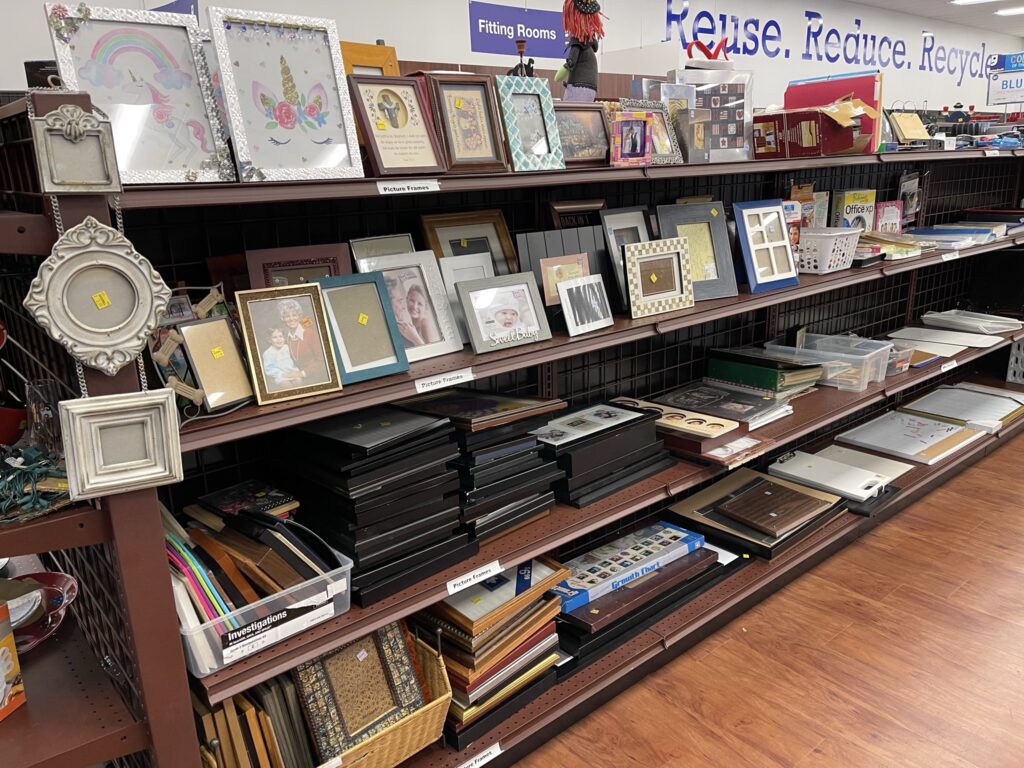 Of course, I love that the frames I bought at Goodwill are less expensive than buying new. But I also love that buying pre-owned frames and other items is a more sustainable way of decorating my home. And the money I spend is going directly to help people in our community with education and career training opportunities.
This is the 49 cent frame I got for this year's Halloween group photo. The kids are a lot bigger now! I wrote the year with a white paint pen and realized when I took the photo that it's a bit off-center. No worries! It's simple, but it gets the job done.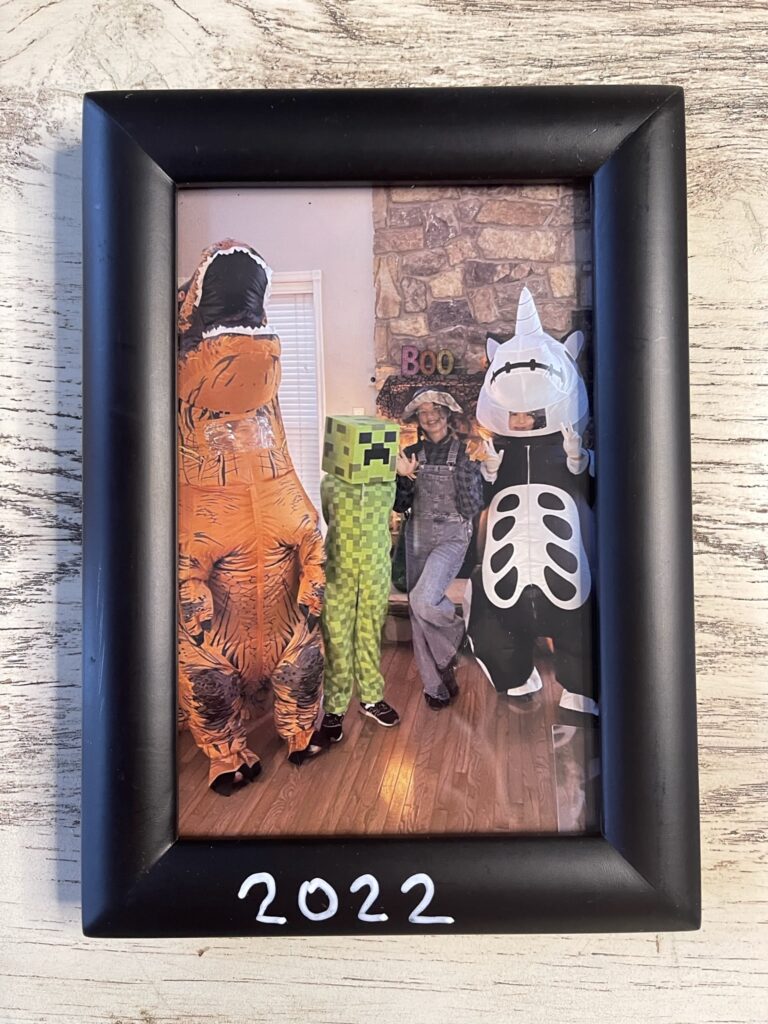 When I unpacked my Halloween photos to put them on display last month, I realized I forgot to frame last year's Halloween picture of my son. I found this really cool silvery frame for $3.99 that I thought matched the knight costume nicely. I tried to write the year in fancy old-fashioned script. I need to work on that!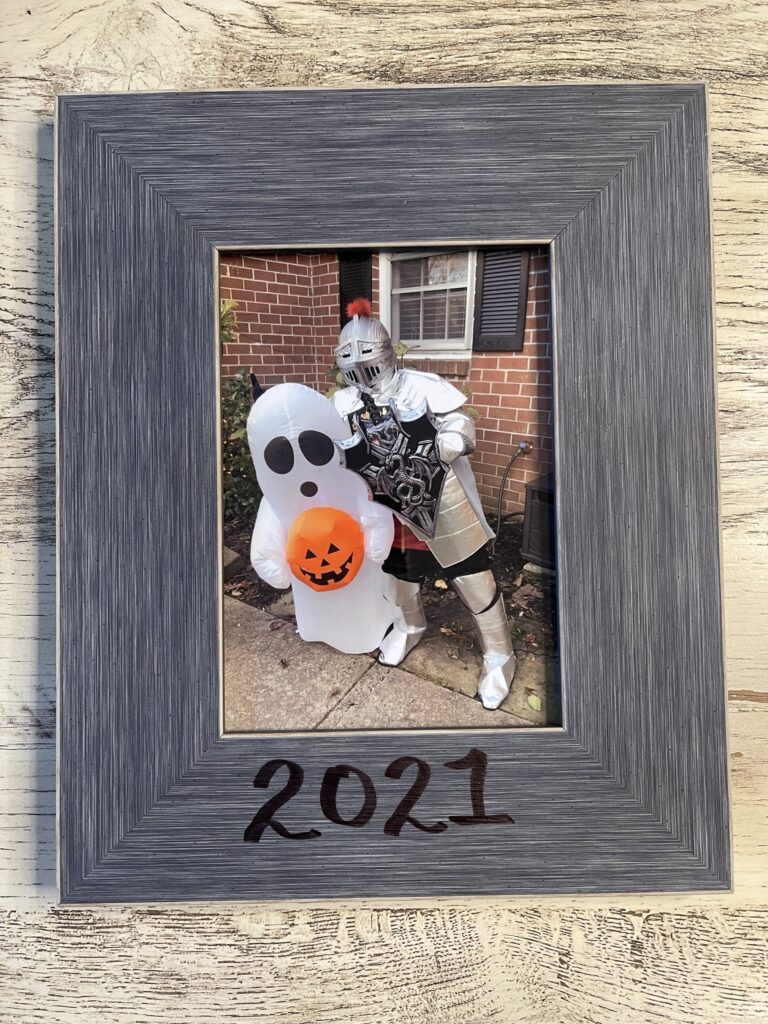 This is the $4.99 frame I mentioned earlier. I don't have a photo to put in it … yet. But I liked it so much—and did I mention it was only $4.99? I will find something for it. I was thinking it would make a nice addition to the Thanksgiving frames I made a few years ago with a photo from this year's Thanksgiving celebration.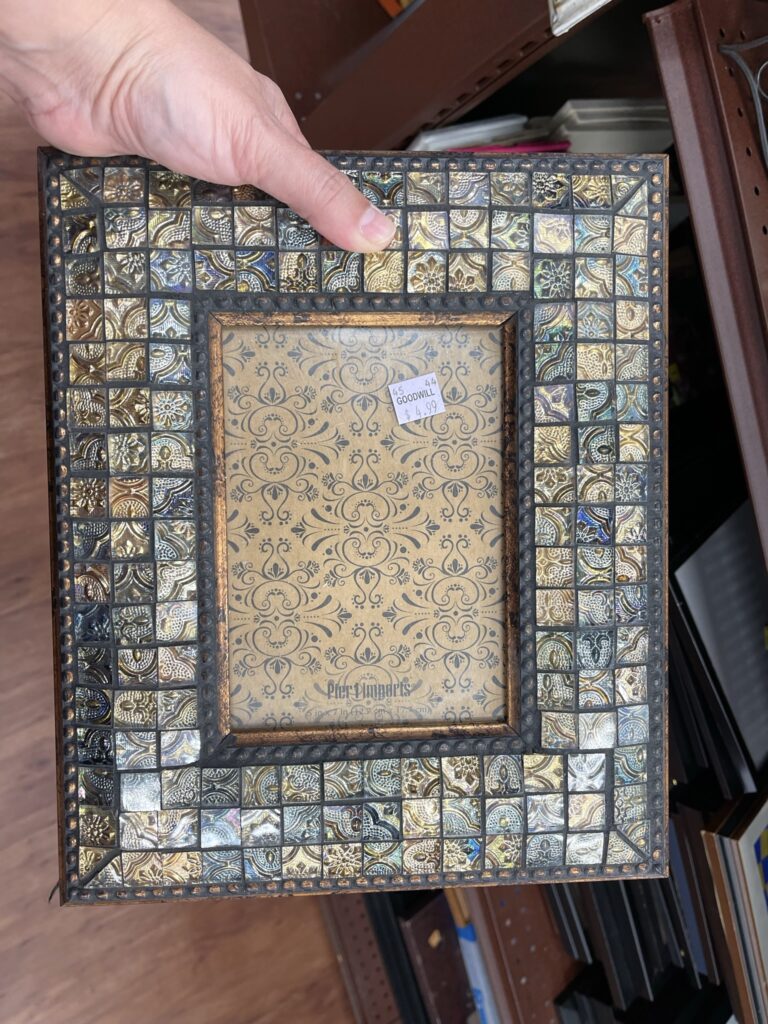 If you are keeping track, I just scored three picture frames for less than $10 – and I'm not done yet!
During the pandemic, we transformed our guest room into an office for my work-at-home husband. He's still working there with no plans to go back to is regular office full-time. We decided it was finally time to put the finishing touches on his home-office and frame some of the mementos he has collected over the years.
I found these matching oak frames at Goodwill for $3.99 each.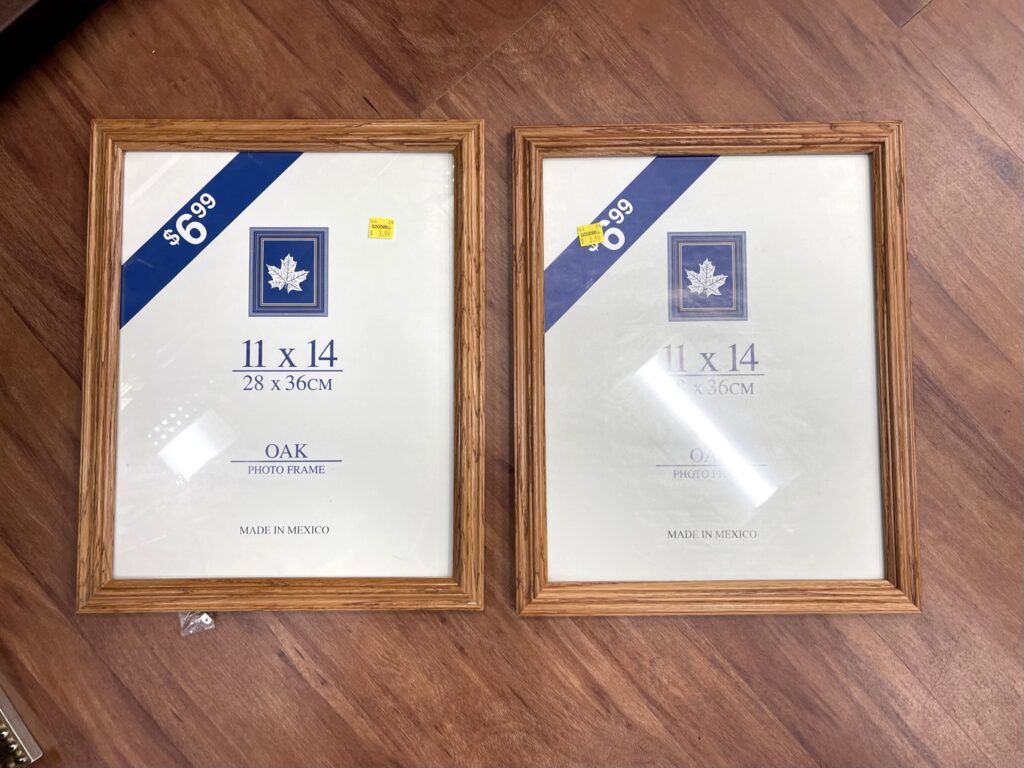 And more matching frames for only $2.99 each.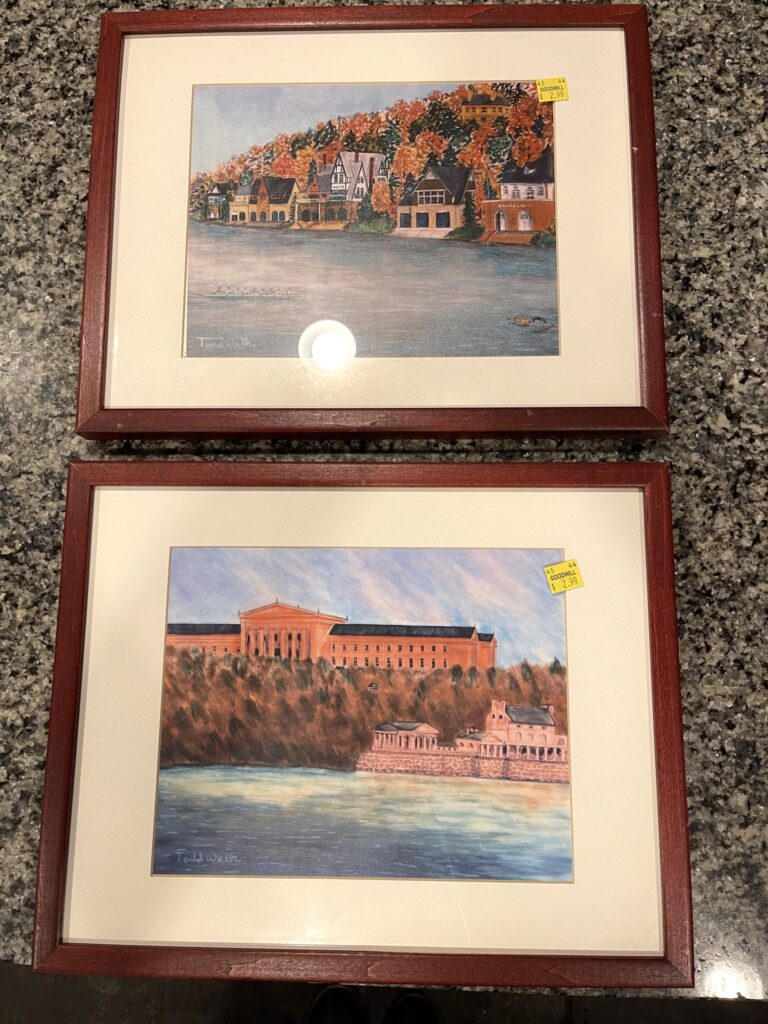 I bought all of them. He has a lot of mementos!
I ended up using the oak frames for some documents from his military service in Germany, but I used the mats from the other set to make them fit. I'll save those frames for a future project.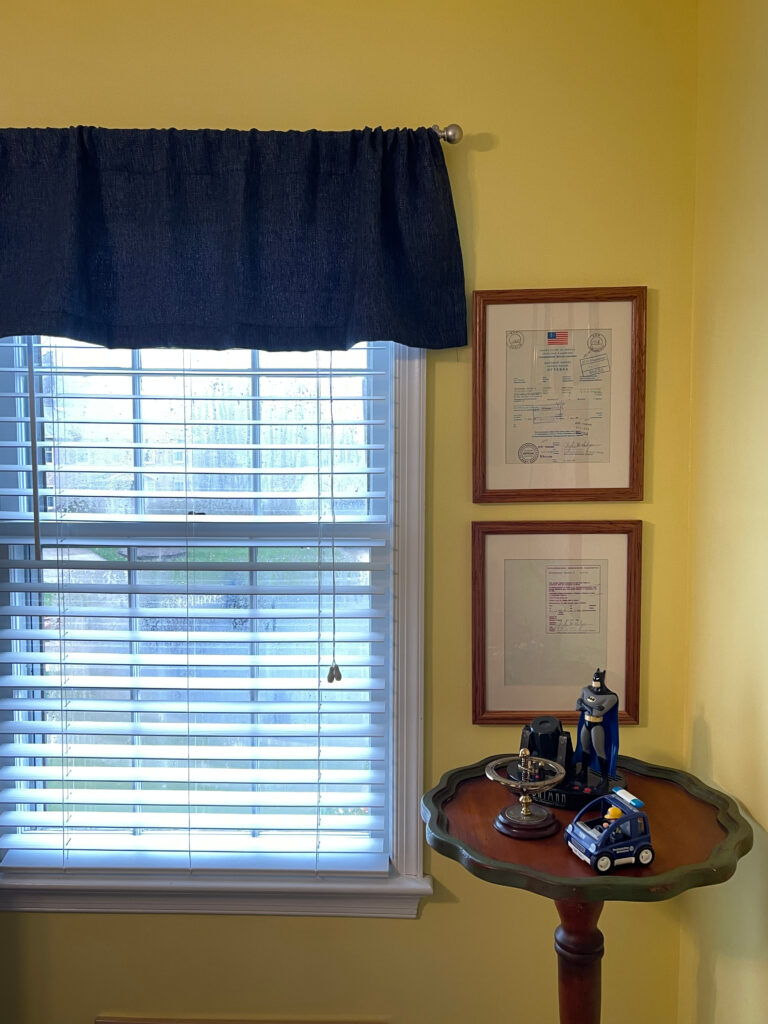 And finally, I bought a silver frame with a nice navy blue mat. It was $1.99, but because it was the Color of the Week, I only paid 99 cents. How can you pass up a deal that good? (Especially when I knew he would find something to put in it!)
Upon closer inspection when I got home, the silver frame had some scrapes along the edges that I did not notice in the store. I touched it up with silver paint and you can't even tell, especially once it was up on the wall. For 99 cents, the extra little bit of work to spruce it up was well worth it!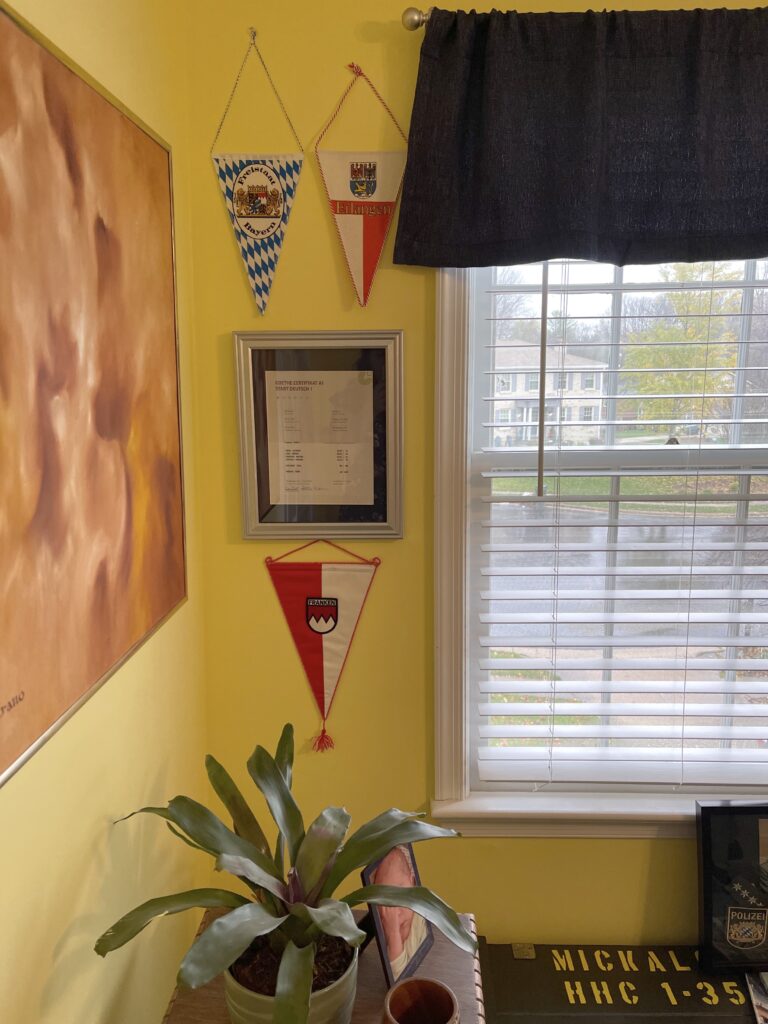 I purchased a total of 8 picture frames in all different sizes and styles and spent less than $25 for all of them. If you have a special photo or memento, you need framed, Goodwill is a great place to start!