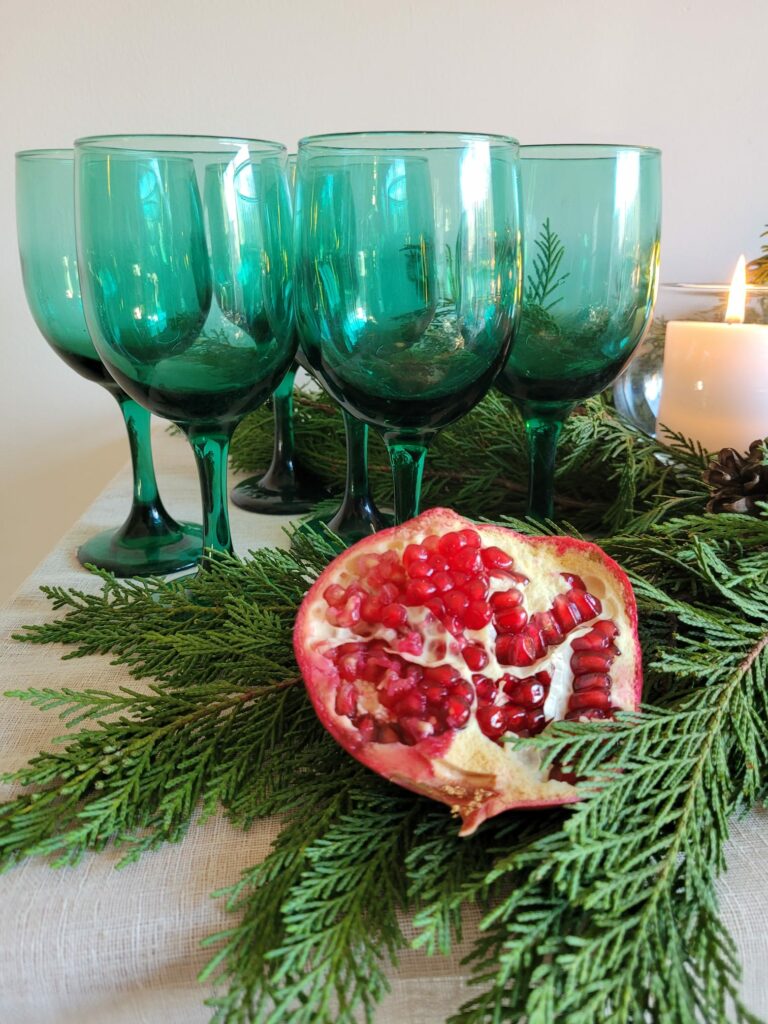 Hi guys! I swear, these last few months of the year have been flying by us. Can you believe we are in the month of December already, and Christmas is right around the corner? Luckily, everything I needed for this time of year, I found at Goodwill! From glassware to gifts and even a Christmas dinner outfit!
I started my shopping journey at the Edgewater, MD, location.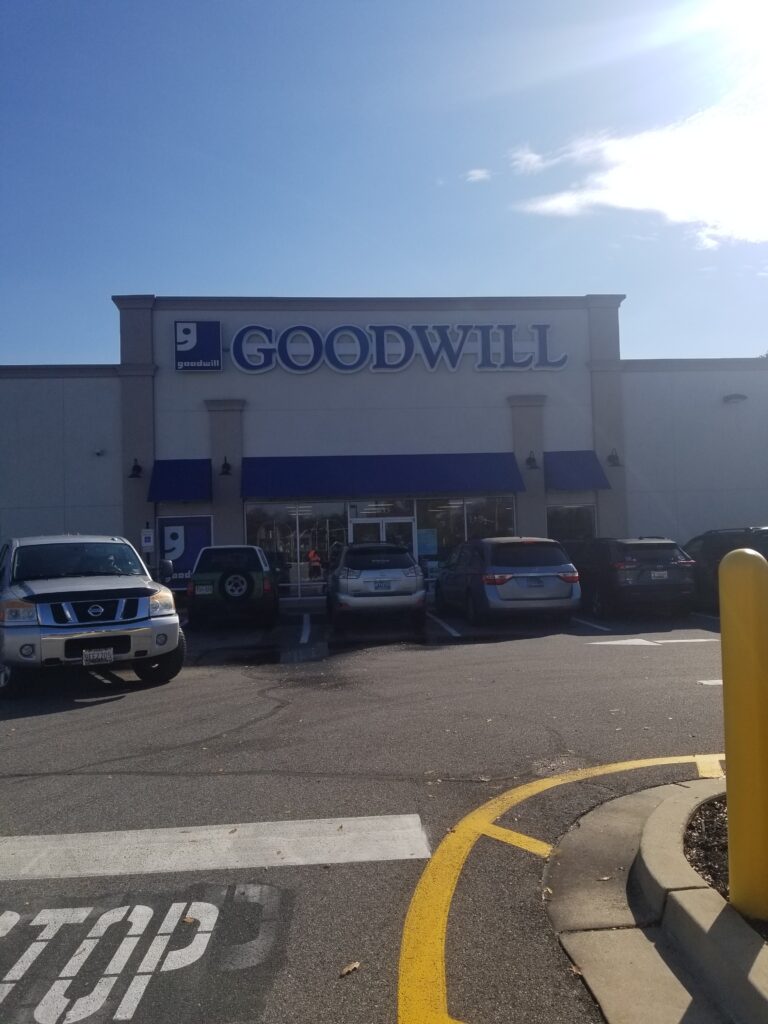 . The first thing I spotted was a set of 6 beautiful green wine glasses at the Maryland store for only $1 each.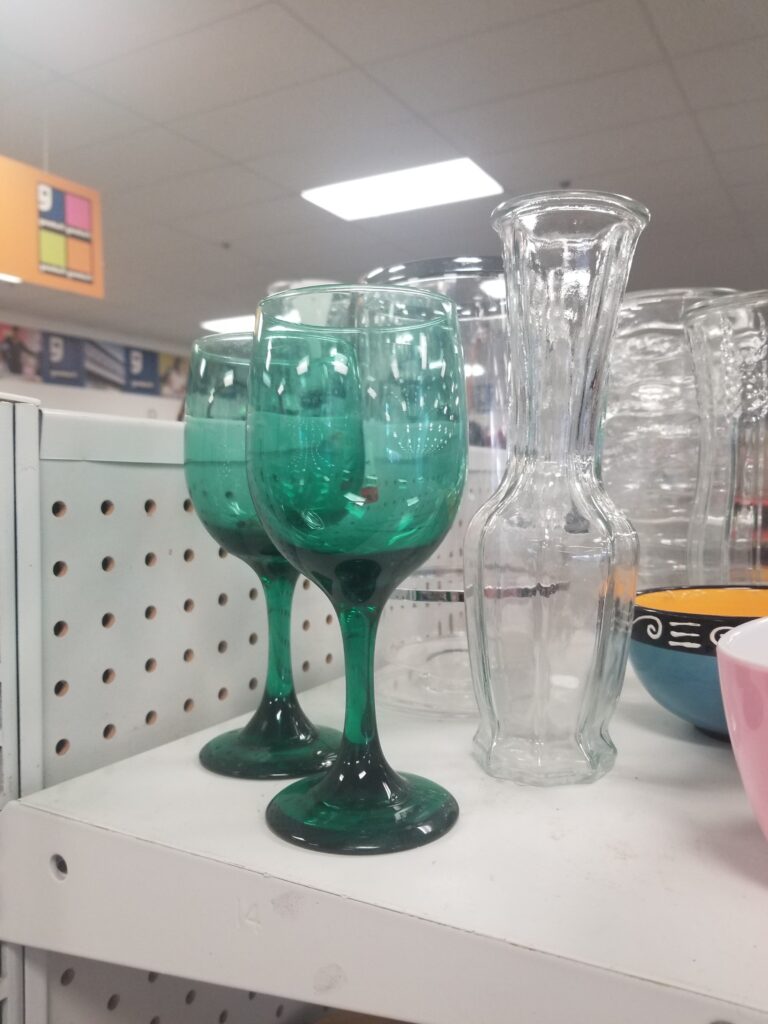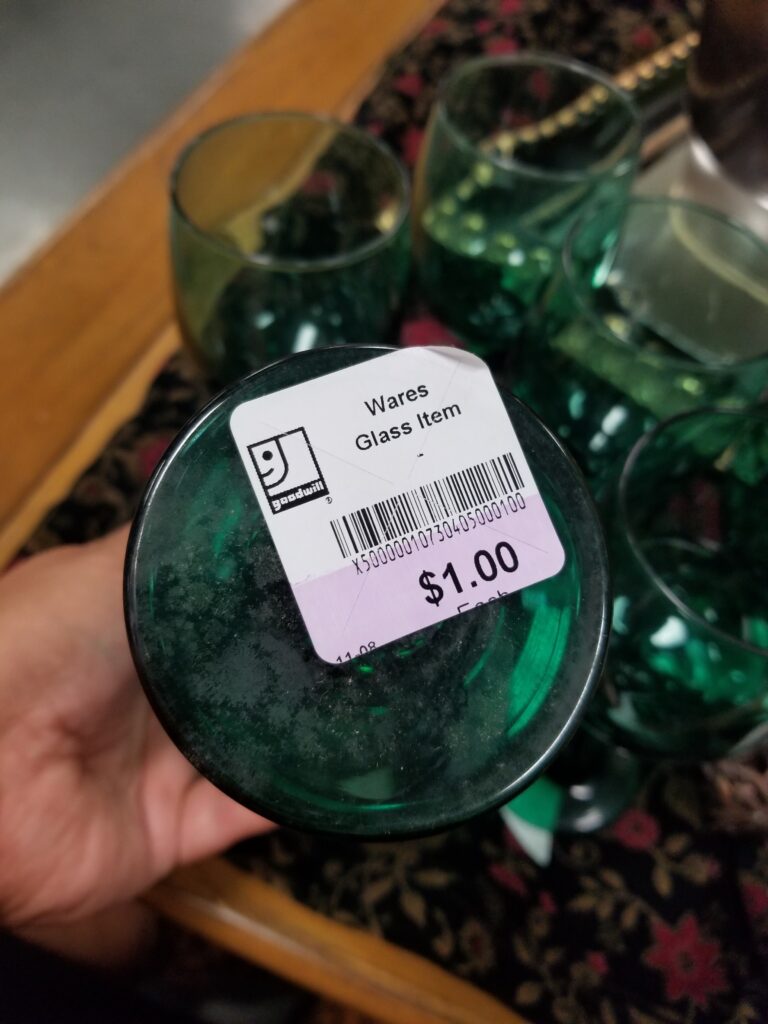 Next, I found a set of 4 snowflake metal napkin rings for $1 each. If you read last month's blog post, you might remember these as well as the brown ceramic vase I found for only $8. I used them in my fall tablescape, and as promised, I will share with you today how I transitioned these same items for Christmas!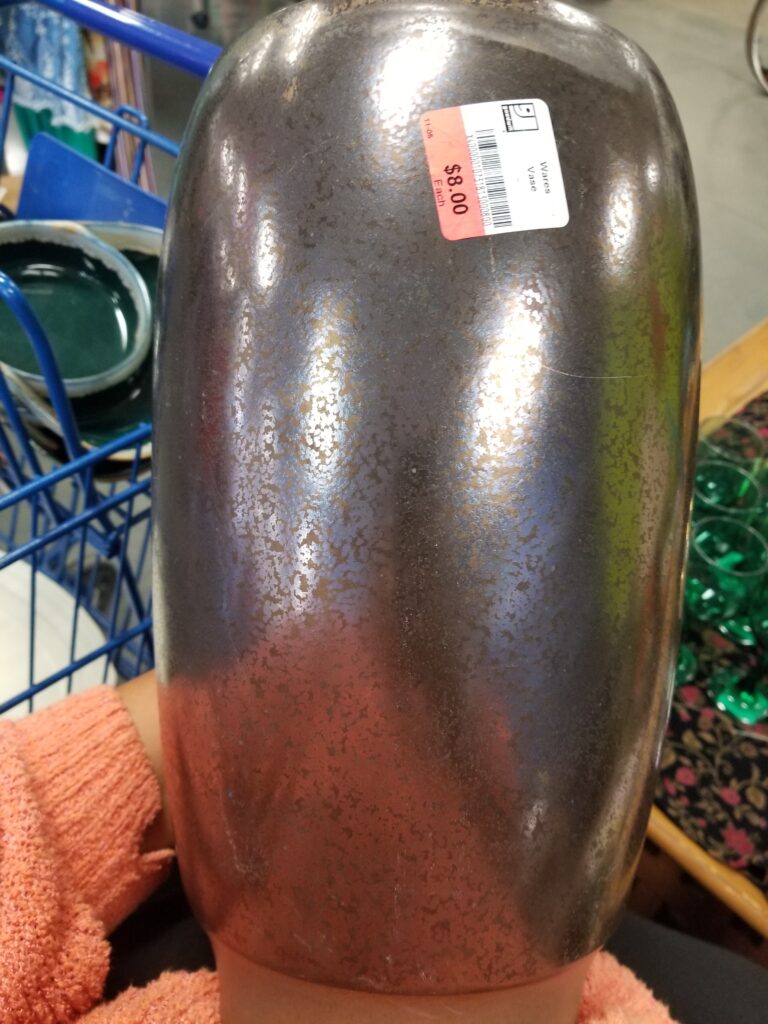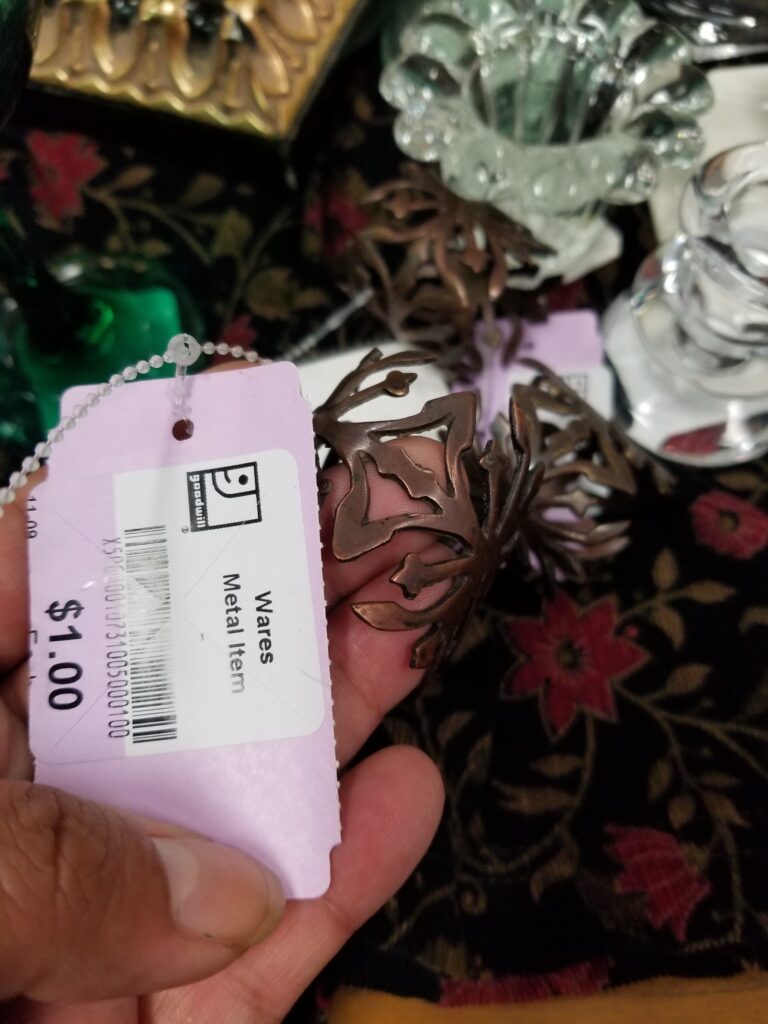 Let me tell you… I WAS IN LUCK THAT DAY! I came across a cute green and white polka dot dress in my size for only  $6. I tried it on and bought it home with me. I can't wait to rock it on Christmas Eve this year.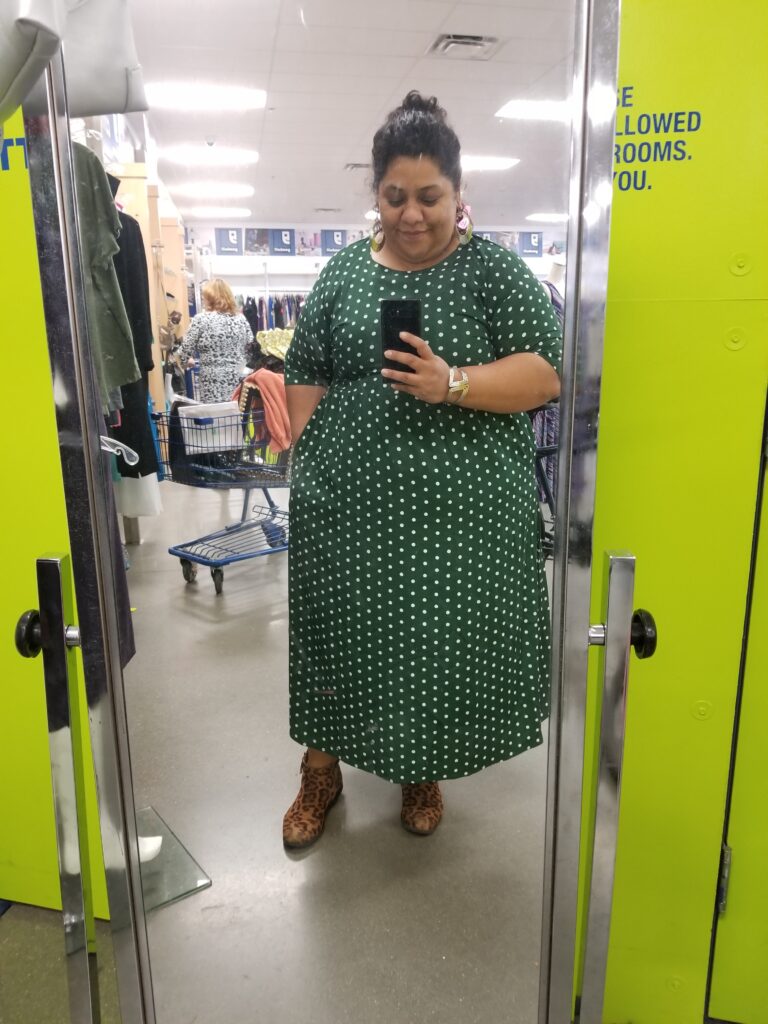 I found a few other treasures that day! A cute word art canvas that reads,  "There is beauty in Simplicity" for only $3. I got it as a Christmas gift for my sister, as well as a jewelry dish ($3) and a yellow dress ($6), which I know she will love. I also found really cool appetizer dishes, which I plan to use on wintery days as we snack and watch movies. It's been perfect so far for crackers, cheese and hummus!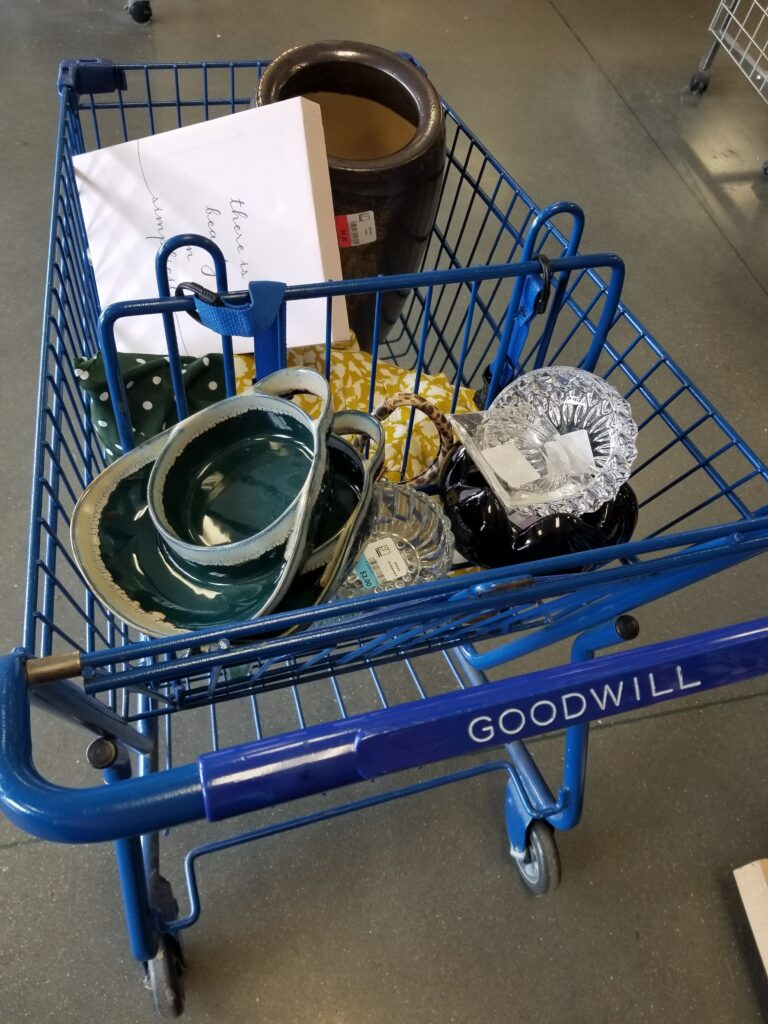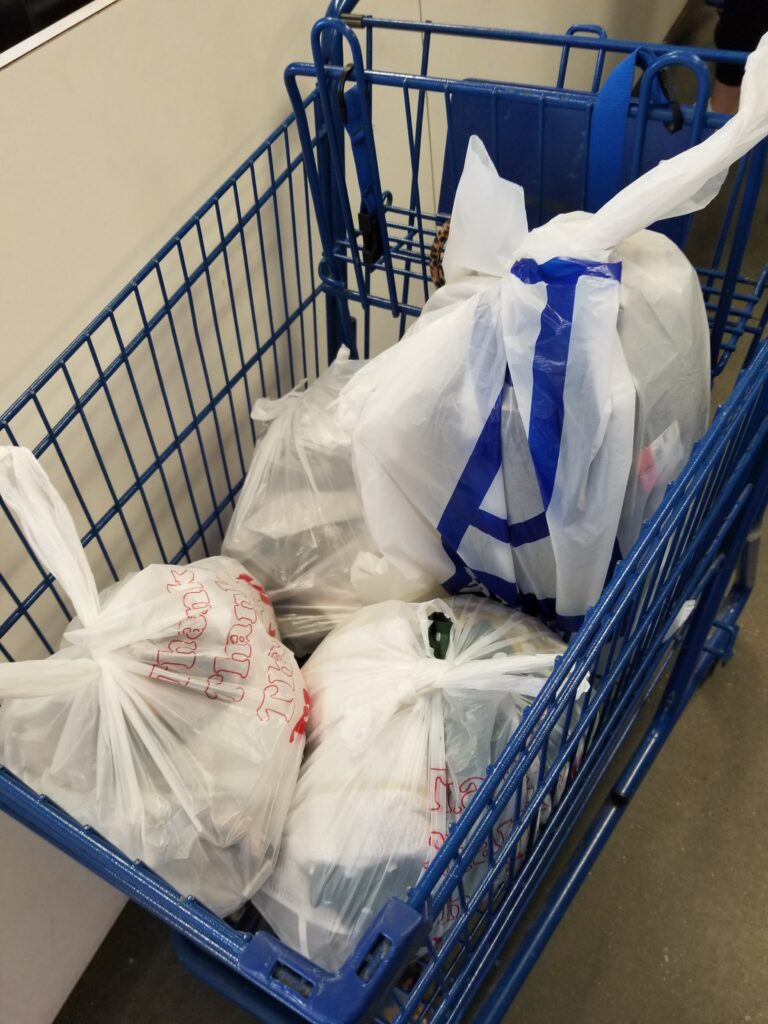 After this incredible trip, I headed to DC to the South Dakota Avenue location.  Do you remember my vase and candle holder score? I found 4 medium-sized round glass vases for only $.99 each and four taller vases for only $1.99 each.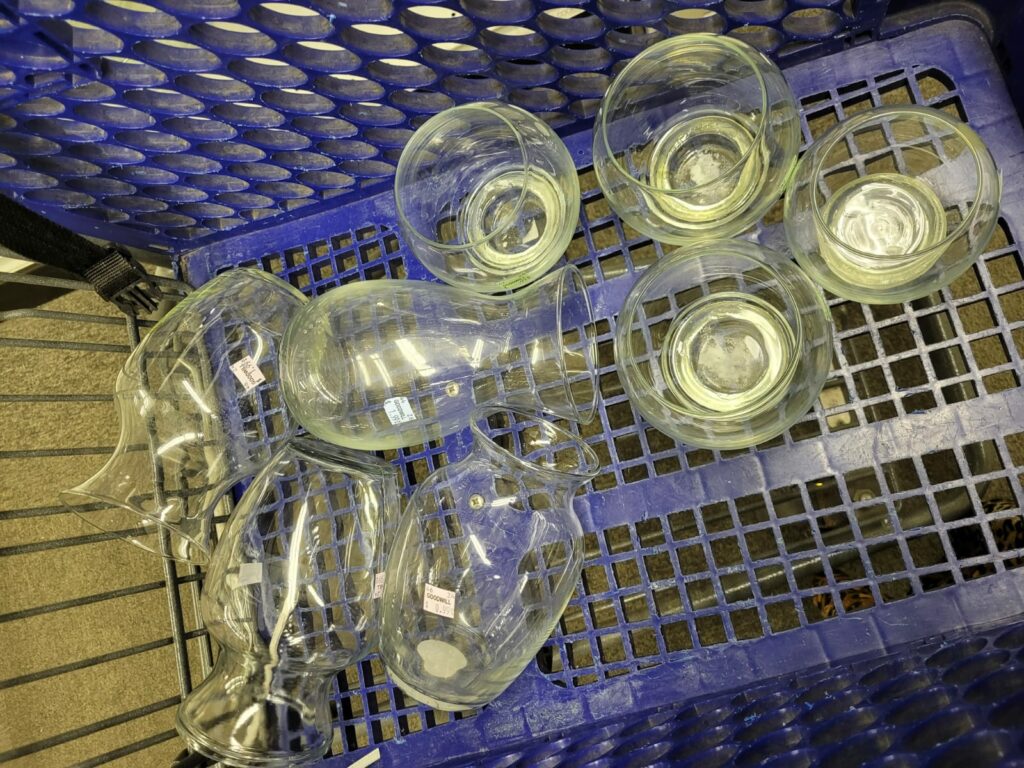 I headed to the packaged items section and found a set of 6 orange taper candles for only $1.99. I spotted an angel statue nearby and bought it for my dad as his Christmas gift. He loves to decorate his home with these, so I thought it was perfect, and the price was even better at $3.99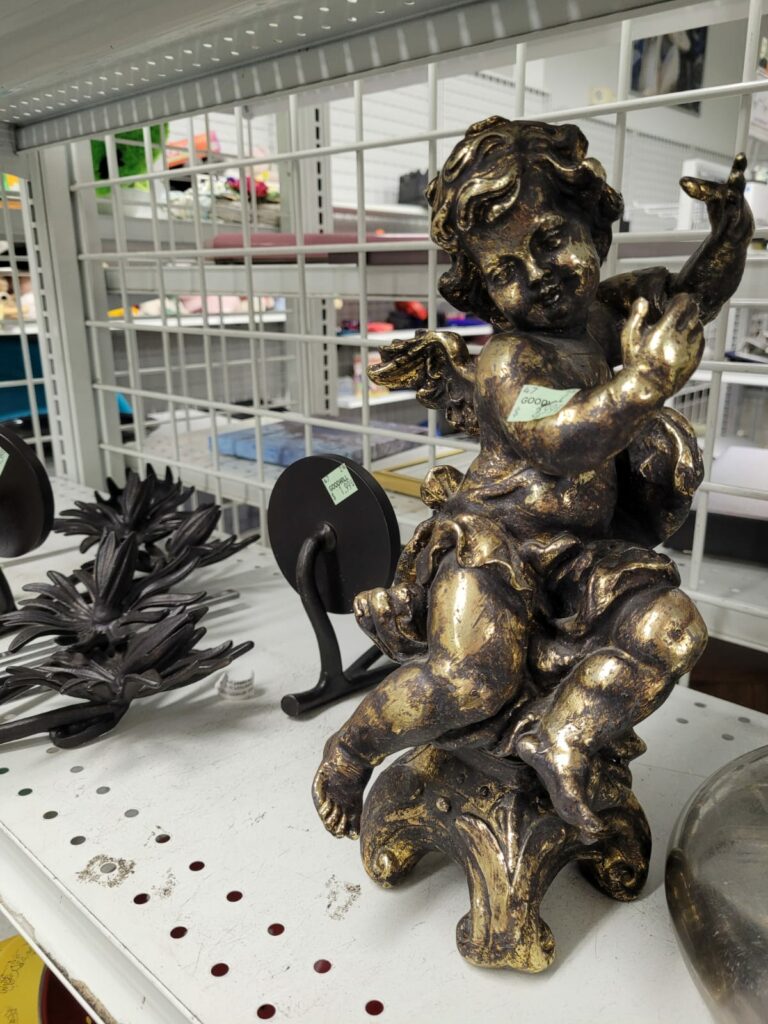 Ok, it's time to share how I plan on using these items for Christmas dinner. This setup is perfect for a dining tablescape or a buffet table. Start by selecting your greens and foliage. I went foraging for cedar stems and pine cones to decorate the table. I bought pomegranates for a pop of color to the table and eucalyptus to fill the vases with. Start by placing your greens first on the table like a garland down the middle.
Next add in your pinecones and pomegranates for a layered look. I opened one up for texture!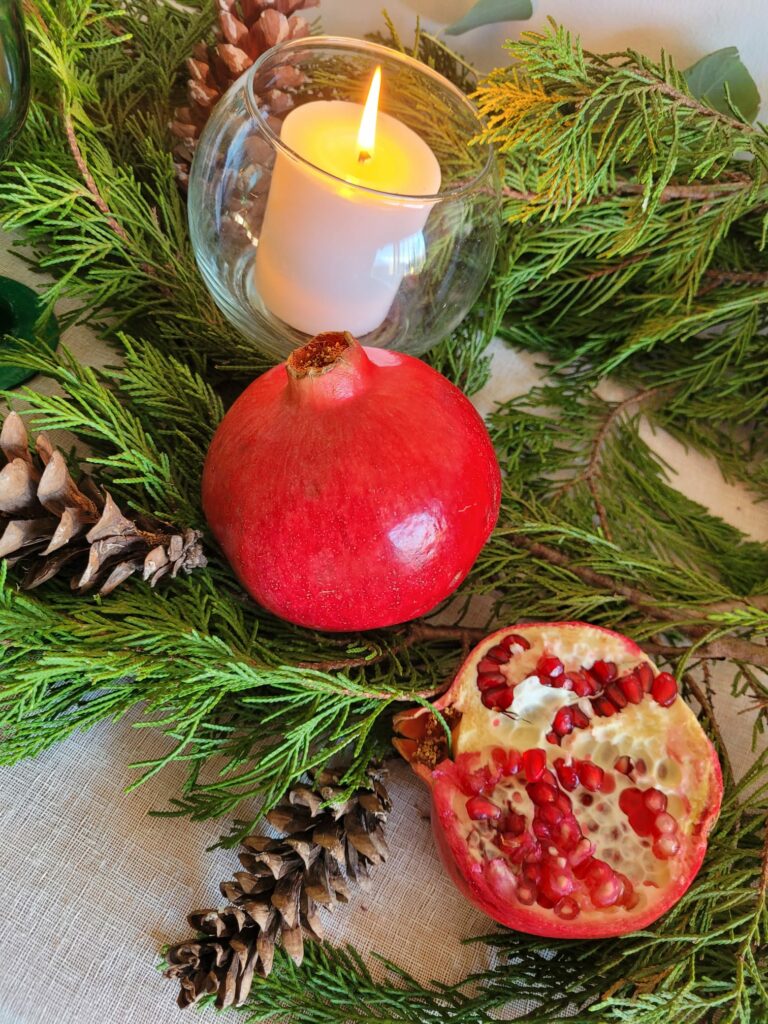 Once this is set, layer in your vases and candle holders. I used the short glass ones I found with white candles and the orange candles in brass taper holders. Your direction of decorating will depend on two things, do you want a short tablescape or a tall one? For dinner, I suggest a short one to have a clear view of your guests while eating and conversing. I suggest a tall tablescape for buffet-style tables or long dining tables. This will add lots of drama and height.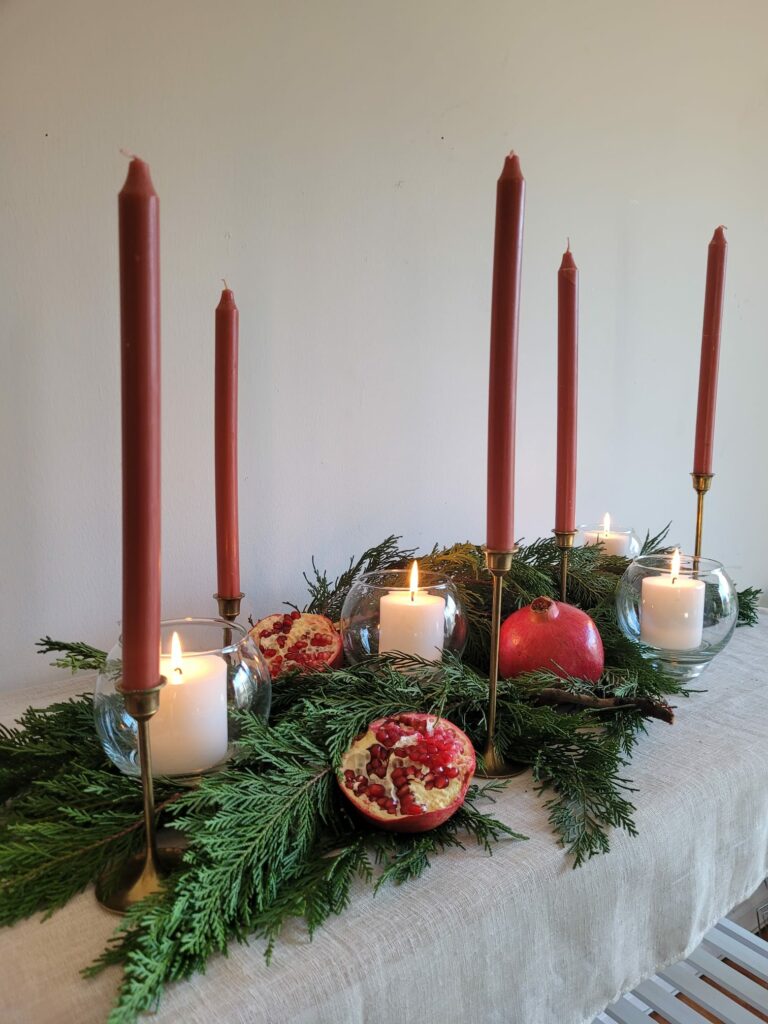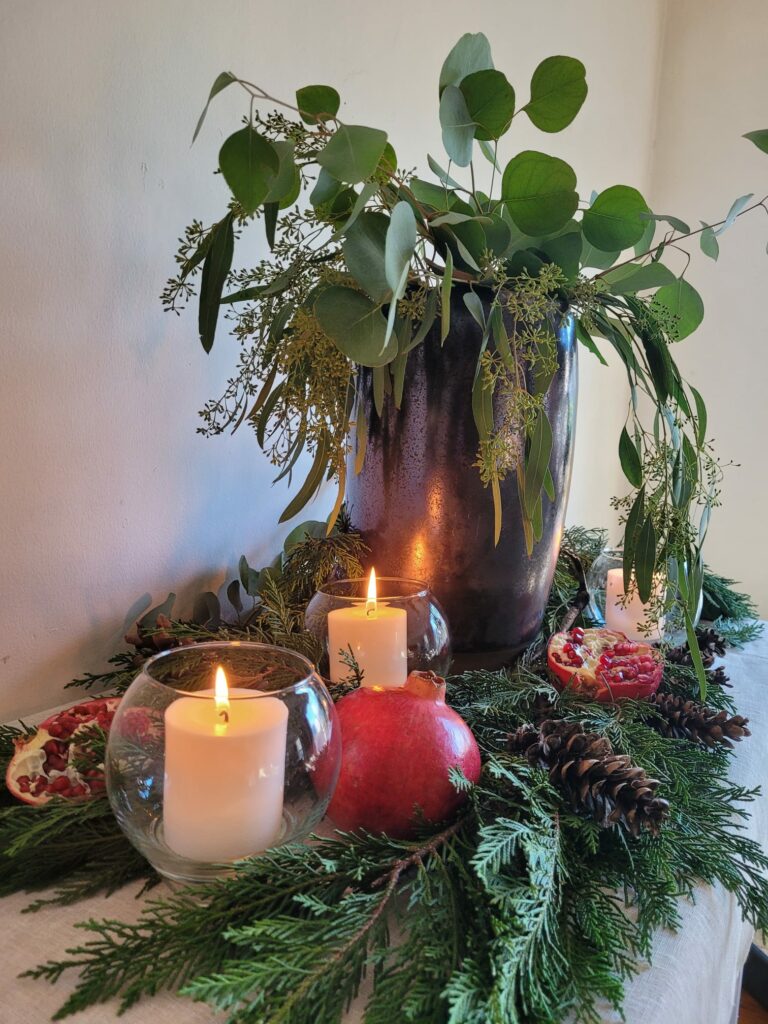 Layer in your glassware for buffet style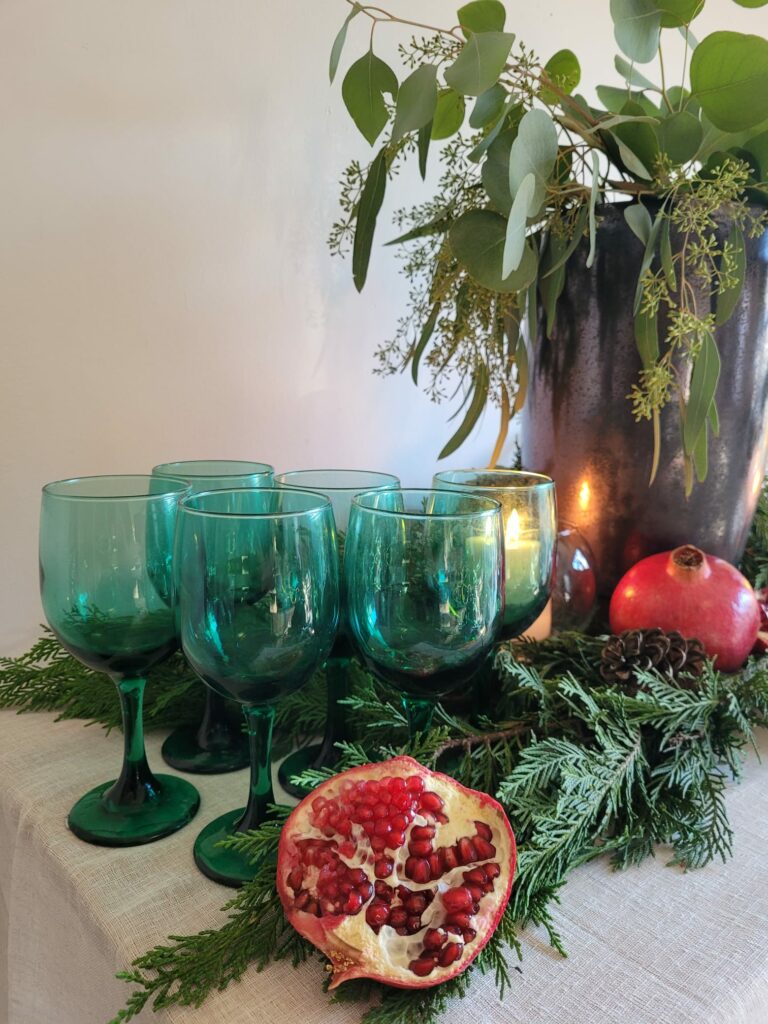 Add a sprig of berries or holly to your napkin rings for a fun touch!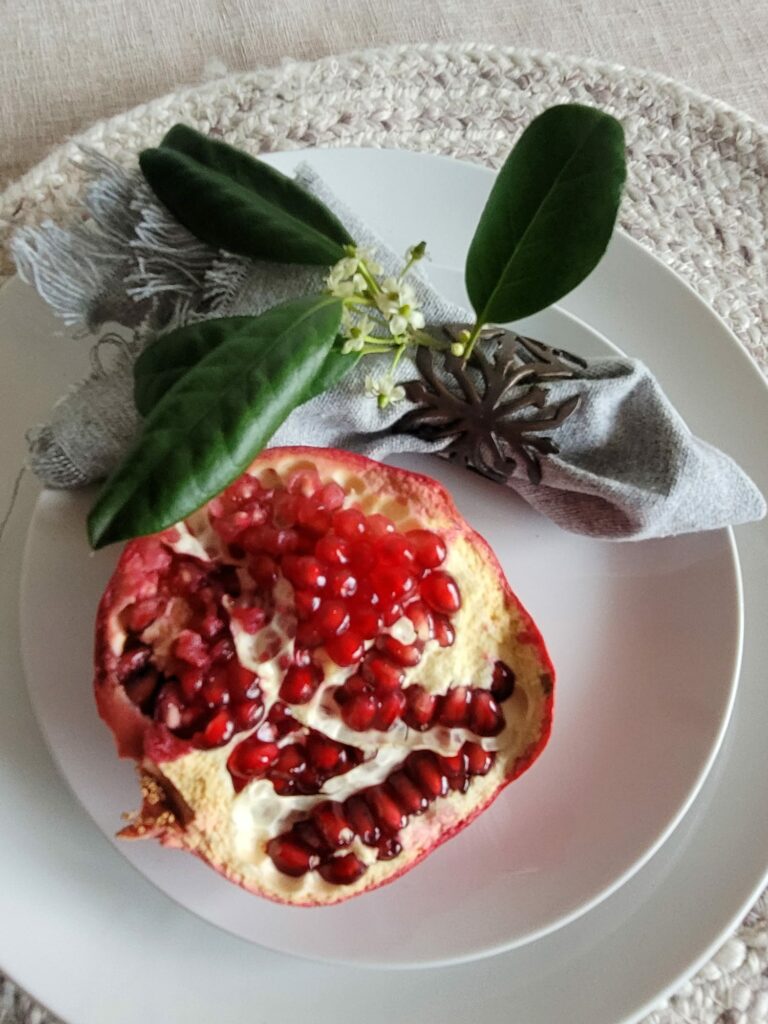 If you opt-out of using a napkin ring, try adding fruit as a prop for a jolly pop of color.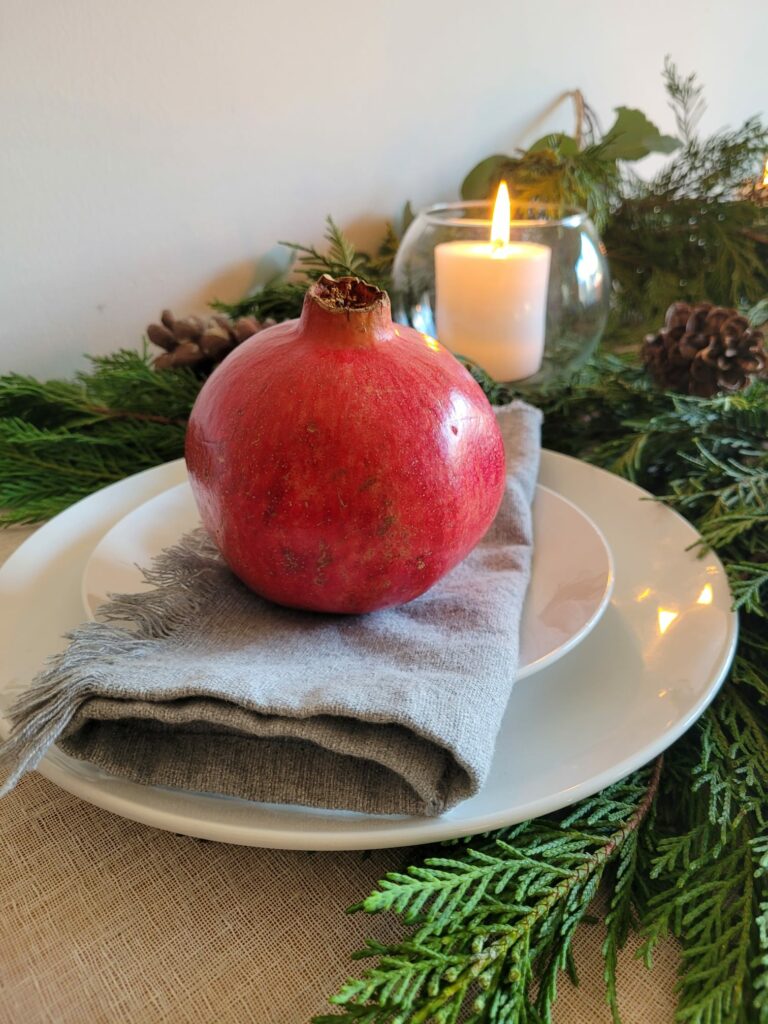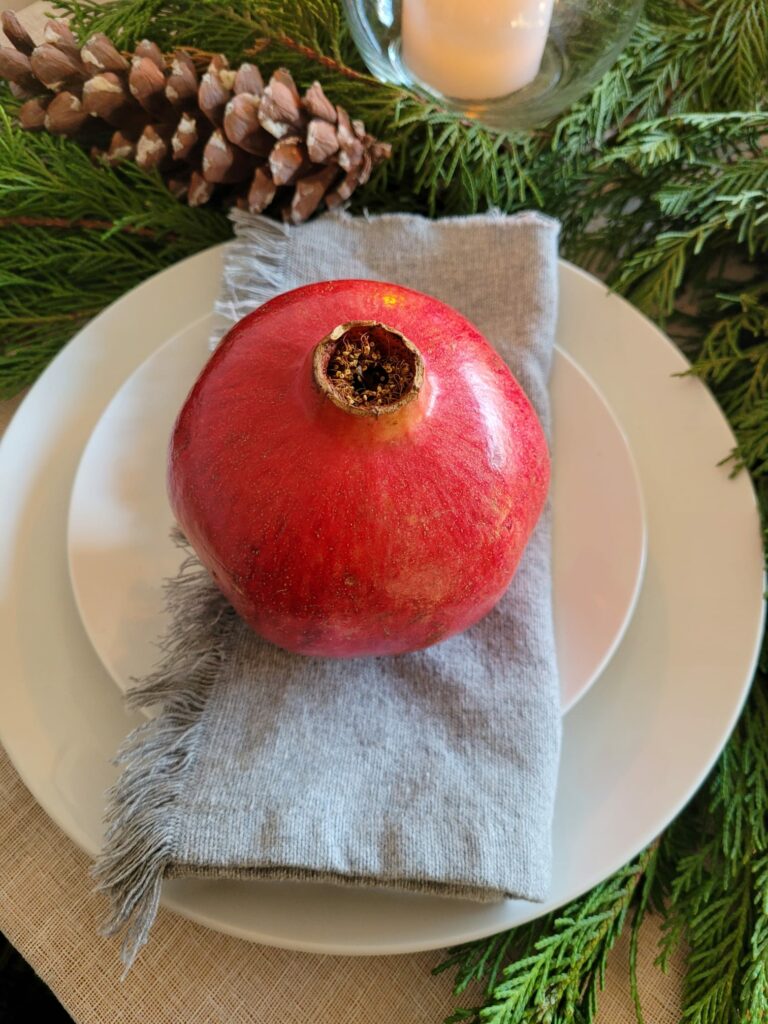 I hope this encourages you to go thrifting to find whatever you need to create a magical feeling in your home this holiday season. Find unique one-of-a-kind gifts for your loved ones here, and also remember to  Treat Yourself too. You deserve it. Happy Holidays and Happy New Year!  Until next time, my thrifty home decor enthusiasts.
Love & Design,
Cat Guerra
About our fabulous blogger: