I love Christmas surprises!
And I especially love the wonderful surprise of finding fabulous and practically brand-new Christmas décor items at Goodwill. Purchasing Christmas items at Goodwill costs less than buying new ones at a retail store. It gives new life to unwanted items that might otherwise end up in a landfill. And 91 cents of every dollar spent at Goodwill helps fund free career-training programs to help people right here in our community.
It's no surprise that buying Christmas decorations at Goodwill spreads good cheer all year round. What did surprise me was how many online sellers were asking for the exact same pre-owned items I found at Goodwill at a fraction of the cost.
Here are my Top 3 Christmas Surprises that I found at local Goodwill stores this year.
1.    "German Glitter" Pottery Barn peace sign tree topper in-box
I found this tree topper at the Fairfax, Va. Goodwill store last summer and stashed it with my Christmas decorations in the basement. I completely forgot about it until I got out my tree last week. Surprise! It's the perfect topper for the little artificial tree I tuck into a corner in my entryway. The tree's theme is peace, love, and penguins. I decorate it with sparkly peace sign ornaments, hearts, and a growing collection of penguins, my son's favorite animal. The tree topper is the perfect finishing touch!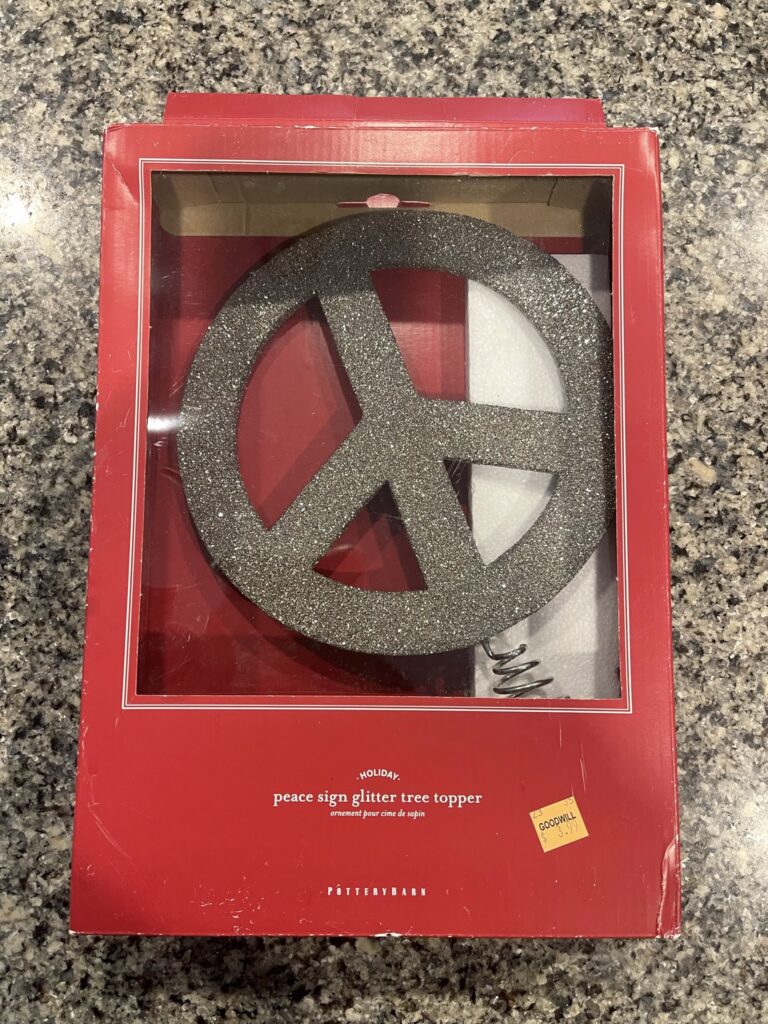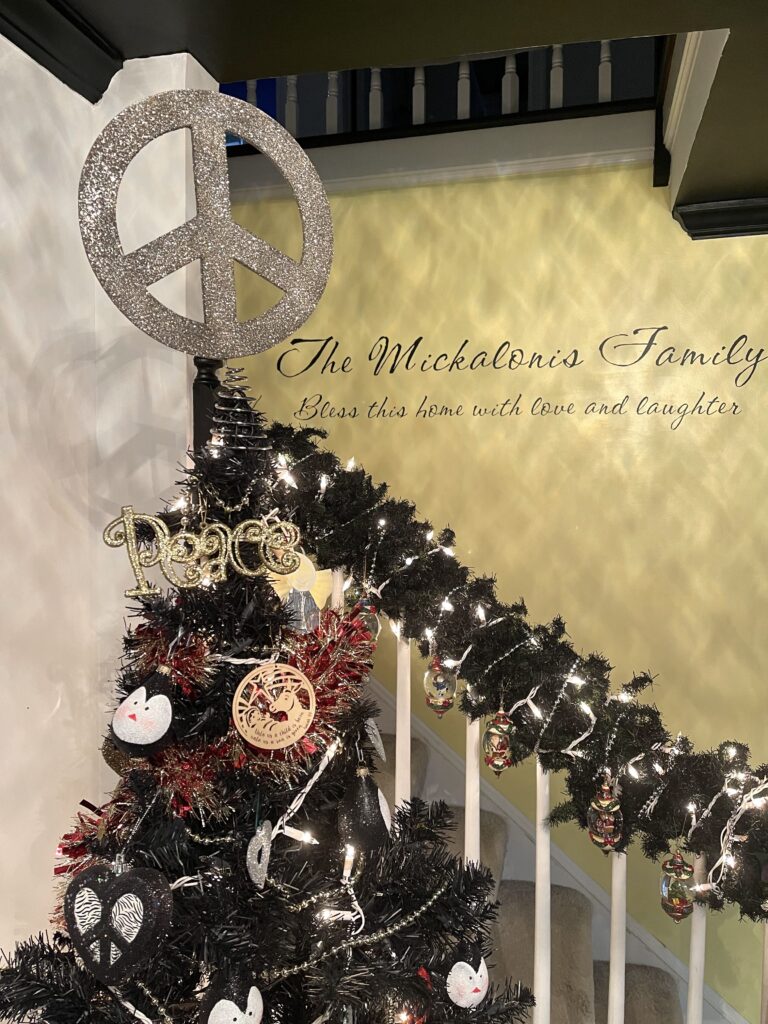 While researching the tree topper for this article, it does not appear that Pottery Barn sells this particular design anymore. I did find the exact same topper on Ebay.
Goodwill price: $3.99
Ebay listing: $36.95 + $11 shipping
Savings = $43.96
What a nice surprise!
2. Plush penguin stocking
My son loves penguins, so I bought this stocking at the Hayfield/Alexandria, Va. store as a little Christmas surprise for him. He loves it! I realize penguins are probably a phase he will outgrow in a year or two, so I don't want to spend a whole lot of money on penguin paraphernalia. This was just perfect for this year. (And when he outgrows it, I will donate it back to Goodwill for another penguin-loving kid to enjoy.)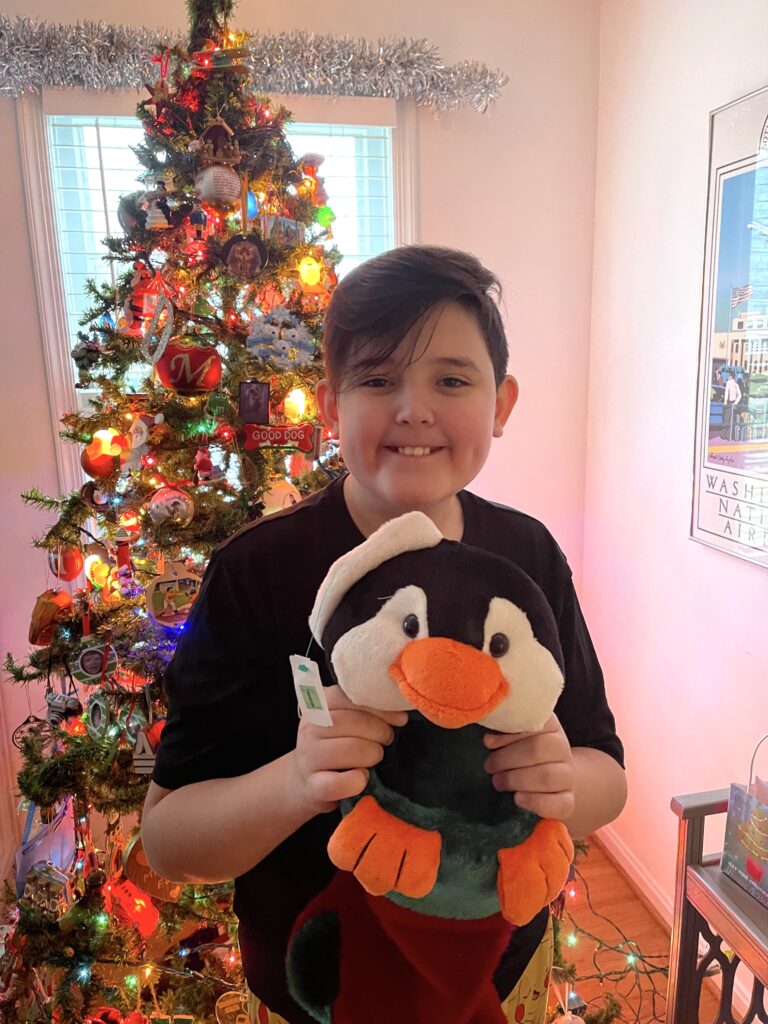 Goodwill price: $4.99
Ebay listing: $75.99*
Savings = $71!
That's a BIG surprise!
* The stocking I found listed for $75.99 said it sold for the "best offer accepted." I don't know what the exact amount of that offer was so my savings is based on the original listing price.
3. M and M cookie jar
This was a surprise for my husband, who has a nice collection of M and M candy dispensers. (Our last name starts with M!) I was standing in the checkout line at the new Goodwill store in Alexandria/Hayfield when something colorful caught my eye in the locked glass cabinets near the cash registers. It was this M and M cookie jar.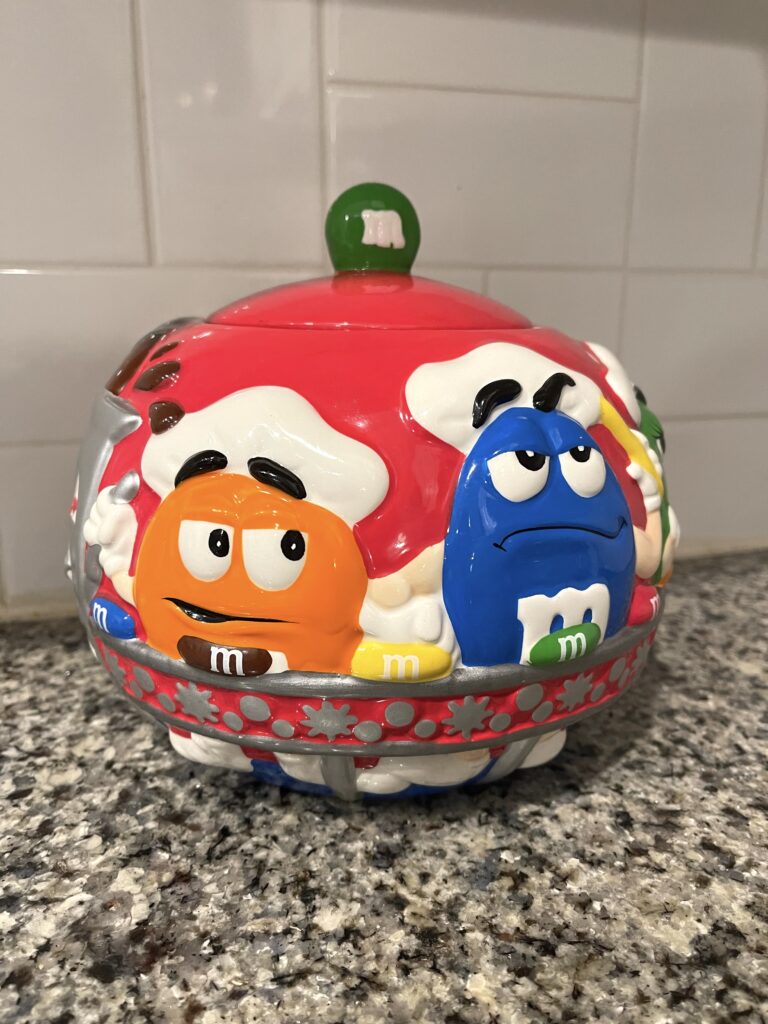 M and M made the candy dispensers my husband owns as limited edition holiday gifts with a new design each year. They don't seem to make them anymore so when I find other M and M things, like this cookie jar, I get excited. I got really excited when I found the exact same cookie jar listed on Ebay for WAY more than I paid for it!
Apparently, this is a vintage (2003) and rare item. I didn't know! I just knew my husband would like it—and he did!
Goodwill price: $14.99
BONUS! It was the Color of the Week so I only paid $7.50 for it.
Ebay listing: $150
Savings = $142.50!
That's the BIGGEST surprise yet!
I think it is important to note that while it is fun to research the value of items I find at Goodwill, I buy things simply because I like them. They are perfect for me or for someone I love. The best surprise for me is discovering the items in the first place. I didn't even know a glittery peace sign tree topper existed … and now I have one, and I love it!
Finally, I would like to wish everyone reading this Happy Holidays! I hope your days are filled with peace, love, and lots of wonderful surprises.